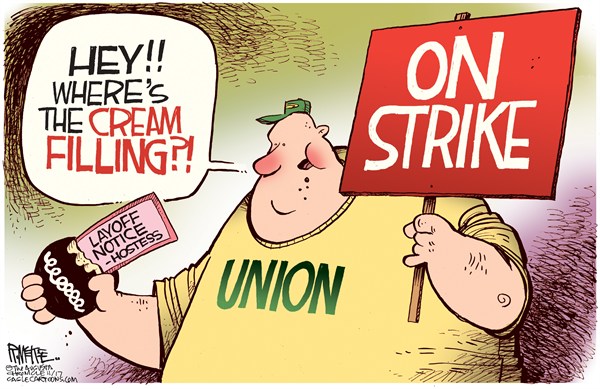 As people who read me already know, I am a member of an "association" which is, of course, essentially a union.  They negotiate for our contracts.  Our contract expires in 2014 and I shall, with much luck, be retired before its expiration.  And no, upon retirement, I don't get "medical for life."  As a matter of fact, my medical coverage stops completely when I retire.
I don't, however, get to throttle the county into bankruptcy if everyone in my department were to engage in a strike (which won't occur for a myriad of reasons, lawfully).
Precisely as a number of unions did against Hostess Brands, Inc.  And with that, the company shut down its plants, laid off 18,000+ workers and stopped baking.
From back in April of 2012:
A union official representing workers at Hostess Brands Inc. said Monday that he isn't optimistic the two sides will come to an agreement over workers' contracts before the dispute lands in bankruptcy court.
Hostess has said it will ask the court this week to toss out its existing union contracts if its workers don't accept cost-cutting proposals in its "final" offer. The company filed for bankruptcy protection in January, citing rising competition and pension and medical costs.
Ken Hall, general secretary-treasurer of the Teamsters union, says his union's members will walk off the job if the court throws out the contracts. CEO Greg Rayburn says a strike will force the company to shut down and liquidate.
The court threw out the contracts.  The unions struck.  And the company shut down
Hostess is going through a liquidation hearing today, as a matter of fact, regarding its 33 nationwide plants, one of which is in Sacramento where I work.  There were 300 workers laid off in Sacramento, and about 1,850 in the state of Fornicalia.
A bit of a final notation: how can one company function competently and efficiently under the 12 unions and 327 separate contracts formerly operating at Hostess Brands?
Apparently: it cannot.
BZ