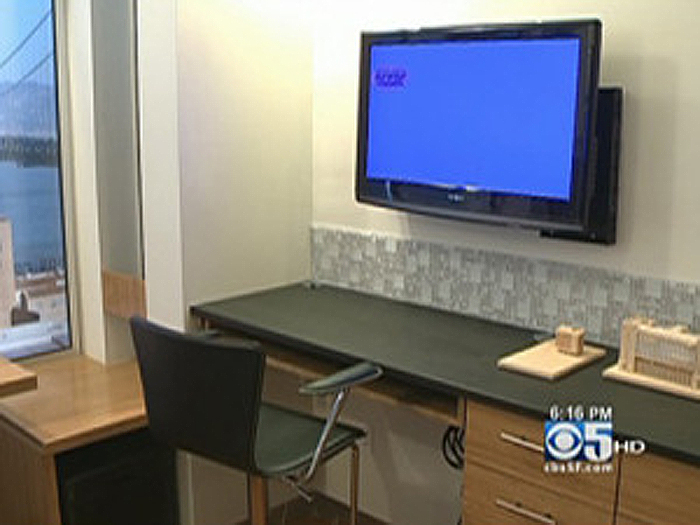 From CBSSanFrancisco.com:
SAN FRANCISCO (CBS SF) — San Francisco's building code got downsized Tuesday with the Board of Supervisor's approval of a pilot program that will build efficiency
units, or apartments with reduced square footage requirements.
The board, in a 10-1 vote at Tuesday afternoon's board meeting, approved the ordinance that will change the definition of an efficiency dwelling unit to include units that are as small as 220 square feet, including the bathroom and closets.
There you go, Leftists: LIVE IT.  And LOVE IT.
Your "imprint" upon this earth?  Minimal.  Possess nothing.  Because you will have nothing.  Because the government upon which you rely will ensure that you have nothing.  Except perhaps a water closet as a domain.
The legislation, introduced by Supervisor Scott Wiener, was touted as a way to address the housing crisis in San Francisco where one bedroom apartments and studios can run up to $3,000 per month in rent.
Right.  $3,000 per month for a 220-square-foot shoebox — ?
Wiener said the small apartments will offer people an option to live on their own at more affordable prices
, with the figure of about $1,500 per month rent discussed as an average rate.
Just one question: in YOUR area, what does $1,500 a month get you?  A minimalist apartment?  Or an actual home?
The storage shed I built on my property is slightly less than 220 square feet.
The sole dissenting vote came from John Avalos, who said the micro-units don't seem like the proper solution to alleviate the city's housing problems, especially for working class families getting priced out of their neighborhoods.
"This overall does not make sense for the San Francisco that I know," Avalos said.
Avalos cited his own situation as part of a family of four living in the southern part of the city in District 11 in a 950-square-foot home, maxing out all the available space and unrealistically able to move into an efficiency unit.
Squeeze thousands into minimalistic imprints.  Make sacrifices.  Take mass transit.  Shove thousands and then millions into postage stamps.  Good for you.  Better for me.  Experience blackouts first.  Experience weather problems first.  Experience supply problems first.  Experience diffidence first.  Experience the lack of independence first.  Because you acquiesced to worse than lesser forms.  Because you were stupid.  Because you were smarter than anyone in "flyover states."  When epidemics break out, you'll be the first affected.  This makes me joyful.  You jubilant dupes.  Frankly, you'll be the first to die in massive numbers from any number of problematic issues.  GREAT!
Raise your children — your multiple children — in 220 square feet.  Insist upon entitlements.
You are now entitled to 220 square feet.
Paid for by the government, of course.
By me: the American Taxpayer.
I'm sure you'll do SO well in 220 square feet.
BZ