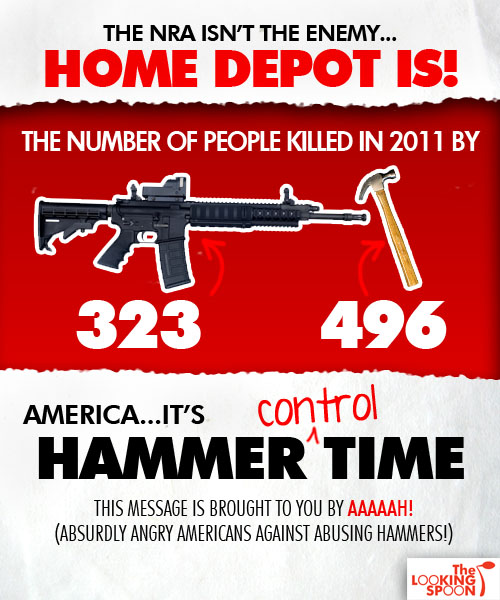 From CBS-DC.com:
WASHINGTON (CBS DC) – Annual FBI crime statistics show that more people are killed with clubs and hammers each year than by rifles or shotguns.
In 2011, there were 323 murders committed with a rifle but 496 murders committed with hammers and clubs. There were 356 murders in which a shotgun was the deadly weapon of choice.
Statistics.  Compiled by the FBI.
And that, in the face of your federal government attempting to take away as many firearms from you — the private citizen — as possible.
There is no other conclusion that one can draw:
The current American government fears the individual armed citizen because it — the government — cannot quite YET enact limiting legislation whilst there are armed citizens in every state.
First: American citizens must be disarmed.  Only then can the government enact laws and regulations that will further restrict rights and freedoms — at the behest of the "good of the children" or the "good of the people."
The "firearm bad" meme is simply false.
BZ
P.S.
Enabled, of course, by the DEM/AMM: