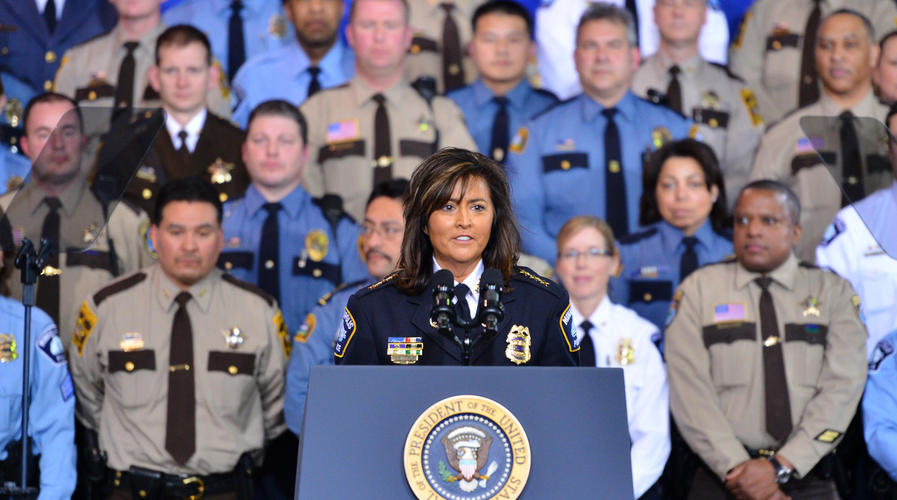 Minneapolis, Minnesota Police Chief Janee Harteau takes the President's podium in support of his gun control laws.  You ignorant pliable hack, Chief Harteau.
The Minneapolis Police Department, its PC Chief and those agencies and officers who stood behind the dais in support of Mr Obama should be ashamed of themselves as members of law enforcement.  I can only hope you were told: "you will be there or you will face discipline."  Each and every one of you.  Female.  Male.  Khaki.  White.  Powder blue.  Dark blue.
Even then, In my opinion, however — you should have demurred.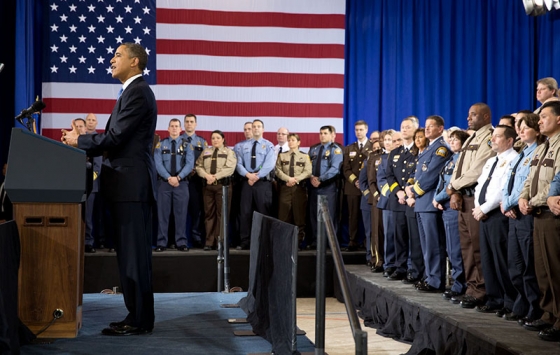 The WhiteHouse.gov website said:
Preventing Violence: President Obama Asks Americans to Stand Up and Say "This Time It's Different"
President Obama was in Minnesota today, where he met with men and women who are on the front line of the fight to prevent more tragedies like the ones in Newtown and Aurora: local police officers, community leaders, and people who themselves had been victims or whose families had been victims of gun violence.
"Illegal guns are causing violence; background checks will stop everything."
This is absolutely incoherent.  None of it has direct "cause and affect" related to the recent "gun violence."  It's about scoring political points with the Left using tragedy to advance their agendas.
You either support the 2nd Amendment — the United States Constitution and its concomitant Bill of Rights — as a Law Enforcement Officer — or you don't.
There is NO "in-between."
This is an important distinction which, in my opinion, is clear and indisputable:
You either support your United States, or you don't.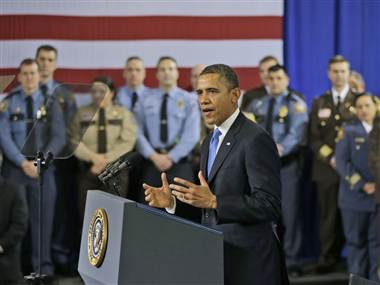 To those who either were ordered or who shuffled off the Photo Op because you are the LEO sheep you are: you disgust me.  You're simply monkeys with guns, willing to sell your soul for a photo op.
You should be ashamed in a way I couldn't possibly conjure.
BZ