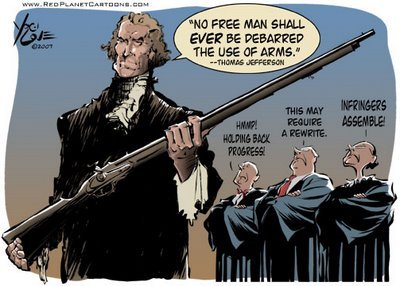 From the SeattleTimes.com:
Misstep in gun bill could defeat the effort
One of the major gun-control efforts in Olympia this session calls for the sheriff to inspect the homes of assault-weapon owners. The bill's backers say that was a mistake.
Seattle Times staff columnist
Forget police drones flying over your house. How about police coming inside, once a year, to have a look around?
As Orwellian as that sounds, it isn't hypothetical. The notion of police home inspections was introduced in a bill last week in Olympia.
That it's part of one of the major gun-control efforts pains me. It seemed in recent weeks lawmakers might be headed toward some common-sense regulation of gun sales. But then last week they went too far. By mistake, they claim. But still too far.
"They always say, we'll never go house to house to take your guns away. But then you see this, and you have to wonder."
And I tell you, ladies and gentlemen, that you knew bills of this kind were coming, no matter what any Demorat, Leftist or Progressive claims to controvert.  The final path in the mind of Demorats and Leftists does unequivocally involve, first, forcing the government into your home and, finally, outright confiscation of firearms.
Even our northern friends in Canada warn: "gun registration means confiscation."
Of all places and sources, the San Francisco Examiner actually writes:
NRA: Obama Justice Dept. memo says registration, gun confiscation necessary
According to a short video produced by the NRA, a Justice Department memo says that an assault weapon ban would not be effective without mandatory gun confiscation and that universal background checks would only work with federal gun registration, Jim Hoft reported at the Gateway Pundit on Monday, citing a blog post at Guns Saves Lives.
"Make no mistake," the blog post said, "an assault weapons ban of any kind, even with a grandfathering clause is a step towards gun confiscation."
The post also says that universal background checks are "just the first step" in implementing federal gun registration, which will ultimately lead to confiscation.
But here, ladies and gentlemen — HERE — is where the rubber meets the road:
Democrats in at least two states — Missouri and Minnesota — have already proposed legislation that if passed into law, would require law-abiding gun owners to surrender rifles, shotguns and pistols deemed to be "assault weapons." A proposal being considered in Washington State would require local sheriffs to inspect the homes of those with "assault weapons" to ensure they are secure.
So when anyone says, no, it "can't happen here" —
It IS happening here.
Up front: you can only do what you can do, when you can do it.  Or not do it.
The "not" part goes like this: I will NOT be "inspecting" the homes of lawful gun owners at the behest of ANY bill, nor will I allow my troops to "inspect" the homes of lawful gun owners — absent a singular warrant of arrest acquired by a presiding judge in a state court, or a singular search warrant issued by same based only but upon probable cause in its affidavit.  I am an OATHKEEPER.  I am a Guardian of the Republic.
Frankly, I don't see more freedoms "breaking out" anywhere in these United States; oh no.  Quite the reverse: I see national freedoms lost month by month, year by year.
But I am also ever the pessimist.  I don't see columns of citizens standing hand-in-hand with American soldiers and American law enforcement in their wholesale denial of home inspections, insurance regulations requiring home inspections by civilians, or outright confiscation by the American government.
Because, after all, that is the common goal of the Demorats, Leftists and those GOWPs who are brain-dead, uninvolved and unaware of their surroundings.  In LE we call this "situational awareness."  The bulk of Americans completely lack this skill.
I wish I were as positive in my thoughts as Texas Fred; alas, I am not.  And these movements indicate why.
BZ