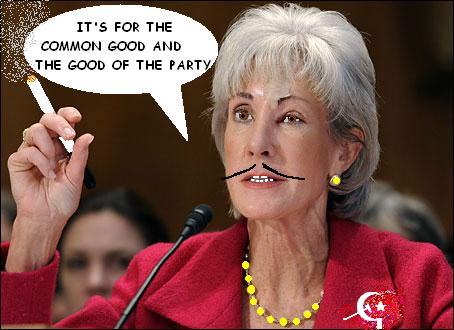 From the Cato Institute:
Secretary of Health and Human Services Kathleen Sebelius' latest abuse of power has strengthened the case for her removal from office. Before discussing her latest misconduct, let's review some of Sebelius' past abuses of power.
But wait; here is the crux of the biscuit:
Now we learn, from the Washington Post's Sarah Kliff, "Sebelius has, over the past three months, made multiple phone calls to health industry executives, community organizations and church groups and directly asked that they contribute to non-profits that are working to enroll uninsured Americans and increase awareness of the law."
Once again, Leftist government steamrolling over citizens and organizations in order to ram down a political agenda at the behest of Barack Milhous Obama.
Seen in the media?  Discussed by the American Media Maggots?
Of course not.
And one teeny-tiny thing one might want to consider: this is illegal.
BZ