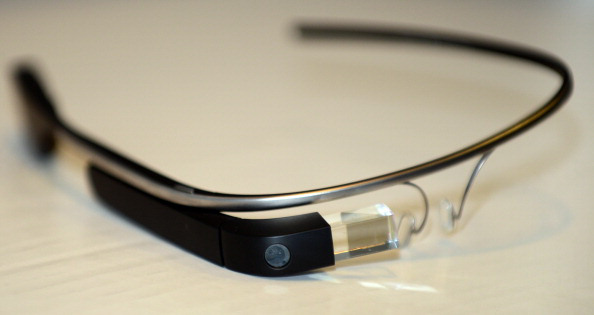 From CBS KPIX 5:
by Carlos E. Castañeda
SAN FRANCISCO (CBS SF) — A man said he had his Google Glass snatched of his face and smashed to the ground in San Francisco's Mission District Friday evening.
20-year-old journalist Kyle Russell, a reporter for Business Insider, said the attack happened as he was walking on the sidewalk with a colleague. A woman came up to him and yelled, "Glass!" and grabbed the device
off his face and sprinted away, he said.
Russell said he chased the woman through traffic for a block before she stopped and flung the $1,500 device onto the ground, breaking it – then running away again.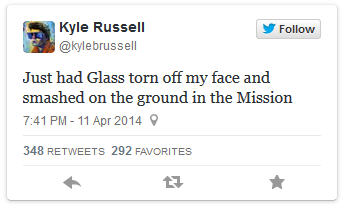 Let me make a statement, and let there be no mistake: good for her.  Good for the unknown woman who smashed this "man"s" privacy-invading device into the ground.
Because there has to be, there must be, consequences for the invasion of privacy of individuals in our society.
If not lawfully, then societally.
As a cop, I fully realize that anyone and everyone has a complete and full right to record whatever my actions may be in public as a result of my response to various calls.  And that I have no lawful ability to stop said persons from recording my reactions and my events.  That much is certain.
On the other hand, cops are now wearing body and eye cams, as well as implementing LPR technologies.
Fine.  Monitor me as I take a dump at work.  You want to see that, you are welcome to it.
But my off duty time is my off duty time.  And the first person that I see in a bar or in a restaurant or in line awaiting service for something/anything or recording "casually" my life on Google Glass will be rewarded with an unfortunate result.
My private life does not exist as an entertainment value for someone else, to be immured for infinity on a hard drive or the internet.  I do not exist for your "amusement" or for your pleasure or for your diversion.
Meaning: if I see you recording me in a private venue via Google Glass, things won't go well.  For you, I mean.
And clearly I'm not alone.
BZ