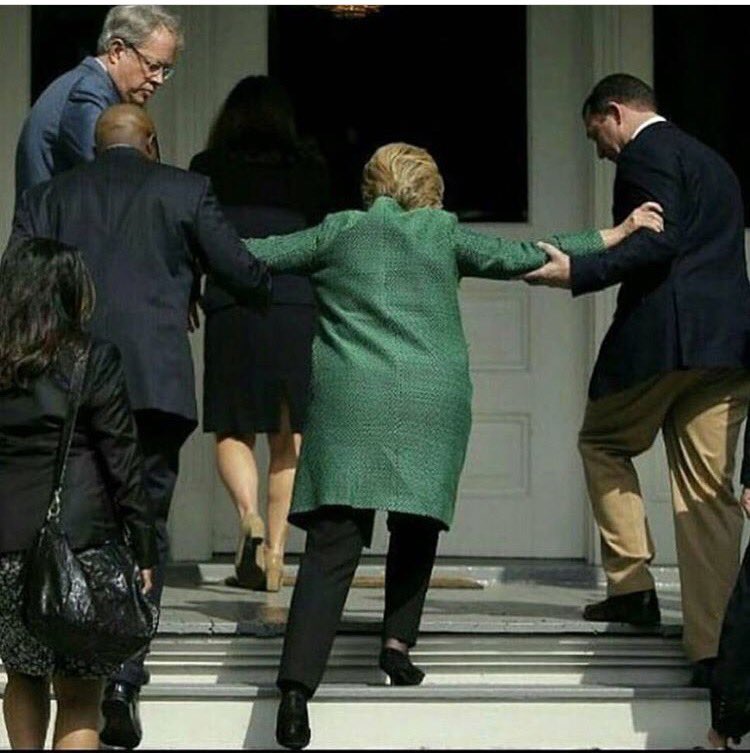 Hillary Clinton very recently required physical assistance climbing a few stairs, much less an entire flight of stairs.
Hillary Clinton is on lifetime blood thinners, which translates to Warfarin or a like medicine — which is essentially rat poison.  I know this because my father was on Warfarin.
Secret Service agents rush onstage?  Because of a threat or because of a brainulus?
Ostensibly a SS agent attended to the Democratic nominee.  I suggest we need to know much MORE about her medical condition.  Was this a medical doctor?
She had a fall in February.  She has had several falls.  She suffered a concussion to the point where her eyesight was affected for a number of months in 2013 via, likely, a damaged cranial nerve.  She had a blood clot on the outside of the brain.  Because she is running for the ultimate national office, the electorate has a right to know what it is that her neurologist has said and written.
But consider the past when you cogitate about the future.  Someone who is prone to falling as is Hillary Clinton, this would lead some to believe that falls are in the future.
In 1998 she had an episode of deep vein thrombosis, a blood clot, potentially the result of traveling. 50% of patients who suffer a concussion have post-concussion syndrome, falling prey to further falls and spatial/cognitive disorders.  This can translate to vertigo issues.  She has had multiple falls, in 2011 and 2012.  It took her quite some time to recover from the concussion.  That may lead, say doctors, to chronic fatigue syndrome or chronic vertigo.

Post concussion issues may include balance, dizziness, assembling cogent thoughts.  Coumadin and her hypothyroid issues equal prolonged periods of treatment via Thyroxine and a varied amount of side effects.
Hillary's health issues bring to mind those of JFK.
But, of course, to even broach the issue is shameful.

There are allegations of Valium usage which would indicate potential seizure issues.
We need to see more records.
BZ
P.S.
Trust me, if there were the SLIGHTEST mention of potential medical issues with Donald Trump, you would have seen them blasted into the MediaSphere for weeks on end.
In the meantime, at 70, Donald Trump seems to be the proverbial energetic candidate.
God bless him for that.