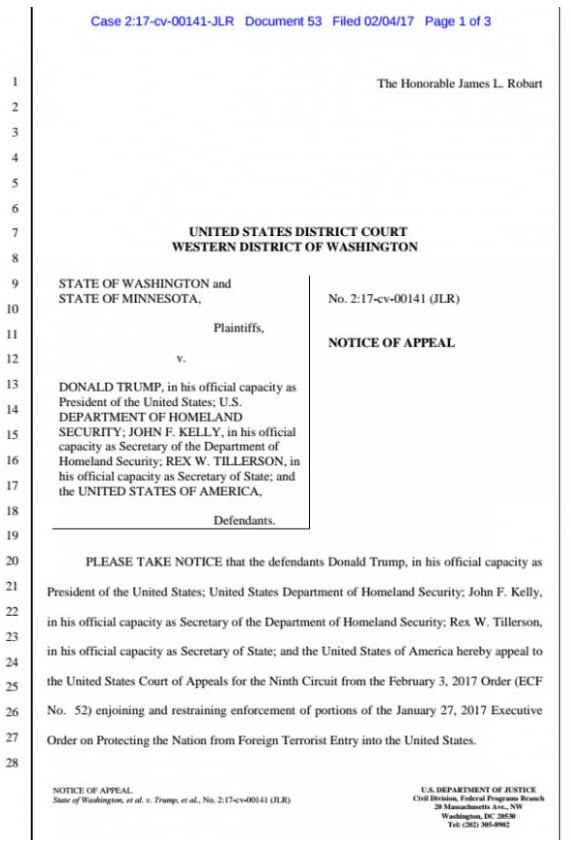 Just when you thought the US was beginning to turn and refrain from insisting upon self-implosion, in comes a federal judge to disabuse you of the notion.
From the WSJ.com:
Seattle Judge Used Broad Power to Halt Executive Order

by Ashby Jones and Jacob Gershman

Federal judges don't often issue nationwide orders, but they have the power to do so

As a U.S. District Judge in Seattle, Judge James L. Robart typically handles federal cases affecting businesses and individuals in the western half of Washington state, an area roughly bordered by the Pacific Ocean in the west and the Cascade Range in the east.

But on Friday, Judge Robart expanded his reach, ordering a halt to President Donald Trump's recent executive order on immigration and refugees. A federal appeals court early Sunday rejected a request from the Justice Department to immediately reinstate the order, asking for more court filings before it rules on the matter.

The district court ruling applies to the entire country. That makes it broader in scope than others that preceded in recent days. Orders issued in Brooklyn, Alexandria, Va., Boston and elsewhere were mostly "picking apart pieces of the executive order," said Adam Winkler, a constitutional-law expert at the University of California, Los Angeles. Judge Robart's order halts the Trump directive in its entirety.

Federal judges don't often issue nationwide orders, but they have the power to do so, legal experts said.
A significant portion of the Bush-appointed federal judge's ruling (Washington v. Trump, 2:17-cv-141) revolved around uniformity.
This emphasis on uniformity was key to Judge Robart's order. He acknowledged the Trump Administration's argument that any restraining order should be limited to the two plaintiff states — Washington and Minnesota. But Judge Robart rejected the request, concluding that a "partial implementation would undermine the constitutional imperative of a uniform Rule of Naturalization, and Congress's instruction that the immigration laws of the United States should be enforced vigorously and uniformly."
Lest we become unhinged like Leftists, let us also recall this.
Judge Robart borrowed language from Brownsville, Texas-based U.S. District Judge Andrew Hanen, who in 2015 issued a nationwide injunction blocking the implementation of Obama administration policies that granted some protection to children of illegal immigrants.

In another high-profile nationwide order, a federal judge in Los Angeles in 2010 issued a nationwide injunction against the "don't ask, don't tell" policy, which banned openly gay men and women from serving in the military.
However, the opinion does tend to confirm what most of us already suspected: federal courts and judges damned near have absolute and imperial power. There is also another problem with "uniformity rulings."
Nationwide injunctions have been criticized by legal scholars, who say they can encourage judge-shopping, and imbue a single litigant with outsize power.

"The idea is that you pick a judge who's friendly, go to court, and stop a big government program before there's been a trial, or before the judge even has an evidentiary record," said Mr. Winkler.
Further:
Such orders can raise other complications, too. Other districts are free to make and implement their own nationwide orders, which might conflict with those already on the books.

Partly for that reason, nationwide orders are sometimes put on temporary hold by appeals courts, to stave off uncertainty that might otherwise ensue.
So what were the "interests" considered by Judge Robart in Washington? From ZeroHedge.com:
The DOJ appeal faces an uphill battle: "The Washington suit is so much more broad than anything else we've seen because it goes into the economic interests of the parties — that's a very big development," Hoffman said of a likely appeal by the federal government. "Appeals of temporary orders occur only in very, very extraordinary measures. I doubt it would be successful." The reason why Robart was so quick with his decision is because he had the support of some of America's largest tech companies.

Washington Attorney General Bob Ferguson said the effects on his state included economic consequences for employers based there, including Microsoft Corp., Starbucks Corp. and Amazon.com Inc. Bellevue, Washington-based Expedia Inc. had about 1,000 customers with flight reservations in or out of the U.S. from the seven countries, he said.  Meanwhile, DOJ lawyer Michelle Bennett, arguing at Friday's hearing, said the president was acting within the authority granted him by Congress and there was no financial harm to the states. The judge disagreed.
Ponder that for a moment. The judge considered that, because tech companies cannot find a sufficient number of propeller-heads in the United States, they were potentially subject to harm. That is a portion of the basis for his ruling. Because adequate programmers can apparently only source from Syria, Iran, Iraq, Libya and, for fuck's sake, Sudan and Somalia?
Doing the logical extension, Robart is intimating that because US universities do not produce a sufficient number of young, qualified technological candidates for today's computer mechanics and applied science, to refuse Syrian refugees would somehow damage Washington employers? Really? What kind of serious training does it take to yield a barista who knows how to make a machine sound like it's hocking a loogie into your paper drink cup?
A Boston federal court originally supported Trump but Robart's decision, being most recent, applies in terms of chronological supremacy.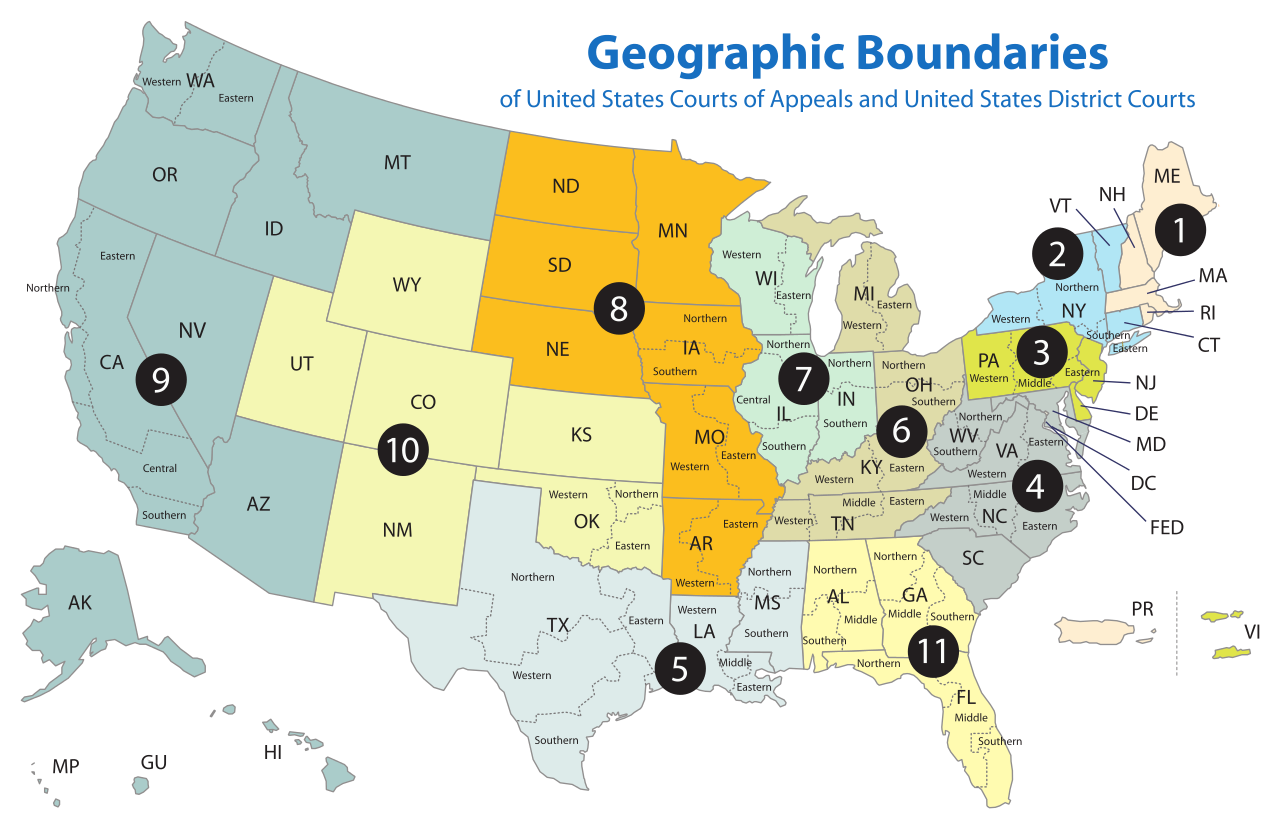 Map of federal district courts of appeal throughout the United States, by district number.
Here is what will occur: the case will wind itself into the Ninth District Court of Appeals in San Francisco, historically the most leftist federal appeals entity in the Milky Way, to include Andromeda and Orion as well. The 9th is also, historically, the most overturned — at various points up to 90%.
On Sunday, as expected, the Ninth DCA allowed a continuance of Trump's travel stay suspension. From the WashingtonPost.com:
9th Circuit Court declines to quickly reinstate travel ban

by Matt Zapotosky and Robert Barnes

A federal appeals court on Sunday ruled that President Trump's controversial immigration order will remain suspended for the time being, allowing those previously banned from coming to the United States at least another day to get here.

The decision by the U.S. Court of Appeals for the 9th Circuit preserves a lower judge's order to temporarily halt the ban — and based on a schedule the court outlined, the stop will remain in place at least until sometime on Monday. The Justice Department said it would not elevate the dispute to the Supreme Court before that.
Pundits and scholars are united in opining: Sooner or later the issue will have to reach the US Supreme Court.
In the meantime, a number of the suits against the Trump stay have some serious legal problems themselves. From Breitbart.com:
Travesty of Legal Errors in Immigration EO Lawsuit

by Ken Klukowski

Washington and Minnesota's lawsuit against President Donald Trump's immigration executive order (EO) showcases a cavalcade of legal errors.

First, the lawsuit could have been dismissed by the district court (or the court of appeals) in whole or in part for lack of jurisdiction. Second, the district court did not give the required legal reasoning in its order to justify the TRO. Third, the court had no business enjoining the executive order nationwide, instead of just in the two states. But fourth, once the district court issued the TRO, the appeals court had no authority to touch any other aspect of this legal challenge until it reaches the next stage of litigation.
But the please note the following.
The Supreme Court has reiterated countless times that when a federal court lacks subject-matter jurisdiction in a lawsuit, the only power the court has is to explain why it cannot claim jurisdiction, then dismiss the case.

That's what should have happened for many of the claims in this lawsuit, rather than taking the extreme step of issuing a TRO.

Which leads to another problem with the TRO: Rule 65(b)(2) of the Federal Rules of Civil Procedure requires a court to "describe the injury" suffered by the plaintiff. Robart claimed that Washington and Minnesota had carried their burden of showing they had a substantial likelihood of success on the merits of their lawsuit, but never says which ones. The states obviously cannot succeed on a claim they have no standing to raise in the first place. Robart failed to provide the legal reasoning for his decision.

But having made those errors, there is nothing the Justice Department can do until the TRO is superseded by a preliminary injunction (PI). A TRO expires within 14 days of being issued, unless another event overtakes it first.
As indicated prior, there is a fundamental bottom line.
Given the liberal makeup of the Ninth Circuit, however, the Justice Department faces an uphill fight in San Francisco. More likely this issue is heading to the U.S. Supreme Court, meaning that President Trump's EO—and immigration as a whole—could become a major topic of discussion in the confirmation process of the Supreme Court's incoming ninth justice, Neil Gorsuch.
And therein lies the rub. You see now why holding SCOTUS is critical, absolutely critical for each side of the aisle?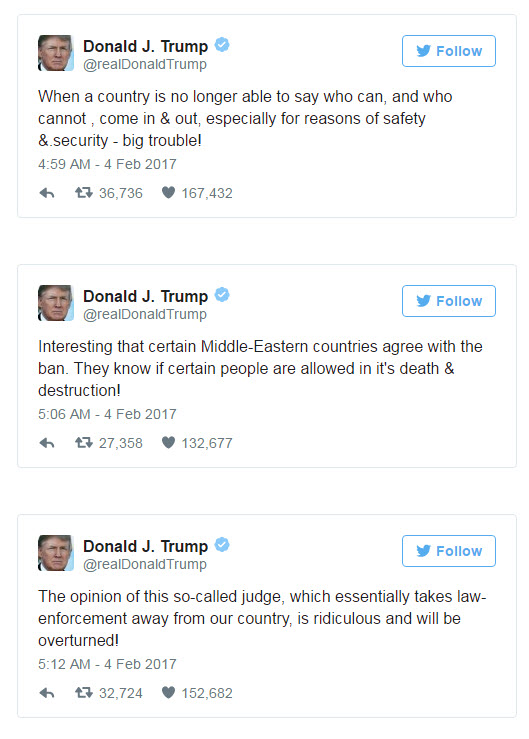 President Trump, of course, does himself and his administration no favors when he fails to keep his mouth shut or his fingers off Twitter. He wrote in response to Robart's decision in part (above): "The opinion of this so-called judge, which essentially takes law-enforcement away from our country, is ridiculous and will be overturned!"
Beyond unendearing yourself to your enemies, similar acts tend to make life more difficult than necessary. President Trump is already beginning to encounter the DC roadblocks that foundational documents term "checks and balances."
That said, Judge James Robart may be educated but fails to grasp the immediacy and plain text of 8 USC 1182, as well as Fiallo v. Bell, 430 U.S. 787. He also takes not into consideration the actions of Mr Obama in 2011 and 2015, as well as the immigration drought between roughly 1921/1924 to 1965. On the other hand, truthfully, he is not obligated in any way to do so.
What's occurring presently is legal blowback from any number of issues, to include the hasty and ill-considered implementation of the order, and the failure to consider the issue of green card visas.
I go back to the topic of SCOTUS and — now — the vastly greater importance of Judge Neil Gorsuch. You can be guaranteed, with no reservations, that Demorats will filibuster the nomination of Gorsuch.
Conversely, any Republican — repeat, ANY Republican — who fails to get his or her arse in line with the nuclear option must be dealt with harshly and without remorse. They must be excised like the worst offensive tick, parasite or invertebrate.
Here is why: with Gorsuch uninstalled or stalled, the Supreme Court remains impaneled at the eight count. It is easy to foresee a straight split on the issue — four pro and four con.
When that happens, the lower court ruling stands.
BZ