And the hits just keep on coming.
May was a great month for Baltimore, if you're a dead black male.
34 black males died in May, in the great Demorat-controlled city of Baltimore.  There have been 109 homicides to date in Baltimore.  Easily over 95% of the victims were black.  Most all the suspects were — wait for it.  .  .
Just this past weekend under the tutelage of the Mayor Hyphenate, there were 27 shootings and 8 deaths.  How many were black-on-black?  I'll give you one silly-willy guess.
Yes, ladies and gentlemen, Baltimore possesses a great number of "chocolates" as termed by Ray Nagin.
Let's see: there are 622,000 people in Baltimore.  63% of its population is black.  The Mayor is black, the Police Chief is black, the city council president is black, the council itself is 2/3rds black, 48% of the police force is black, the Police Commissioner is black.  All chocolates.  But here is a very telling paragraph:
"It transcends whether the mayor is black or not," said Lawrence Brown, a Morgan State University professor and community activist. "Black people view policing as racist, and it doesn't matter if the mayor is black, the police chief is black or the president is black. There's a long history of brutal policing in black communities, so people don't have any expectations." 
"Black people view policing as racist."
And that's a sentence you'll be hard-pressed to overcome when it sources from people who are too many times criminals.  Note to black criminals: stop committing crimes, if you don't want to be considered or "labeled" as a criminal.  Pretty damned simple.  Really.
From CBSBaltimore.com:
29 Shootings, 9 Fatal, Over Memorial Day Weekend In Baltimore

BALTIMORE (WJZ)–It's been a violent  weekend in Baltimore after a surge of shootings–some deadly across the city.

Amy Yensi has more.

Police say 29 people were shot, 9 of them killed over this weekend, adding to the  record-breaking violence.

The shooting didn't stop on Monday night after a 9-year-old boy and another man were both injured by gun fire in the 2900 block of Arunah Avenue. Police say the child was shot in the leg and another man suffered a graze wound to the head.
35 killings in Baltimore in one month.  May was Baltimore's deadliest month since 1999.
Of course, Freddie Gray was worth turning an already piece-of-crap Baltimore into an even larger piece-of-crap city, costing the city even more money and putting it in even greater debt.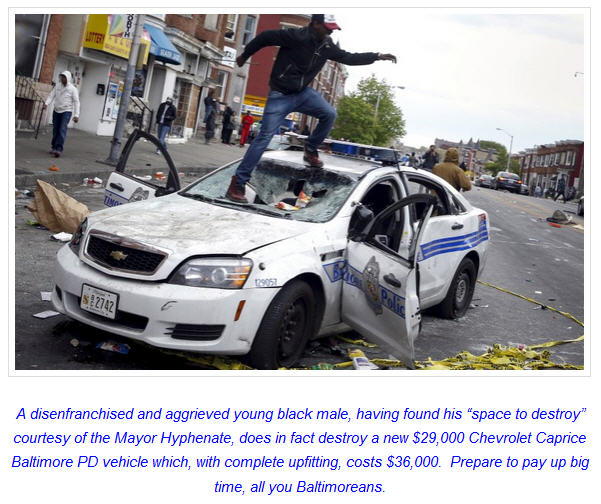 Make no mistake: Demorats have been in charge of Baltimore since 1967, and since the 1968 riots nothing has been done in West Baltimore.  Repeat: nothing since 1968.  For 48 years Demorats have been in charge of Baltimore and apparently nothing much has happened.  The city hasn't been able to repair itself since the 1968 Martin Luther King, Jr. riots.
Despite the fact that it has, to date, received $1.8 BILLION federal dollars.  Where did that money go?
Thanks To Black Leaders And Black Criminals, Baltimore Has 27 Shootings And 8 Deaths This Weekend

This is the direct result of black leaders Barack Obama, Mayor Stephanie Rawlings-Blake, Attorney General Mosby,Attorney General Loretta Lynch and Al Sharpton, all declaring war on America's cops, and lynching 6 Baltimore on phony murder charges.
[Prediction: those cops will be found not guilty, or guilty of much lesser charges. – BZ]
John Nolte writes:
"Poverty has nothing to do with it. This madness and chaos and anarchy is a Democrat-driven culture that starts at the top with a racially-divisive White House heartbreakingly effective at ginning up hate and violence. Where I currently reside here in Watauga County, North Carolina, the poverty level is 31.3%. Median income is only $34,293. In both of those areas we are much worse off than Baltimore, that has a poverty rate of only 23.8% and a median income of $41,385. Despite all that, we don't riot here in Watauga County. Thankfully, we have not been poisoned by the same left-wing culture that is rotting Baltimore, and so many other cities like it, from the inside out. We get along remarkably well. We are neighbors. We are people who help out one another. We take pride in our community, and are grateful for what we do have. We are far from perfect, but we work out our many differences in civilized ways. Solutions are our goal, not cronyism, narcissistic victimhood, and the blaming of others."
But here's the dirty little secret that Demorats don't want you to know, in concert with their Poverty and Race Pimp abiders like Jackson and Sharpton — who continue to privately profit from race baiting:
It isn't a "race" problem with Baltimore.  It's a Demorat problem.
Look at any busted and broken major city in the United States, and I'll show you a city run by Demorats.  Demorat, liberal, "Progressive," Socialist policies are historically a failure.  But no one wants to consider anything different.  Throwing more cash at Baltimore is like throwing cash at an African tinpot dictator.  It'll never get past the government "heads."  It will never "trickle down."
That said, as my headline asks: so where are the riots?
Blacks rioted in Baltimore following one black male dying whist in Baltimore PD custody (in which half of the cops indicated were black, with one black female officer).
Yet, blacks continue to kill blacks in Baltimore with offhand impunity.
Where are the riots?
Oh, right.  That's the wrong narrative.
BZ