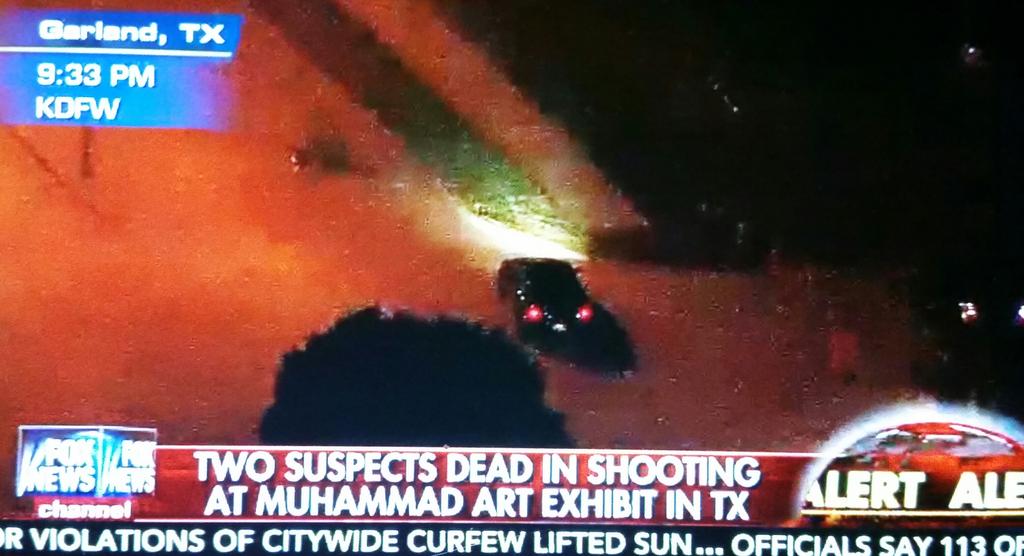 A story with a happy ending in Texas.
And those who fired the killing shots should be provided with community service awards and a case of 1,000 rounds of their favorite caliber.
Let's see: Muslim Fucktards 0, Texans 2.  Works for me.
From the UKDailyMail.com:
Two gunmen 'carrying explosives' attack anti-Muslim art contest in Texas: Suspects dead and security guard wounded at 'draw Muhammad' event that offered $10k prize

by Wills Robinson

Two suspects were gunned down after shooting the guard in the leg outside the Curtis Culwell Center in Garland
Building and surrounding area was placed on lockdown by a SWAT team with around 100 attendees still inside
Reports suggest the pair were carrying explosives at the time, and another two bombs were discovered nearby 
The American Freedom Defense Initiative event offered a $10,000 prize for the best caricature of the prophet 
Involved a keynote speech from far-right Dutch politician Geert Wilders, who has linked the Koran to terrorism 
Two armed suspects believed to be carrying explosives have been shot dead after opening fire outside an anti-Muslim art exhibition in Dallas.

The pair were gunned down after shooting a security guard in the leg outside the Curtis Culwell Center in Garland, Texas, during a 'family event' where caricatures of the Prophet Muhammad were being displayed.

The building and surrounding area was placed on lockdown by a SWAT team with around 100 attendees still inside after multiple gunshots were heard.
Two suspects pulled up in a vehicle with with explosives, before getting out and firing at the officer, identified in local reports as Bruce Joiner. They were then killed by Garland Police officers. 

Mr Joiner was taken to hospital in a stable condition and is expected to survive.  

The attack unfolded shortly after Dutch member of parliament and leader of the far-right Party for Freedom, Geert Wilders, had delivered his keynote speech. 
At this point there is little detail known specifically about the Garland reaction, but to those officers who responded I say: you are a credit to law enforcement.
The event was set up by the American Freedom Defense Initiative and had been described by opponents as an attack on Islam. The controversial group booked the center a little more than a week after Islamic militants in France killed 12 people at satirical magazine Charlie Hebdo.

Despite criticism from residents, the organizers believed they were exercising their freedom of expression.

According to the Dallas Morning News, the contest, which was offering a top prize of $10,000, had received about 350 entries depicting Muhammad – even though visual representation of the prophet is deemed extremely offensive by Muslims. 
Of course, there are those who will rattle their jaws — Conservatives and well as Leftists — and say: "why would you want to even do this, considering the temper of the times and Islam?"
My response?  Because the First Amendment of the United States exists to protect not milquetoast speech, not mealy-mouthed speech, but challenging speech of the first degree.  Speech that requires protection and is taxing by its very nature.
Like the event in Garland.
Presentation at the Curtis Culwell Center to artist Bosch Fawstin (L) by Dutch politician Geert Wilders (center) and Pamela Geller (R).
As you might expect, Twitter is all a-twitter regarding this event.  I provide some of the more amusing graphics following: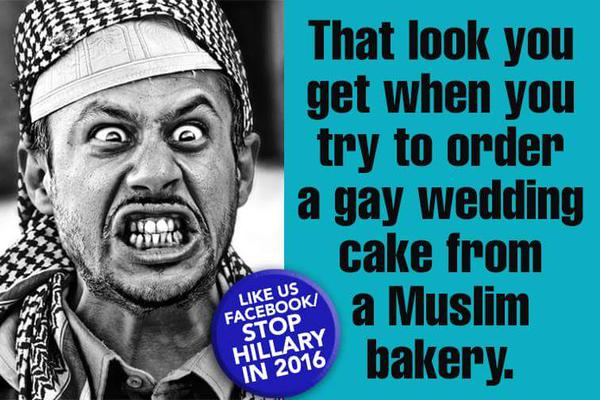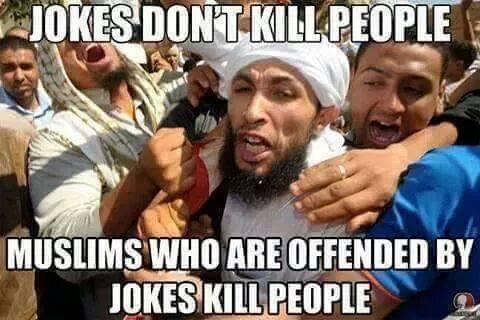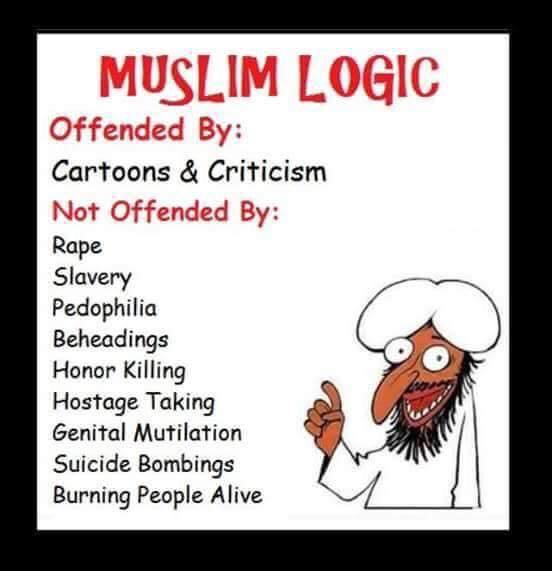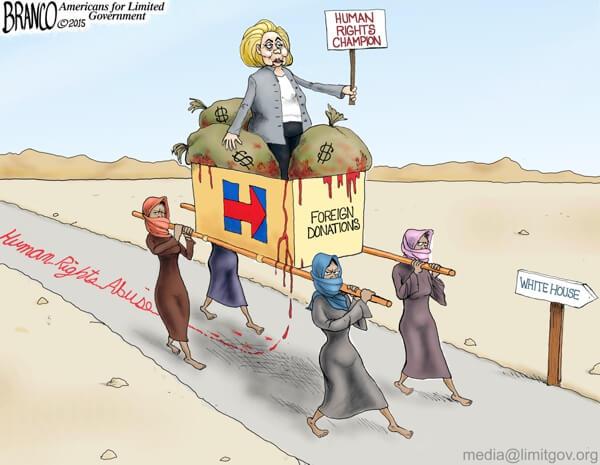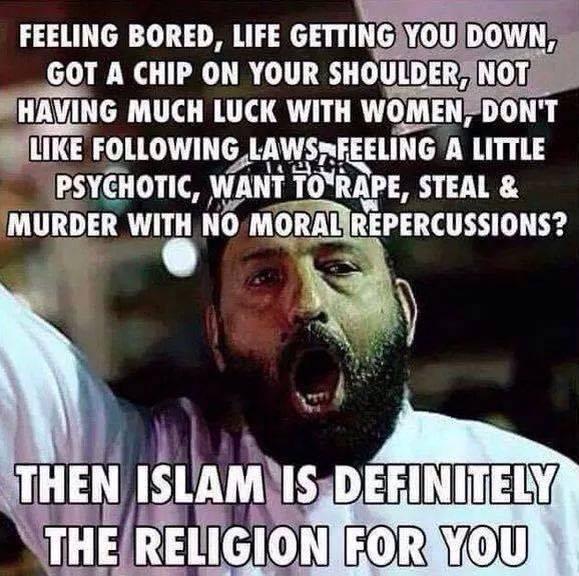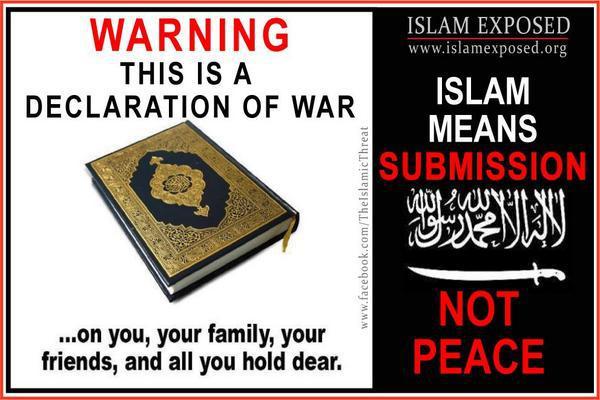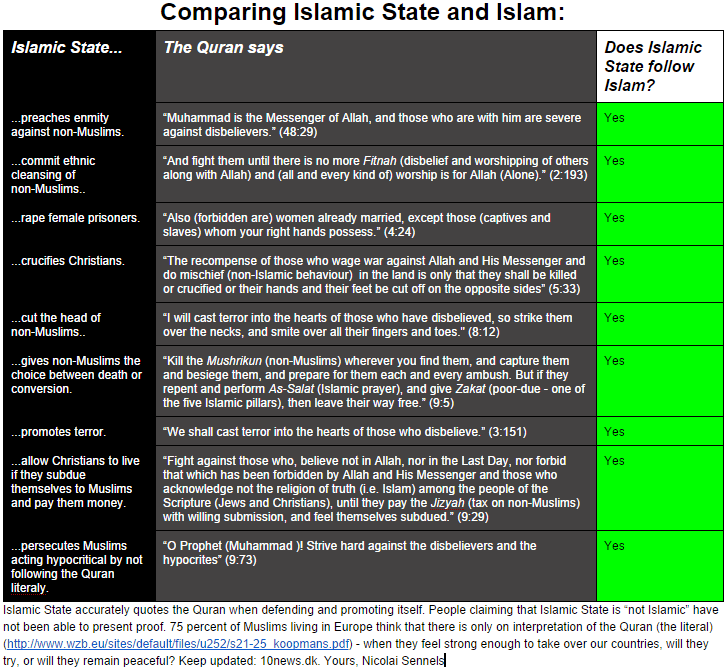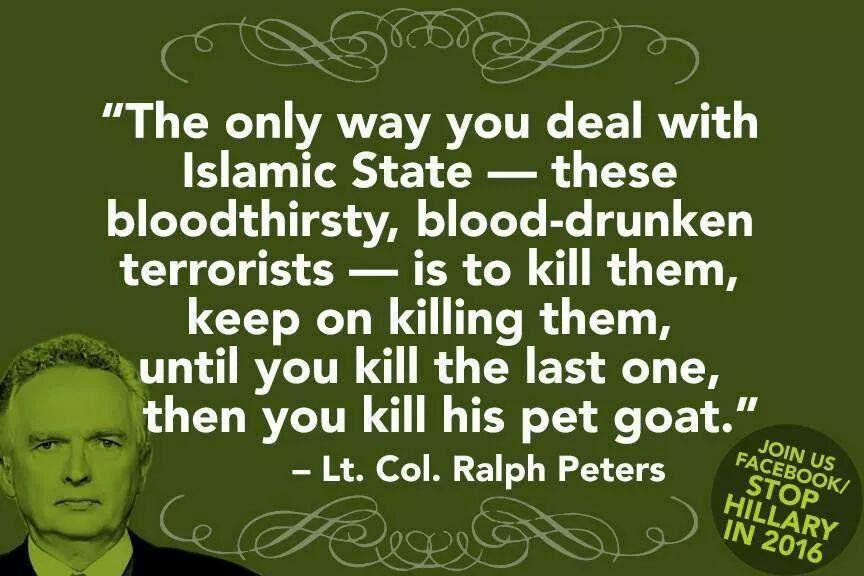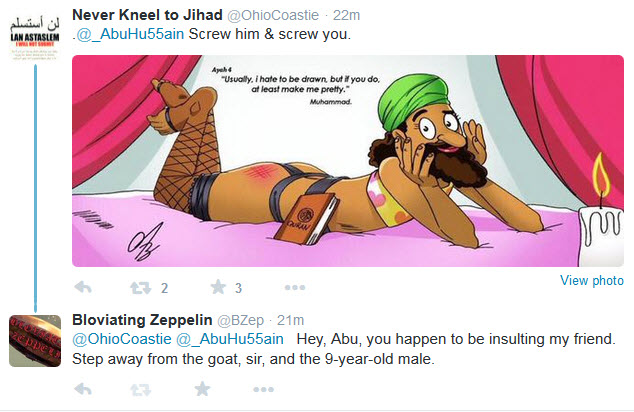 And, of course, BZ had to weigh in on Twitter as well (above), to Abu Hussain.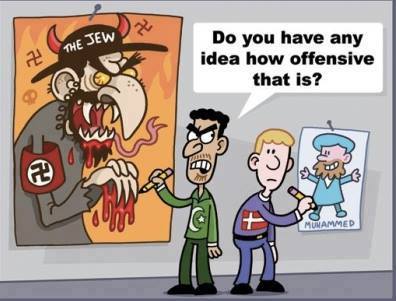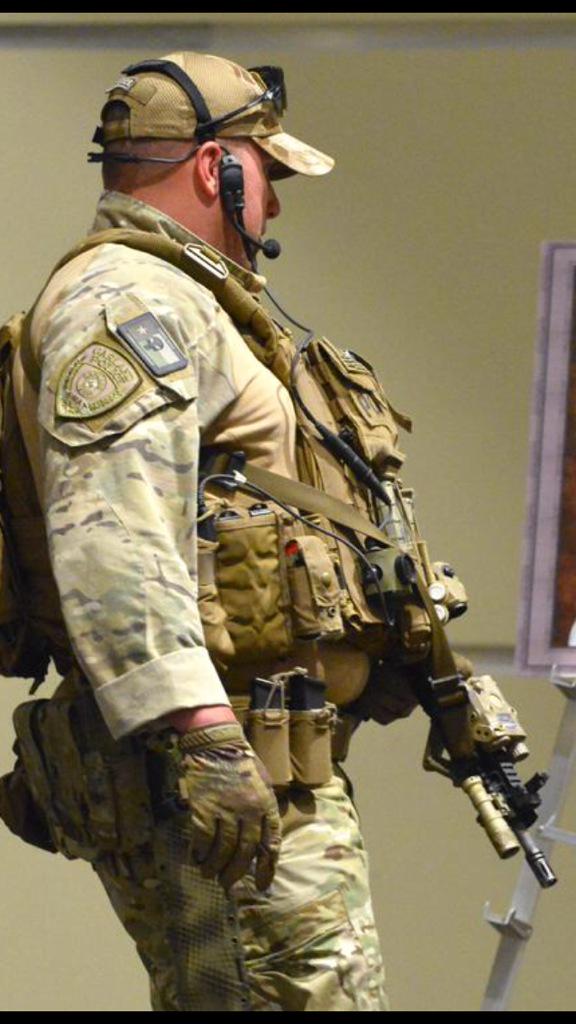 Garland PD SWAT officer with Punisher patch.  Nicely played, sir.
Wonder no more, America, why your civilian law enforcement tends to "look" militarized when in fact they truly are not.  An incident such as this.
Because, after all, when (not if) ISIS and/or other Muslim Fucktards slay your brother or your mother inside a mall, you'll be whining and moaning about America's cops not being sufficiently militarized.  Why?
Because soldiers and the federal government minions are not First Responders.  Real cops are. 
Most federal officers are not real cops and couldn't pretend to be, because they don't know the first thing about working an area day-to-day and hour-to-hour.  The FBI are not real cops; DHS "officers" aren't real cops.  The FBI is good for second-guessing real cops at their leisure, and licking the cock and balls of their local AUSA.  The FBI have their place, of course, but not as first responders.  The same with FEMA.  In other words: the feds will not be saving you with immediacy.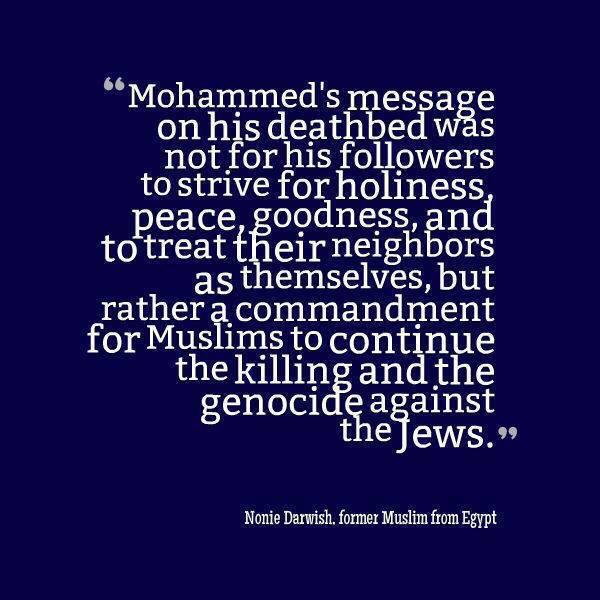 I don't think I can quite be more succinct than this, with regard to Islamists in my country and the world over: FUCK ISLAM.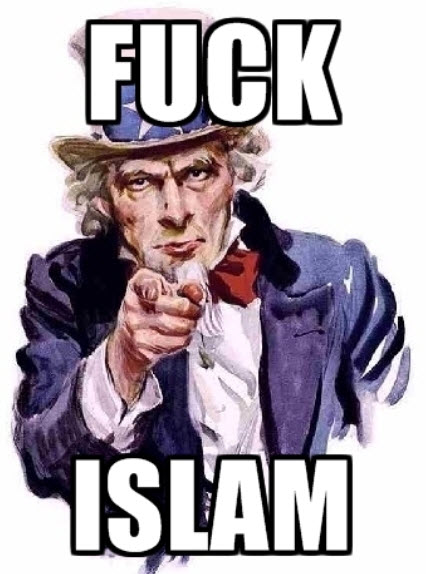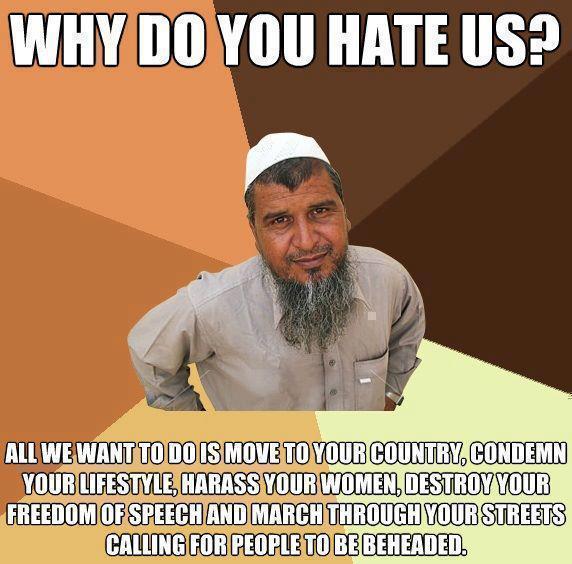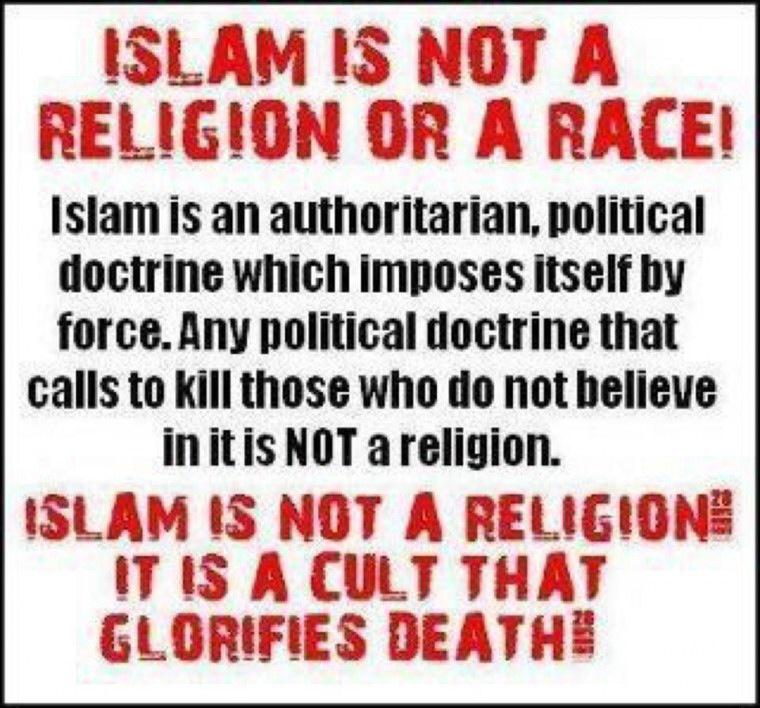 Islam is a death cult.  Ignorant people quantify it simply as a religion, but it is a political culture of death, depravity, clitorectomies, female genital mutilation, misogyny, goat penetration, pedophilia, ignorance, barbarity, violence and stupidity.  The last thing attributed to Islam as practiced is peace — which is why I always say and have always said "Islam is as Islam does."

Leftist ignorant idealists believe in the above.

I and others like me believe in this.
With luck, I may have been able to convey to you, my stalwart readers, how I truly feel about Islam, though I have held some of my more strident thoughts back due to political correctness.
BZ