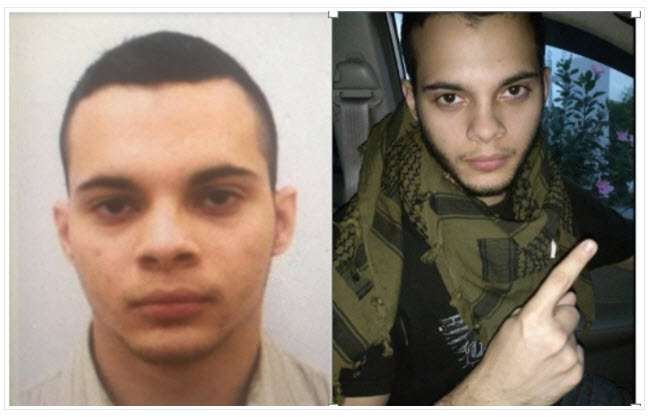 Some persons in the media are refusing to acknowledge what is being discovered about the Ft Lauderdale, Florida airport killer Esteban Santiago Ruiz — otherwise known as Aashiq Hammad.
From PamelaGeller.com:
Fort Lauderdale Jihadi Esteban Santiago aka "AASHIQ HAMMAD": "La ilaha illAllah" and "There is no God but Allah"

Estaban Sanitago's aka Aashiq Hammad journey to Islam goes back at least 10 years. His MySpace page is eyeopening.  More news the enemedia ignores, censors, scrubs – thanks to Charles Johnson over Got News.

As for mental illness, that is now the default cover for Islam. It was "lone wolf" until the number of 'lone wolves' made the narrative ridiculous and absurd. Now Islam is a mental illness.

Suspect chose Florida airport for rampage that killed five: FBI: Santiago/Hammad chose Florida airport for rampage that killed five.
Ask yourself and be honest; a few minutes after hearing the initial reports, didn't your gut tell you: it's likely attached somehow to Islam?
Fort Lauderdale Airport terrorist Esteban Santiago registered on MySpace under the name "Aashiq Hammad" and recorded Islamic religious music on the site, 3 years before he ever deployed to Iraq as a U.S. soldier, destroying the lying mainstream media's narrative that he was just a mentally disturbed veteran and that "Islam had nothing to do with it."
Someone who should know about Islam, Walid Shoebat at Shoebat.com, saw things clearly and early when photographs began to emerge.
Photo Evidence Reveals Ft. Lauderdale Shooter Is A Muslim Terrorist

CBS now reports:

In Nov. 2016, Santiago-Ruiz walked into an FBI office in Anchorage and claimed he was being forced to fight for ISIS, law enforcement sources told CBS News. He was sent to a psychiatric hospital after police were called, sources said. He was also investigated as part of a child porn investigation in either 2011 or 2012, law enforcement sources told CBS News. Three weapons and a computer were seized, but no charges were filed, sources said. Sen. Bill Nelson of Florida said it was unclear whether the military ID was the gunman's.

"We don't know a motive at this point," Nelson said. "This could well be someone who is mentally deranged, or in fact it could be someone who had a much more sinister motive that we have to worry about every day, and that is terrorism. We can't conclude that."

But the dead giveaway in Ruiz's photo below is not just the Kaffiyeh around his neck, even more particular, is him raising his index finger. The Muslim calls the index finger sabbabah, to proclaim there is no god but Allah, a single unique god. This is a sign that he believes that Allah is the unique absolute one (not the Trinity) who sent Muslims to destroy the concept of the Trinity which would be three fingers raised as Orthodox Christians do. This is the signal. If the Nazi has a Seig Heil the Islamist has the sabbabah (index finger) and he raises it on photo ops to declare his allegiance to Allah.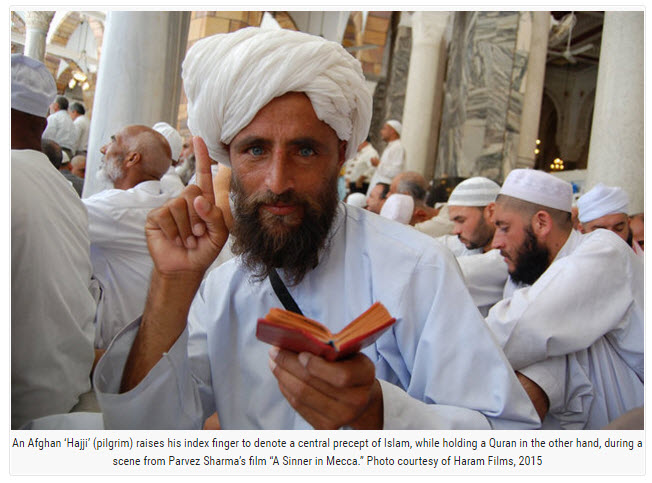 Why or how would Shoebat know? Because he was a radicalized Muslim who worked for the PLO, was imprisoned in Jerusalem for three weeks, and then converted to Christianity in 1994. That would seem a rather insightful CV to me. Shoebat continues: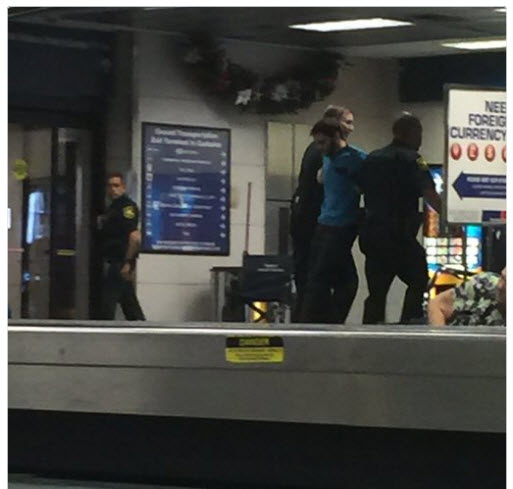 Esteban Santiago is taken into custody, from a Twitter photo.
As far as the "mental illness" is concerned, this rampage was carefully planned. He flew from Alaska to FLA via MPS-St Paul. The act was too cold and calculating for someone with mental issues. The attack compares to the summer 2016 attack on Ataturk Airport in Turkey, and ISIS terrorist channels knew Esteban's name before the news reported it. A U.S. senator gave Esteban's name out live on MSNBC. It is unclear if ISIS channels spread his name before MSNBC did.
The victims killed in the attack are Shirley Timmons, 70; Terry Andres, 62; Olga Woltering, 88; and Michael Oehme, 57. The fifth murder victim is, as of this writing, unnamed.
Let me state this again for those unfamiliar with my position regarding Islam. It is not a religion; it is instead a social, cultural, political system and ideology masquerading as a religion.
There is also no such thing as a "moderate Muslim." There are only those claiming to be Muslim who are not in obeisance with the Hadith and the Koran.
Read the books, ladies and gentlemen. Do the work. Listen to what Muslims are saying.
Then realize that "Islam is as Islam does."
BZ