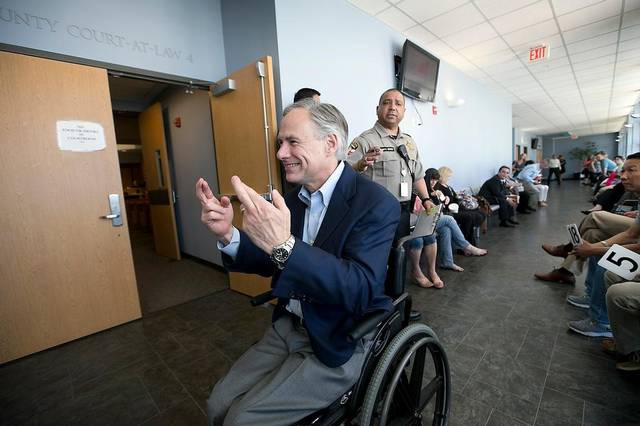 Just as elections have consequences, we may finally be turning the corning on the corresponding axiom of "actions have consequences."
First, the story from Statesman.com:
Abbott: Governor's office to cut funding for Travis County after immigration policy change

by Tony Plohetski and Katie Hall

6:10 p.m. update: Soon after newly elected Travis County Sheriff Sally Hernandez announced she would be scaling back her department's cooperation with federal immigration agents, Gov. Greg Abbott tweeted that his office will cut funding "for Travis County adopting sanctuary policies."
"Stiffer penalties coming," his tweet says.
This week, the American-Statesman reported that she had notified the county that it would soon no longer be complying with federal agents' requests in many cases. The county consequently could lose up to $1.8 million in grants because the governor's office requires compliance in order to receive grants. 
Gov. Greg Abbott said via Twitter in response to the Statesman's report, "I'm about to up the ante. No more sanctuary cities in Texas."

The Travis County sheriff's office has a $169 million budget, according to the county's budget website. The $1.8 million would represent 1 percent of that budget.

Earlier: In a major policy shift that is already being met with controversy, Travis County Sheriff Sally Hernandez on Friday announced that she is scaling back the amount of aid her department provides federal immigration agents in detaining suspects who may be in the country illegally.

Traditionally, the county has honored nearly all requests by U.S. Immigration and Customs Enforcement to hold a suspect booked into jail when agents have wanted to investigate their status further.
However, effective Feb. 1, sheriff's officials will honor so-called immigration holds or "detainers" placed by federal authorities only when a suspect is booked into the Travis County Jail on charges of capital murder, aggravated sexual assault and "continuous smuggling of persons." 
Sanctuary cities/counties/states do in fact violate federal law no matter what bias-enhanced fake news Leftist websites may indicate. That is the Illegal Immigration Reform and Immigration Responsibility Act of 1996. It specifically requires states and municipalities to cooperate with federal authorities when it comes to immigration enforcement. That is 8 USC section 1324.
To put the issue into perspective, I always enjoy including this quote from CSU Fresno Professor Victor Davis Hanson, a wonderful author as well.
Much of the rural West opposes the Endangered Species Act. Can Wyoming declare that federally protected rats and bugs are not protected inside its state borders, when such pests obstruct construction of dams or highways? Many conservatives oppose federal restrictions on gun sales. Could Oklahoma City declare hand-gun purchases within its city-limits free of federal firearms statutes? Perhaps Little Rock could ignore a Supreme Court ruling and announce that gay marriage is not legal within its jurisdiction. On what rationale would liberals in California object to such nullifications — that neither state nor city had the right to ignore a federal law or to obstruct the law enforcement duties of federal officials?
On a positive note, H.R. 83 was introduced on January 5th by Representative Lou Barletta (R, PA 11th), the Mobilizing Against Sanctuary Cities Act, which would cease federal funding to sanctuary regions or entities for one year. As Barletta said, "they would not get one federal cent." We're talking potentially billions of federal dollars of highway, education and medicaid cash.
We are a nation of laws operating under the rule of law. If we have no rule of law, then most any city, county or state may arbitrarily decide which laws they wish to obey or disregard. Therefore, if that stands, it logically follows that the individual likewise has the freedom to obey or disregard the laws that he or she chooses, when he or she chooses.
It is the path to chaos.
The time is now to stop the chaos, and establish and reaffirm discipline and sovereignty.
BZ