From the ChicagoTribune.com:
Mayor: New high school won't be named after President Obama
by John Byrne, Juan Perez Jr and Dana Ferguson
Mayor Rahm Emanuel backed off Thursday from naming a new elite high school after President Barack Obama amid ongoing criticism from African-Americans who felt the honor inappropriate for a school slated for a wealthy, predominantly white part of the Near North Side.
Instead of naming the new school after his former boss, the mayor indicated he would consider other names for the selective enrollment high school set to be built near the site of the former Cabrini-Green public housing project just northwest of downtown.
Excuse me for a moment.  I generally don't know crap about Chicago, but I happen to know about the Cabrini-Green public housing projects in that city.
And the former Cabrini-Green projects were the toilet of Chicago.  From Wikipedia:
At its peak, Cabrini–Green was home to 15,000 people,[2] living in mid- and high-rise apartment buildings totaling 3607 units. Over the years, gang violence and neglect created terrible living conditions for the residents, and the name "Cabrini–Green" became synonymous with the problems associated with public housing in the United States. The last of the buildings in Cabrini–Green was demolished in March 2011.[3]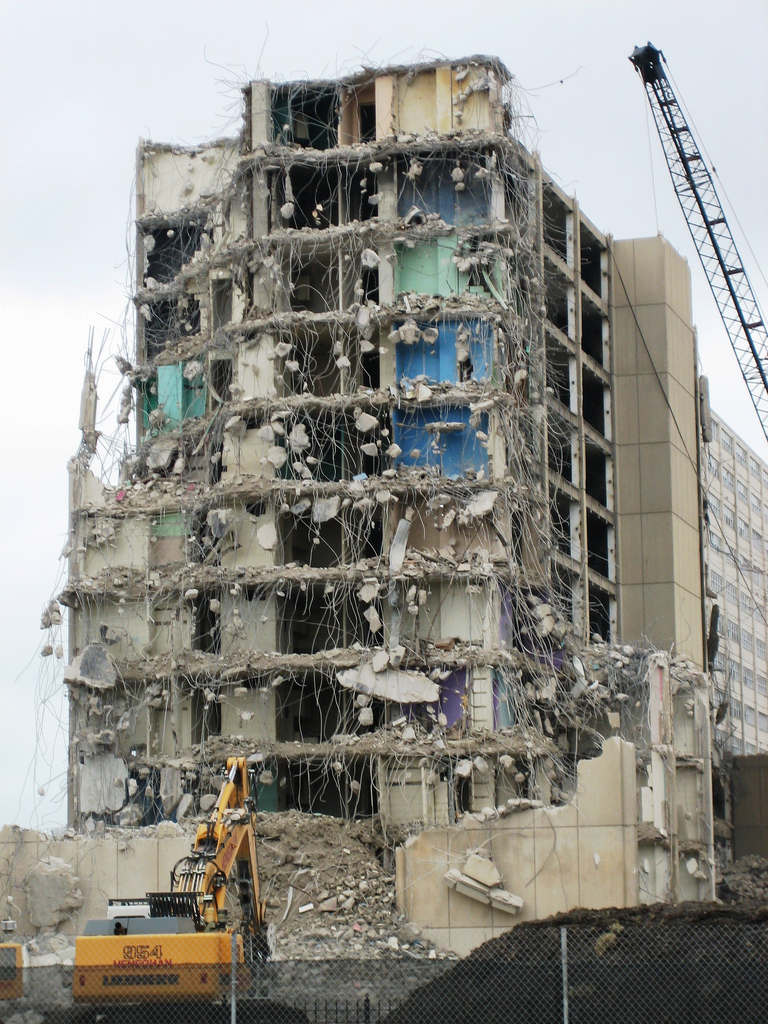 To the point that Chicago had to physically blow up the buildings and take them down.
To continue:
Powerful far South Side Ald. Carrie Austin, who represents part of the Roseland neighborhood where Obama worked as a community organizer before getting into politics, said she told Emanuel shortly after the announcement that the name was a problem given where it would be built.
"If they're going to name a school after President Obama they should put it somewhere else," Austin said Thursday. "Either in Roseland, where he got his start, or in the Hyde Park area, where he lived and has a home. To put it (on the near North Side), that just doesn't look right."
It wouldn't "look right."
Translated: the new area was too "gentrified"with Caucasoids and wasn't sufficiently "ghetto" in order to honor the name and "strife" of Barack Hussein Obaka.
Mayor Emanuel caved.
"He backed off on the name," Austin said. "To his credit, he heard what we were saying and he listened and took it to heart."
But here's the black political Crux of the Biscuit in Chicago:
The name change comes as Emanuel tries to win back faltering support from African-American voters heading into the February 2015 municipal elections. Mayoral opponent Ald. Robert Fioretti launched his campaign against Emanuel last week by charging that the mayor's policies have benefited wealthy Chicagoans while leaving working class residents behind.
Chicago Teachers Union president Karen Lewis, who is weighing a mayoral run, has been critical of Emanuel's school policies as well, also saying they favor the wealthy at the expense of poorer residents.
Karen Lewis.  This Karen Lewis?  The "harpooned whale" Karen Lewis (at least she's eating well courtesy of her dues-paying blue collar teachers)?  I submit that the phrase "weighing a mayoral run" is quite the poor choice of words.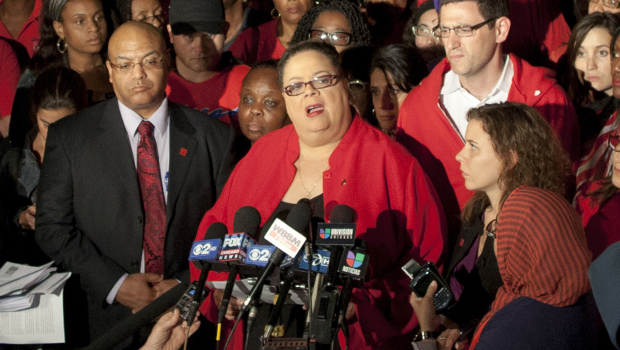 Chicago teachers strike: want a 16% wage increase