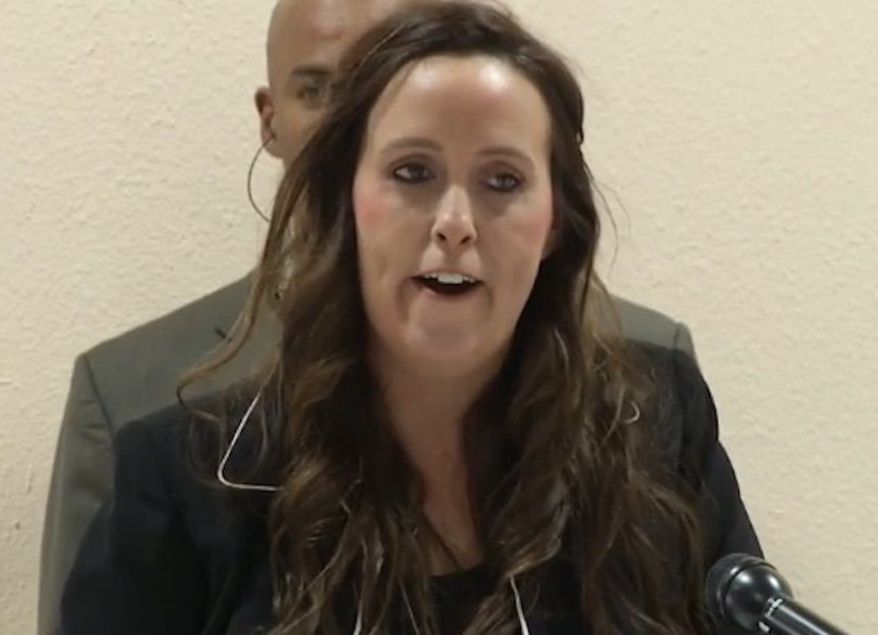 SA Observer Editor Stephanie Zarriello, not a friend of law enforcement.
The San Antonio Observer, a weekly Leftist tabloid aimed at the black community, has declared war on cops — as we watch Stephanie Zarriello, the Caucasoid Editor-In-Chief of said weekly, say so at a press conference in the below video — with a bow-tied Black Muslim member in the background for security, his earpiece in place.
"Like Ku Klux Klansmen with hoods, they do everything they can to protect their identities for fear of being brought to justice.  Just as the names and addresses of sex offenders are publicized in order to protect the public from their wicked behavior, we feel that our community has the right to the exact same level of protection.  We of the San Antonio Observer newspaper are looking into the future prospects of publicizing the names and the addresses of all San Antonio Police Department officers."
This reprehensible exhibition follows on the heels of two terrible events.
First was the shooting by the San Antonio Police Department of a black male, the predicating event for Zarriello's puerile rant.
SAN ANTONIO — John Lee, who fatally shot an unarmed man on the North Side last week, was not the only uniformed San Antonio Police Department officer at the scene, according to new details revealed in an incident report obtained by MySA.com Wednesday.

Officer Lee said he believed Antronie Scott, 36, was holding a gun at the time of the shooting, however, the object was a cellphone.

Wanted on two felony warrants, Scott was being followed by undercover officers Thursday, McManus said in a briefing that night. They watched as he drove to the Wood Hollow Apartments at 10362 Sahara St., near Isom and Ramsey roads, about 6:45 p.m. and called for a uniformed officer to approach him, McManus said.
The other tragic event involved the shooting deaths of two Harford County (MD) deputies this Wednesday; one deputy was shot in the head without warning.
Members of David Brian Evans' estranged family were alarmed to see him several times in the last month at the Panera Bread restaurant in Abingdon, calling police to report that the man they say shot his former wife almost 20 years ago was back in town.

On Wednesday morning, his former wife saw him there again and called police. Harford County sheriff's Senior Deputies Patrick Dailey and Mark Logsdon responded — and were shot to death by Evans, who was killed by return fire.

More details emerged Thursday about Evans, 68, whose son says had abused his family, and about the officers who died at his hands. Dailey, 52, and Logsdon, 43, were veterans of the Marines and the Army, respectively, who left behind children, parents and what Harford County Sheriff Jeffrey R. Gahler said were "absolutely" devastated colleagues.
And this despicable threat was offered by Zarriello in keeping with what many term the current "war on cops," as I wrote here on Tuesday and then spoke about on the Tami Jackson Show on the 405 Media that same day, with former Chief of Police Enes Smith.  The podcast is here.
Later, Zarriello recanted her words to Fox's Shannon Bream, saying that, no, that's not what she meant.  She meant to perhaps publish the addresses of the "bad cops" but could not delineate a "bad cop."  Bream asked how Zarriello would determine a "bad cop" if they haven't been convicted in an American court of a charge or crime?  Zarriello said yes, that's true, they should only be identified by a conviction.
Zarriello made the linkage of publishing the addresses of law enforcement officers in San Antonio to the publishing of the addresses of registered sex offenders.
And the owner of the Observer didn't even provide his name.
Absolutely disgusting.
But I want you to understand, without reservation, that in the eyes and minds of Leftists, those two events are one and the same, with the unspoken exception that sex offenders can't help themselves and cops have it coming.
I'm sorry, White Editor Goddess, ruler of black publishing in San Antonio, but that's not what you said at your press conference.
Your publication's owner — who refused to give his name to the press — said well, now, we may have overstated things a bit.
Finally, I determined it would be appropriate to weigh in with the following comment.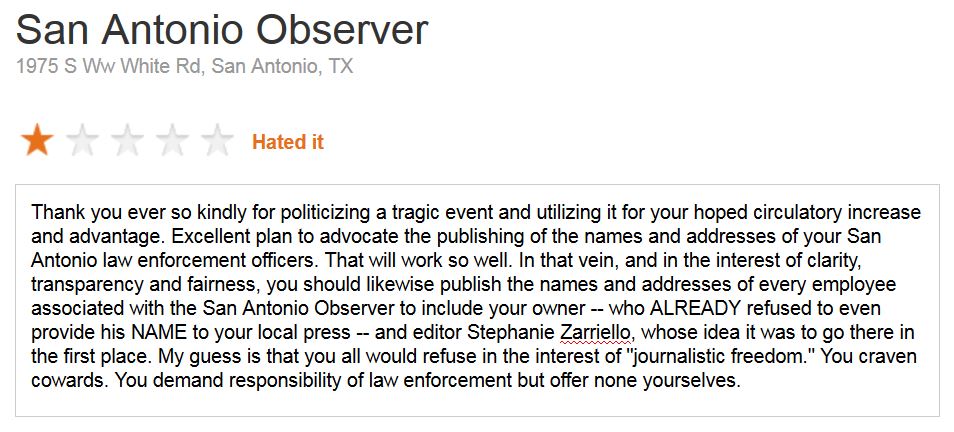 Yes, this is what passes for "journalism" these days in the bankrupt culture of Leftists.
BZ