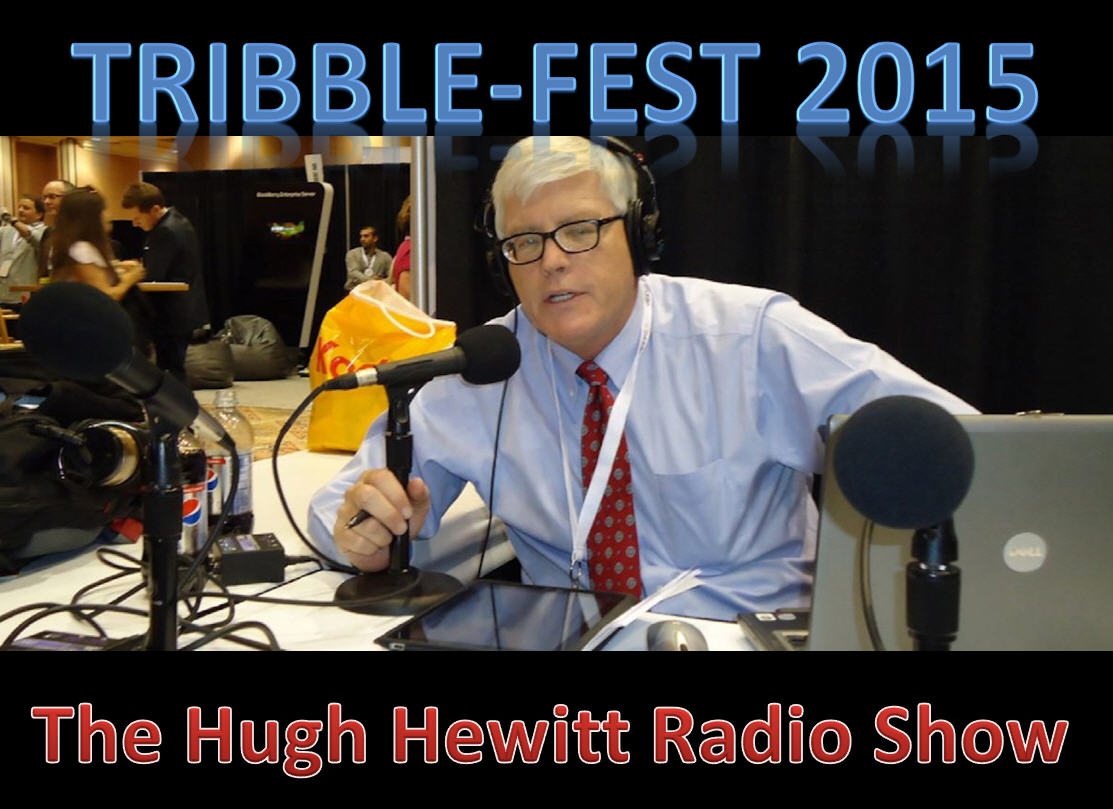 It all started with a can of Monster, of course.  All long journeys do.  Okay, fine, alright, a can of Monster and a can of RockStar.  Alright, stop, enough.  A can of Monster, a can of RockStar and a stop at McDonald's for a large diet Coke.
Sheesh.  You guys are relentless.  Really.
Though TribbleFest has been in existence since 2011, and I've been listening and advancing my Evil Agenda in the Hughniverse chatroom since at least that time via my website at BZ, I had never physically attended one of those "TribbleFest" thingies.  And I almost didn't attend this one, but for a last moment's reconsideration.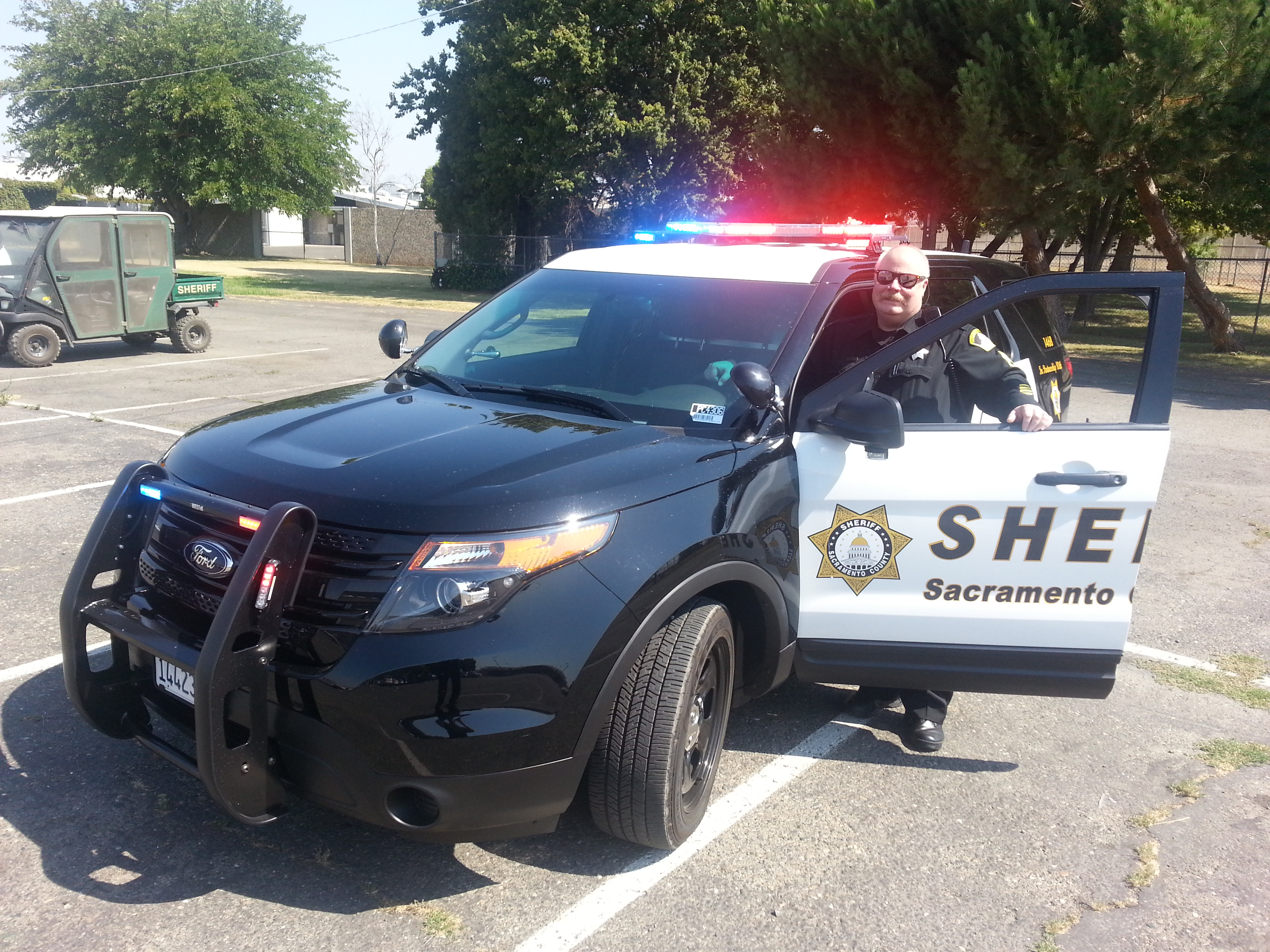 You see, I've just retired after 41 years in law enforcement.  This is one of my last photographs at work.  And I instantly went from relevant to irrelevant in one day.  That was tough for me, mentally, to take.
I'd heard the TribbleFest was imminent but first thought: no, just sit this year's festivities out.  Then I decided: yeah, take a break.  Why not embrace your internal schizoid?  I finally determined I didn't want to be the one sitting at home and listening to the radio vicariously whilst everyone else was potentially having at least one metric tonne of fun (the equivalent of approximately 2,204.6 pounds of fun).
So I signed up.  Thanks to Tami Jay for assisting me with the extremely last moment arrangements on most every level, from the Fairfield Inn to Disneyland.
"Once upon a time, on the second floor of a strip mall in Irvine.  .  ."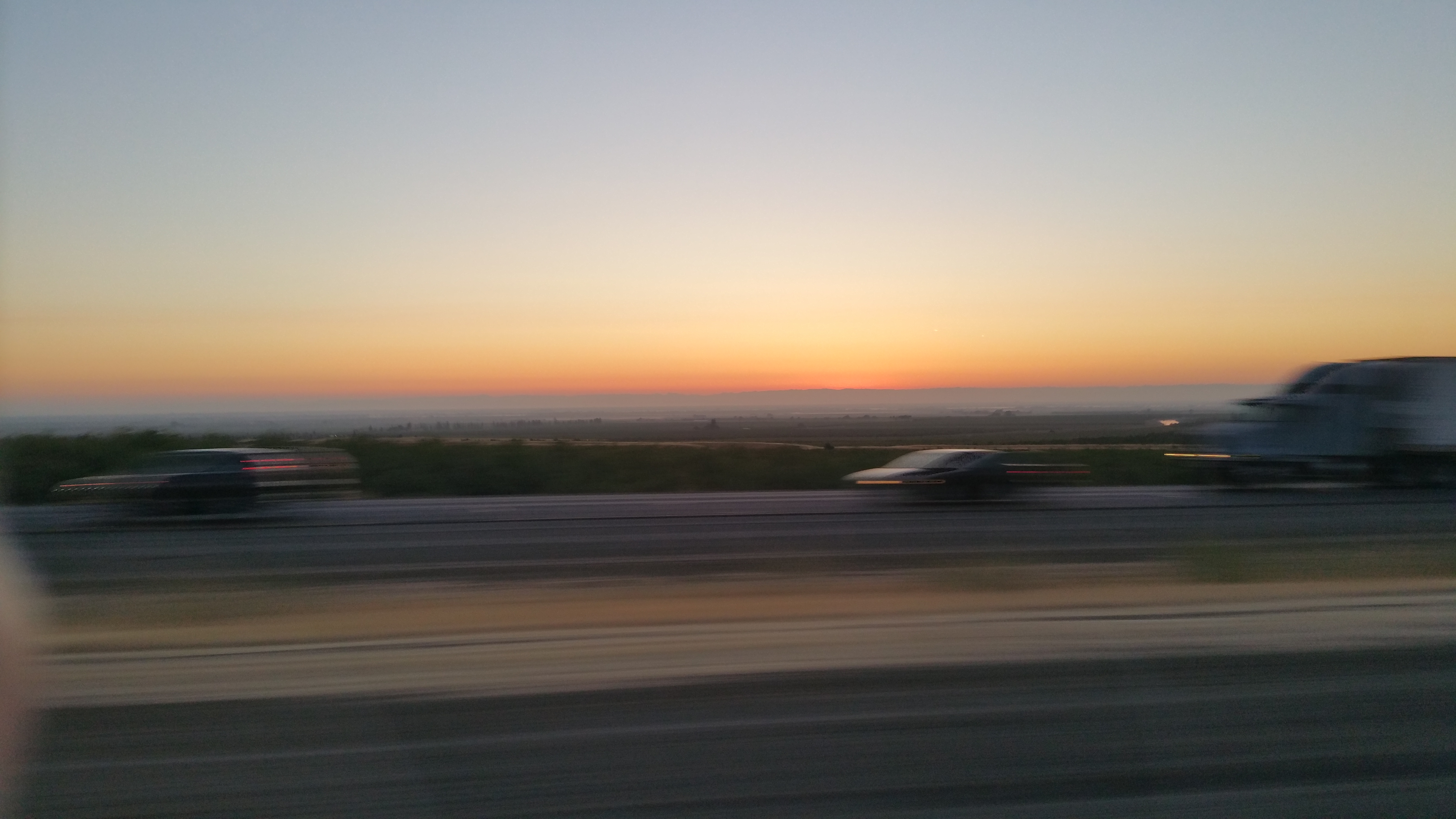 I started before sunrise at 4:30 AM to be precise, Wednesday the 15th.  I thought it would take me a good 10 hours to reach Lost Angeles.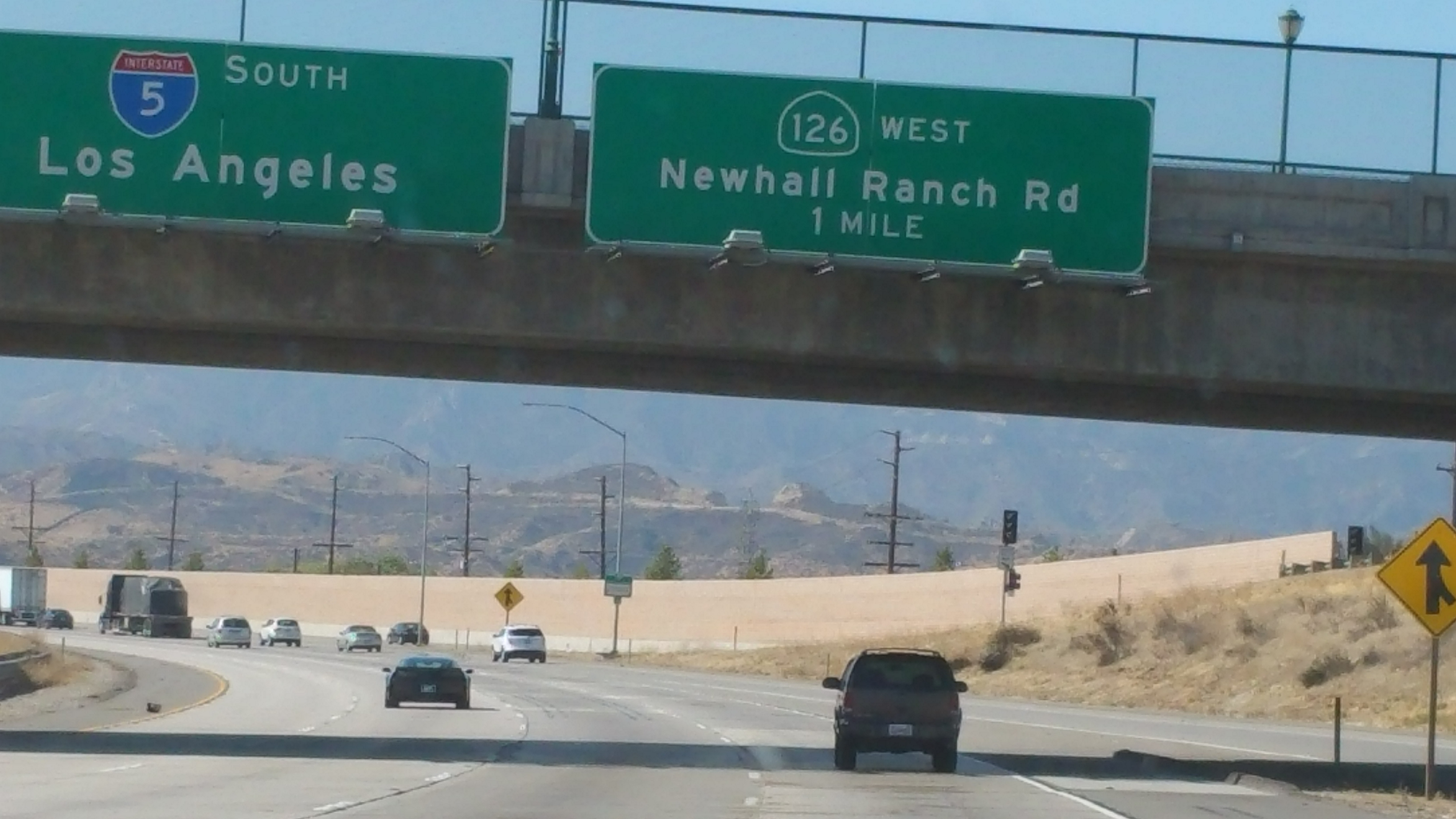 I got to Newhall, which means a terrible thing to me and the California law enforcement community, but mostly nothing to everyone else.  Four CHP officers died in Newhall in 1970.  They perished not because they were necessarily outgunned, but because their tactics fell behind that of their aggressors, who knew what they would do in advance.  That was a seminal day for law enforcement, which changed the way it trains at least statewide.
In truth, I greatly overestimated the time it took to arrive in LA, as I had failed to account for the Kenworth Factor.  That is to say, if you don't at least equal or better the overall 85-to-90 mph speed of surrounding Kenworth traffic on I-5, you're going to get your ass run over.  It also seemed as though my GPS could only say "keep left."  A lot.  I was driving in Fornicalia, after all.
Therefore, I arrived at the Tustin Fairfield Inn & Suites at 11:30 AM and, kudos to them, I was given a room immediately.  They didn't have to do that (check-in is at 3 PM) but they did.  The staff was quite kind and the gesture much appreciated.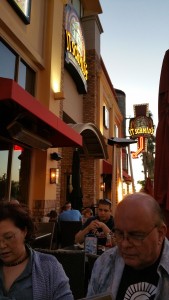 That said, I arrived a day early as did Jay Dub, Major Bob and Major Bob's best half.  We met and had dinner at J.T. Schmid's in The District.
For those unknowing, The District is one of the most hideously-foul shopping centers in America.  Packed with cars, it is confusing, confounding, tight, its roads are small, parking spaces smaller, and you can't get wherever you want to go from wherever you are.  It invites you in readily with no stop signs whatsoever.  The problem is, you can't get out.  Ever.  It's planned that way.  It's planned to make your passengers pissed off and quite verbal because you can't — no one can — seem to extricate yourself from its evil grip.
That was Wednesday, my driving day.  Thursday the 16th was everyone else's fly-in/drive-in day.  I met Eyelah, Tami Jay, and Tribbles to be named later when we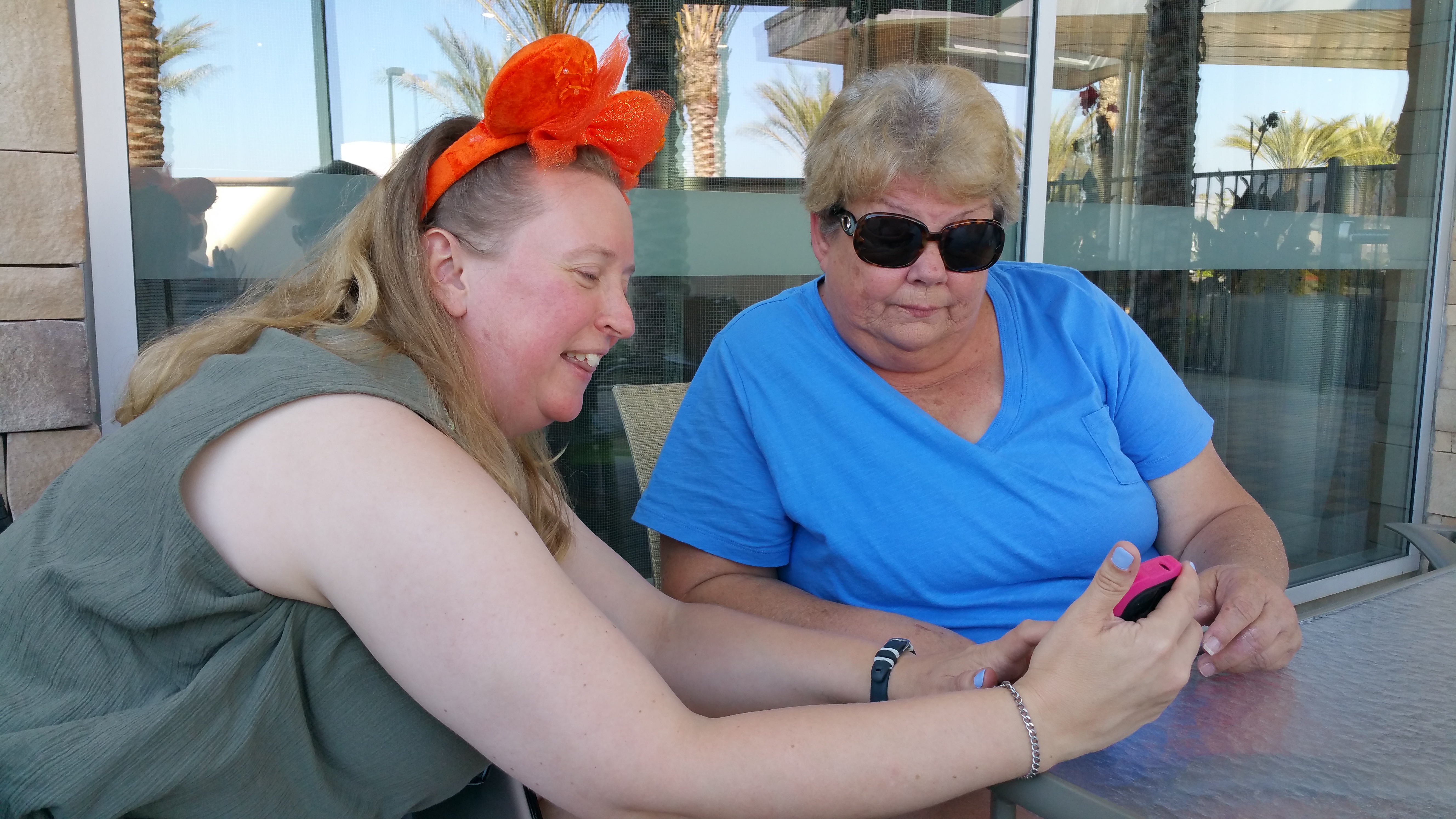 Eyelah and Jay Dub navigate technology that leaves BZ light years behind.
congregated at Lucille's for dinner.  It was here that the rest of TribbleDom was introduced to me, and Hugh Hewitt producer Duane (I Wish I Had A Producer) Patterson (and his glorious wife, Mrs P) made a surprise appearance, handing out gumballs, Turkish towels (with a generous thread count) and small plastic painted frogs you get in Ensenada which can be affixed to your dash with tape for personal amusement.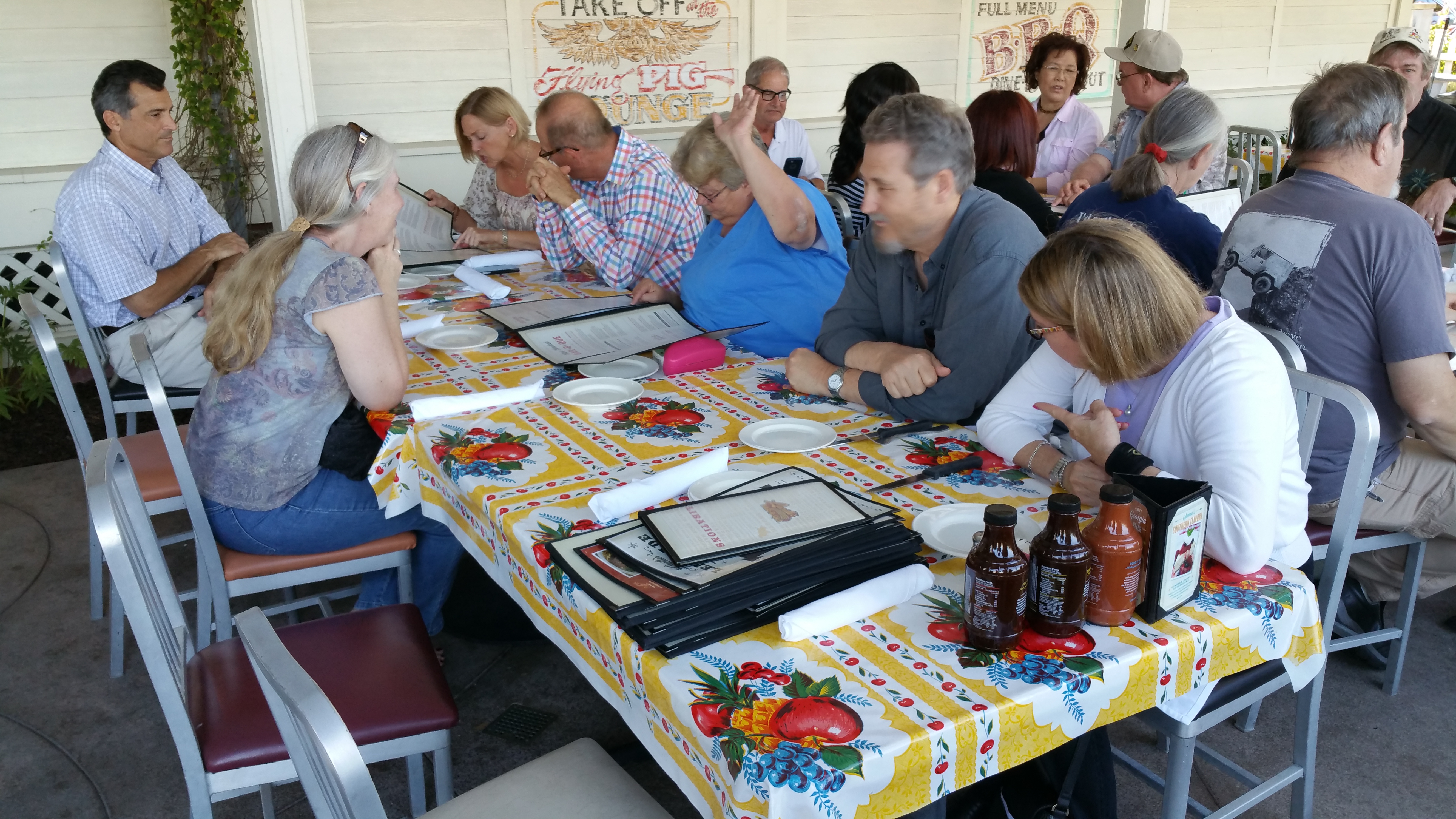 Here, a clutch of Tribbles (A passel of Tribbles? A feast of Tribbles? A congealment of Tribbles?) enjoy the pre-dinner conversation.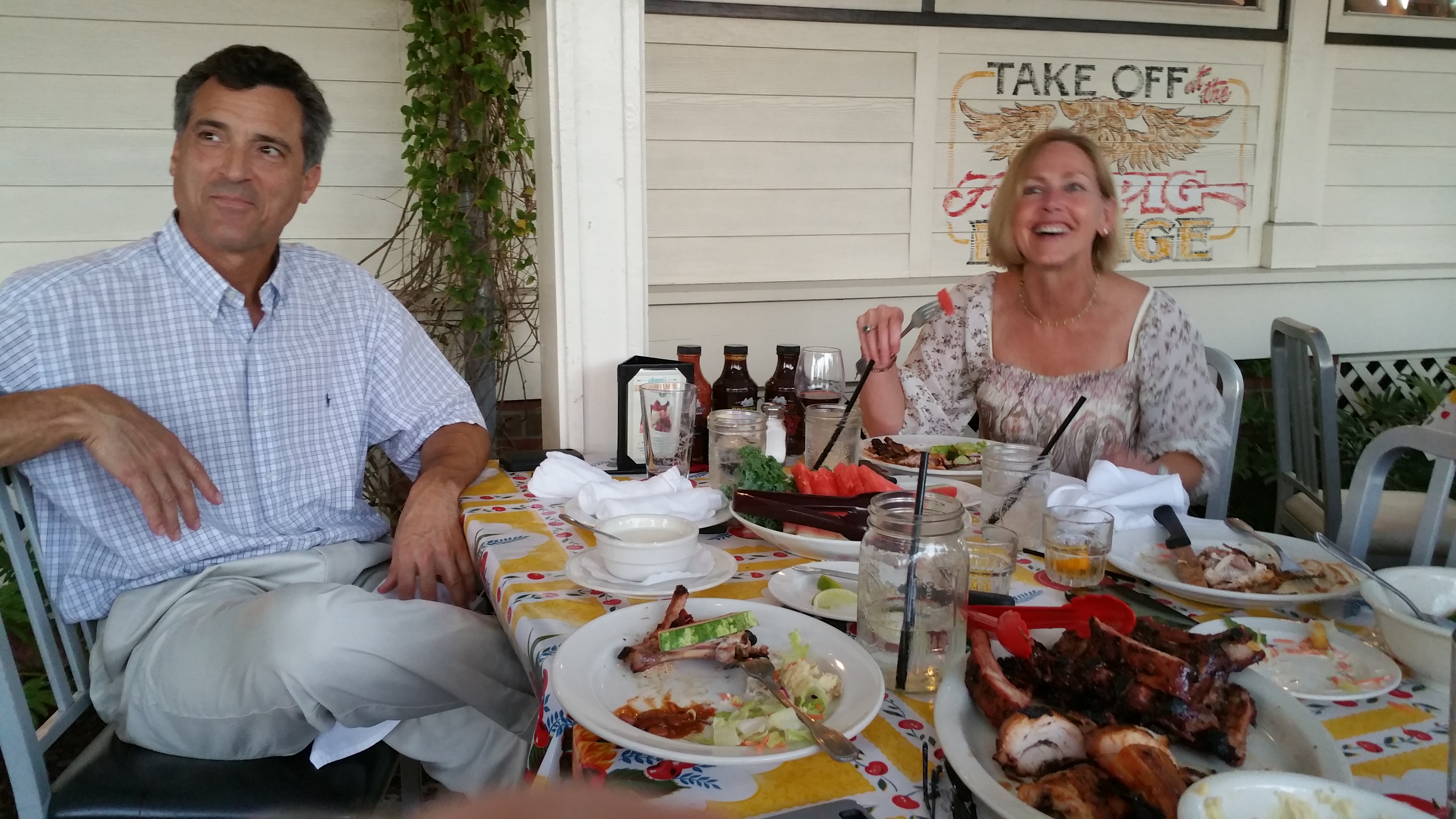 GTS93 and Tami Jay, first night of TribbleFest 2015.
The dinner at Lucille's was great (ribs, chicken, sauce, salad, fixin's) and the atmosphere was convivial and relaxed.  I was formally introduced to many more fellow HHRS devotees and began to wonder: just how and where did this sobriquet of "Tribble" originate?  Of course, because my memory chips are mostly mush, I failed to ask the obvious question.  All trip.  Though I would wonder at night and forget the next morning that I had wondered at night.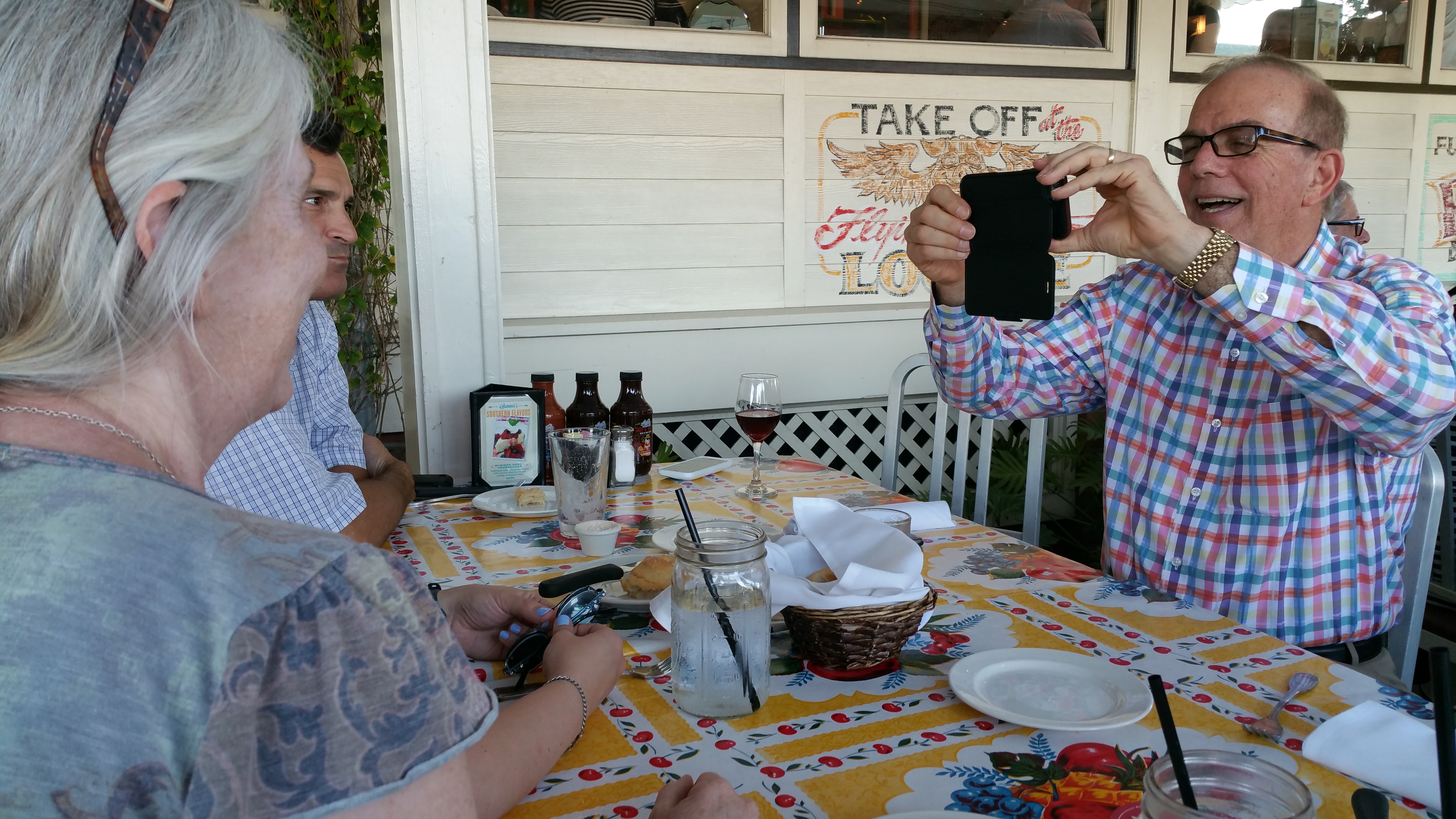 Bedford Guy archives his trip with CG and GTS93.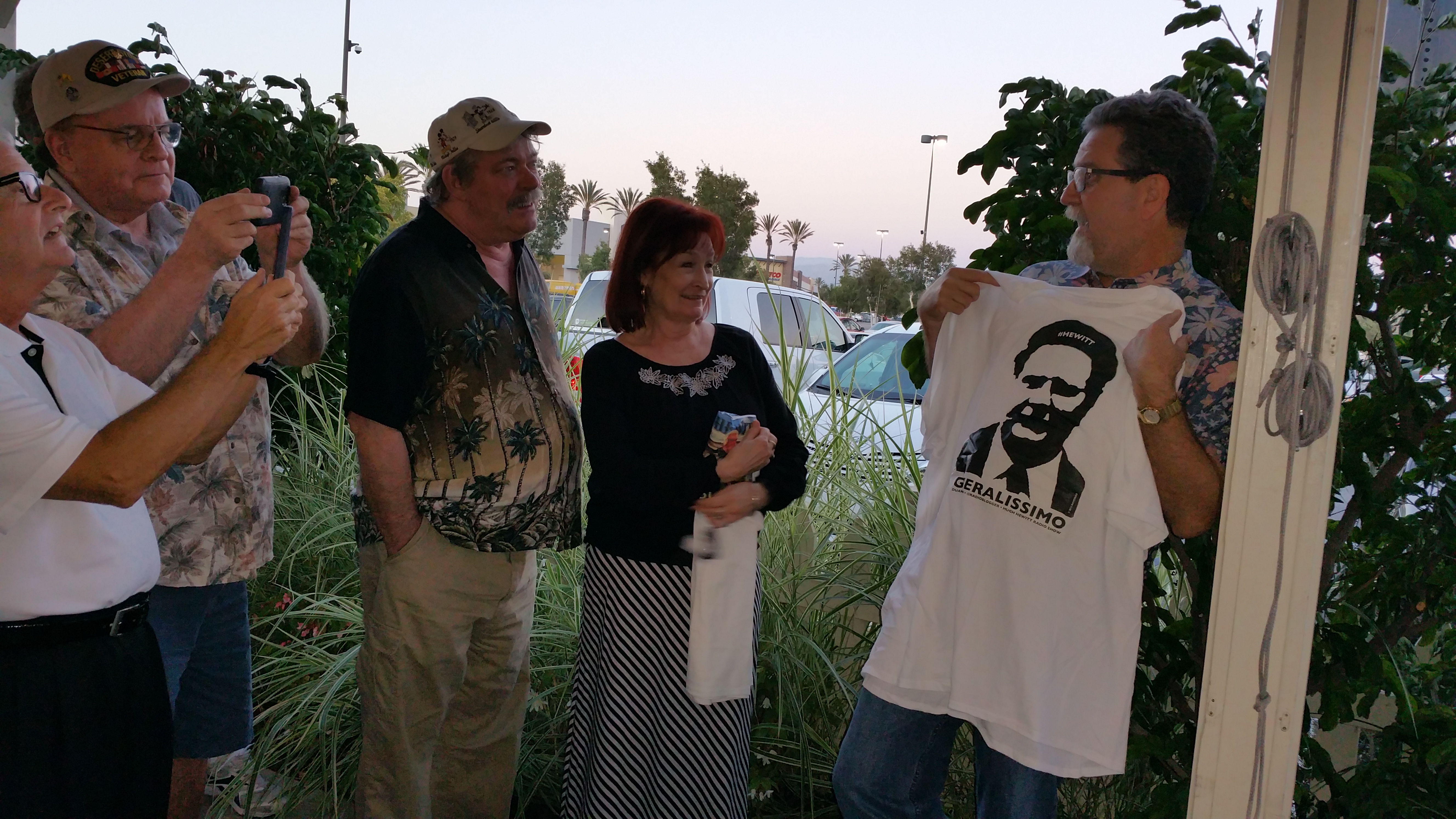 DP receives a shirt gifted from DaveinAZ and L, as MB and Major Bob watch.  No, the shirt was not misspelled, a crease covered two letters.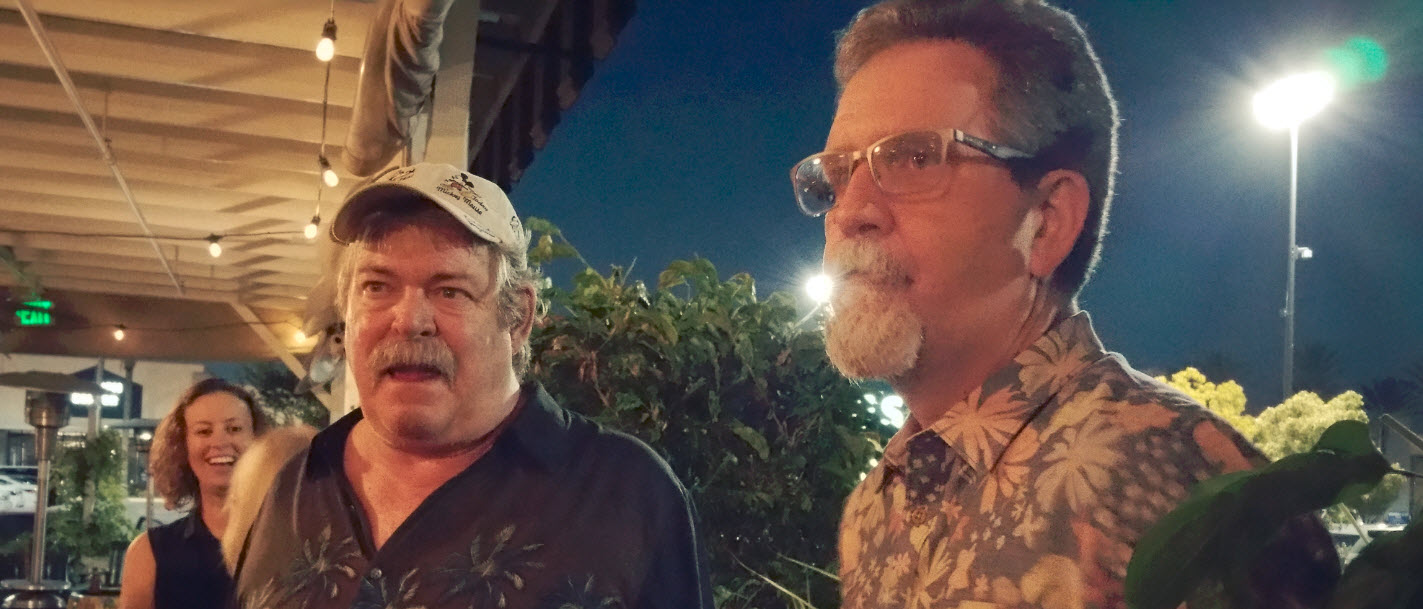 DaveinAZ (L) and DP (R). Dave would have another graphic surprise or two up his sleeve for later, we discovered.
The next day was our raison d'etre: Disneyland.  The Tribbles would pack their finest sunblock, iPads, tablets, hats, cameras and don their most comfy walking shoes.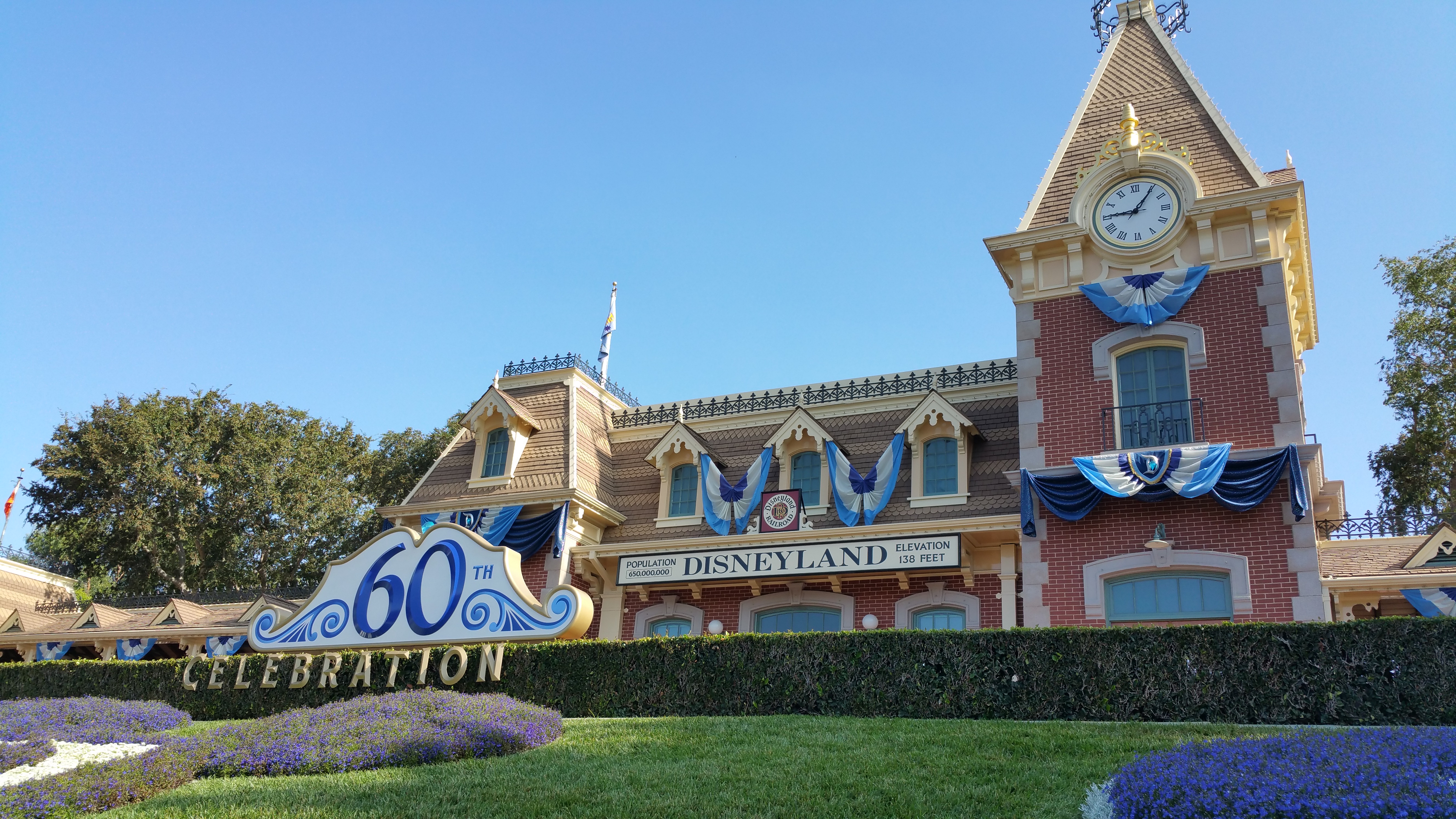 There we were on Friday: the happiest place on earth, with Disneyland celebrating its 60th anniversary.  It was suggested the population would swell to 120,000 persons on July 17th of 2015.  And boy, could you tell.  The high was 88 degrees that day.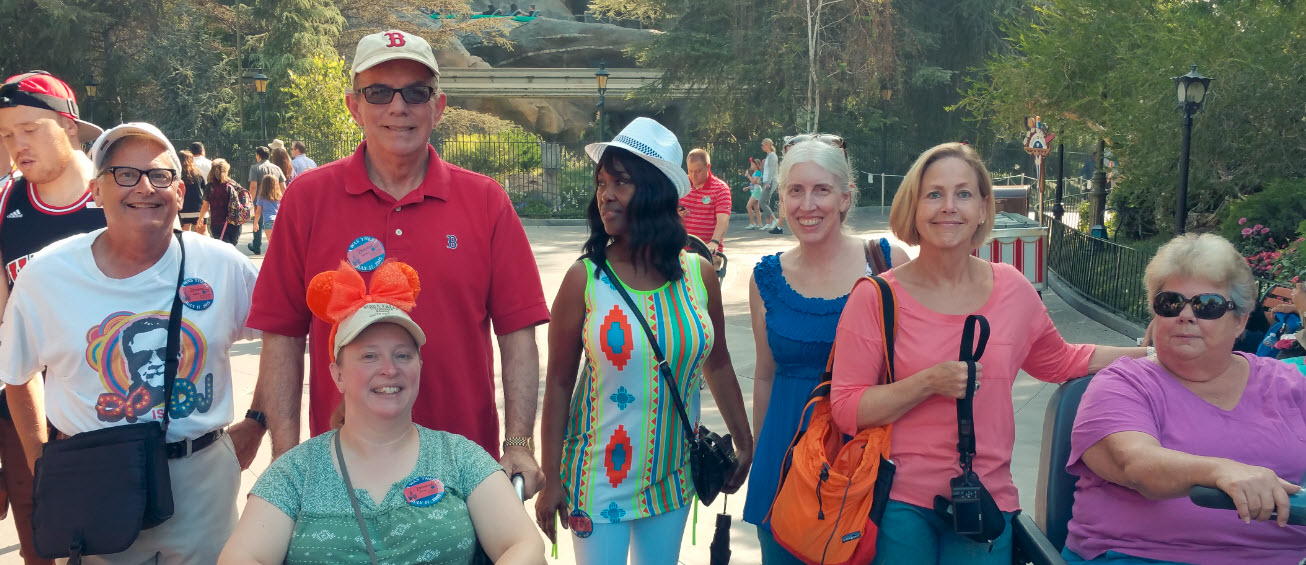 "Pod-o-Tribbles" adjacent the Matterhorn, to include MB, Bedford Guy, Eyelah, Mrs MB, CG, Tami Jay and Jay Dub.
The day at Disneyland exists so that the Tribbles can watch the Hugh Hewitt show, live, near the town square, and to support and cheer on producer Duane Patterson in his multiple-round journey through the ride "It's A Small World."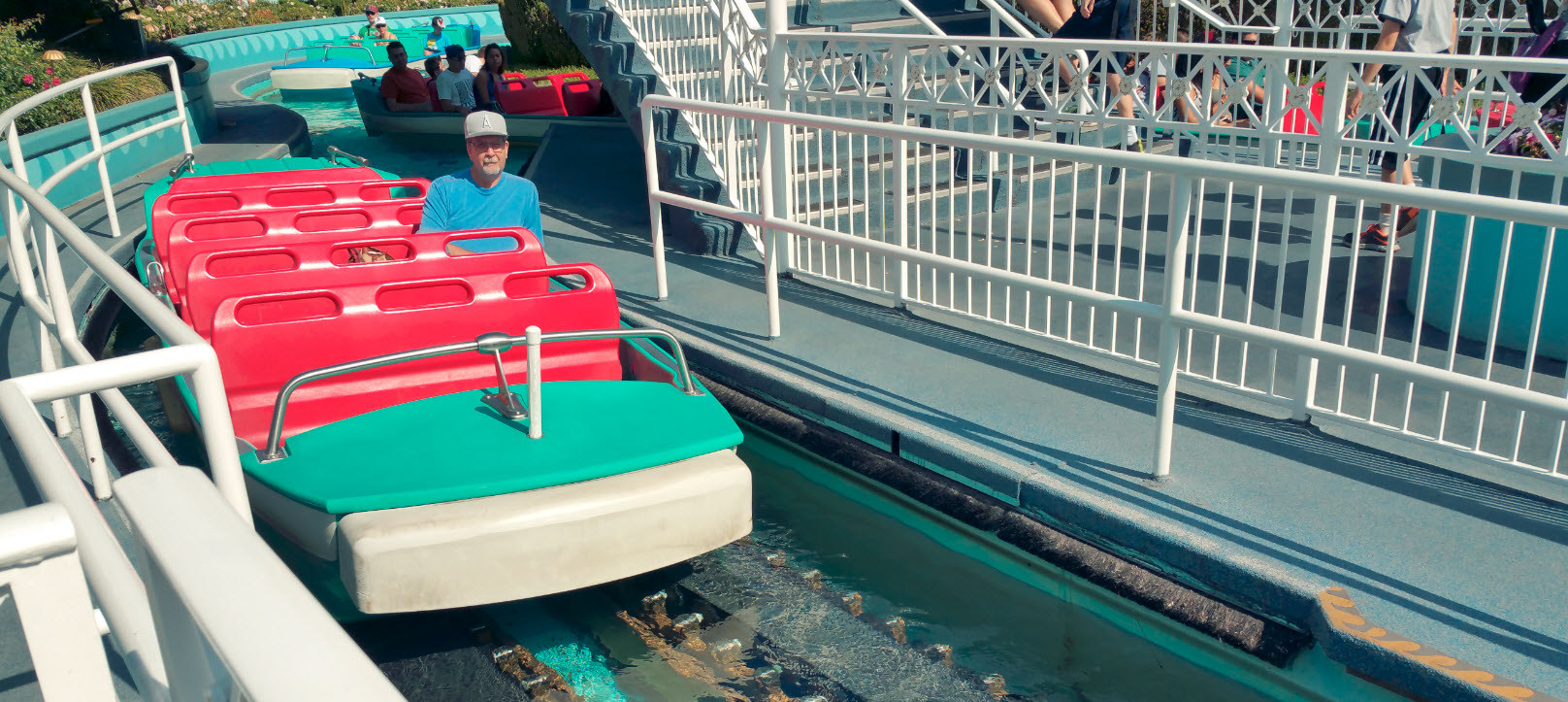 DP thusly approacheth.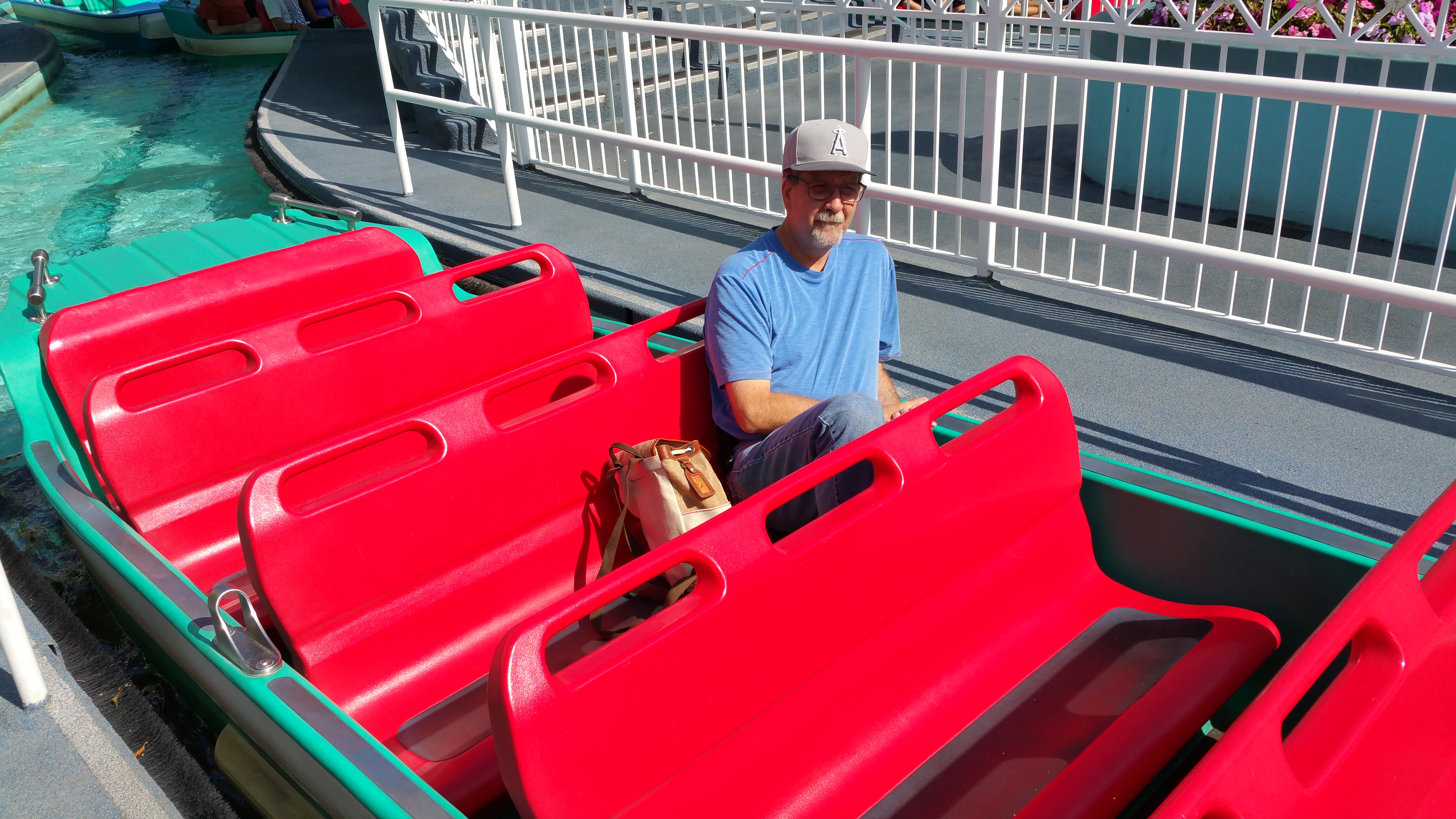 Duane later wrote in chat:
5:33 Generalissimo: I have decided that when stretched, I have a 12 hour bladder, sir.
5:34 Generalissimo: you gradually starve and dehydrate yourself all day. that's the trick.
I asked: how did the idea of riding around in an IASW boat get concocted?
5:40 Generalissimo: Hugh hatched the idea in 2005. Disney's 50th was coming up, and he was in Phoenix, as was I for some strange reason, and he was giving a speech. I was on the side of the room trying my best to ignore him, and he singled me out for recognition, and then he told them that Disney was coming up, and this was what he was going to do – 50 times to celebrate. I gave him the f-you face without the finger, being in public and all.
5:42 Generalissimo: people felt sorry for me on one level, but there was a sadistic car-crashy side to it that made it funny.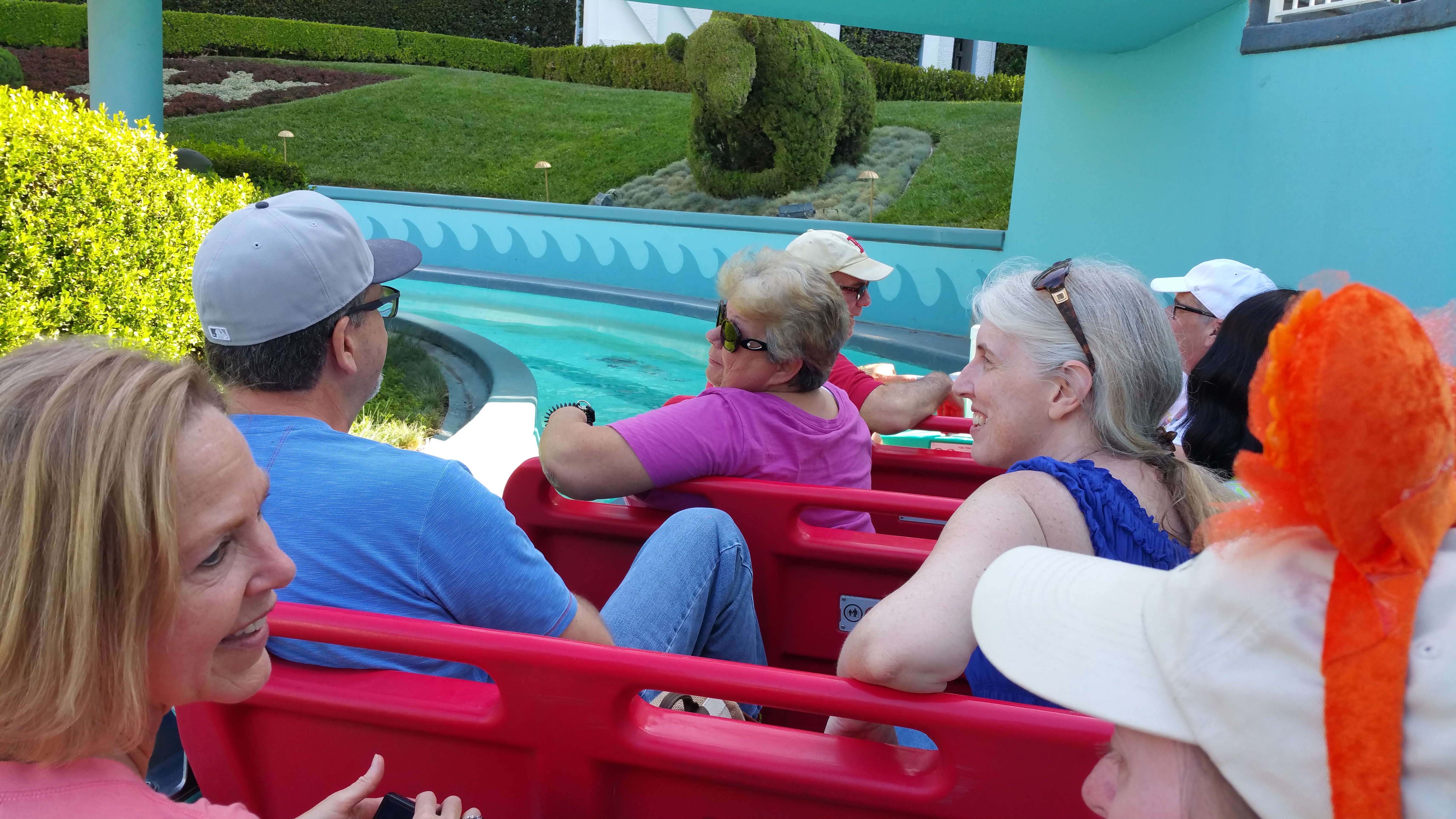 TamiJay, DP, Jay Dub, Bedford Guy, CG, MB, S and Eyelah cruise in watery comfort.
So by gum, we walked over to support Duane in his efforts and soon learned that there was a very purposeful and crafty side to his apparent madness: the bulk of time spent per lap is in cool, air-conditioned comfort.  I Grokked that concept quickly.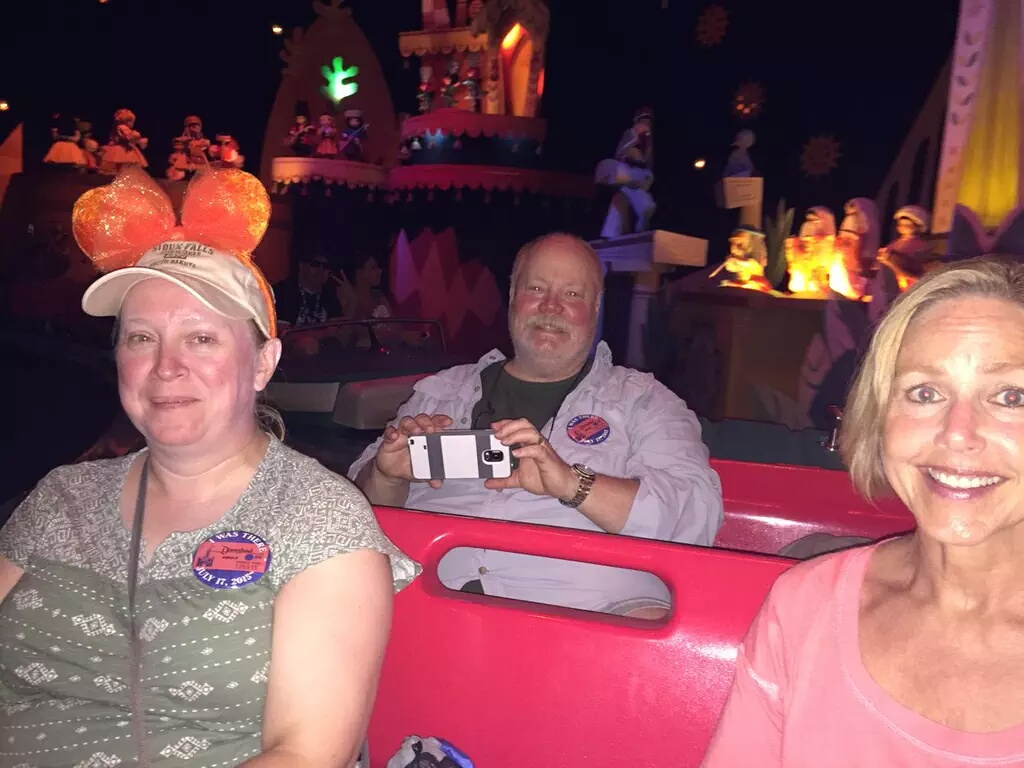 A short time later, Duane turned around and took a photo of those sitting behind him, to include Eyelah, BZ and Tami Jay.  In twelve hours, Duane made an astounding 54 laps around the water course.  Not one pee stop, either, yet surrounded by lapping water.  You're a better man than I, Gunga Din.
We hit the House of Blues (just outside Disneyland near the trams) for lunch and sat under some strategically-placed blue umbrellas for maximum shade.  A wedge salad sounded refreshing.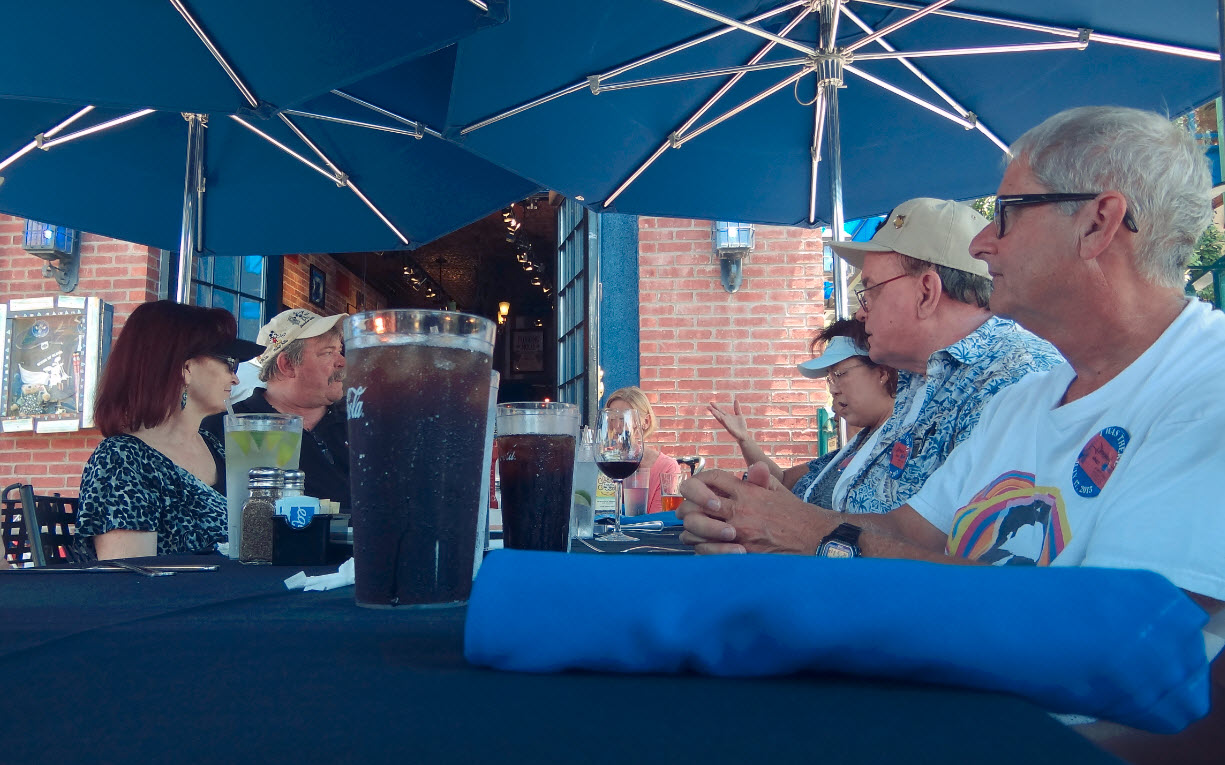 Sitting down at the House of Blues was a nice respite from a very warm day, having been on our feet from 8 am to noon.
Here, Mr Fastbucks learns that 1) he has been voted as recipient of the bill, and 2) DaveinAZ is ordering filet and lobster tails for everyone.
After lunch, I had orders from the Home Office to purchase a figure of Stuart, one of the Minions of Despicable Me fame.  I shortly discovered that, though Pixar (the studio producing the Minions) had been purchased by Disney, it was Universal Studios who owned the rights to the Minions themselves.  Hence, no Minions in Disneyland.
The Hugh Hewitt radio show ramped up at 3 PM Pacific, with Disneyland artist and historian Stacia Martin as his constant guest throughout.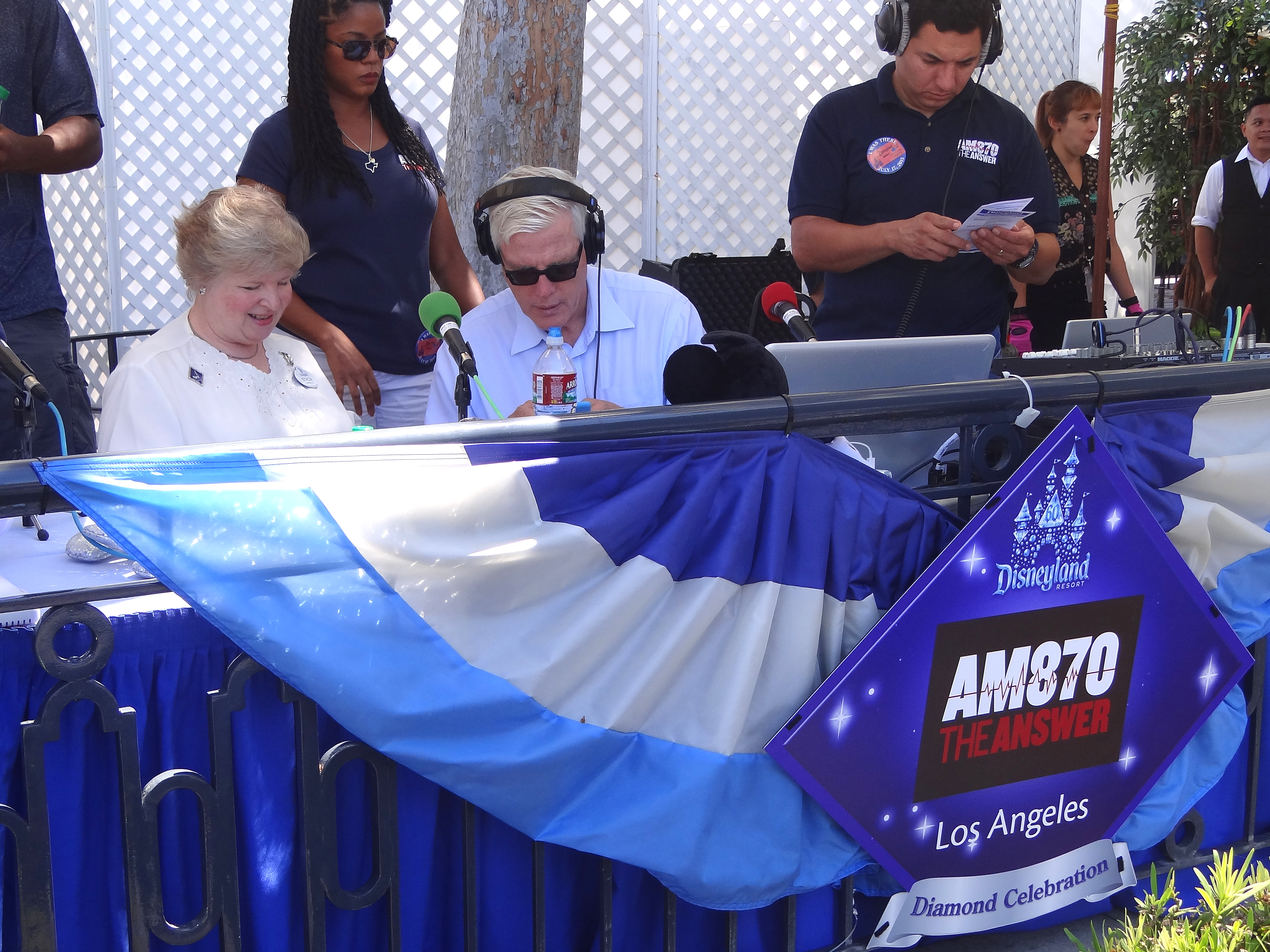 Hugh with Stacia Martin, preparing for live broadcast on LA's AM 870, The Answer.
As I worked in radio during the mid-to-late portion of the 70s, from Ohio to Fornicalia (and for KFBK), I was very curious how a remote worked these days.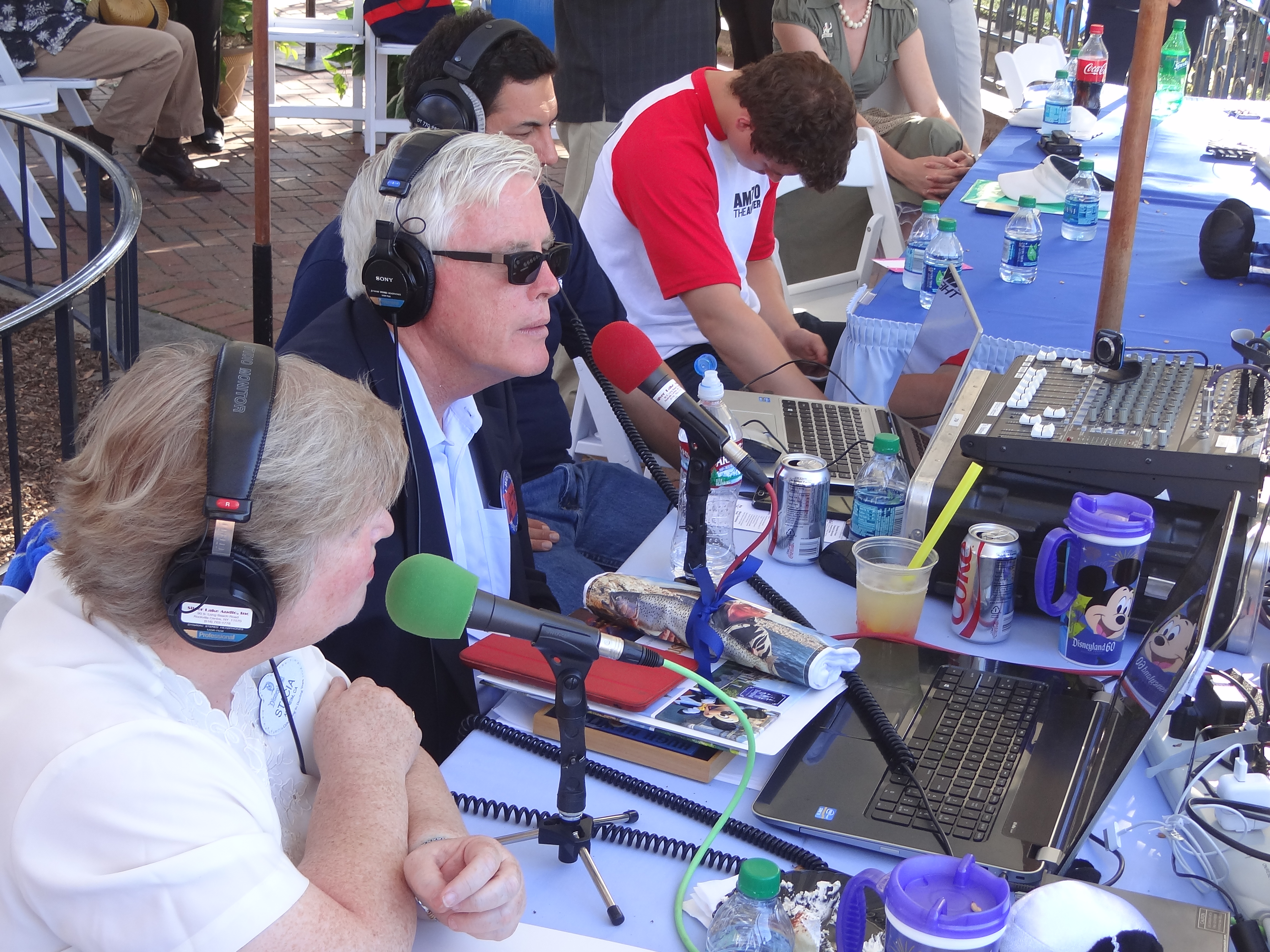 Remotes are now apparently run by laptops and a small board with sliders.
Back in my time everything was manufactured by Sparta, including the boards with round potentiometers (called pots), VU meter, cart decks and turntables, with some open Sennheiser headphones or my beloved Koss Pro4AA phones.
Hugh Hewitt began his live broadcast under rather warm conditions whilst bands played loudly in the town square adjacent the front entrance of Disneyland.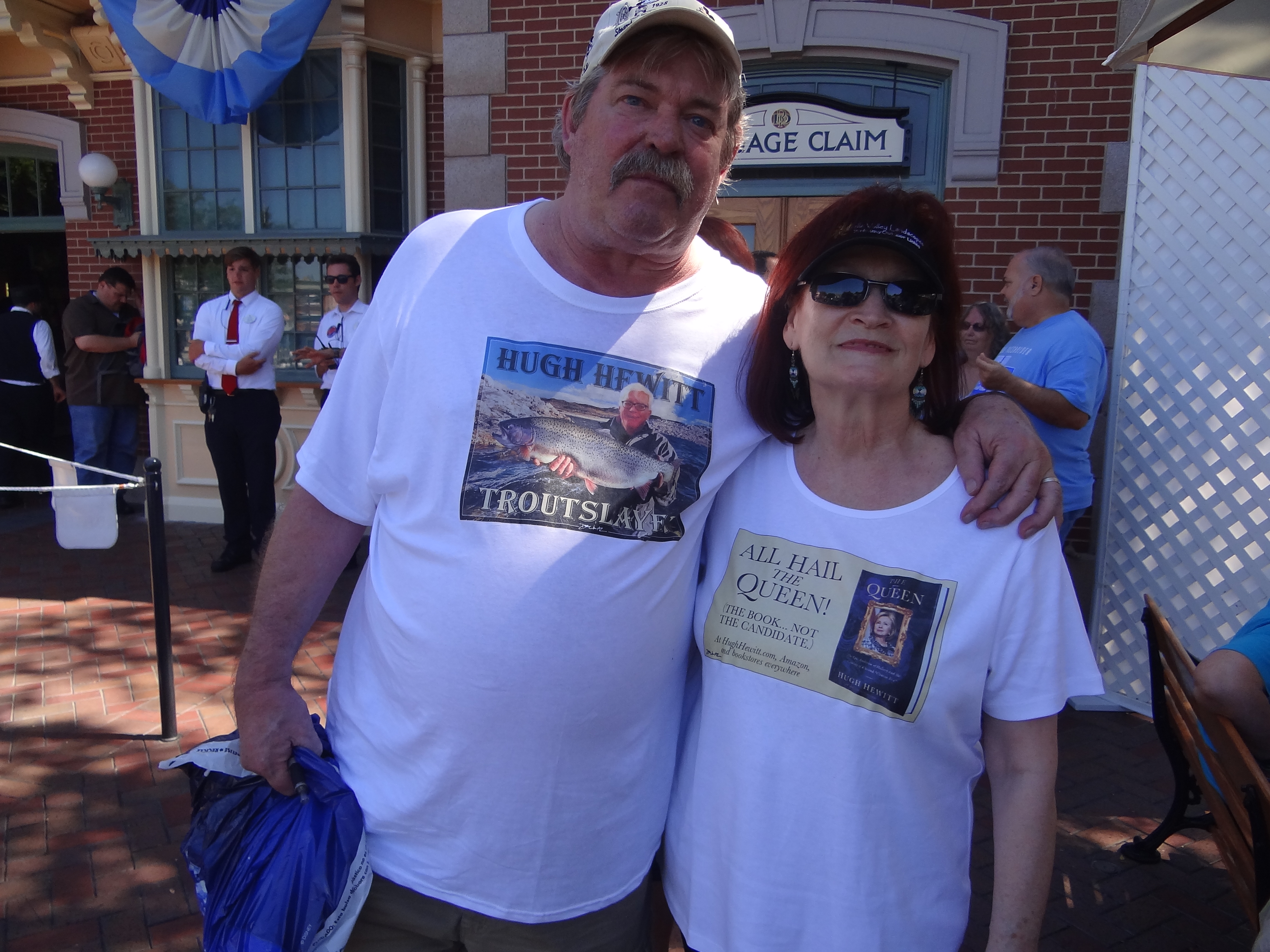 Hugh was presented with the now world-famous Troutslayer and The Queen shirts, courtesy of graphics genius DaveInAZ and his wife Mrs Dave, modeled thusly.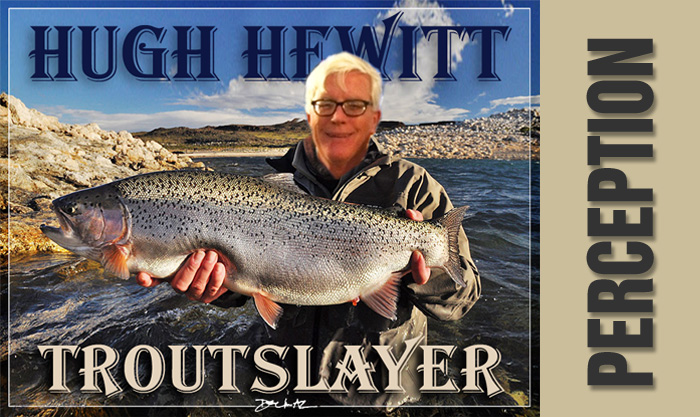 Here we see the outcome of Hugh's trout fishing experience as he envisioned.  Great T-shirt graphic, eh wot?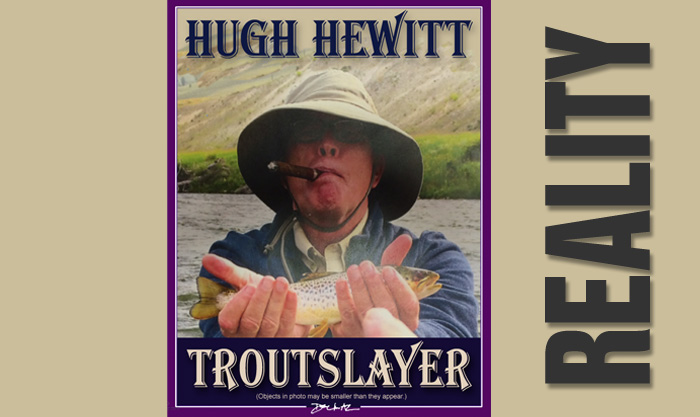 Compare and contrast to what were rumored as the actual results.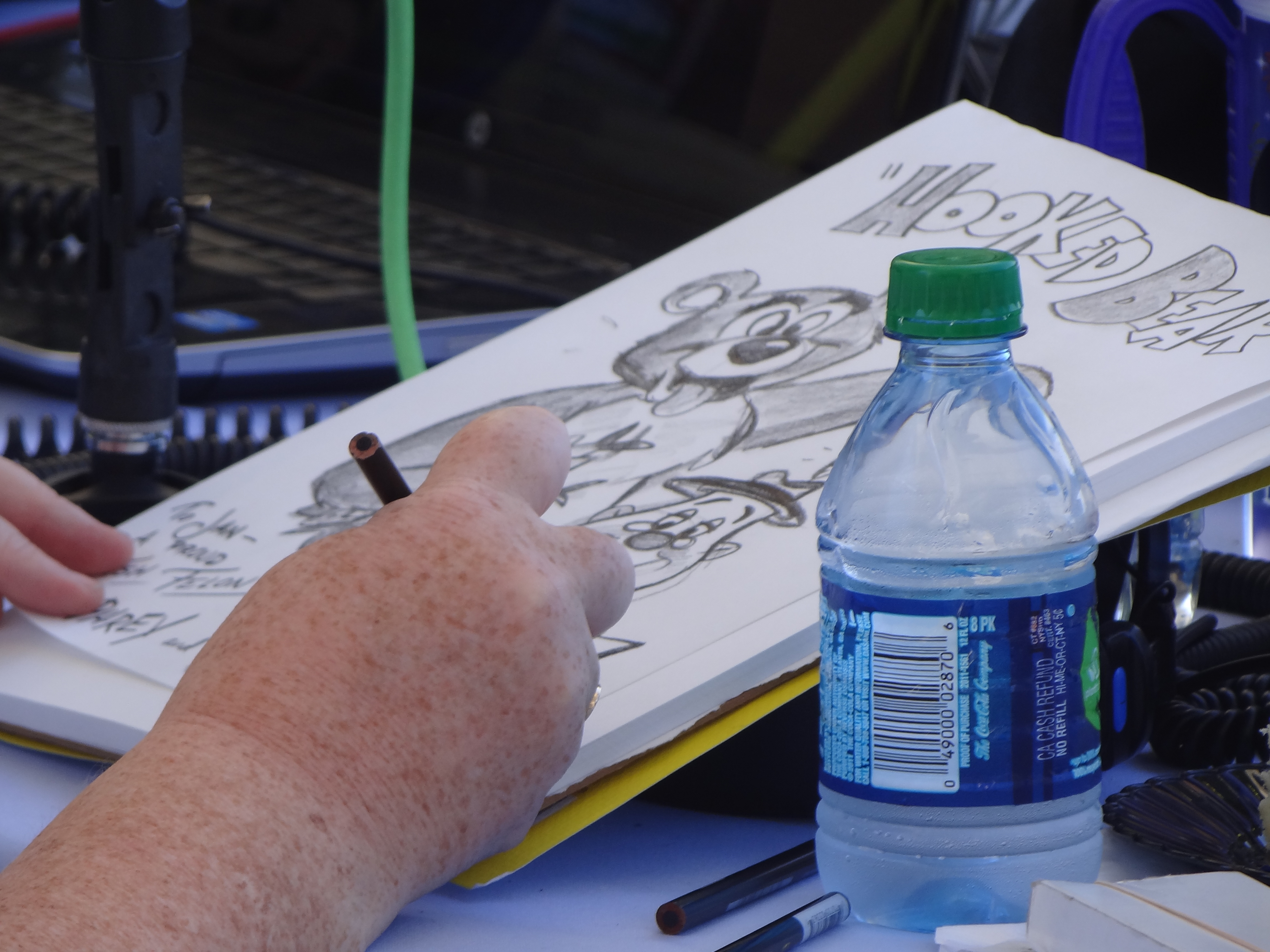 As Hugh interviewed various guests and took calls from HHRS listeners, Stacia was constantly drawing.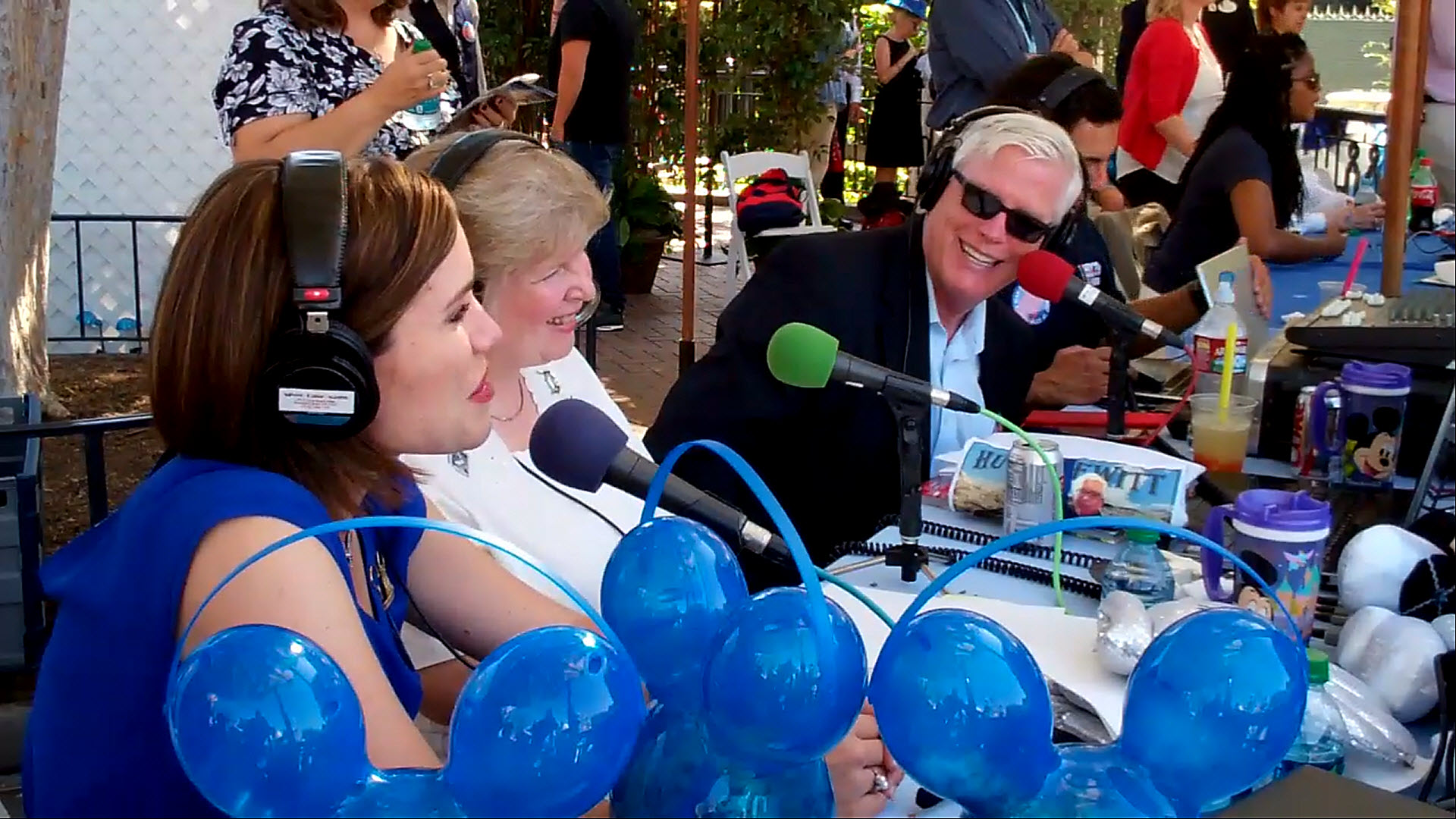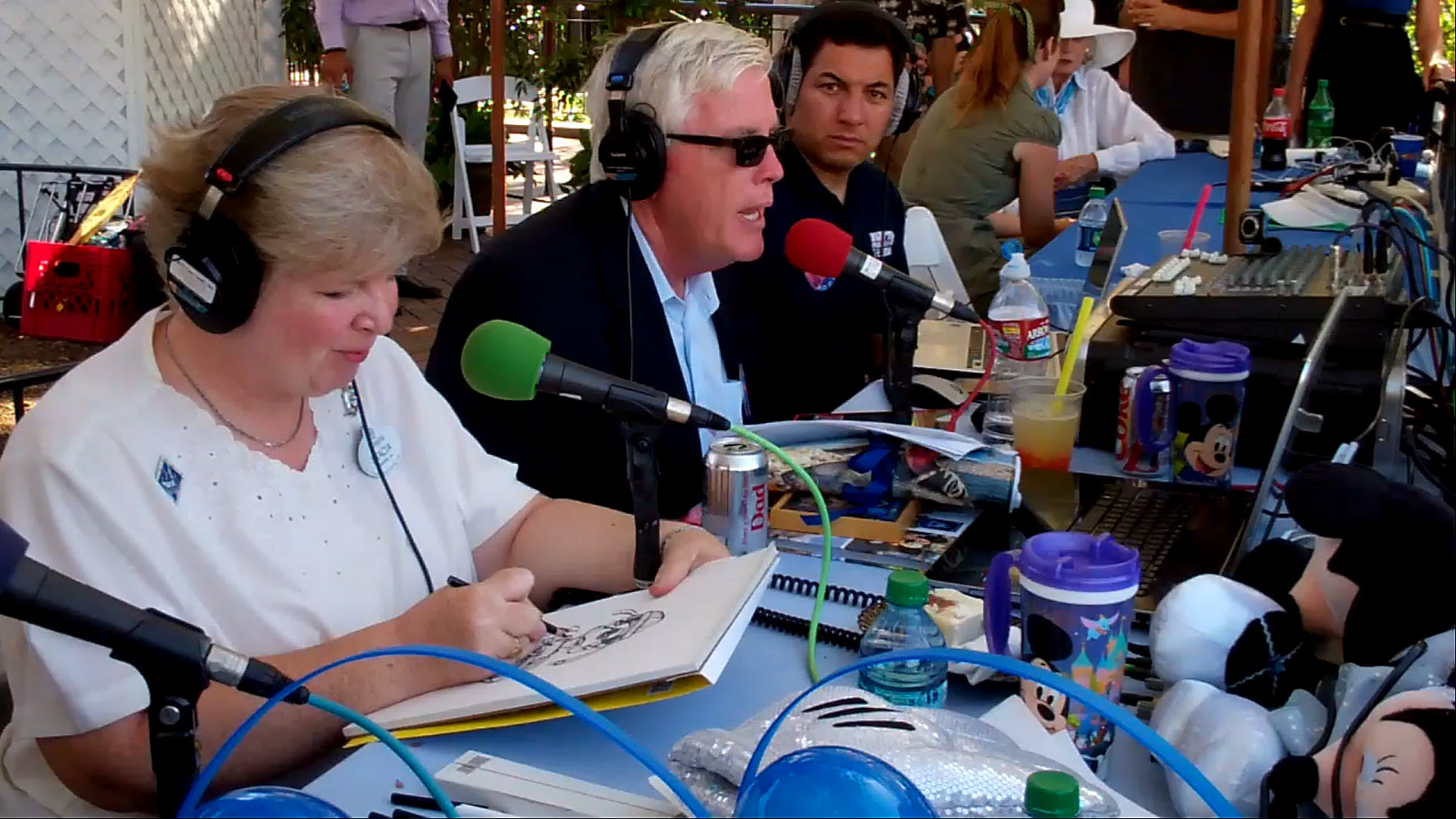 Various moments during the Hugh Hewitt Radio Show on LA's AM 870, The Answer.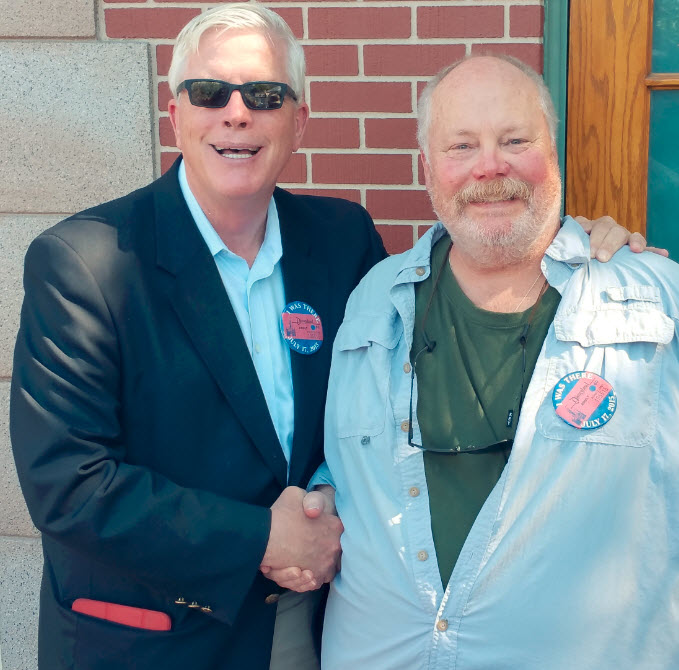 Hugh paused to take photographs with the various Tribbles extant, including yon author.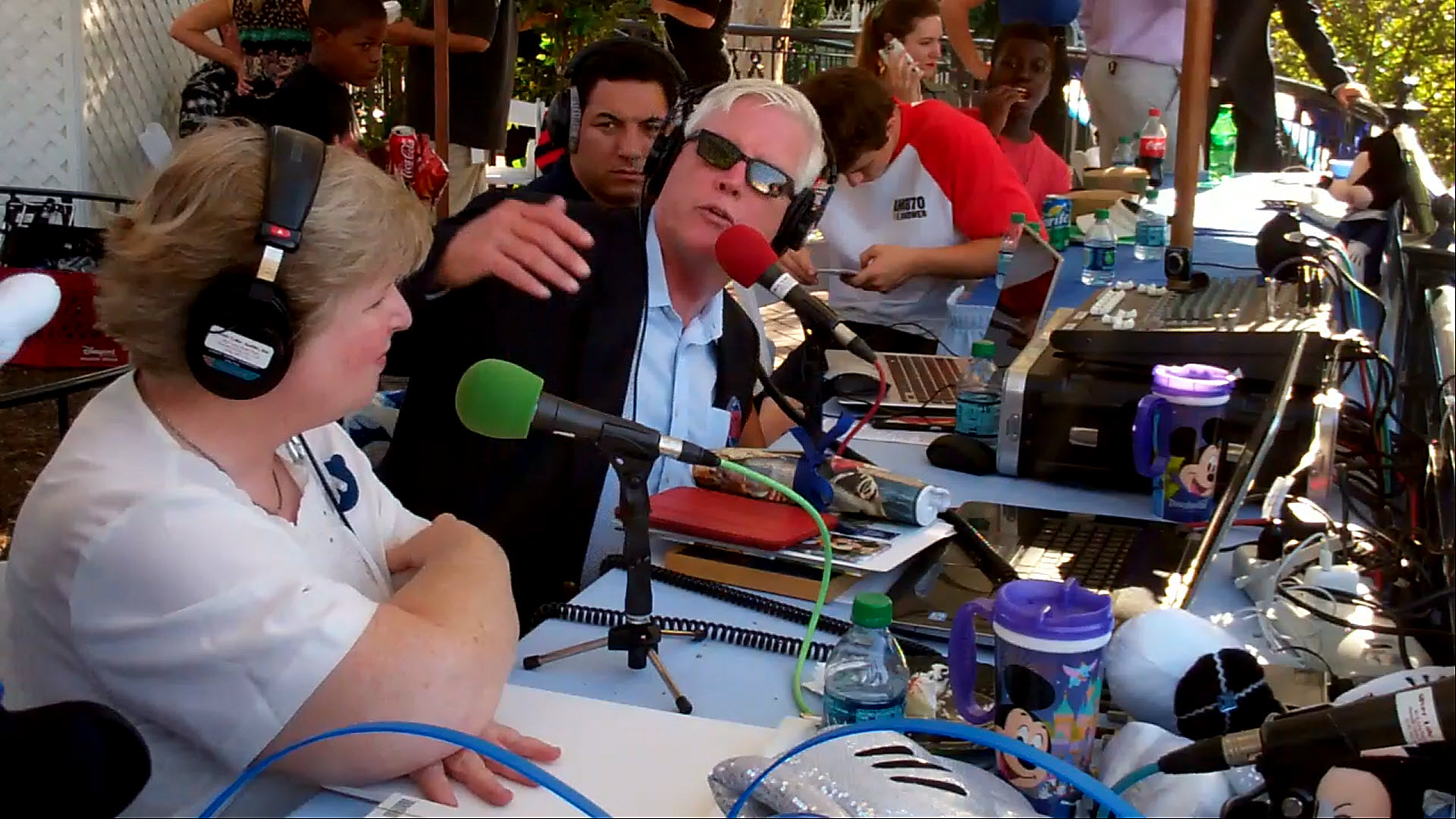 Cut, it's a wrap.  Hugh acknowledges the TribbleFest contingent.  "Now get out," we were told.  So we did, toting various forms of sunburns, sore feet, extra toys and gurp back to our cars.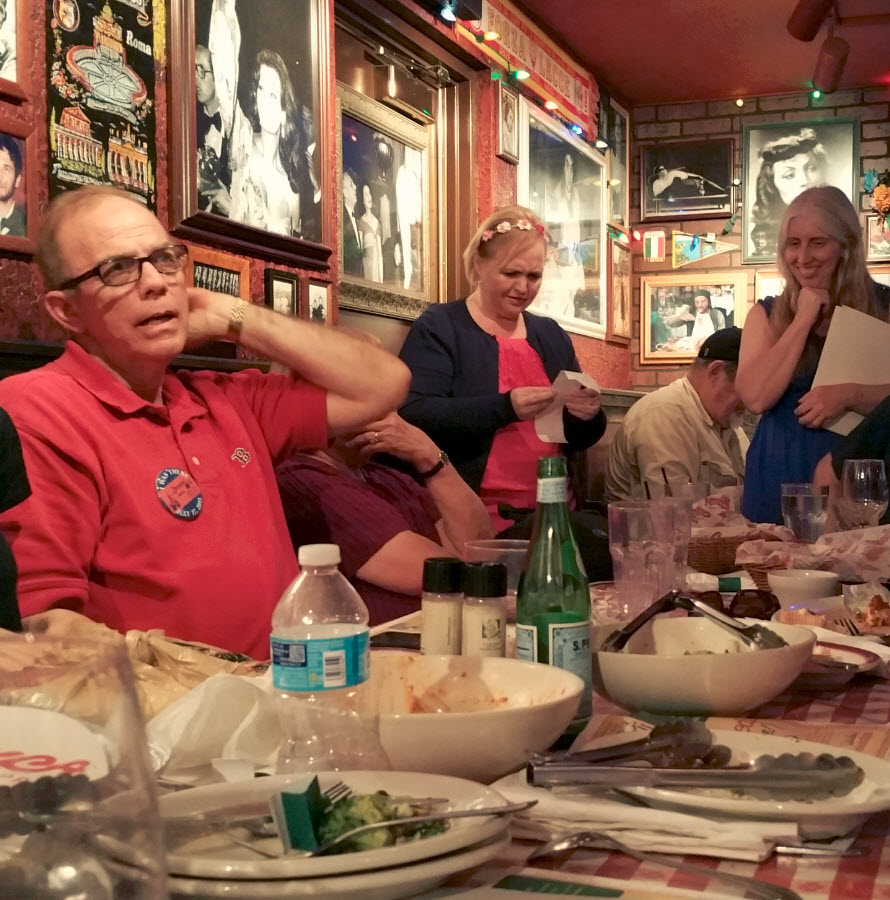 Time for some Italian food at Buca de Beppo in Garden Grove, and dinner with DP and Mrs DP, amongst others.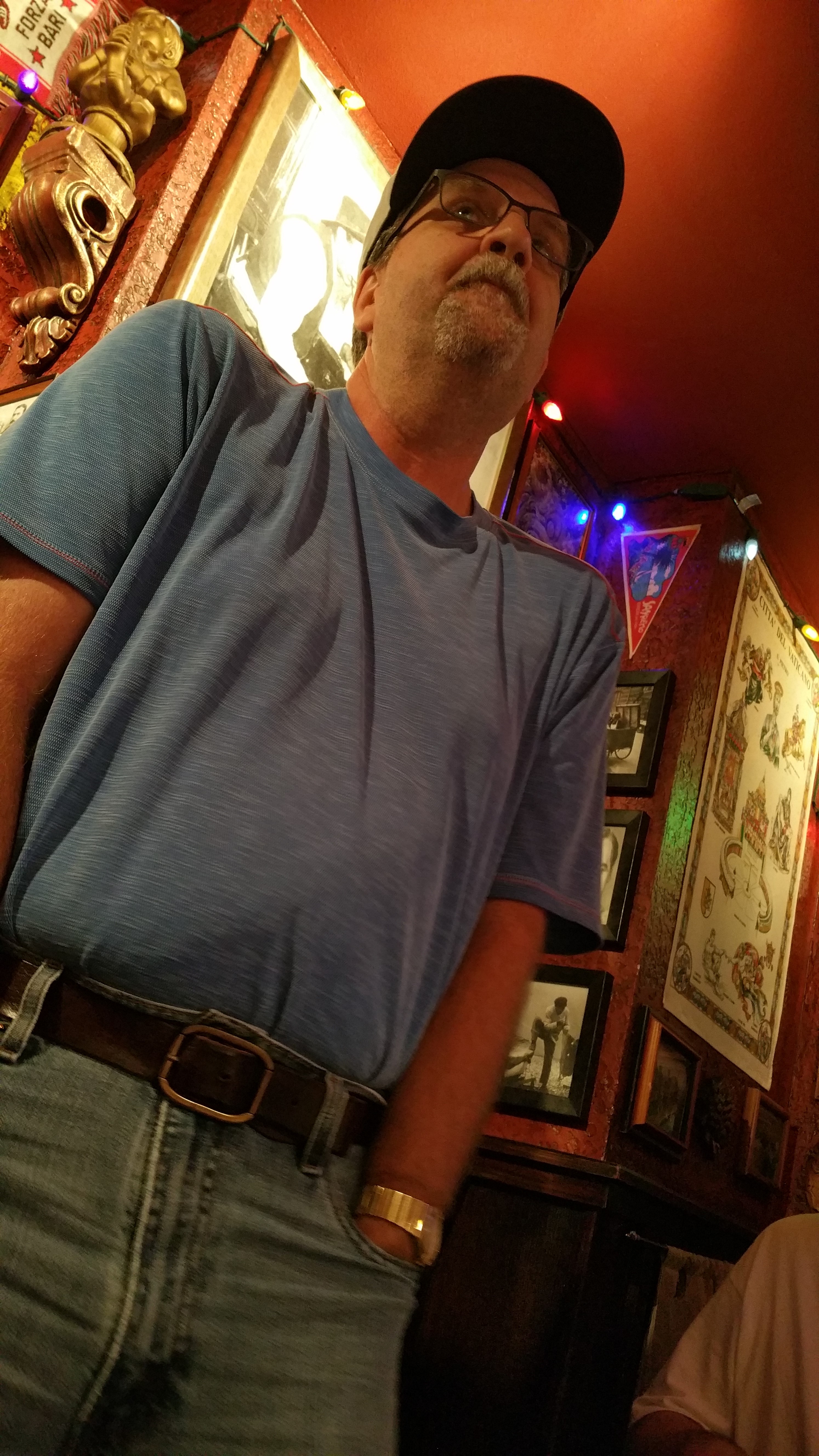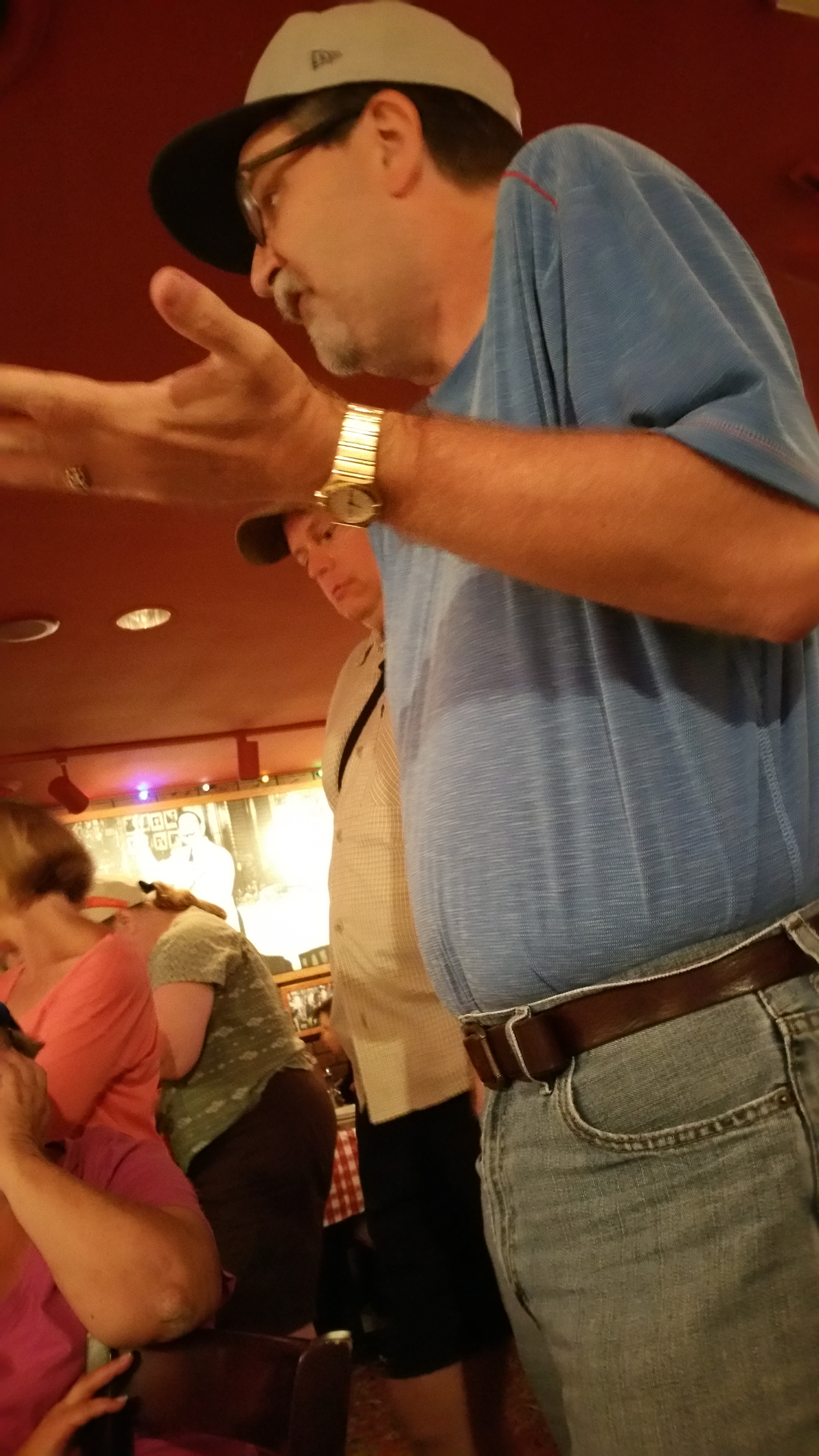 Following my consumption of two 7.9 pound BdB meatballs, DP held court and provided some "inside baseball" factoids about radio.  Mum's the word.
And just like that, it was Saturday already; many Tribs visited Balboa Island.  As my feet were broken and still flaming despite numerous dunkings in the toilet (the room didn't have a tub!), I let them rest and spent time with Eyelah, CG and Jay Dub.  We visited various points of interest and — zounds — as we were chowing down burgers at Five Guys, it began to actually rain.  Our mouths fell open and bits of burger fell out.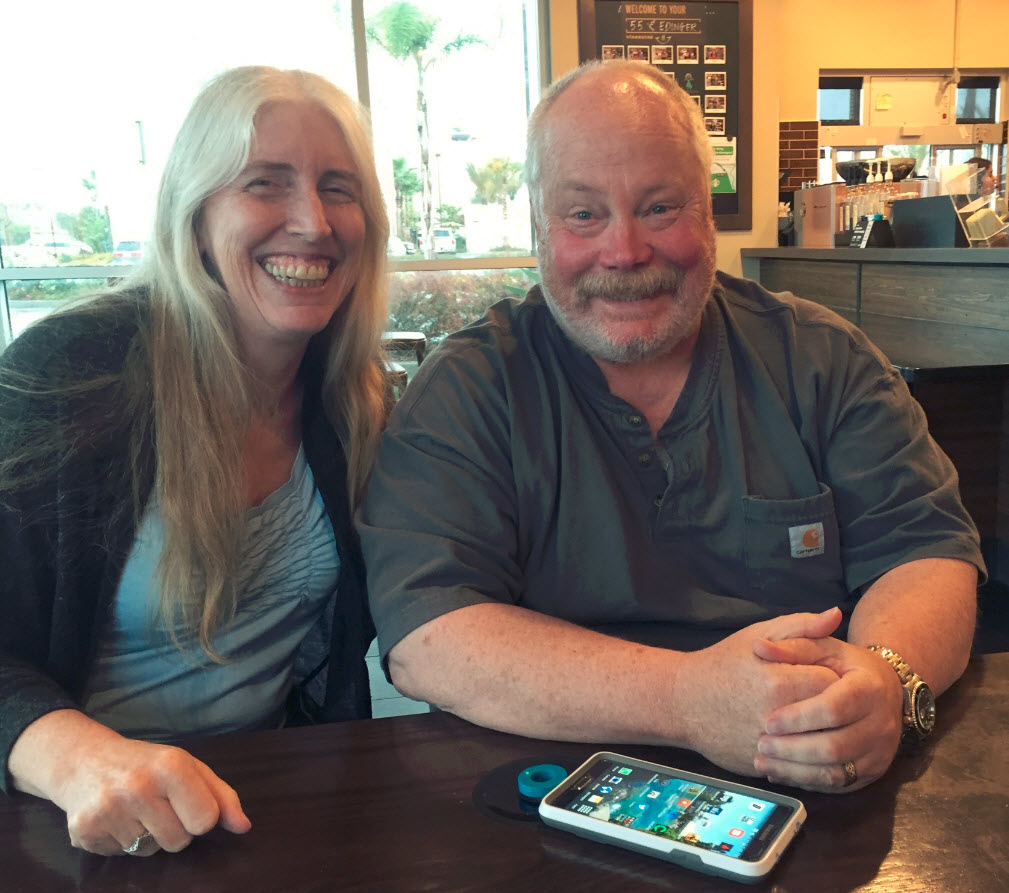 CG and BZ huddle in fear at the prospect of having to face fluids falling vertically from the SoCal sky.  Then we charged our phones.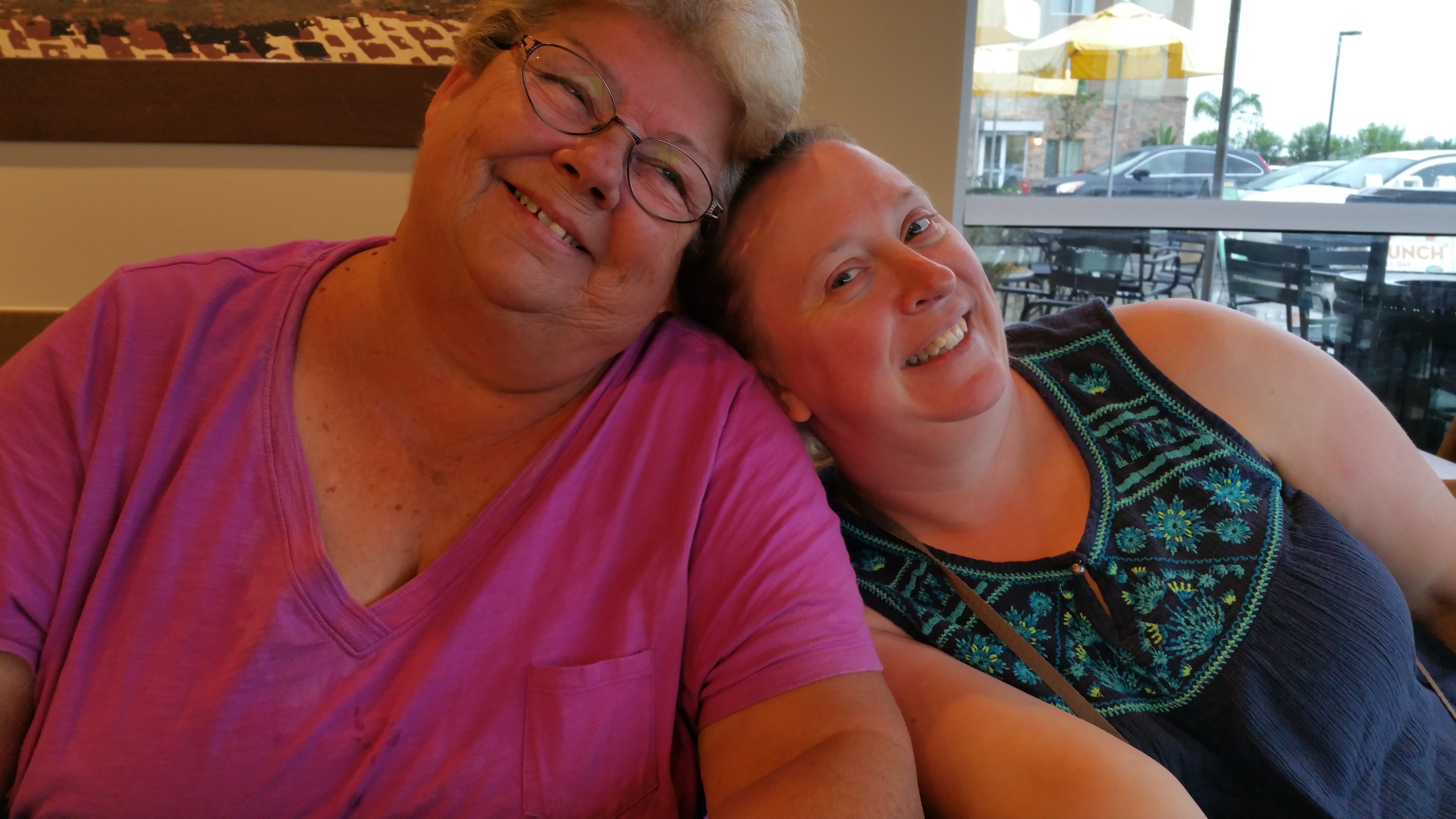 Jay Dub and Eyelah likewise quake in abject terror, knowing that they will soon have to face the distinct and recoiling moisture of an angry Orange County.  What did we do to deserve such unspeakable treatment?
This, of course, called — scratch that, screamed — for a stop at Starbucks.  We watched, aghast, as more liquid assailed the streets and sidewalks of Tustin.  Then we decided to get ready for our "farewell dinner" at Taco Rosa in Irvine.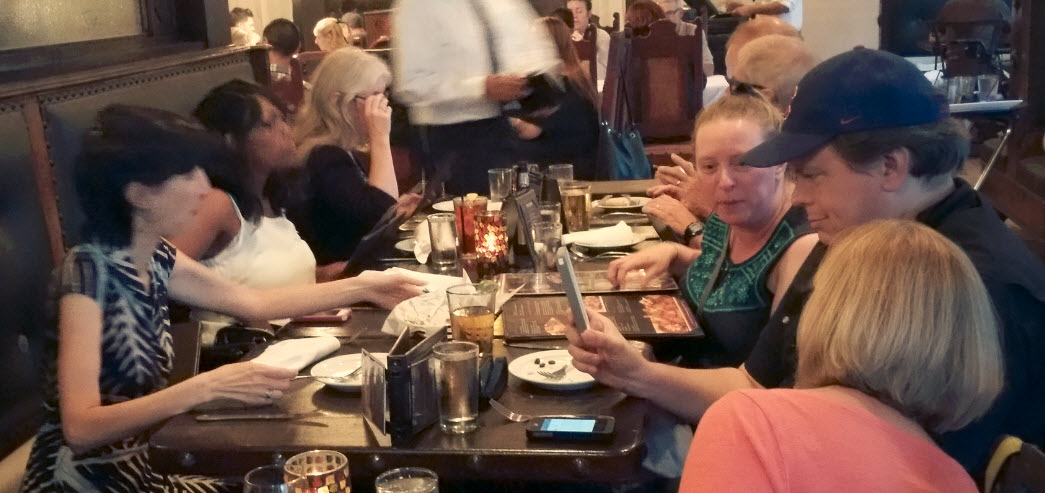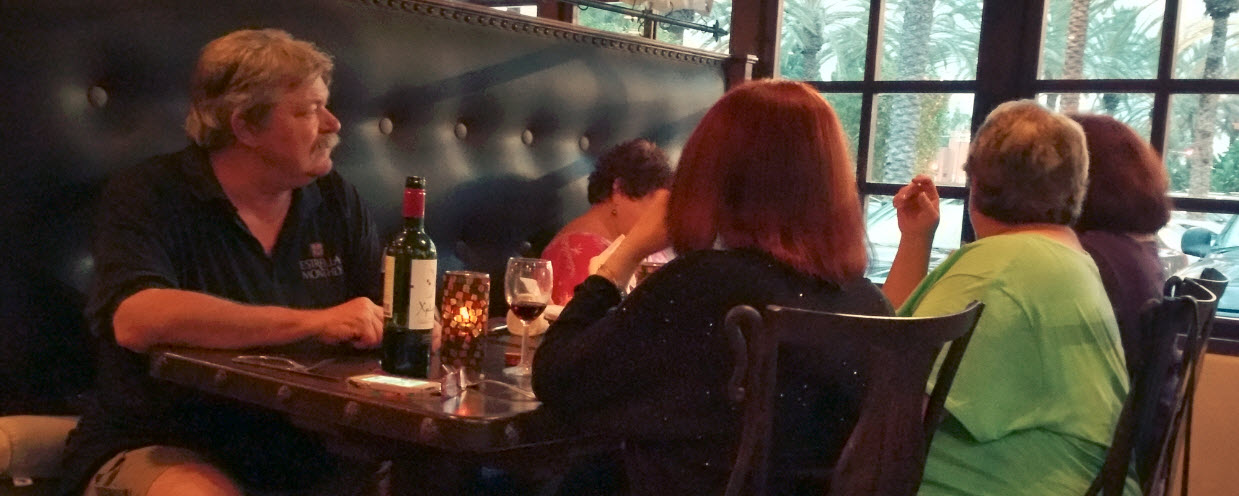 We said our initial goodbyes and dined on tasty Mexican food, washed down with only the most pure of filtered waters; no heinous alcohol tainted our pristine palates.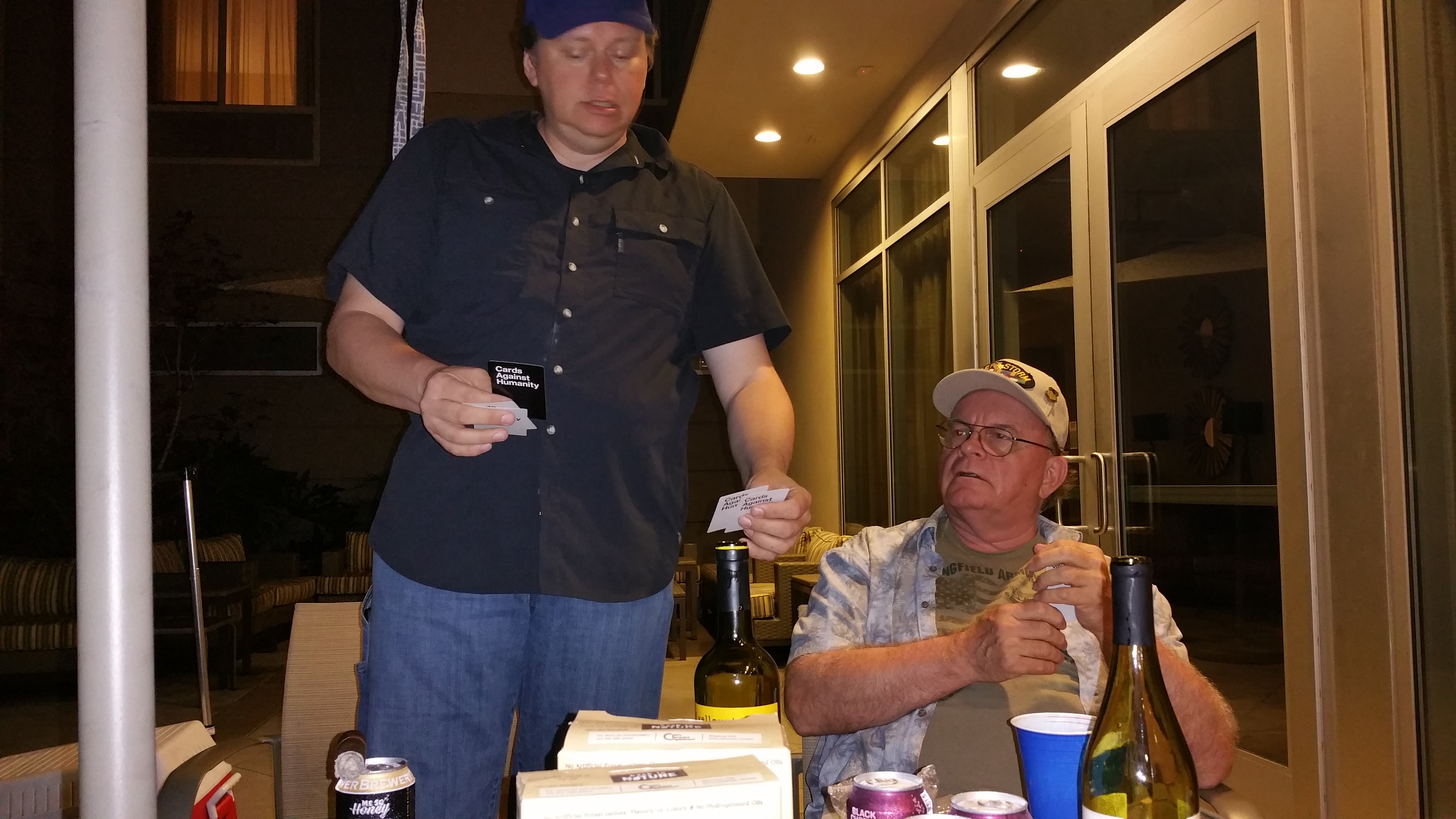 Some of us, however, upon returning to the hotel from Taco Rosa, changed up our heads and decided to, at the urging of Mr Fastbucks, engage in a game of Cards Against Humanity in the rain.  This ran to some unknown point beyond midnight.  Motel occupants later opened windows and began throwing dead fish and stale cats down upon our rain-glistened pates, which compelled us to call it a morning.  Those are not liquor bottles.  Major Bob is wondering why he always acquired cards with the word "pustulence" on them.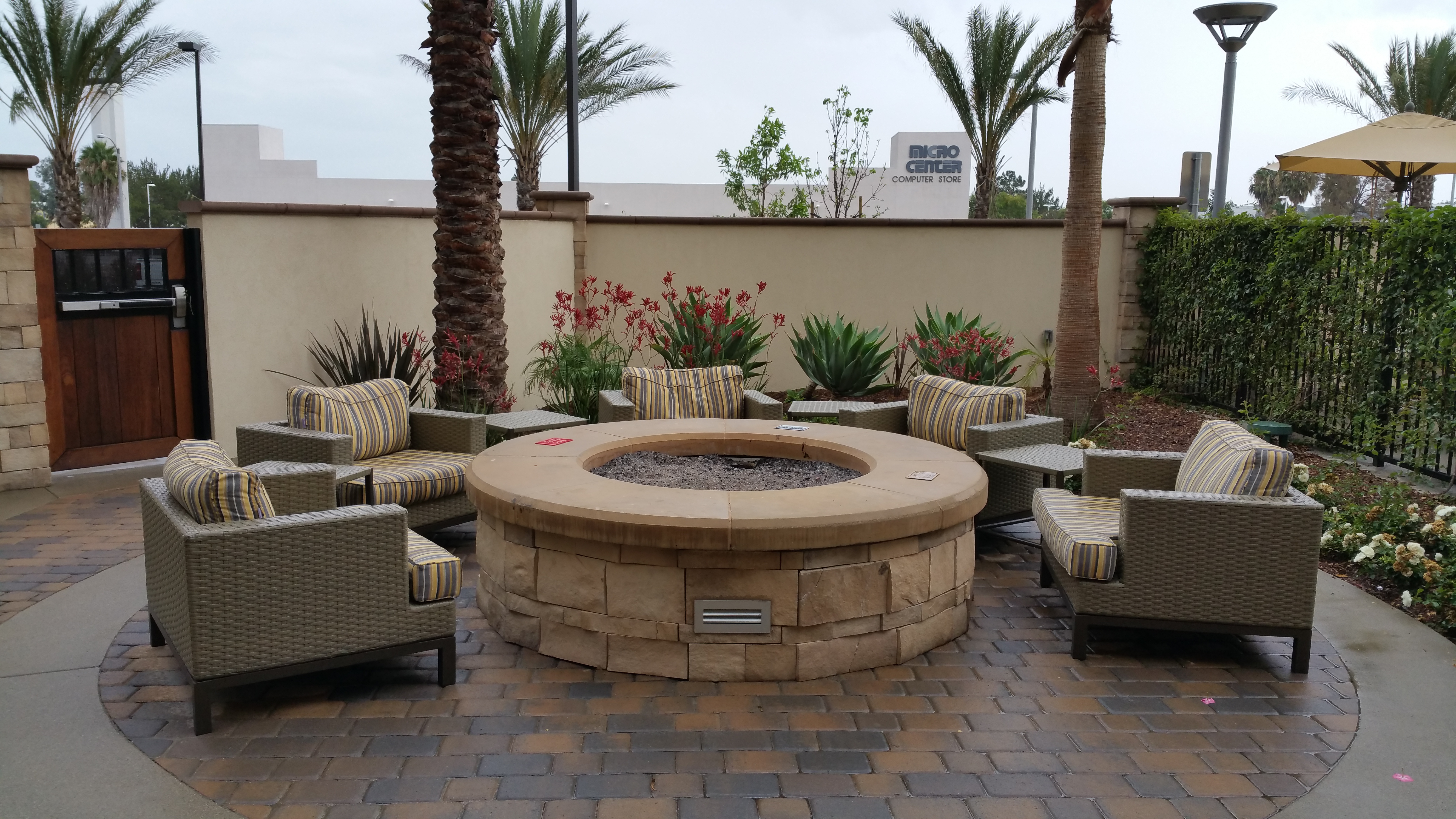 The familiar Fairfield Inn fire pit, doused by rain.  Zounds!
That Sunday morning the bulk of Tribbles departed.  I, however, decided to stay one extra night as — I discovered — did DaveInAZ and L.  Because of the torrential rains in SoCal, a section of I-10 washed out completely, cutting off that main route from LA to Phoenix and points east.  Luckily, Major Bob, M and Jay Dub made it over that portion of the I-10 a short time before the collapse itself.
I spent Sunday bopping around various bookstores in the area and then enjoyed a nice dinner at the Outback in Irvine, graced by the presence of Mr & Mrs DaveInAZ.  We pitched tales of woe, discontent, triumph, gluttony, sloth and small plastic frogs quite similar to the ones handed out by Duane a few days prior.  A grand time was had by all.
And that would be equally applicable to my time in the company of the Tribbles, my new friends.  I now have faces and histories and good times to associate with their names.  I met a host of wonderful people who spared no emotional or fiscal expense in order to make me feel welcome and right at home.  I thank everyone for their kindness, their welcoming demeanor and miens.  You made me immediately feel as though I was already a part of the "team" and that this was nothing more than a reunion, which it certainly was for most.
My thanks to Hugh Hewitt, Duane Patterson, Tami Jay, and the staff of the Fairfield Inn & Suites, who treated me and the Tribbles with grace and courtesy.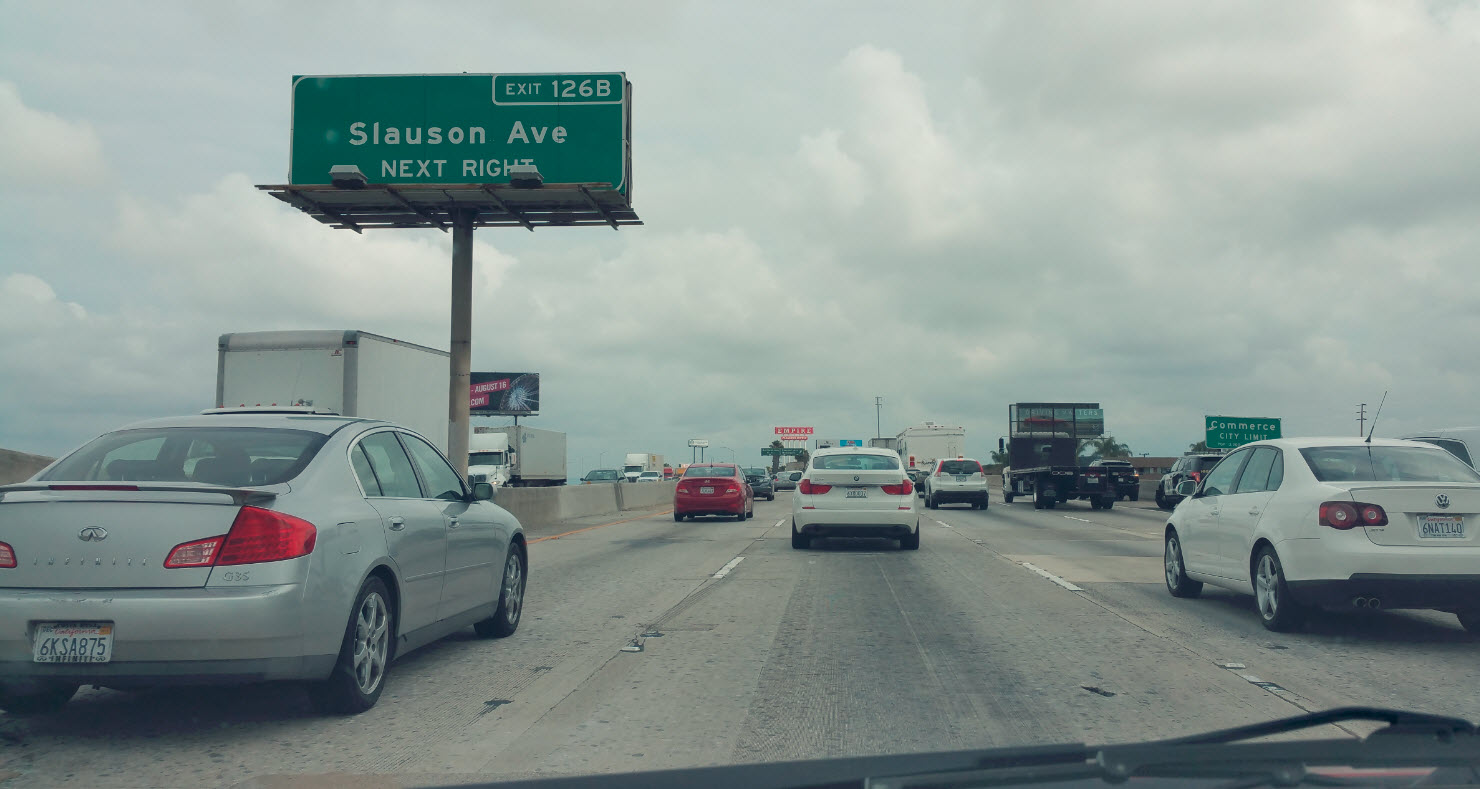 I barely missed the Slauson cut-off on the way back up to NorteCal.
God bless you for your kindnesses, may you all be well and healthy.  It was an absolute pleasure to meet every one of you, and I fully intend to rekindle our friendship next year, same Bat time, same Bat channel.
BZ
P.S.
See Page 60 for my review of the Slauson cut-off.