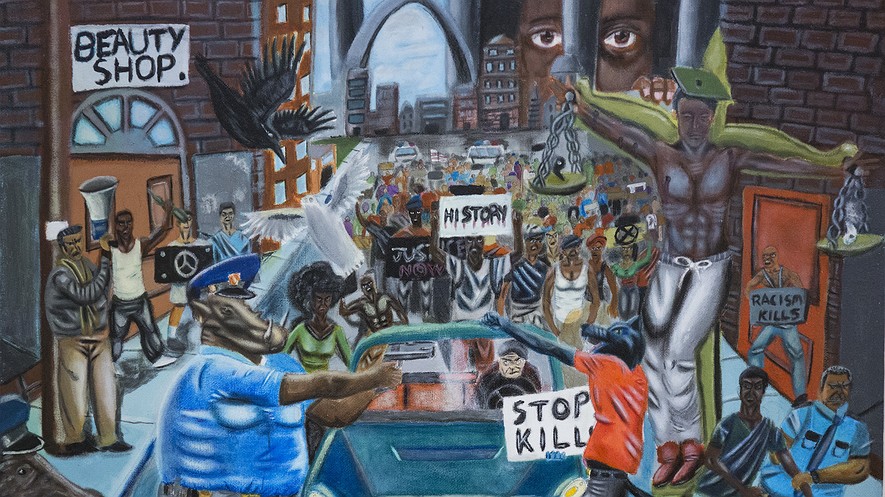 The absolutely despicable painting, as shown above, has been hanging in the tunnel connecting the Capitol and House office buildings in DC.
Having been taken down, put back, taken down, put back, at one point someone placed a Thin Blue Line American flag above.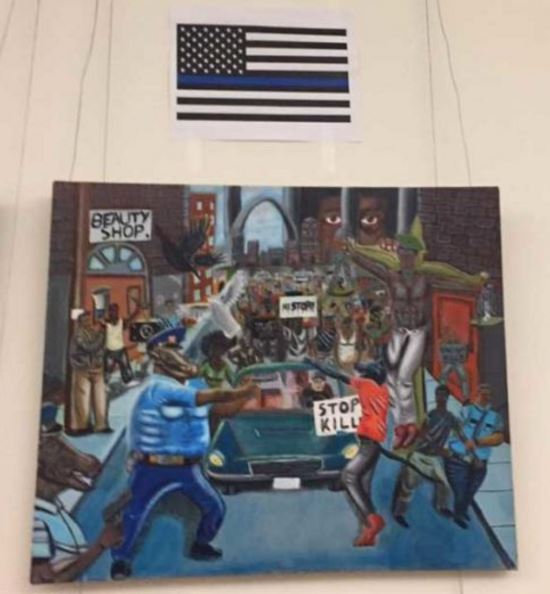 As of Tuesday, it will finally be going away.
From TheHill.com:
Cop painting to be removed from Capitol complex next week

by Cristina Marcos

After a week-long tug of war between Rep. Lacy Clay (D-Mo.) and House Republicans, a controversial painting depicting police officers as animals displayed in the Capitol complex is coming down for good.

The painting had been displayed in a tunnel connecting the Capitol and two House office buildings as part of an annual high school student art competition. But conservative media outlets only took notice in the last month, leading individual GOP lawmakers to personally remove it from the wall three times over the past week.

Rep. Dave Reichert (R-Wash.), a former sheriff, asked the Architect of the Capitol on Wednesday to review whether the painting violated rules of the student art competition that prohibit "subjects of contemporary political controversy or a sensationalistic or gruesome nature." The competition guidelines adhere to the policy of the House Office Building Commission, which is currently controlled by GOP leaders.
Something as offensive as the Pulphus painting has no place in the US Capitol, a building which purports to represent all the people. There is only one reason for the Congressional Black Caucus to go out of its way to offend and embarrass law enforcement and then threaten those who had been taking it down: because they can. At one point this was said by a CBC member:
"We may just have to kick somebody's ass and stop them," said Rep. Cedric Richmond (D-La.), chairman of the CBC.
I suspect that, under the Trump presidency, something of this nature will not reoccur.
BZ