And if so, because he was a DNC staffer, does this have anything whatsoever to do with Rich's July 11th, 2016 shooting death?
Was Seth Rich actually home as the family says, inside the apartment, or was he outside? Where was he shot?
The private investigator hired to investigate the death of #SethRich says he can prove that Seth had contact with @wikileaks. Unbelievable! pic.twitter.com/ETHBDtTEuT

— Based Monitored 🇺🇸 (@BasedMonitored) May 16, 2017
This rather startling story, from Fox5DC.com:
Family's private investigator: There is evidence Seth Rich had contact with WikiLeaks prior to death

by Marina Maracco

WASHINGTON – It has been almost a year since Democratic National Committee staffer Seth Rich was murdered in the nation's capital. There have been no solid answers about why he was killed until now.

Rich was shot and killed last July in Northwest D.C and police have suggested the killing in the District's Bloomingdale neighborhood was a botched robbery. However, online conspiracy theories have tied the murder to Rich's work at the DNC.
Certainly, DC has its share of crime — not nearly like that of Chicago, however. Still and all, the timing was what many would term suspicious, though the DC Metro Police concluded that Rich was involved in a robbery that took his life.
Just two months shy of the one-year anniversary of Rich's death, FOX 5 has learned there is new information that could prove these theorists right.
Is there a "there" there?
Rod Wheeler, a private investigator hired by the Rich family, suggests there is tangible evidence on Rich's laptop that confirms he was communicating with WikiLeaks prior to his death.

Now, questions have been raised on why D.C. police, the lead agency on this murder investigation for the past ten months, have insisted this was a robbery gone bad when there appears to be no evidence to suggest that.
Not having the investigatory report in my hands I cannot personally draw that conclusion. However, I do know that DC Metro does not have the most sterling reputation for immutable investigations on the east coast, as witness the rather shabby handling of the Charnice Milton case, daughter of my fellow broadcaster Ken McClenton, following her murder in 2015.
Wheeler, a former D.C. police homicide detective, is running a parallel investigation into Rich's murder. Wheeler said he believes there is a cover-up and the police department has been told to back down from the investigation.

"The police department nor the FBI have been forthcoming," said Wheeler. "They haven't been cooperating at all. I believe that the answer to solving his death lies on that computer, which I believe is either at the police department or either at the FBI. I have been told both."
There is one way to find out. Access the laptop.
When we asked Wheeler if his sources have told him there is information that links Rich to Wikileaks, he said, "Absolutely. Yeah. That's confirmed."
Is that the reason neither agency will confirm or deny possession of the laptop and, further, will not release it? Moreover, just how does Wheeler know anything about the allegation of the involvement of Wikileaks?
Wheeler also told us, "I have a source inside the police department that has looked at me straight in the eye and said, 'Rod, we were told to stand down on this case and I can't share any information with you.' Now, that is highly unusual for a murder investigation, especially from a police department. Again, I don't think it comes from the chief's office, but I do believe there is a correlation between the mayor's office and the DNC and that is the information that will come out [Tuesday].
Will something breaking occur on Tuesday?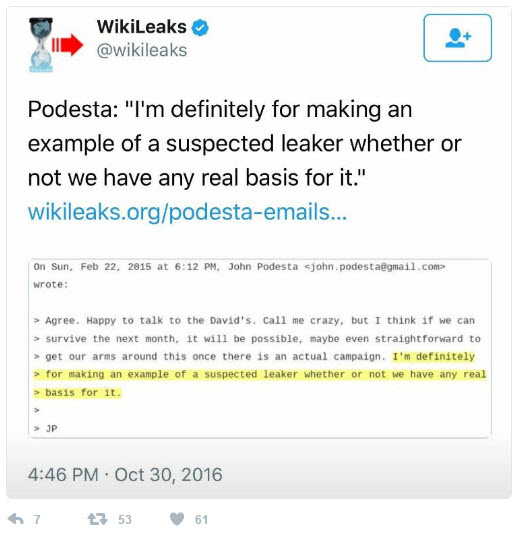 Apparently something did. This from the WashingtonExaminer.com:
Murdered DNC staffer Seth Rich had sent 44,000 internal emails to WikiLeaks: Report

by Kyle Feldscher

The Democratic National Committee staffer shot and killed in Washington, D.C., last summer leaked more than 44,000 emails to WikiLeaks before his death, according to a report.

The Fox News report implies that Seth Rich may have been the one who leaked information about the DNC to WikiLeaks that showed, among other things, that the DNC favored Hillary Clinton over Bernie Sanders in the presidential primary. While it's not clear, the report does note that WikiLeaks posted that information just 12 days after Rich was killed.

However, U.S. intelligence officials believe Russia hacked into the DNC and allowed that information to be sent to WikiLeaks.

The report states federal law enforcement investigators found 44,053 emails and 17,761 attachments between DNC leaders from January 2015 to May 2016 were sent by Rich to Gavin MacFayden, an American reporter and WikiLeaks director based in London who is now deceased. That information was found in a FBI forensic report on Rich's computer done within days of his murder.
If any of this is true, that a person was murdered for leaking information, DC will be torn apart.
BZ
P.S.
57 minutes after this revelation, the Washington Post reveals leaked information about classified information. Co-inky-dink? Wag the WaPo?