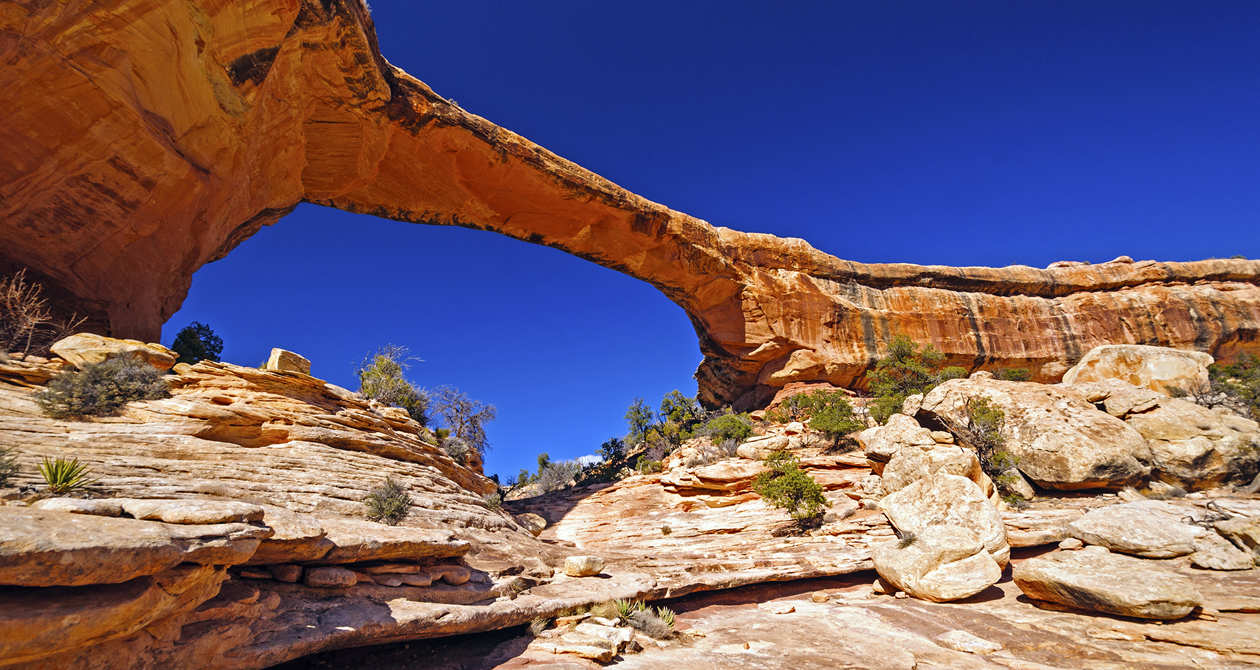 For reference, let's refresh memories with an article from TheHill.com:
Obama creates, expands national monuments

by Timothy Cama

President Obama created and expanded more national monuments Thursday to honor the history of the fight for civil rights and to protect important landscapes in the West.

The national monument designations, coming about a week before Obama leaves office, further add to the aggressive conservation agenda the president has pursued throughout his eight years in office, fueled by unilateral land and water protections through the Antiquities Act.

Obama has now used the Antiquities Act in more instances than any of his predecessors. He already exceeded the land and water acreage of his successors before Thursday evening's announcement.
Additionally, from the SierraClub.org:
President Obama Establishes Two New National Monuments in Nevada and Utah

by Jason Mark

Bears Ears and Gold Butte will complete the creation of a massive wildlife corridor in the Southwest

Christmas came a few days late for conservationists, but the presents were welcome nevertheless: Today President Obama used his authority under the Antiquities Act to establish two new national monuments in the Southwest. Together, the designation of the Bears Ears National Monument in Utah and the Gold Butte National Monument in Nevada gives added protections to some 1.6 million acres of land and, in the process, helps to complete a landscape-scale wildlife corridor north of the Colorado River.
What did that mean? This: with the stroke of a pen the federal government took state land. Plain and simple. 1.6 million acres of land. Public use? Go to hell. Private property? Go to hell.
The physical statistics are these: Barack Hussein Obama took an absolutely unprecedented 554,590,000 acres of land and sea out of use for private citizens and out of any form of due process in terms of deliberation or consideration..
This was clearly a last minute "fuck you" to the incoming administration, filed under the header of "because I can" as a lame duck president. There is no other phrase applicable other than "naked land grab." Rights be damned.
However, where there are problems there are also remedies. First, from NPR.org:
Trump Orders Largest National Monument Reduction In U.S. History

by Kirk Siegler and Colin Dwyer

On a visit to Utah on Monday, President Trump announced his proclamations dramatically shrinking the size of the state's two massive national monuments, Bears Ears and Grand Staircase-Escalante. Taken together, Trump's orders mark the largest reversal of national monument protections in U.S. history.
On the heels of Obama's largest land grab in history.
The Bears Ears National Monument will go from roughly 1.3 million acres to roughly 228,000 — only about 15 percent of its original size. And Grand Staircase will be diminished by roughly half, from its nearly 1.9 million acres to about 1 million. The specific numbers were provided to reporters by Interior Secretary Ryan Zinke prior to Trump's announcement in Salt Lake City.
This is, upon consideration, a staggering event. When is it ever that you've heard or seen the United State government relinquishing power or control over land? When is it that you've ever heard or seen the US government ceding land and control back to the states?
"No one values the splendor of Utah more than you do," Trump told an enthusiastic crowd Monday, "and no one knows better how to use it."
States rights. Individual control and determination. The polar opposite of the belief system involving Leftists, Demorats and the American Media Maggots in which the bulk of the population is insufficiently capable of self-determination or future planning.
He noted that before making the decision, he had discussed it with Zinke and the state's two GOP senators, Orrin Hatch and Mike Lee. Both senators have been outspoken critics of the two national monuments — both protected under the 1906 Antiquities Act by Democratic presidents — framing them as significant federal overreach that deprives Utahans of their own land.

And Trump echoed those criticisms Monday.
But wait; here is the true crux of the biscuit for this case and oh-so-many others.
"These abuses of the Antiquities Act give enormous power to faraway bureaucrats at the expense of the people who actually live here, work here and make this place their home," Trump said.
Decisions made by persons far away and far removed from the ramifications of their decisions and edicts. This equates to = they primarily couldn't care less in DC.
"President Trump's decision to reduce these monuments allows us to still protect those areas that need protection, while at the same time keeping the area open and accessible to locals who depend on this land for their daily lives," said Matt Anderson of the Utah-based Sutherland Institute.
Damn that logic.
Of course, let the lawsuits begin. From NARF.org:
PROTECTING BEARS EARS NATIONAL MONUMENT

President Obama proclaimed the Monument pursuant to his authority under the Antiquities Act, just as all presidents since Theodore Roosevelt had established national monuments. It was the culmination of more than six years of active effort on the part of five Native nations, local tribal people, and their allies to obtain protections for a region that is a sacred source of spiritual traditions and place of origin.

On April 26, 2017, President Trump attacked this important designation. Trump signed an executive order directing Interior Secretary Ryan Zinke to conduct a review of the Bears Ears National Monument to determine if it was created without "public outreach and proper coordination." However, the suggestion that the monument's designation lacked outreach and coordination is disingenuous. The Bears Ears National Monument was created after years of advocacy and many public meetings in the region and in Washington, DC. The effort to protect Bears Ears was very long, very public, and very robust.

Although Trump has stated that he will shrink the Monument, he does not have the authority to take such action.
Odd. What can be done by a president can be undone by a president. Take it to court. Nothing is a one-way process. If so, we'd all be Communists now. We'd all be Demorats now. We aren't?
Wait. Aren't these "rights" that were heretofore "unenjoyed" by any form of "indigenous peoples" prior to December of 2016? Why, yes, that is correct. Where was NARF during the Obama Administration prior to December of 2016? Oh yeah. Conspicuously SILENT.
From FoxNews.com:
Trump shrinks Utah monuments created by Obama, Clinton

by Bamini Chakraborty

Capping months of speculation, President Trump on Monday signed a pair of executive orders to significantly shrink two of Utah's national monuments – Bears Ears and the Grand Staircase-Escalante – that were created by his Democratic predecessors.

The controversial move was pitched by Trump as a win for states' rights and follows an April review conducted by Interior Secretary Ryan Zinke on the boundaries of large national monuments. The review initially looked at more than two dozen sites designated by presidential decree since the 1990s.
Amendment X:
The powers not delegated to the United States by the Constitution, nor prohibited by it to the States, are reserved to the States respectively, or to the people.
Thank you.
BZ