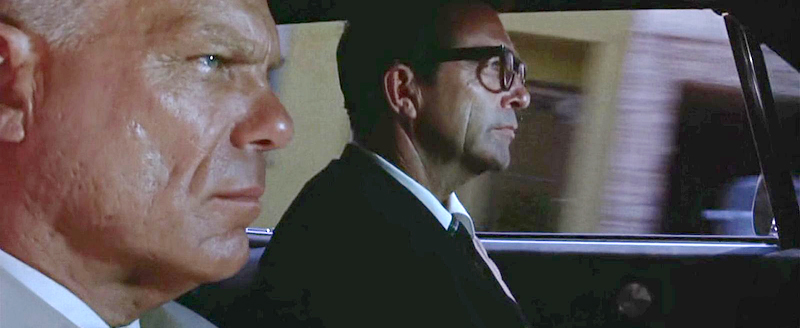 Stunt driver Bill Hickman (R) with actor Paul Genge (as Ice Pick Mike). Director Peter Yates left the very real, frightened reactions of actor Genge in the film as they occurred.
We've all seen the chase scene in Steve McQueen's 1968 film "Bullitt."
There's no denying it set the gold standard for movie chase sequences.
Oddly enough, I happened to meet Bill Hickman (solo stunt driver for the black Dodge Charger) in the early 80s just before he passed away in 1986. Hickman told me he had a great time in the film, wiped out a very expensive Arriflex film camera because he held his oversteer correction too long, and that it took four weeks to shoot the 10-minute chase scene. He also told me that the first left turn Steve McQueen took, at the beginning of the chase, was filmed in real traffic. That was a civilian taxi driver he turned behind to begin the pursuit; explaining his anger. Hickman confirmed there were three cars each: three Mustangs and three Chargers. All for backup. Question for attentive readers: in the movie, overall, how many hubcaps did the Charger lose on screen? Answer below.
Truly astounding what those stunt drivers, Bill Hickman, Bud Ekins, Carey Loftin and Loren James could accomplish in real time with, truly, ancient and heavy vehicles possessing poor handling, poor stopping capabilities yet with large power plants.
Bill Hickman, tragically enough, came upon the scene, a few minutes later, of James Dean's fatal Porsche 550 crash on Highway 46 in 1955. Dean died in Hickman's arms.
As an aside — what would happen if you attempted to re-create the classic Bullitt chase scene in, say, 2013? Pay attention people. Look for details.
We've also seen the great pursuit sequences in "The Seven-Ups."
And of course there is the car chase scene from Ronin. Did we ever find out what was in the suitcase?
What about Ronin's chase scene, Part II?
But have you ever seen or heard of the pursuit sequence from the movie "Strange Shadows In An Empty Room," starring Stuart Whitman, John Saxon and Martin Landau?
The movie, financed and released in Italy, was shot in Montreal and Ottawa.
Remember, for crap American cars at the time, particularly a clunky Buick sedan, and in consideration of the fact that CGI simply didn't exist, there appeared a cadre of actual stunt performers who had to make it all look realistic. They put their lives on the line for what we now recognize as hunks of junk.
That was back when people in movies had to actually possess talent.
BZ
P.S.
Question: Why have CGI movies absolutely exploded in the past 20 years?
Answer:    Because directors find it much, much more convenient to review dailies and movie work when they exist as digital clips, seen in the comfort of their own homes or offices. The millions and millions of dollars spent on CGI exist for visual impact but also for the convenience of the directors involved, in terms of their review.
Hubcaps? 7.