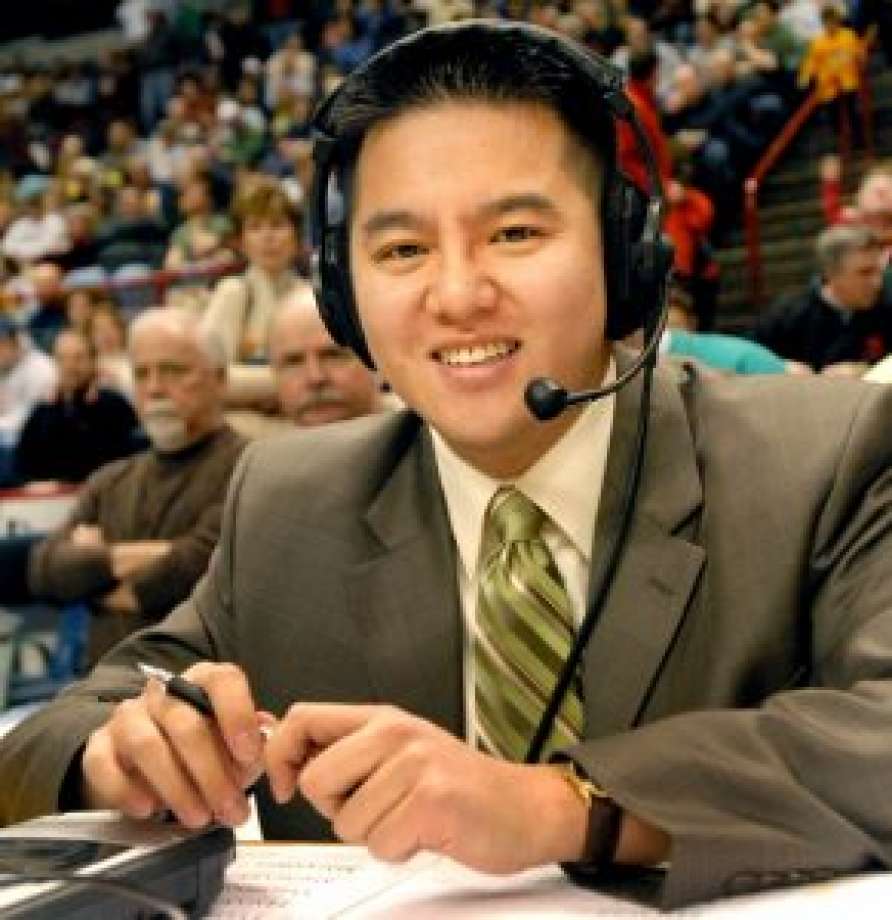 This is Confederate General Robert E. Lee. Just ask any Leftist at ESPN.
Here I present for you two stories: one that you'd swear wasn't true but is — and a story that isn't true but Leftist journalists insisted was.
Whaaat??
You won't believe it either.
First, the true story you'd swear wasn't. Yes, it's absolutely that over-the-top ridiculous.
From FoxNews.com:
ESPN pulls Asian-American announcer from Virginia football game because he has a Confederate general's name

In the wake of the events in Charlottesville, Va., ESPN decided to pull one of its announcers from calling a University of Virginia football game — because his name is Robert Lee.

Lee, an Asian-American sportscaster who started with the network in 2016, was moved to a different game "simply because of the coincidence of his name," ESPN said, referencing the Confederate general Robert E. Lee.
No. I am not kidding. Watch.
Yes, precisely. ESPN believes its audience is so inherently daft that it cannot possibly begin to readily differentiate between a young Asian sports commentator and a dead, old Confederate Army Caucasoid general with a beard and long hair.
If you think that's wondrous — but wait. There's more.
The American Media Maggots actually believed that on Tucker Carlson's Monday show he was gravely serious when he said that President Trump looking at the sun during the solar eclipse was "perhaps the most impressive thing any president has ever done." YGBFKM.
No. I am as deadly serious as the man in this video.
It's a joke but it's not a joke. No, it's much more serious than that. Wait, it's perhaps the most seriously insightful thing in months.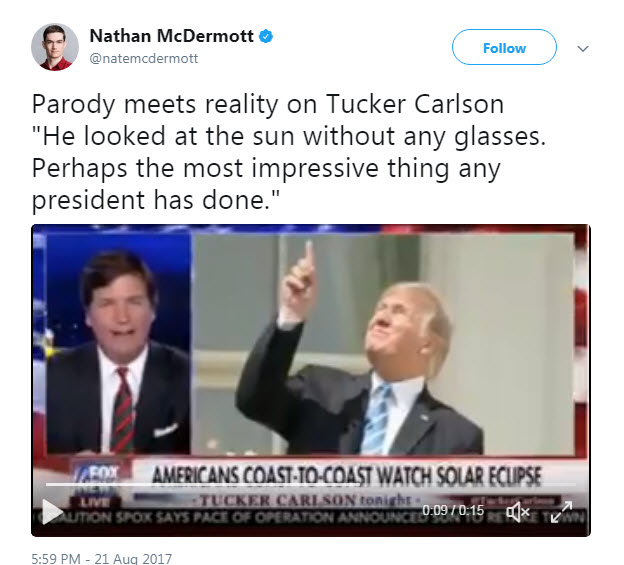 Nathan McDermott of CNN bit. Big time.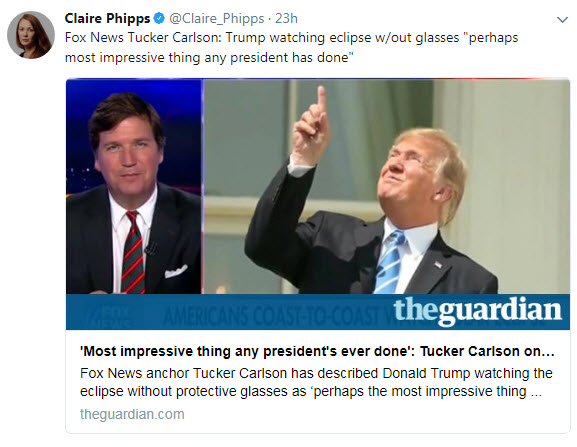 The UK's Claire Phipps at the Guardian also chomped.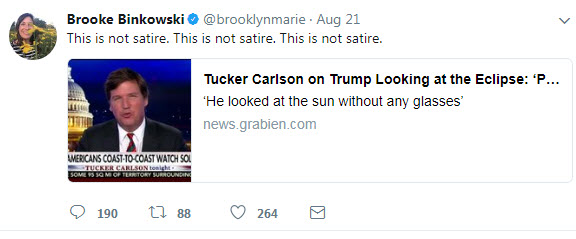 Binkowski is even more serious. This is her specific Tweet. Grok that.
At least the bald dude had a semblance of a clue, but not much. Wait until you see and hear the reactions of the American Media Maggots who were truly and nakedly beyond stupid. Who best to point out said stupidity but Tucker Carlson himself and Greg Gutfeld.
Just as the humorless Leftists have time and again proven themselves bereft of facts, much less compassion, they continue to subvert America hand-in-bloody-hand with the American Media Maggots, Antifa, anarchists and the willing complicity of Demorats.
I've said before and continue to say: "you can't write this shite."
Still, the Left-embracing American Media Maggots fundamentally cannot believe anyone would deign to possess the temerity to label them Fake News.
As they simultaneously bleed cash, readers, advertising and — Leftist journalistas themselves. I wonder why the AMM doesn't dare to speak about the heinous, slashing cuts in newsrooms all across the fruited plain? And the fact that their ponderous corporations pay for shite?
"Give the governor a harumph!"
They've gotta keep their phony-baloney jobs!
BZ