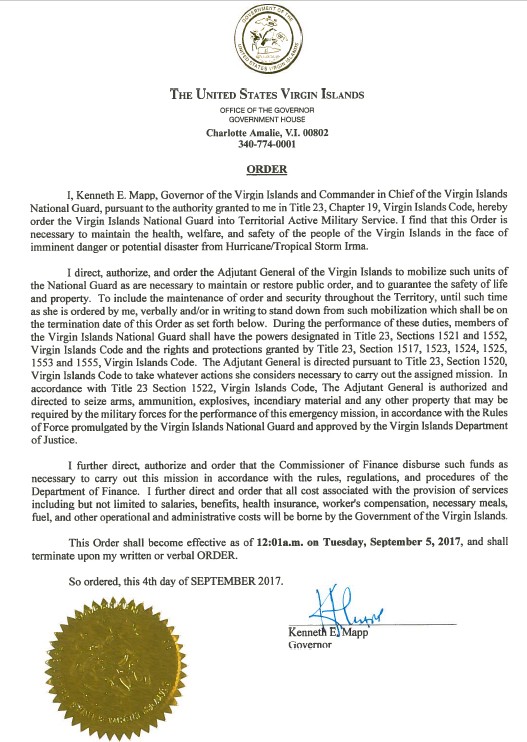 Is this a harbinger of things to come?
If you're a Leftist, anarchist or a Demorat, it's an idea whose time is past due.
From the FederalistPapers.org:
Virgin Islands Governor Signs Order For Confiscation of Personal Firearms Ahead of Hurricane Irma

by Seth Connell

The Second Amendment provides that the right of the people to keep and bear arms shall not be infringed, but the Virgin Islands Governor somehow sees a Hurricane exception to the Supreme Law of all U.S. land.

As the Caribbean and United States prepare for the incredibly powerful Hurricane Irma, people everywhere from the Gulf Coast to the Carolinas are getting ready for possible impact. That includes the U.S. Virgin Islands, a territory where the governor has signed an executive order authorizing the National Guard to seize privately owned firearms, ammunition, explosives, and property, The Daily Caller is reporting.
Because, as everyone knows, the US Virgin Islands is the first place one envisions when civil unrest and insurrection is at play. Right?
Wrong. The last time I suspect anyone conjured anything about the US Virgin Islands was whatever thought some Millennial/Gen Z'er had about Virgin Airlines or a hymen.
The governor wildly inflates his importance and the actual efficacy of the order unless the USVA is a hotbed of crime, gangs and violence — in which case the governor is massively negligent for allowing that situation to occur in the first place.
Governor Kenneth Mapp signed the order on Monday ahead of the Hurricane's landfall. The order allows the Adjutant General of the Virgin Islands to take personal property that it believes is necessary to protect the islands. That apparently includes residents' personal firearms and ammunition, along with whatever other property is deemed "necessary."
Not just the outright confiscation of firearms, but the confiscations of any and all amounts or property, no limits.
AYFKM? No, sadly, I am not.
A portion of the order reads as follows:

This well and truly comports with the Second Amendment's hurricane exemption.
Remember that this is not the first time that firearms confiscation measures have been implemented in response to a storm. After Hurricane Katrina, police confiscated firearms from quite a few people in New Orleans without due process of law.
Despite their inability to cope with the resulting mayhem, several days after the storm passed New Orleans officials ordered the confiscation of lawfully-owned firearms from city residents. In a September 8, 2005 article, the New York Times described the scene, stating, "Local police officers began confiscating weapons from civilians in preparation for a forced evacuation of the last holdouts still living here… Police officers and federal law enforcement agents scoured the city carrying assault rifles seeking residents who have holed up to avoid forcible eviction."
Of course, I'm lying my arse off. There is no exemption to any portion of the Second Amendment for the purposes of a hurricane or any other exigent situation.
As a result, this from TheHill.com:
NRA threatens legal action over Virgin Islands firearm confiscation order

by Josh Delk

The National Rifle Association (NRA) is threatening legal action to stop a seizure of guns and ammunition by U.S. Virgin Islands Gov. Kenneth Mapp (I) ahead of Hurricane Irma, the group said Tuesday.

"People need the ability to protect themselves during times of natural disaster," said Chris Cox, executive director of the NRA'S Institute for Legislative Action. "This dangerous order violates the constitutional rights of law-abiding citizens and puts their lives at risk."
Let's place a bit of historical significance around the issue, shall we? Remember, as some instructors said to me during various classes in university, "you may see this material again." Or, "contrast and compare."
Hand me my blue book.
New Orleans Mayor Ray Nagin signed a similar order in 2005 amid the destruction from Hurricane Katrina allowing the seizure of private weapons, which the NRA opposed in a federal court. Congress later passed a bill, supported by the NRA and signed by President George W. Bush, banning future seizures of weapons during emergencies. 
Apparently Governor Kenneth Mapp is well and truly that ignorant and that dictatorial. He has evidently purposely forgotten this. Would I be correct to suggest it's no mere oversight?
Let's go one video further. Did you hear of this? Did you read of this? Likely not. Government pointing live weapons at civilians in times of — what — flooding? At minimum with .223 long guns? To what end? Were you anticipating nothing but looters and/or drug dealers? I would hope there is more to the story.
That was just fine, right?
RESIDENTS WERE HANDCUFFED ON THE GROUND. IN THE END POLICE TOOK THEIR WEAPONS. BUT LET THEM STAY IN THEIR HOMES.
An actual Oathkeeper.
And that is what you get for deigning to live in any number of hundreds of Urban Rat Cages in the United States of America, once free, once jubilant, once unfettered.
I'm sure Governor Mapp is certainly in keeping with the Leftist's meme of gun control, gun confiscation. Because I posit: where are the orders and the procedures delineated for returning these firearms to the citizens? Answer: they don't exist. There is no such animal. Therefore there is no plan for it.
Confiscation. Permanently.
"Never let a serious crisis go to waste."
-Rahm Emanuel
Your rights are incessantly under assault.
Never doubt this.
BZ