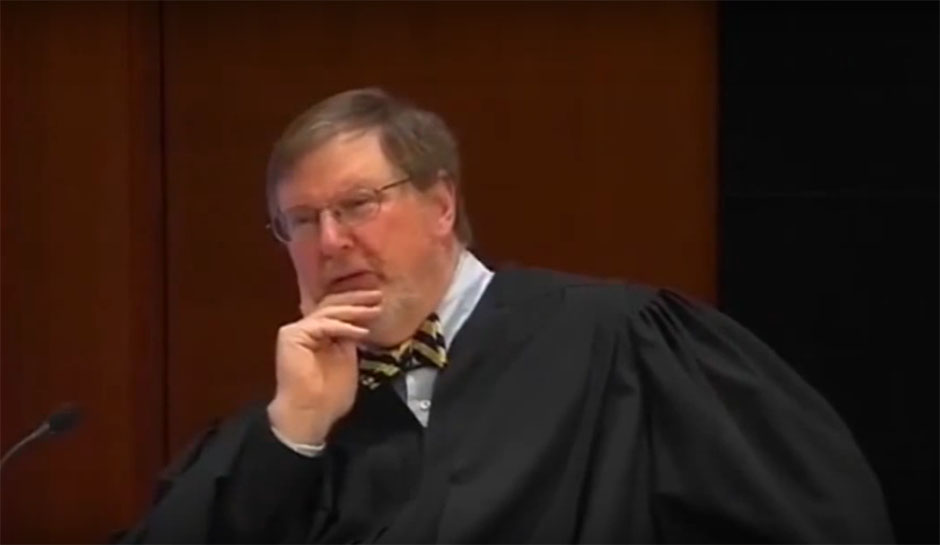 Who, as it turns out, knows next-to-nothing about the state of immigrants in America.
From the WashingtonExaminer.com:
Byron York: Justice Department demolishes case against Trump order

by Byron York

James Robart, the U.S. district judge in Washington State, offered little explanation for his decision to stop President Trump's executive order temporarily suspending non-American entry from seven terror-plagued countries. Robart simply declared his belief that Washington State, which in its lawsuit against Trump argued that the order is both illegal and unconstitutional, would likely win the case when it is tried.

Now the government has answered Robart, and unlike the judge, Justice Department lawyers have produced a point-by-point demolition of Washington State's claims. Indeed, for all except the most partisan, it is likely impossible to read the Washington State lawsuit, plus Robart's brief comments and writing on the matter, plus the Justice Department's response, and not come away with the conclusion that the Trump order is on sound legal and constitutional ground.
"A judge is just a lawyer who curried favor with a politician."
— Russell Baker, NYT columnist
True, as you get to become a federal judge by being nominated by a senator from your individual state. In the Ninth DCA, remember, covering California, Oregon and Washington, you're getting six Demorat senators who are going to do nothing but nominate Demorat judges. Can I get a "duh" from the audience?
Beginning with the big picture, the Justice Department argued that Robart's restraining order violates the separation of powers, encroaches on the president's constitutional and legal authority in the areas of foreign affairs, national security, and immigration, and "second-guesses the president's national security judgment" about risks faced by the United States.

Indeed, in court last week, Robart suggested that he, Robart, knows as much, or perhaps more, than the president about the current state of the terrorist threat in Yemen, Somalia, Libya, and other violence-plagued countries. In an exchange with Justice Department lawyer Michelle Bennett, Robart asked, "How many arrests have there been of foreign nationals for those seven countries since 9/11?"

"Your Honor, I don't have that information," said Bennett.
Who does? Judge Robarts swears he does but he either 1) knows nothing, or 2) simply pulled the figure out from his judicial arse.
"Let me tell you," said Robart. "The answer to that is none, as best I can tell. So, I mean, you're here arguing on behalf of someone [President Trump] that says: We have to protect the United States from these individuals coming from these countries, and there's no support for that."
No support for that? ISIS has, in fact, said time after time that it insinuates members into refugee streams throughout all the European nations. The Washington Post throws out a number: 60. Byron York writes about Judge Robart's ruling:
Now, it turns out Robart might not know as much as he let on. Last summer, the Senate Judiciary Subcommittee on Immigration and the National Interest analyzed public sources of information, seeking to learn more about people convicted of terror-related offenses. The Justice Department provided the subcommittee with a list of 580 people who were convicted — not just arrested, but tried and convicted — of terror-related offenses between Sept. 11, 2001 and Dec. 31, 2014.
But more specifically:
The subcommittee investigated further and found that at least 380 of the 580 were foreign-born and that an additional 129 were of unknown origin. Of the 380, there were representatives — at least 60 — from all of the countries on the Trump executive order list. And with 129 unknowns, there might be more, as well.
Byron York continues with his original argument:
Perhaps Robart has been briefed by the intelligence community on conditions in Yemen, Somalia, Libya, and the rest. Perhaps Robart has received the President's Daily Brief. Perhaps not.** In any event, the Justice Department argued — reasonably but not successfully — that it is the president, and not a U.S. District Court judge in the Western District of Washington State, who has the knowledge and the authority to make such decisions.

"Your Honor, I think the point is that because this is a question of foreign affairs, because this is an area where Congress has delegated authority to the president to make these determinations, it's the president that gets to make the determinations," Bennett said. "And the court doesn't have authority to look behind those determinations."
Again I repeat, at the risk of becoming the Department of Redundancy Dept., President Trump's authority to primarily do as he did is granted under 8 USC 1182.
Please read the rest of Mr York's excellent article which essentially states this: a federal judge overstepped his bounds. Judge Andrew Napolitano weighs in again and thinks the Ninth District Court of Appeals may just reverse Judge Robart and reinstate the executive order as he believes Washington and Minnesota lack the requisite standing.
Also please see my first post about Trump's travel stay here, where I go into great detail about the executive order, its roll-out and legality.
Finally, Judge James Robart is an odd-duck cipher; a Bush-appointed Republican who goes askew on strange issues. From BlueLivesMatter.com:
Federal Judge Accuses Police Union Of Killing Black People, Proclaims 'Black Lives Matter'

by Officer Blue

Federal Judge Accuses Police Union Of Killing Black People, Proclaims 'Black Lives Matter'

Seattle, Washington – U.S. District Judge James Robart on Monday expressed a strong anti-police bias when dealing with a case involving Seattle police union's contract negotiations. Judge Robart went on a rant about deadly force statistics against black people and proclaimed, "Black Lives Matter."

Judge Robart is presiding over a 2012 consent decree requiring the city to adopt reforms to address Department of Justice allegations of biased policing and excessive force. The proposed changes will have a major effect on all union members, including discipline being investigated and determined by non-law enforcement investigators. The changes make it faster and easier to discipline an officer if the public believes that the officer was wrong, whether or not that was actually the case.

Continuing to build an image in his mind of being some sort of folk-hero, Judge Robart went on to say that 41 percent of the shootings by police were of blacks, when they represented 20 percent of the population. Judge Robart then declared that "Black Lives Matter."

Judge Robart's rant is actually a perfect example of why law enforcement officers cannot be excluded from the process of disciplining other officers. The statistics on police shootings that Judge Robart cited were completely out of context, and ignore the reasons that shooting occur.
Milo Yiannopoulos talks about immigrants and refugees having destroyed Europe.
I don't believe Americans or Europeans hate immigrants or immigration. What they do dislike is watching their countries — particularly the EU — being consumed from within by hordes of individuals in such numbers as to almost ensure no assimilation whatsoever. Sadly, it is from the EU that we should learn. Again, thank the Atlantic Ocean.
Bottom line? I believe the law is on President Trump's side. That does not mean there weren't visual problems with its roll-out and coordination. And it doesn't mean that judges don't have axes to grind or agendas to keep.
One interesting note: the judge in Boston who held for President Trump likely has the Boston Marathon Bombing in the back of his mind, has experienced the reality of close terror and wants to ensure we know whom we're allowing into our nation.
BZ
P.S.
This is England. This could be the United States — beginning with Michigan — shortly. Remember: "demography is prophecy."
This is England. pic.twitter.com/ggcD52o5Hc

— Paul Joseph Watson (@PrisonPlanet) February 7, 2017
Wise up, America. Educate yourself about Islam.
Finally, this is President Trump speaking about illegal immigrants and the need to follow the rule of law.
Oh wait, sorry. That was Barack Hussein Obama in 2005. My mistake. A black man can say this about illegal immigration but Caucasoids cannot. A grievous error on my part.