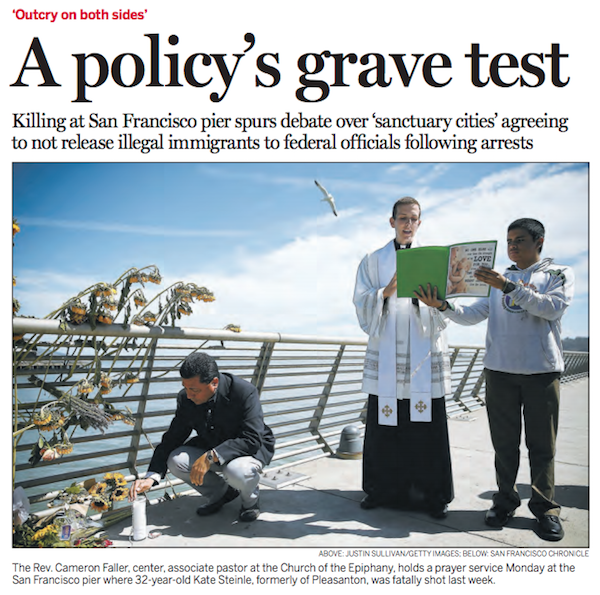 Why is it that Leftist cities seem to be self-immolating?
Cities like Baltimore, Ferguson, Chicago, New York, Detroit?
And now San Francisco?
From Breitbart.com:
Report: Murder Arrests up 55%, Rape Arrests up 370%, in 'Sanctuary City' San Francisco

by Awr Hawkins

Arrests for murder in San Francisco jumped 55% and arrests for rape jumped 370% between 2011 and 2015, during the time the city expanded its sanctuary city policies, according to new figures obtained by Judicial Watch.

San Francisco has been a sanctuary city for nearly 30 years, and since 2009 has incrementally added sanctuary policies to the point that Juan Francisco Lopez-Sanchez–although five times previously deported and a seven-time convicted felon–was still in San Francisco to shoot and kill Kathryn Steinle on July 1 on the city's Pier 14.

But numbers uncovered by Judicial Watch show that Steinle's death–as tragic and shocking as it was–remains but one piece of a larger picture of skyrocketing arrests for murder and rape in the city.
Let's take a moment to examine the obvious.
America continues to be inundated by illegal invaders from Mexico.  Perhaps the physical numbers are not precisely what they were a year or so prior, but they are even more significant and have a greater lasting impact because of the types of persons involved.
That is to say, those invading from the south are no longer comprised primarily of Juan Valdez and his hardy burro.  They are now Francisco "Asesinato" Valdez, "Snuffy" Rodriguez and Rodrigo "Viper" Martinez of MS-13 and the Los Zetas.  They are bringing that mindset to the United States — along with the various immigrants whose minds are unstable to begin with.  In other words: not the finest or best of Mexico, but the most base dregs and the most violent.  Why?  Because the jobs for unskilled workers in the US are dwindling by the year.  Because our Free Cheese is so yummy.  And because we're not simply tolerating being overrun by the unfit, we're asking to be overrun by the unfit.
San Francisco experiencing problems?  Murder, rape, violent crime going up?
Oh no.  It couldn't happen to a more craven sanctuary city.
BZ