It's a sad state of affairs when, as Governor Abbott says, you have to sign a law in order to get law enforcement to obey the law.
From the TexasTribune.com:
Texas Gov. Greg Abbott signs "sanctuary cities" bill into law

by Patrick Svitek

Gov. Greg Abbott signed a ban on "sanctuary cities" on Sunday, putting the final touch on legislation that would also allow police to inquire about the immigration status of people they lawfully detain.

Senate Bill 4 makes sheriffs, constables, police chiefs and other local leaders subject to Class A misdemeanor charges if they don't cooperate with federal authorities and honor requests from immigration agents to hold noncitizen inmates who are subject to deportation. It also provides civil penalties for entities in violation of the provision that begin at $1,000 for a first offense and climb to as high as $25,500 for each subsequent infraction. The bill also applies to public colleges.

The final version of the bill included a controversial House amendment that allows police officers to question a person's immigration status during a detainment — perhaps including traffic stops — as opposed to being limited to a lawful arrest. It has drawn fierce opposition from Democrats and immigrants rights groups, who are already gearing up for a legal battle against the law.
Tarrant County Sheriff Bill Waybourn weighs in on the Texas bill.
Abbott defended the legality of the law Sunday, saying key parts of it have "already been tested at the United States Supreme Court and approved there."

That could soon come to a test. Sunday night's signing prompted a fast and negative reaction from the Mexican American Legal Defense and Education Fund, or MALDEF, which referred to the new Texas law as "a colossal blunder" and promised to fight it, "in court and out."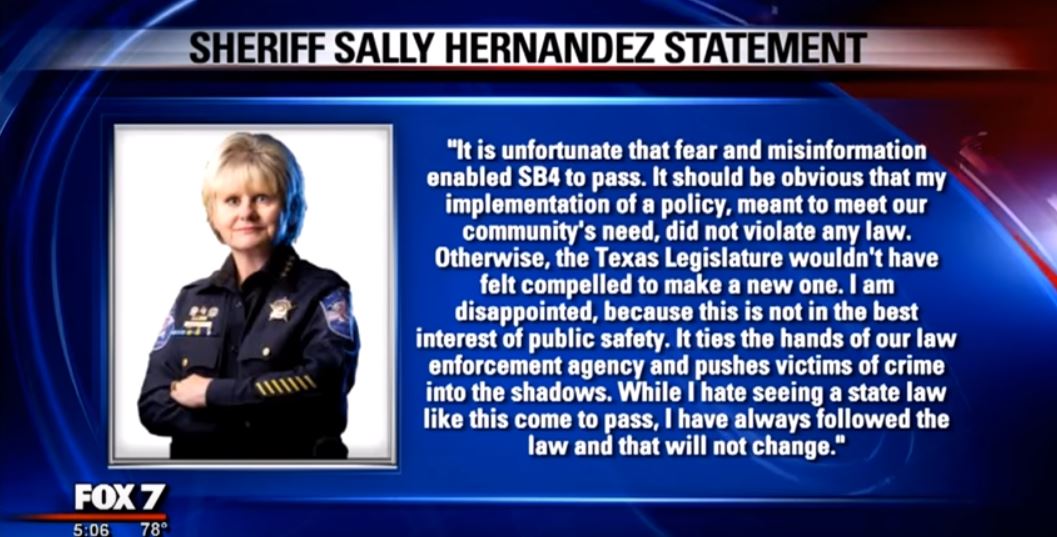 As with most every rule and regulation, there was a distinct reason for its creation.
He had said it was especially needed after Travis County Sheriff Sally Hernandez announced earlier this year that her department would reduce its cooperation with federal immigration authorities.
Governor Abbott, by the way, makes an excellent and purposely-forgotten and avoided point that almost half of the people crossing our southern border these days are not Mexican. They stem from a much wider variety of countries.
Meaning: the law isn't racist — though Mexican groups would insist you think that — it is instead protecting lawful Americans within the United States, legal Mexicans included, from those who would act as criminals, do them harm, by simply barnstorming the nation in great numbers.
Texas Governor Greg Abbott takes a step in the proper direction.
BZ