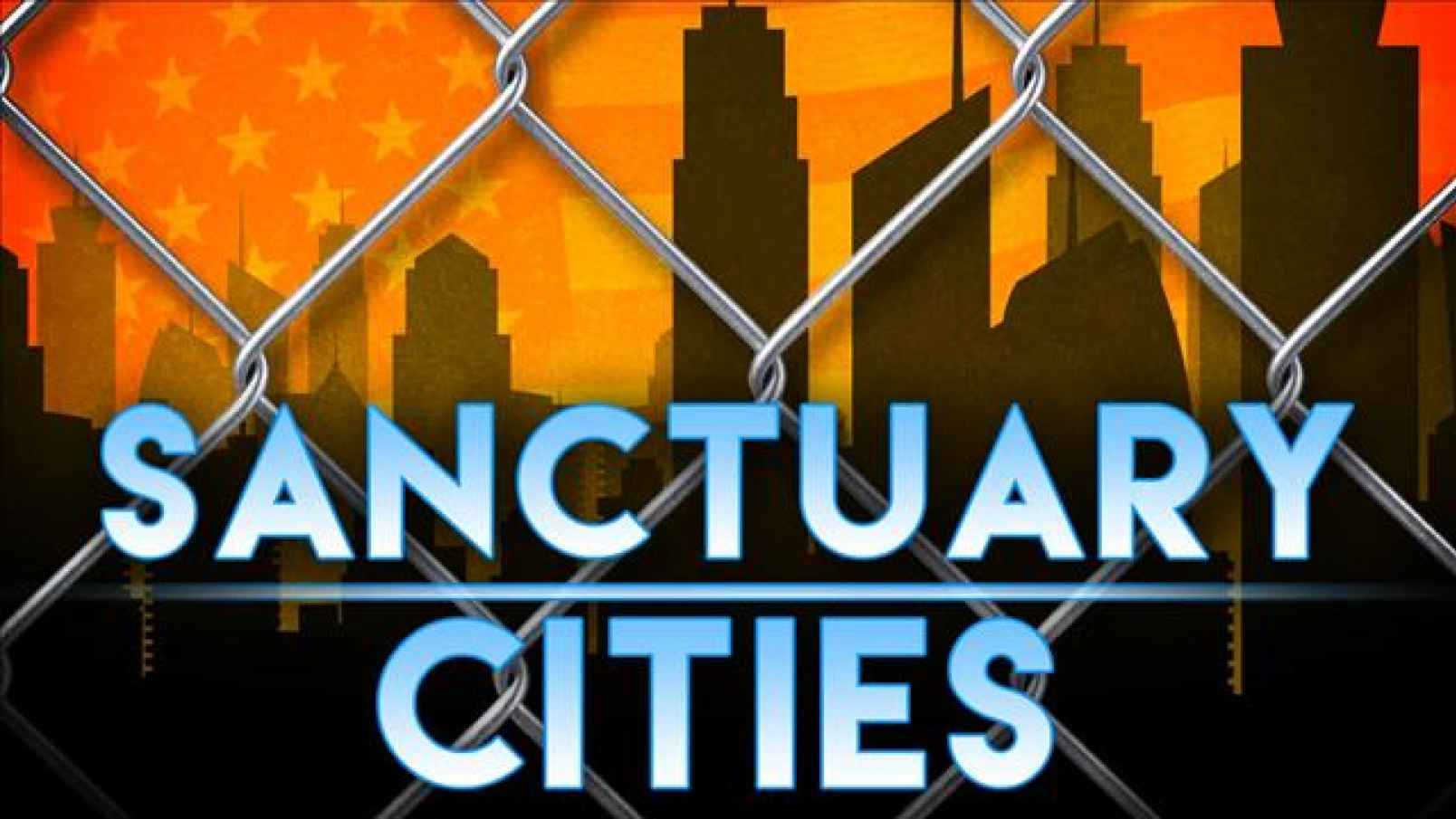 US mayors and governors don't have the power to defy the federal government. Or do they? Are there legal teeth in Donald Trump's words to "defund sanctuary cities"?
Representative Lou Barletta (PA, 11th) introduced a bill on Thursday that would grow a nice set of chompers and provide consequences for defiance of federal law. From Barletta.house.gov:
BARLETTA'S 1ST BILL OF 115TH CONGRESS: DEFUND SANCTUARY CITIES

Stops Federal Funding for Cities Failing to Cooperate with Immigration Officials

WASHINGTON – Congressman Lou Barletta (PA-11) today introduced the Mobilizing Against Sanctuary Cities Act, H.R. 83, which will stop all federal funds from flowing to states or localities which resist or ban enforcement of federal immigration laws, or flatly refuse to cooperate with immigration officials.  The bill is the first piece of legislation introduced by Barletta in the 115th Congress and represents the third time the congressman has introduced the measure.  In 2011, the bill was the first piece of legislation he ever introduced as a member of Congress.  He introduced it a second time in the 114th Congress in 2015.

"One of the principal duties of the government is to protect its citizens, and the idea of sanctuary cities runs completely counter to that responsibility," Barletta said.  "Too many mayors and local governments think that they are above federal law and place their own ideology ahead of the safety of their residents.  This bill will stop that practice by saying to these sanctuary cities, 'If you refuse to cooperate with federal immigration enforcement, you will lose your federal funding.'"

The Mobilizing Against Sanctuary Cities Act prohibits any federal funding for a minimum period of one year to any state or local government which has a policy or law that prevents them from assisting immigration authorities in enforcing federal immigration law.  The Immigration and Customs Enforcement agency (ICE) lists about 300 such localities in the United States.  Barletta's bill directs the attorney general to compile an annual list of such cities and issue a report on any particular state or locality upon request from a member of Congress.  A state or local government would only regain federal funding eligibility after the attorney general certifies that its laws and policies are in compliance with federal immigration statutes.
The issue is this: 300 cities already refuse to cooperate with federal authorities over detainer requests from ICE officials, making illegals shielded from deportation — even those accused or convicted of felonies — as there is nothing in existing law obligating a city, county or state to cooperate, with no legal consequences when those entities fail to work with ICE.
Does anyone recall when then-Arizona Governor Jan Brewer passed a bill mandating state illegal immigrant enforcement that was tougher than the federal standard? Obama stated the US "cannot have fifty different immigration policies," which the US Supreme Court affirmed. However, what's good for the goose is good for the gander, and that ruling may lend precedent, credence and authority to Barletta's bill.
The Mobilizing Against Sanctuary Cities Act would cease federal funding to sanctuary regions or entities for one year. As Barletta said, "they would not get one federal cent." We're talking potentially billions of federal dollars of highway, education and medicaid cash.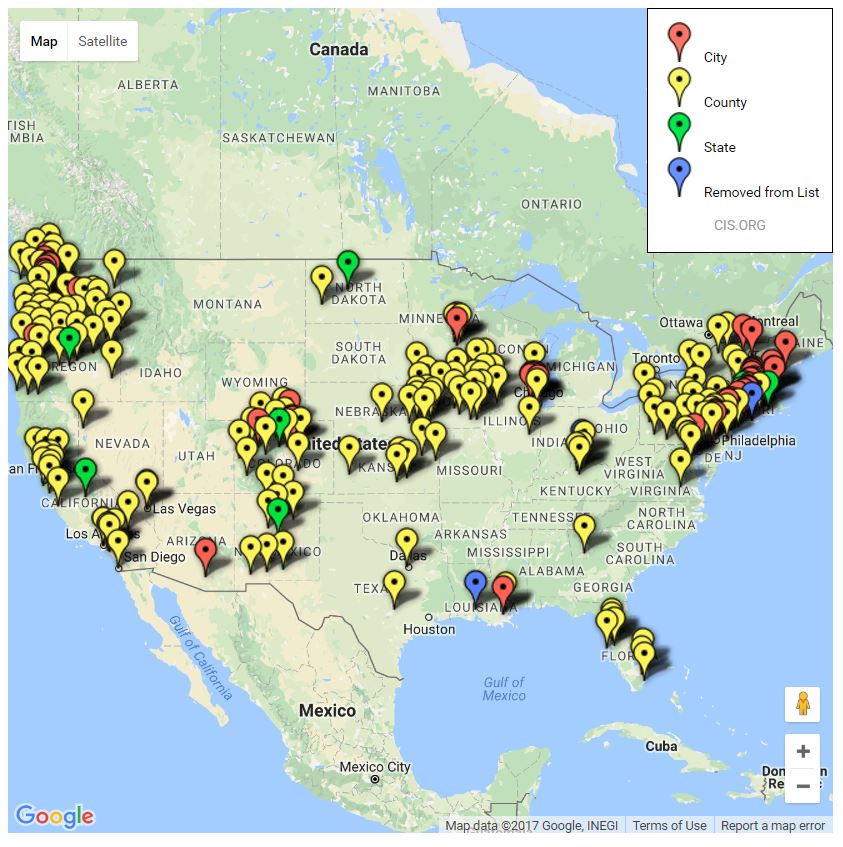 The map above, provided by the Center for Immigration Studies, shows the location of US sanctuary cities, counties and one Leftist state, Fornicalia.
Then there is this point from CIS.org:
Tackling Sanctuaries

This report examines the justifications given by sanctuary jurisdictions for their policies, and finds them to be largely unfounded:
Cooperation with immigration enforcement has not been shown to undermine community trust nor cause immigrants to refrain from reporting crimes; there are better ways to address issues of access to police assistance without obstructing enforcement;

Simply cooperating with federal immigration agencies does not turn local officers into de facto immigration officers, because federal officers make the decisions on which aliens are targeted for deportation;

Such cooperation is not very costly for local jurisdictions because the removal of criminal aliens spares future victims and saves future supervision, incarceration, and social services costs to criminal aliens. In addition, cooperative localities can receive partial reimbursement for their incarceration costs.

Claims by some local law enforcement agencies that they need a warrant in order to hold aliens for ICE are dubious but can be accommodated by the issuance of ICE administrative warrants.
The Trump administration has a number of tools available at its disposal and within the confines of executive authority to address the problem of sanctuaries and the public safety problems they create.

Here's how to do so:
Rescind the Obama administration actions and policies that encourage and enable sanctuaries, including clarifying that local agencies are expected to comply with detainers;

Cut federal funding to sanctuaries;

Initiate civil litigation to enjoin state or local laws and policies that egregiously obstruct enforcement of federal immigration laws and regulations;

Selectively initiate prosecution under the alien harboring-and-shielding statute, which is a federal felony; and

When requested, issue administrative warrants to accompany detainers as a reasonable accommodation to state or local concerns. Negotiating over which aliens will be subject to detainers, as is current policy, is not a reasonable accommodation.

Direct ICE to begin publishing a weekly report providing the public with information on all criminal aliens released by the sanctuaries.
Please read the excellent but somewhat lengthy article here.
Representative Barletta's H.R. 83 is an important bill submitted at the proper time. Barletta is correct; we're either a nation of laws or we are not. We either obey the rule of law or we do not. If we do not — by allowing sanctuary cities, counties and states to stand, in direct contradiction of federal law — then we undermine ourselves.
If we have no rule of law, then most any city, county or state may arbitrarily decide which laws they wish to obey or disregard. Therefore, if that stands, it logically follows that the individual likewise has the freedom to obey or disregard the laws that he or she chooses, when he or she chooses.
It is the path to chaos.
The time is now to stop the chaos, and establish and reaffirm discipline and sovereignty.
BZ