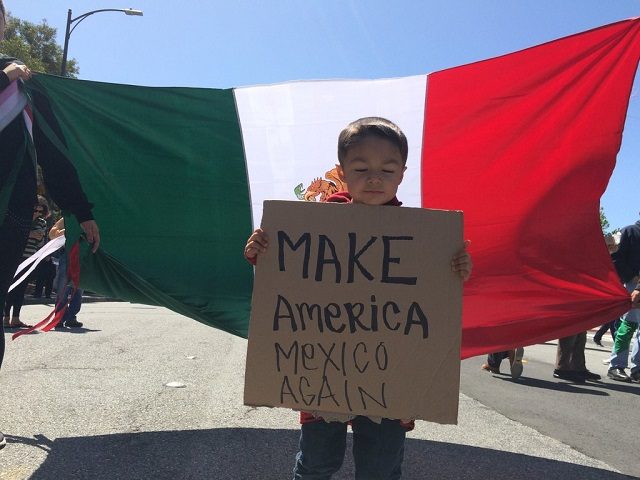 And there you have it. The clear reason why DC isn't doing its job and, further, why DC is instructing border installations to reduce border interactions and arrests.
As a matter of fact, border arrests are at their lowest point since 1972.
Watch the video below.
🚨BREAKING: ICE Officials just told Trump that illegals are being allowed to vote & that's why Obama won't deport criminals.#WorldSmileDay pic.twitter.com/P4nUT9vqpF

— Jared Wyand 🇺🇸 (@JaredWyand) October 7, 2016
First, from GatewayPundit.com:
ICE Officials Tell TRUMP Illegals Are Being Allowed to Vote – That's Why They They Won't Deport Them

by Jim Hoft

Cameras picked this up during a meeting Donald Trump held with ICE officials in August.
Via FOX Business Network:

What you pick up in the conversation is agent from Tucson telling Donald Trump basically why are these undocumented illegals with criminal records, why aren't they being kicked out. And why is there such a rush to give these illegals citizenship. And he says the ICE official says simply so they can vote.
The National Immigration and Customs Enforcement Council, the organization representing 5,000 federal ICE immigration officers and law enforcement staff officially endorsed Trump on September 26th — the first time the union has endorsed anyone for president.
Perhaps that would be one of the reasons that the physical number of persons caught is down. From CBSLosAngeles.com:
Report: Barely Half Of Illegal Border Crossers Are Caught

SAN DIEGO (AP) — Immigration authorities caught just over half of the people who illegally entered the U.S. from Mexico last year, according to a report commissioned by the Department of Homeland Security that offers one of the most detailed assessments of border security ever compiled.

The report found that 54 percent of people who entered illegally between border crossings got caught in the 2015 fiscal year. That's much lower than the 81 percent success rate that Homeland Security cited publicly using a different counting method.

The 98-page report was completed in May, and Homeland Security officials have declined to release it, despite urging from some members of Congress.
What? You mean your United States government is attempting to keep information from the American Taxpayers — the people who paid for the report? Perhaps because it might not shine the fanciest light on DHS under Barack Hussein Obama and Jeh Johnson?
Let us not forget this from the NYTimes.com:
Obama Administration Is Quietly Delaying Thousands of Deportation Cases

by Caitlin Dickerson

The Obama administration is delaying deportation proceedings for recent immigrants in cities across the United States, allowing more than 56,000 of those who fled Central America since 2014 to remain in the country legally for several more years.

The shift, described in interviews with immigration lawyers, federal officials, and current and former judges, has been occurring without public attention for months. It amounts to an unannounced departure from the administration's widely publicized pronouncements that cases tied to the so-called surge of 2014 would be rushed through the immigration courts in an effort to deter more Central Americans from entering the United States illegally.

The delays are being made as a cost saving measure, federal officials said, because of a lapse in enforcement that allowed immigrants who were supposed to be enrolled in an electronic monitoring program to go free.

Some of those affected had failed to report to government offices to be fitted with GPS ankle bracelets, according to a February memo from the chief immigration judge, Print Maggard, in Arlington, Va.
Right. Because of a "lapse in enforcement." Because it was entirely unforeseeable that "some" would "fail to report."
Ladies and gentlemen, the US immigration system is entirely broken, because the people in DC want it to be broken. Some on the GOP side want it broken because of cheap labor — although that argument is being minimized by the booming mechanization of jobs requiring little or no skill — and the Demorats want the system broken because of the burgeoning mass of potential voters who could enable Leftists/Demorats to keep power in perpetuity.
The system is broken because that's how DC wants it. And you, the American Taxpayer, can go straight to hell.
BZ