My thanks to the SHR Media Network for allowing me to broadcast in their studio and over their air twice weekly, Tuesdays and Thursdays, as well as appear on the Sack Heads Radio Show™ each Wednesday evening.
I learned a valuable lesson tonight: embrace the suck.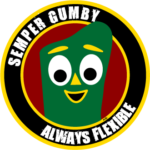 Semper Gumby. Expect the unexpected and then have a Plan B and a Plan C. Sometimes a Plan D. Enough of "Inside Radio."
Tonight in the Saloon:
Snowball is your bartender, the lava lamp is lighted;
The Sack Heads should be a complete triumvirate by next week;
I haven't yet decided to activate the YouTube cam for the show; maybe next week?
BZ: the penultimate face made for radio;
Victor Davis Hanson's article: "The Russian Farce";
July 5th was the Turning Point for James Comey;
More than 60% of NSC employees were placed by Barack Hussein Obama;
What is a Fornicalia CEA? A political appointee whose "Career Ends Abruptly";
American Media Maggots: where are your

sources

? One source? Reuters says "anonymous sources are the weakest sources";
James Clapper on Meet The Press: there is NO evidence between Russia/Trump;
Obama: "I'm gonna be a lot more flexible with you Rooskies"; no shite;
Russian reset? Russian reset button via Hillary Clinton?
Special prosecutor? Special counsel? Impeachment? Is that the Demorat goal?
Loretta Lynch needs to be prosecuted: "no criminal charges against Hillary";
Comey:'it calls for a classified response";
And much more buttery goodness.
Listen to "BZ's Berserk Bobcat Saloon, "The Aftermath," Thursday, May 18th, 2017″ on Spreaker.
Please join me, the Bloviating Zeppelin (on Twitter @BZep and on Gab.ai @BZep), every Tuesday and Thursday night on the SHR Media Network from 11 PM to 1 AM Eastern and 8 PM to 10 PM Pacific, at the Berserk Bobcat Saloon — where the speech is free but the drinks are not.
As ever, thank you so kindly for listening, commenting, and interacting in the chat room or listening via podcast.

Want to listen to all the Berserk Bobcat Saloon archives in podcast? Go here.
BZ