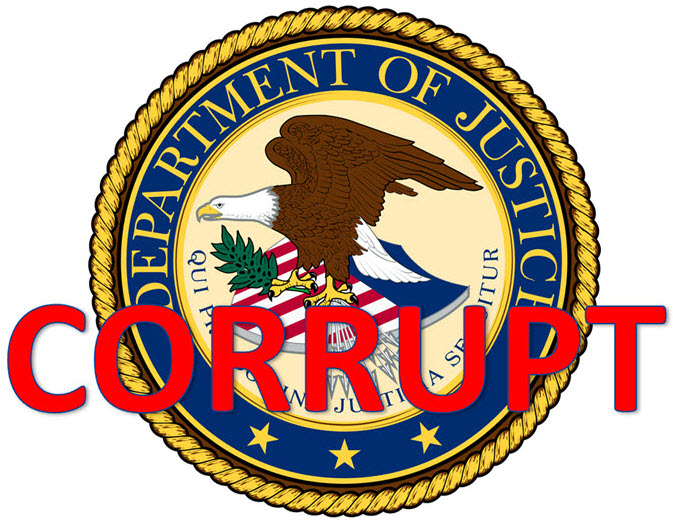 The corruption is bald and staggering.
Early this year there was DOJ Word Pablum: criminals were to be called "justice involved individuals." The words "felon" and "convict" were too harsh and judgmental to be allowed to slip off employee tongues. Euphemisms, verbal drivel, word salad.  What was the reason?
Votes.  Felon voters.  More votes for Demorats.  "Smoothing things out" for criminals so that the Demorats are remembered at voting time.
Just look at Virginia: a quarter of a million new voters for Demorats at the stroke of Democrat Governor Terry McAuliffe's imperial pen — an act not put past the voters, mind you — to include rapists and murderers.
Since McAuliffe's executive order at the time, Breitbart reported:
Leftist groups sprung into action after Democratic Gov. Terry McAuliffe granted 206,000 felons the right to vote in April, including rapists and murderers, and have been working around the clock to get them on voter rolls.

According to a report by the Washington Post, activists want to swing the state for the Democratic nominee in November and for Democratic state officials. They've registered over 2,000 felons in two weeks. Hours after McAuliffe gave his order, activists were in poor and urban neighborhoods to start signing up ex-cons.
Just as Obama decided that a terrorist can't be called a terrorist, and words don't have real meanings any more, Obama's rogue states have become "outliers" and pablum like "overseas contingency operations," "man-caused disasters," "countering violent extremism" and "kinetic military action" are the norm.
But wait; let us not forget these next grand paragraphs.
"Loretta Lynch simply wants to stay on as Attorney General under Clinton, so there is no way she would indict," the source said. "James Comey thought his position [excoriating Clinton even as he let her off the hook] gave himself cover to remain on as director regardless of who wins."
A few weeks ago from Wikileaks:
Adding to the controversy, WikiLeaks released internal Clinton communication records this week that show the Department of Justice kept Clinton's campaign and her staff informed about the progress of its investigation.
Read that again: "the Department of Justice kept Clinton's campaign and her staff informed about the progress of its investigation."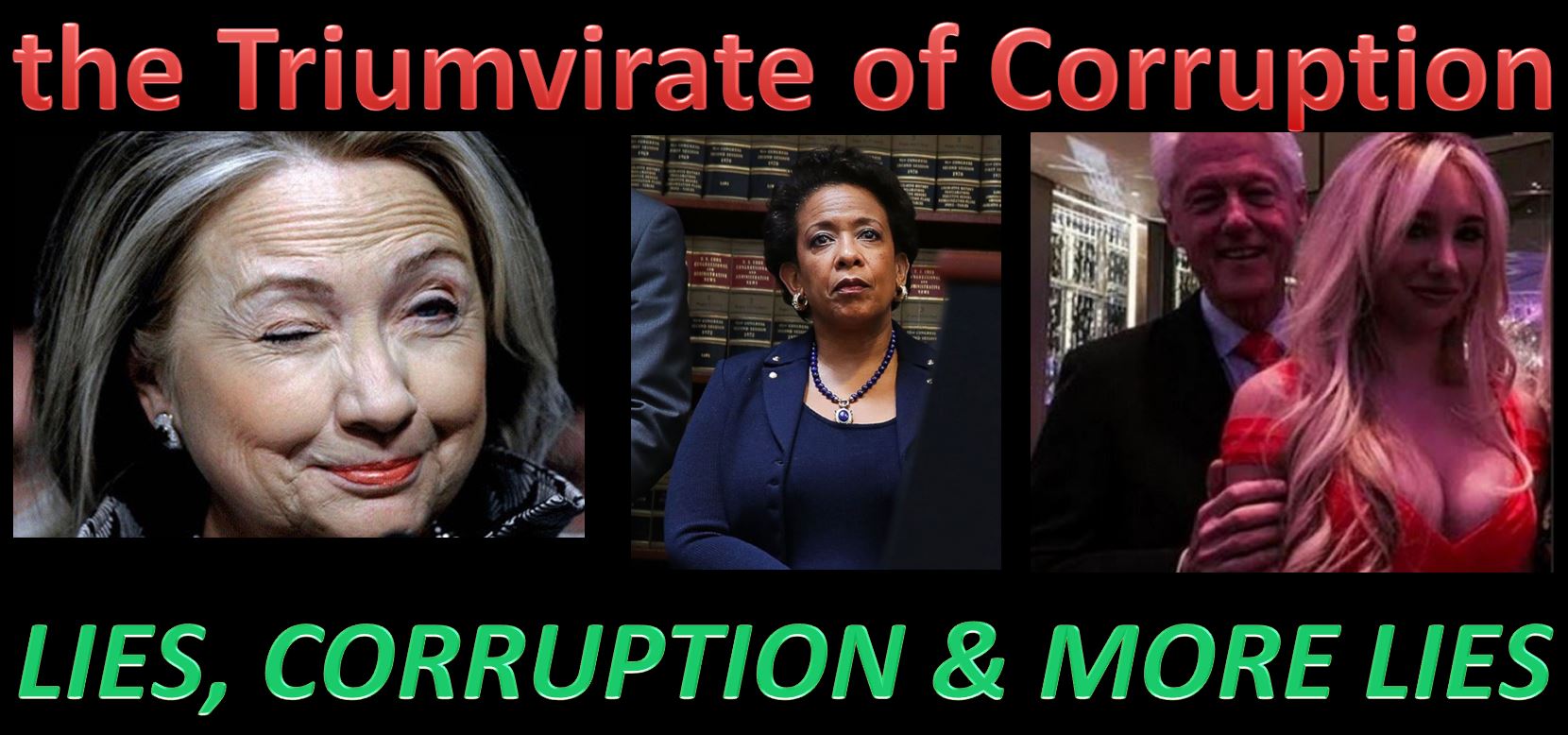 I'm not done. Then there was the story from Politico.com:
Obama DOJ drops charges against alleged provider of Libyan weapons

by Kenneth P. Vogel and Josh Gerstein

Arms dealer had threatened to expose Hillary Clinton's talks about arming anti-Qadhafi rebels.

The Obama administration is moving to dismiss charges against an arms dealer it had accused of selling weapons that were destined for Libyan rebels.

Lawyers for the Justice Department on Monday filed a motion in federal court in Phoenix to drop the case against the arms dealer, an American named Marc Turi, whose lawyers also signed the motion.

A Turi associate asserted that the government dropped the case because the proceedings could have embarrassed Clinton and President Barack Obama by calling attention to the reported role of their administration in supplying weapons that fell into the hands of Islamic extremist militants.
Hillary Clinton knew of and had a hand in the gun-running scheme which originated from the oval office.
Because the US was involved in gun-running again, like Fast and Furious under prior AG Holder — (which resulted in the death of USBP Agent Brian Terry) — asses had to be covered (by the DOJ again), secrets had to be kept and lives, unfortunately, were lost once more. That time, four lives in Benghazi.
I stand slack-jawed anew with the Department of Injustice/Corruption (otherwise known as DIC). I suppose Leftists think no one is paying attention because, well, very few people are paying attention. Except: I pay attention. People who read this blog pay attention.
Let's get right to the current buttery corruptive goodness, from ZeroHedge.com:
John Podesta's Best Friend At The DOJ Will Be In Charge Of The DOJ's Probe Into Huma Abedin Emails

by Tyler Durden

Now that the FBI has obtained the needed warrant to start poring over the 650,000 or so emails uncovered in Anthony Weiner's notebook, among which thousands of emails sent from Huma Abedin using Hillary Clinton's personal server, moments ago the US Justice Department announced it is also joining the probe, and as AP reported moments ago, vowed to dedicate all needed resources to quickly review the over half a million emails in the Clinton case.
Right. "All needed resources." Sorry. Couldn't resist.
In the letter to Congress, the DOJ writes that it "will continue to work closely with the FBI and together, dedicate all necessary resources and take appropriate steps as expeditiously as possible," assistant attorney General Peter J. Kadzik writes in letters to House and Senate lawmakers.
Aha. Keep reading.
So far so good, even if one wonders just how active the DOJ will be in a case that has shown an unprecedented schism between the politically influenced Department of Justice and the FBI.

And yet, something felt odd about this.

Kadzik… Kadzik… where have we heard that name?

Oh yes. Recall our post from last week, "Clinton Campaign Chair Had Dinner With Top DOJ Official One Day After Hillary's Benghazi Hearing" in which we reported that John Podesta had dinner with one of the highest ranked DOJ officials the very day after Hillary Clinton's Benghazi testimony?

It was Peter Kadzik.
Wait for it, wait for it.  .  .
In other words, the best friend of John Podesta, Clinton's Campaign chair, at the DOJ will be in charge of a probe that could potentially sink Hillary Clinton.
I told you it would be worth waiting for. Assistant AG Peter J. Kadzik will be in charge of the DIC's "probe" — airquotes — into Huma Abedin's roughly 650,000 emails. I'm certain — aren't you? — that the DIC will apply itself diligently and thoroughly to the investigation. What could possibly go wrong?
Do the words impropriety, corruption, tone-deafness, lack of ethics, transparency or honesty mean anything to anyone at DIC?
No. They don't.
BZ