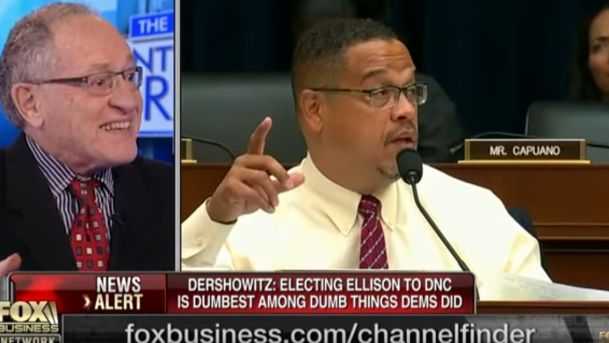 The Democratic National Committee (DNC), will elect a new chair the weekend of the 23rd to the 26th.
The DNC fell apart when emails revealed massive corruption and favoritism as leadership pulled out all the knives in order to eviscerate Bernie Sanders in clear support of Hillary Clinton. Debbie Wasserman Schultz was thusly forced to resign as DNC chair (fear not; her corruptive skills were purchased by the HRC campaign), subsequently followed by the equally-corrupt Donna Brazile who colluded with CNN in order to pitch HRC softballs when she didn't already have the questions CNN provided to Brazile.
Brazile was temporary pending the DNC election. Candidates officially include:
Sally Boynton Brown, Idaho;
Keith Ellison, Minnesota Representative;
Ray Buckley, NH;
Thomas Perez, Maryland;
Pete Buttigieg, Indiana;
Jaime Harrison, South Carolina
Jehmu Greene, Texas
In the most recent development, Buckley has since exited and thrown his support to Keith Ellison. Ellison is a front runner along with Tom Perez. The NEA and SEIU support Ellison. Apparently, noted attorney Alan Derschowitz does not.
From Breitbart.com:
In December, emeritus law professor at Harvard University, author and Orthodox Jew Alan Dershowitz, said if Ellison is elected as DNC chair he would resign from the Democratic Party. Dershowitz said in an interview on Fox Business Network's Mornings with Maria Bartiromo:

If they now appoint Keith Ellison, who worked with Farrakhan, to be chairman of the DNC, you're going to see a lot of people leave. I'm going to tell you right here on this show, and this is news, if they appoint Keith Ellison to be chairman of the Democratic party, I will resign my membership to the Democratic party after 50 years of being a loyal Democrat. I will still vote my conscience and mostly I will vote for Democrats, but I will not be a member of a party that represents itself through a chairman like Keith Ellison, and through policies like that espoused by John Kerry and Barack Obama.
It's no surprise to know that the hard-left progressive side of the Demorats is pushing hard to Keith Ellison. Ellison is a Muslim who was sworn in on a Koran and has ties to terror links CAIR and the Muslim Brotherhood. You already know how I respect the so-called "religion of peace."
I say: please, please, oh please, DNC, please elect Ellison as your DNC chair. There is nothing like doubling down on stupid and adding an extra layer of Muslim appeal for that extra buttery nutjob Demorat goodness.
It will go so incredibly well for you.
BZ