You know, Herr Olbermann, a nice Teutonic name, mein Fuhrer.
He's as rational as, say, Josef Mengele.
Cases in point. Olbermann objecting to Comey's firing. I ask: what does an ahistorical German know about the Constitution or Bill of Rights anyway? Particularly in light of the NRA video below.
This is also Keith Olbermann.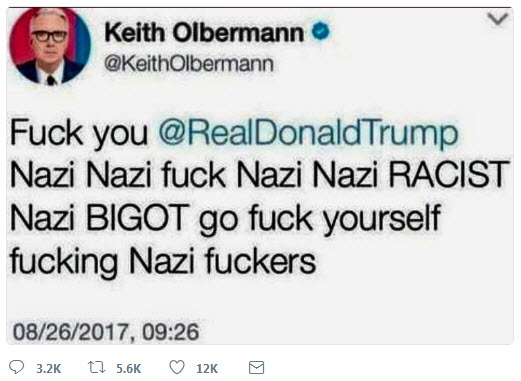 My, how your mother must have frequently washed your mouth out with soap.
Then there is this from Olbermann's "The Resistance" series. As in: "The NRA should be branded a terrorist organization."
You know. For supporting the Bill of Rights. That terrible document.
Olbermann also said it was "time to end the lies about the Second Amendment" and "time to end refusing to call mass murderers who do not have obvious political motives 'terrorists.' "
Uh, wait. Maybe one should at least give a passing glance to the foundational and historical definition of the word "terror" or "terrorist."

The unlawful use of violence and intimidation, especially against civilians, in the pursuit of political aims.
Proving that Olbermann is clearly an ignoramus who has no concept of definitions or, dare I say, the meaning of words themselves. He bends them and breaks them into ways they were never meant. For. Political. Purposes.
Who is the real terrorist here, Keith Olbermann, mein Teutonic Fuhrer? You aim your intimidation towards the civilian population for political purposes. Hello? Bueller?
Olbermann was removed, if you recall, from MSNBC in 2011 for, shall we say, a lack of performance. He was replaced by Lawrence O'Donnell, an avowed Socialist. Olbermann was, ahem, polemic to say the least, but still somehow envisioned himself in the mainstream of thought — which he was, but only for the Elitist Left who elbow-rub in various parvenu and jejune DC soirees.
According, therefore, to Herr Olbermann, His Teutonic Self and Leftists, these things are fundamentally true.
Anything conservative is evil;
Anything or anyone advocating conservatism is evil;
Supporting the US Constitution is evil;
Supporting the Bill of Rights is evil;
Supporting the First Amendment is evil;
Supporting the Second Amendment is evil.
You see? Rampant and unmitigated evil which must be immediately shut down.
Immediately immediately immediately!
Just ask them.
Great article about Keith Olbermann is here.
BZ