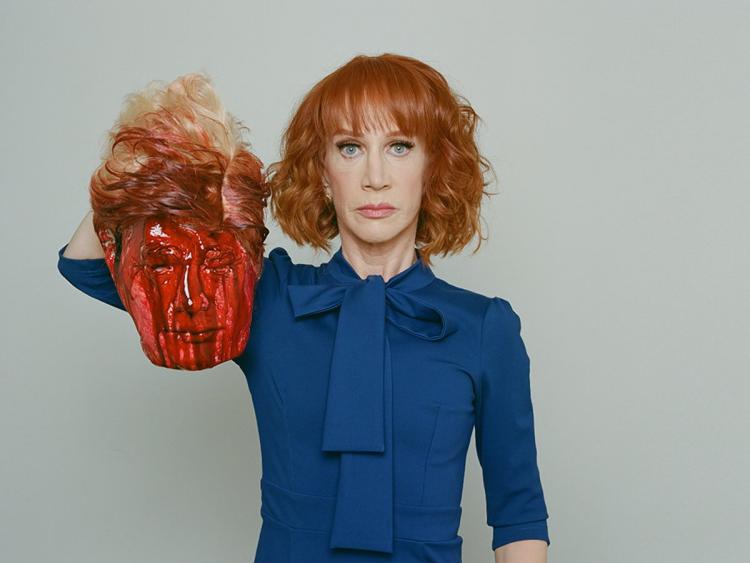 "Bitter, table for three ancient womenses please."
First, Kathy Griffin, who considers herself a "comedian," thought it was absolutely uproarious to release the above photo by Tyler Shields (Shields considered the photo a, quote, "piece of art.") this past Friday, June 2nd. Of course, just as she predicted, it was met with wave after wave of gut-busting laughter due to the brilliant comedic content. Clearly, her humor is sophisticated, polished, highbrow, well-informed, cosmopolitan, advanced and perfectly nuanced for that slight Leftist flair.
Nothing says "fun" like a good decapitation joke. Just ask ISIS.
Since then, however, there's been just a bit of a kerfuffle involving her interpretation of comedy, to include the insertion of the United States Secret Service. Boy! No one could possibly have seen any of that coming, right?
Griffin apologized sans makeup on Saturday (going for the put-upon victim look so fashionable with Leftists today) when she realized the backlash was pretty much instantaneous and growing. As far as she was concerned, however, that was that. Nothing more to see here, move on. I'm a "comedian" after all.
Except that history, social media and a burgeoning negative response combined to provide its own little tsunami of backlash for Ms Kathy. One problem was that Barron Trump, President Donald Trump's 11-year-old son, believed for a time his father truly was harmed when he was Griffin's photo displayed on television. This event was later belittled by the Leftist lawyer Griffin had acquired for her scenario. Proper form. Belittle an 11-year-old in public media as a means of self-defense.

Of course, the internet tends to keep unsavory bits around in various closets longer than many would wish, including Kathy Griffin, whose mindset to this was already revealed back in December of 2016 to Vulture.com in which the headline read:
Kathy Griffin Thinks Comedy Should Go All Out on 'President Piece of Shit' Donald Trump

by Shira Levine

It's a question a lot of comedians are asking themselves lately: What should comedy look like during the Trump presidency?

"It's his turn. So I'm happy to deliver beat down to Donald Trump — and also to Barron. You know a lot of comics are going to go hard for Donald, my edge is that I'll go direct for Barron. I'm going to get in ahead of the game."
Now that's an interview and some copy the likes of which you can be beamingly-proud.
But wait. Then came the second media gaggle in which Kathy Griffin, ensconced once again in Orchidée Impériale cake makeup and hot asphalt street sealer, in a rambling, self-serving and sometimes incoherent presser eschewed most every minuscule bit of responsibility whatsoever, laying the blame squarely and rightly upon the scary and oppressive shoulders of Donald and Barron Trump.
With her attorney, of course. And with a backdrop touting her attorney, of course. Because that's what you do when you want to apologize and get things straight, is bring your attorney, Lisa Bloom, who is the daughter of Gloria Allred. Message received.
Then you double-down on "it's not my fault, I'm not responsible."
The full-court-press Leftist Insanity Tour press conference is below. Watch it if you dare.
I include this only to display the nakedly unhinged lengths to which Leftists will travel in order to find fault with everyone but themselves. Rivulets of tears, Kathy? Uh, no. Not even one damned good tear. We have an axiom in the cop trade and, as I said when interviewing suspects: you don't get through unless you acquire actual tears and snot.
Sorry. Don't see your tears much less your snot. You're as believable as a time-share salesman. Or any one of today's reporters.
The UKDailyMail.com wrote:
'There's a bunch of old white guys trying to silence me!' Kathy Griffin breaks down in tears claiming Trump family ruined her life – as her lawyer scoffs at report Barron was upset over severed head video

by Chris Spargo

Kathy Griffin broke down in tears speaking about the constant attacks from the public and members of the Trump family over the past few days
She said that she has been receiving constant death threats, which she described as detailed and specific
Griffin, 56, also said that President Trump 'broke' her and that she does not expect her career to recover from his family's attacks 
She added that she will not back down from this fight, saying: 'I am not afraid of Donald Trump. He is a bully'
Griffin said that the photo shoot was inspired by Megyn Kelly, and the comment Trump made to the then-Fox News host about 'blood coming out of everywhere'
It was also confirmed at the press conference that the Secret Service is investigating Griffin over the image

Later in the interview Griffin said that her career was likely over now as a result of this incident, and that President Trump had 'broke' her, moments after she declared: 'There's a bunch of old white guys trying to silence me!'

Griffin, 56, declared at one point that this would not be happening to her if she was a 'white man.'
There we go. We knew we'd finally get there. It's the White Man's Burden to carry. She is not responsible. Everyone else is. It's Caucasoids. Except that. Ahem. She is a Caucasoid. And amongst the palest of the pale. Caspar. Milquetoast. Becky. Ginger. She's likely a Mud Shark as well.

Let's see. How many Caucasoids have held up what can only be interpreted as the severed head of ANY President of the United States
Uh, yeah. Ahem. Zero.
Presidential children are also under the gunsights of Leftists. Bloom agrees.
Her lawyer Lisa Bloom also suggested during the press conference that despite reports, Barron was likely not that upset after seeing the image of Griffin with the decapitated head by stating the child was 'allegedly' traumatized.

'We don't know that. You're assuming that everything that Trump says is true, and in fact, we know that everything Trump says is false,' said Bloom.
Of course. It's all Barron's fault anyway.
After making a few jokes and stating that she stands by the apology she released earlier this week, Griffin said: 'The president and his grown children and the first lady are personally trying to ruin my life forever.'
So I suppose because the president and/or his family responded to the event itself on social media, those acts are forbidden? They are proscribed?
Griffin also tried to explain the reason behind the photo and video shoot by saying: 'I am not good at being appropriate.'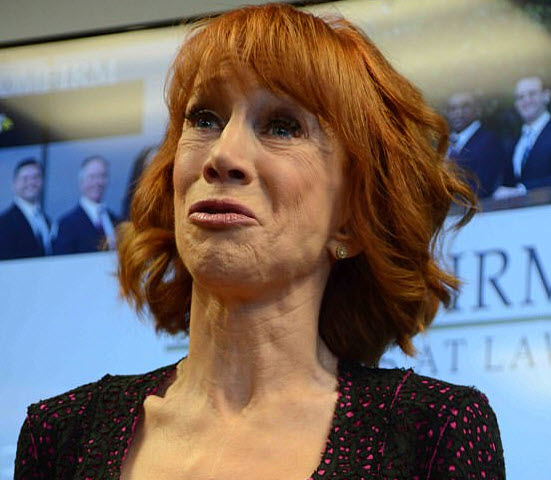 I'm massively ugly, but I'm not even in another galaxy this emaciatingly ugly. KG needs an immediate steak, some slabs of bacon and a few McDonald's shakes. I know cockroaches or mealworms with greater appetites. "Clavicles & Wattled Necks R Us." Just ask Nancy Pelosi and Hillary.
'I'm not for everybody,. I am barely an acquired taste frankly,' admitted Griffin.

'I've had everybody turn on me. And I just want to make people laugh.'

That being said, Griffin declared: 'I am not laying down for this guy.'

The comedian did not however say anything about her relationship with President Trump, who she has known for 20 years.
Then, no shock.
At a rambling press conference Friday, Griffin tearfully predicted her career is over and said Trump "broke me." Since the video was posted Tuesday, she has lost her job co-hosting CNN's New Year's Eve special and had all her upcoming comedy shows cancelled. Trump, first lady Melania Trump and Donald Trump Jr. have publicly criticized the video.
Let the Leftist Pity Party commence.
Apparently President Trump's children are subject to beat-downs and ridicule by every Leftist female, not just Kathy Griffin, as Nancy Pelosi said this about the Trump family and grandchildren.
Nancy Pelosi just made an awful remark about whether Trump's grand kids breath air! Disgusting. She is no better than Kathy Griffin. pic.twitter.com/3Jw5Z5fdDM

— Tennessee (@TEN_GOP) June 2, 2017
The only inference, I suppose, is that instead of breathing air like most humans, Trump's eight grandchildren inhale brimstone from the fiery depths of Hell. What else can one conclude from this insane and despicable statement? I wonder: would she have had the temerity to say this of Barack Obama or Bill Clinton? You know the answer.
But wait; there's more.
Let us not forget that even after seven months Hillary Clinton cannot come to terms with her staggering presidential loss and continues to bleat that it's everyone's fault but her own, to include misogynistic womenses, tidal pull and sunspots.
And oh, yes, the DNC was to blame for insufficient support — otherwise translated as AYFKM, or, Are You Fucking Kidding Me? The DNC purposely hosed Bernie Sanders in favor of Hillary Clinton to the point where it is being sued by Sanders supporters.
Led Zeppelin had the perfect tonal solution for her current plight as you can joyously hear in their 1976 song from the album "Presence."
Because, in fact, it was all nobody's fault but hers. (A shameless excuse to listen to a great band whilst you read the rest of the post.)
By the way, want some of the bitter truth about Hillary Clinton? Here is one of the women Bill Clinton took abed whilst married to Hillary, Sally Miller.
Let's see: Kathy Griffin. Nancy Pelosi. Hillary Clinton. This does not yield the Ultimate Responsibility Female Crew for 2017.
Let's remember folks, if you're a Leftist, you're nothing unless you possess some massive and important form of victimhood.
It's a ruse, folks, it's all a ruse to get you to bite the hook willingly and, whilst hooked, let loose with all your cash and then, further, make you feel guilty about having been hooked in the first place and then not having willingly surrendered your life sufficiently early.
But now, every photo, video, comment or story can be chalked up to comedy, right, and must be excused in the name of comedy, right?
Just ask Kathy Griffin.
BZ