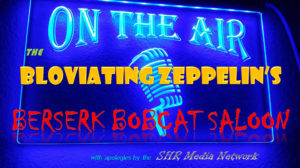 My thanks to the SHR Media Network for allowing me to broadcast in their studio and over their air twice weekly, Tuesdays and Thursdays, as well as appear on the Sack Heads Radio Show™ each Wednesday evening.
Tuesday night at the Saloon we discussed:
Happy Stories: grandfather upset that home invasion victim killed his grandson and two other suspects with an AR-15 — as opposed to a pellet pistol or a butter knife?
How I conduct business at the Saloon; thanks be to those in chat;
Mother talks about how her son was tortured and killed at the hands of an illegal alien who systematically killed her son and set his body on fire;
Victims of illegal immigrant crime speak to Donald Trump;
Who is REALLY sitting next to your child in the classroom: is it an illegal alien or a 30-year-old man who shares a bathroom with 10-year-old kids? Your school probably couldn't care less and it won't tell you any way;
No Shaun at the Sack Heads Radio Show tomorrow night?
Nancy Pelosi: we actually have nothing on Trump and Russia;
In depth: an extended update on the surveillance of President Donald Trump
We go into 7 minutes of overtime;
Listen to "BZ's Berserk Bobcat Saloon, Tuesday, April 4th, 2017" on Spreaker.
Please join me, the Bloviating Zeppelin (on Twitter @BZep and on Gab.ai @BZep), every Tuesday and Thursday night on the SHR Media Network from 11 PM to 1 AM Eastern and 8 PM to 10 PM Pacific, at the Berserk Bobcat Saloon — where the speech is free but the drinks are not.
As ever, thank you so kindly for listening, commenting, and interacting in the chat room or listening via podcast. Thanks also to the BBS bouncer Fluffy for kicking all the louts out of Mary Brockman's chair at the bar.

Want to listen to all the Berserk Bobcat Saloon archives in podcast? Go here.
BZ