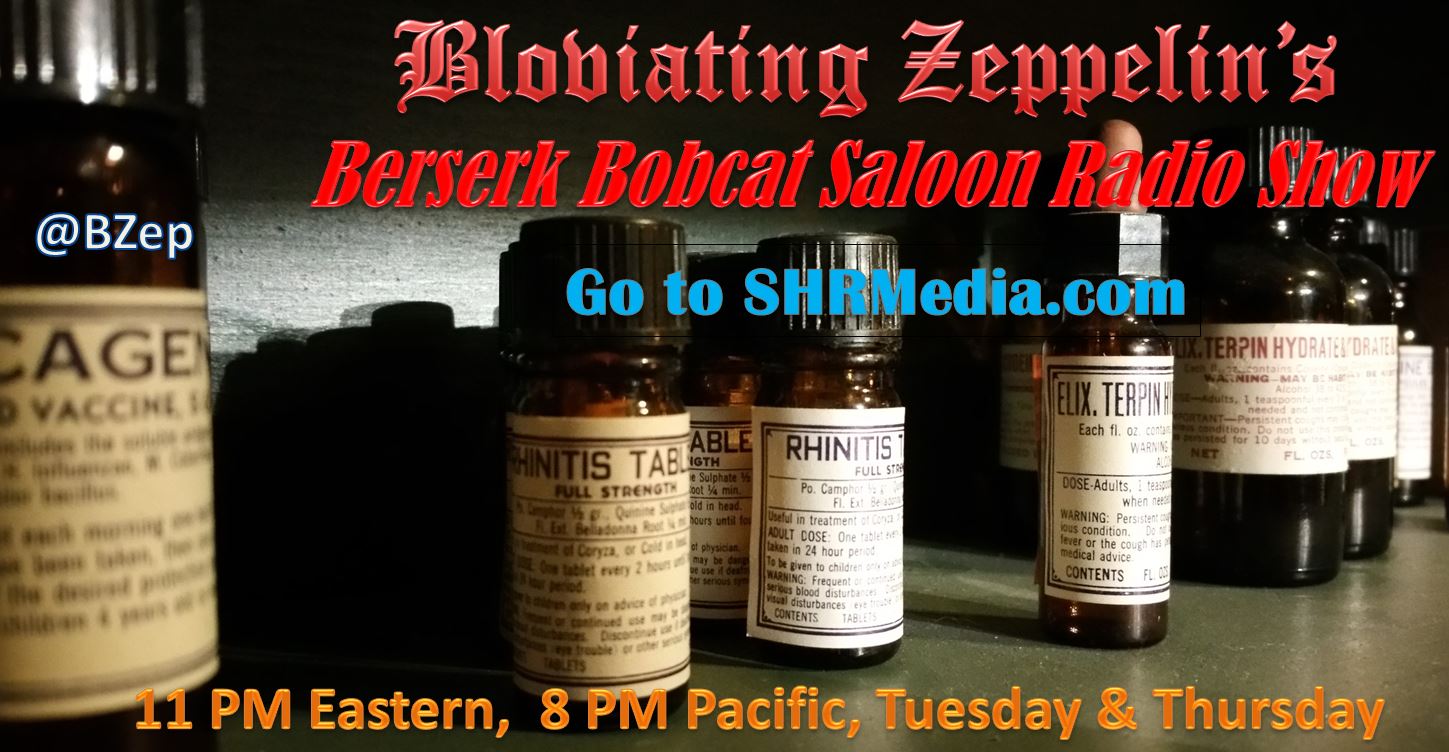 Featuring Right thinking from a left brain, doing the job the American Media Maggots won't, embracing ubiquitous, sagacious perspicacity and broadcasting behind enemy lines in Occupied Fornicalia from the veritable Belly of the Beast, the Bill Mill in Sacramento, Fornicalia, I continue to proffer my thanks to the SHR Media Network for allowing me to utilize their studio and hijack their air twice weekly, Tuesdays and Thursdays, thanks to my shameless contract, as well as appear on the Sack Heads Radio Show each Wednesday evening.
Tonight I walked up to the locked studio gate and realized that I had actually remembered to bring all the keys — as opposed to last Tuesday. See? I can possess a memory when necessary.
It was an in-depth 35-tab show so I crossed fingers, toes and eyes hoping that the laptop driving my audio and article cuts stayed alive. I was hoping no one drank my technological milkshake.
"May you live in interesting times" doesn't even cut it any more. The playing field changes not just monthly but weekly and daily and — these days — hourly.
No competent writer of fiction could come up with such a tangled, complicated, arcane, conspiratorial and corruptive story.
If you care to listen to the show in Spreaker, please click on the yellow start button at the upper left.
Listen to "BZ's Berserk Bobcat Saloon Radio Show, Thursday, 2-8-18" on Spreaker.
If you care to watch the show on Facebook, please click here. Unfortunately, I cannot nab the code for Facebook and reproduce it. YouTube, due to a conflict, did not allow the show to record.
We hope to have SHR shows up and running on YouTube shortly.
Please join me, the Bloviating Zeppelin (on Twitter @BZep, Facebook as Biff Zeppe and the Bloviating Zeppelin, and on Gab.ai @BZep), every Tuesday and Thursday night on the SHR Media Network from 11 PM to 1 AM Eastern and 8 PM to 10 PM Pacific, at the Berserk Bobcat Saloon — where the speech is free but the drinks are not.
As ever, thank you so kindly for listening, commenting, and interacting in the chat room or listening later via podcast.

Thank you one and all for listening, watching and supporting the SHR Media Network: "Conservative Media Done Right."
BZ