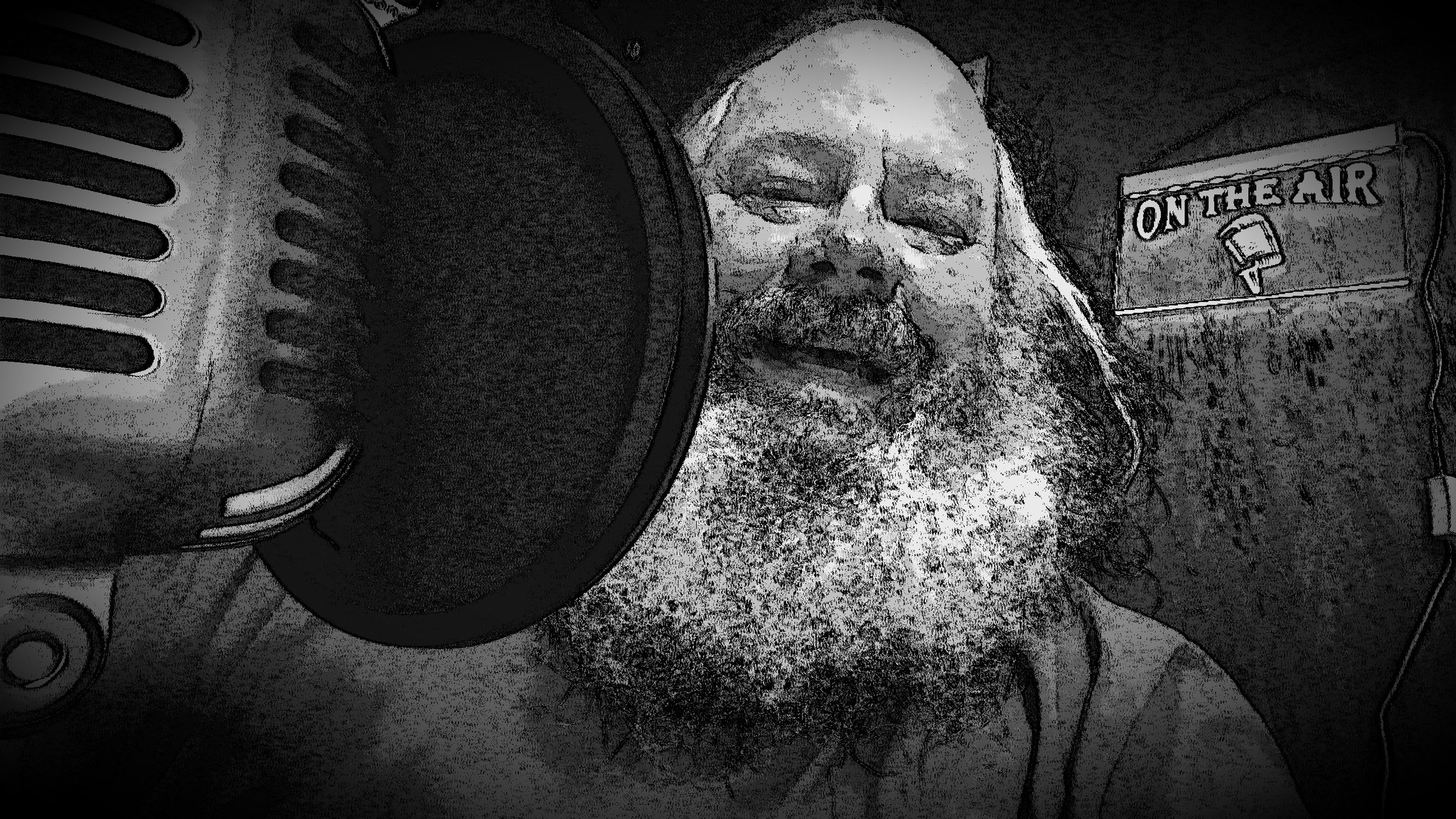 Otherwise known as The Underground Professor.
My thanks to the SHR Media Network for allowing me to broadcast in their studio and over their air twice weekly, Tuesdays and Thursdays, as well as appear on the Sack Heads Radio Show™ each Wednesday evening.
The Underground Professor, Dr Michael Jones, graced us with his presence as we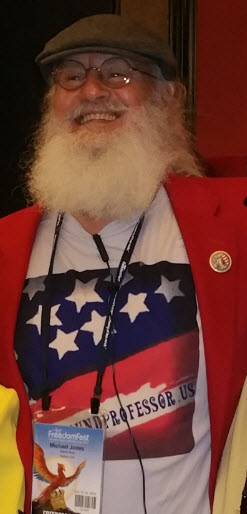 heard much about his background and his extensive education. Raconteur, reprobate, Constitutional scholar extraordinaire and frequently mistaken as my personal stand-in (Or am I his stand-in? I can never remember.), Dr Jones will, with crossed phalanges and baited breath (mackerel, at last check) be a recurring guest here at the Saloon every Thursday when we require studious examination of various Constitutional and government issues.
With specialties in history and philosophy, Dr Jones brings some erudition to the show and finally classes up the joint.
I am greatly looking forward to his academic and cerebral input on weighty matters of the day and — trust me — I hope to learn every bit as much as you about our founding documents, their intent and application historically and today, good or bad.
Frankly, I think this will be a great opportunity for all of us to learn what we really need to know about the United States of America.
Tonight in the Saloon:
Uh-oh; the SHR Media site and its server were hacked;
Luckily, Techno-God Dan Butcher had backed up the SHR Media website;
SHR goes to Las Vegas next week for the 10th Anniversary of Freedom Fest;
A female SJW cries over, well, Trump — and it's hysterical; let's larf at Leftists;
DACA consequences unforeseen which were completely foreseeable;
Rep Gutierrez accuses DHS Secretary Kelly of obeying the law; and so what?
You want immigration laws changed, Leftists? Run them through Congress;
"It's out of my hands" Gutierrez says, meaning: Kelly is another obedient Kraut;
Dr Jones reveals he worked for the Electronic Security Command in the USAF;
The Roswell Connection between Dr Jones and BZ; what really occurred?
We know: the Greatest Generation will never say;
Dr Jones's great uncle was the first policeman on the Roswell scene;
My father was also assigned to Roswell in 1947 via the USAAF;
Dr Jones was a military brat who spoke English and Japanese;
His mother was a star in Japanese movies and his father was an F-105 pilot;
He moved to Long Island, New Jersey, and to Texas; a Texan ever since;
Dr Jones flew in RC-135s in ELINT status during the Cold War;
EOBs and the Wild Weasels in order to figure out an order of battle;
Ronald Reagan pinned an Air Medal on Dr Jones but it's classified;
Korea's KAL Flight 007 shot down by Russia may have been.  .  .
Dr Jones moved from the RC-135 to the EC-130H, the Jammers;
In Desert Storm Dr Jones helped to shut down the Republican Guard;
Dr Jones racked up degrees in political science, government history;
Constitutional Expert would be the proper appellation.
Dr Jones is also an ordained minister, and is an Anglican;
He also has two Fatwas against him; go figure!
The Professor started NICE: National Institute of Constitutional Exploration;
Dr Jones has agreed to be here in the Saloon every Thursday!
Finally: Mayor Bill de Blasio proves once again he despises his NYPD.
If you care to listen to the show in Spreaker, please click on start.
Listen to "BZ's Berserk Bobcat Saloon "The Aftermath," Thursday, July 13th, 2017″ on Spreaker.
If you care to watch the show on YouTube, please click on start.
This was the last show, for two weeks, to be issued from the SHR Media Network studios. Instead, all broadcasting next week will source from the fabulous Freedom Fest in Las Vegas, at the Paris Resort. I'll be there with the irrepressible Sack Heads Shaun and Sack Heads Clint, along with the Underground Professor himself. Check the SHR Media website for scheduling updates next week as broadcast times may change for various shows.
Please join me, the Bloviating Zeppelin (on Twitter @BZep and on Gab.ai @BZep), every Tuesday and Thursday night on the SHR Media Network from 11 PM to 1 AM Eastern and 8 PM to 10 PM Pacific, at the Berserk Bobcat Saloon — where the speech is free but the drinks are not.
As ever, thank you so kindly for listening, commenting, and interacting in the chat room or listening later via podcast.

Want to listen to all the Berserk Bobcat Saloon archives in podcast? Go here. Want to watch the past shows on YouTube? Please visit the SHR Media Network YouTube channel here.
BZ