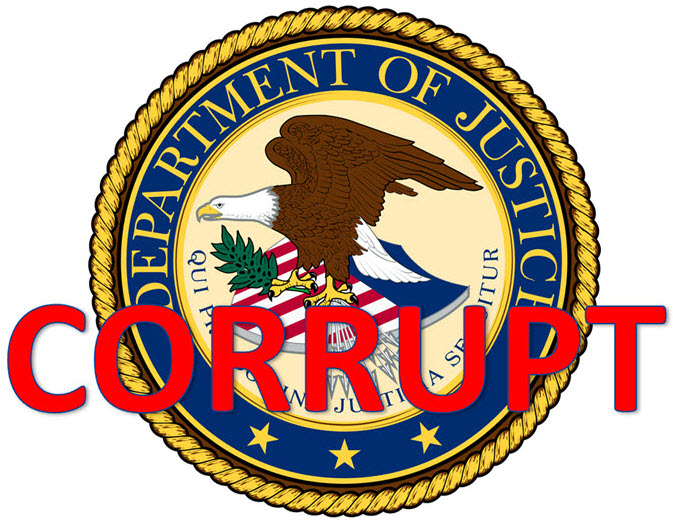 Once again, there is no aspect of Obama's DC that isn't corrupt to the bone, and that includes — sadly — the FBI as well as continuing corruption at the DOJ.
From Politico.com:
Obama DOJ drops charges against alleged provider of Libyan weapons

by Kenneth P. Vogel and Josh Gerstein

Arms dealer had threatened to expose Hillary Clinton's talks about arming anti-Qadhafi rebels.

The Obama administration is moving to dismiss charges against an arms dealer it had accused of selling weapons that were destined for Libyan rebels.

Lawyers for the Justice Department on Monday filed a motion in federal court in Phoenix to drop the case against the arms dealer, an American named Marc Turi, whose lawyers also signed the motion.
Here come the two most important paragraphs of the entire story.
The deal averts a trial that threatened to cast additional scrutiny on Hillary Clinton's private emails as Secretary of State, and to expose reported Central Intelligence Agency attempts to arm rebels fighting Libyan leader Moammar Qadhafi.
Just as Hillary has shite on Obama, Marc Turi has shite on Obama and Hillary. Therefore, the DOJ was directed by Lynch via DC and Mr Obama to drop the case that could further damage DC, Obama and Clinton. That's how it's played.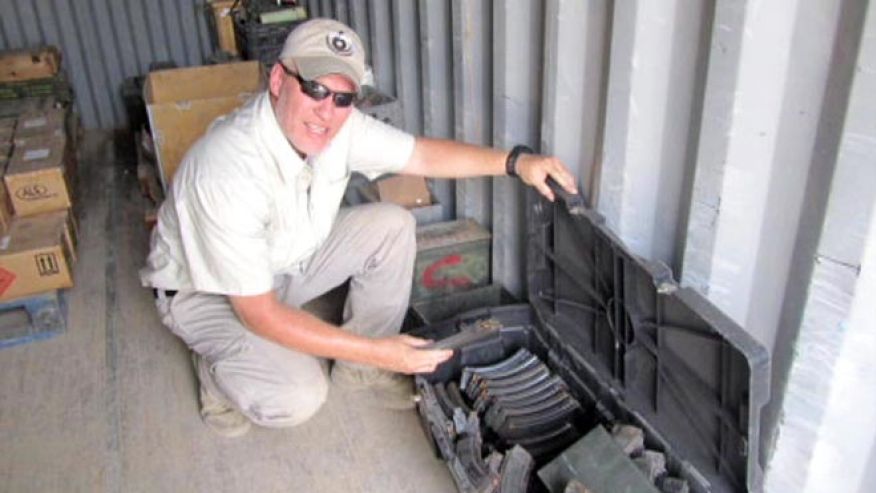 Marc Turi with his stock in trade. Not a dumb guy, as he has Obama over a barrel.
A Turi associate asserted that the government dropped the case because the proceedings could have embarrassed Clinton and President Barack Obama by calling attention to the reported role of their administration in supplying weapons that fell into the hands of Islamic extremist militants.
Hillary Clinton as Secretary of State blinkered Libya and essentially had Muammar Gaddafi killed — who for the longest time had been keeping himself quiet following the 1986 bombing of Libya under Reagan, in retaliation for a Berlin disco bombing where a US serviceman was killed. Gaddafi got in line, disarmed, gave up his nuclear program and WMD in 2003 under Bush and otherwise became a much quieter guy. He saw what happened in Iraq.
Turi adviser Robert Stryk of the government relations and consulting firm SPG accused the government of trying to scapegoat Turi to cover up Clinton's mishandling of Libya.

"The U.S. government spent millions of dollars, went all over the world to bankrupt him, and destroyed his life — all to protect Hillary Clinton's crimes," he said, alluding to the deadly Sept. 11, 2012 terrorist attack on the U.S. Consulate in Benghazi, Libya.
Note this as well:
Wikileaks head Julian Assange in July suggested that he had emails proving that Clinton "pushed" the "flows" of weapons "going over to Syria."
She knew of and had a hand in the gun-running scheme which originated from the oval office.
Now, because of the US involved in gun-running again, not unlike Fast and Furious — (which resulted in the death of USBP Agent Brian Terry) — asses must be covered, secrets must be kept and lives, unfortunately, were lost once more. This time, four lives.
Do you see how squalid and dirty and corrupt this all is?
Now it starts to come together, does it not? The information dovetails and dots can now be connected. It is all intertwined and rife with Demorat corruption on every level. Items and incidents that you initially thought unconnected have now been linked.
Benghazi had to be minimized because it involved gun-running by the US government under Barack Hussein Obama — not unlike Iran-Contra. The running meme had to be an anti-Islamic video because Obama had already stated he had al Qaeda "on the run" and anything not in keeping that meme could not be tolerated. But that was only one aspect.
Then came the gun-running scheme from Obama and his Secretary of State, Hillary Rodham Clinton. The New York Times had already published, in December of 2012 (almost two months following the attack on the Benghazi compound, September 11th of 2012), this article:
U.S.-Approved Arms for Libya Rebels Fell Into Jihadis' Hands

by James Risen, Mark Mazzetti and Michael S. Schmidt

WASHINGTON — The Obama administration secretly gave its blessing to arms shipments to Libyan rebels from Qatar last year, but American officials later grew alarmed as evidence grew that Qatar was turning some of the weapons over to Islamic militants, according to United States officials and foreign diplomats.
That was 2012. No one yet knew about Hillary and her private servers, her private emails and the reasons for their existence, so the NYT wrote:
No evidence has emerged linking the weapons provided by the Qataris during the uprising against Col. Muammar el-Qaddafi to the attack that killed four Americans at the United States diplomatic compound in Benghazi, Libya, in September.
Except that on September 11th, 2012, following the attack, neither Barack Hussein Obama or Hillary Rodham Clinton quite knew what to do, realizing full well that their gun-running scheme had backfired.
Again, asses had to be covered since the attack had not been anticipated and the lying commenced immediately.
Susan Rice was briefed in terms of the talking points for the Sunday news shows whilst, simultaneously, Hillary Clinton emailed her own daughter Chelsea (giving her daughter the alias of "Diane Reynolds," clear consciousness of guilt), the very night of the attack, and wrote that two officers had been killed, attributing the attack to an "Al-Qaeda-like group." Hillary Clinton and her daughter both knew the truth yet Hillary spun lies from the very beginning, meant to be consumed by the public, that the attack was a spontaneous reaction to an anti-Islamic video created in the US.
"We've seen rage and violence directed at American embassies over an awful internet video," Hillary Clinton said, lying to America. Then she lied to the faces of the parents of the dead Benghazi soldiers.
Susan Rice lied, Hillary Clinton lied, and Barack Obama let them both carry his water. Why? Because Barack Hussein Obama was up for re-election in 2012.
The fix was in yet, at the same time, the complications were beginning to snowball. Things were beginning to unravel for Hillary Clinton.
Even to the extent that Christopher Stevens was present to facilitate and monitor some of those acts and, because of secrecy, Christopher Stevens and three other Americans had to be sacrificed in order to keep that secrecy.
There are even indicators to suggest that Ambassador Stevens may have been killed with weapons that he helped facilitate.

Hillary Clinton's emails could not be exposed because they not only illustrated that she was conducting Clinton Foundation business through her Secretary of State private email — in order to keep that secret as well — but because I suspect there is also information contained within those emails about Benghazi and gun running. And those were the emails classified as "secret" and will not be released for two reasons. One, that it would show Obama's complicity and, two, that it would show Hillary Clinton's as well.
Initially, Clinton likely had the server set up to hide the pay-to-play activities conducted during her tenure as secretary of state, but it had the added bonus of enabling her to hide her inevitable failures in the Libyan role — evidenced by her duplicity involving the Benghazi terror attacks.
Even worse, we learned that Barack Hussein Obama sent and received emails to Hillary's private server — under an alias — because of FBI records released on Friday, September 23rd. At that time, Obama had no idea that the subject of Hillary's private server would become any sort of issue. Even so, when this was discovered, the State Department refused to disclose the content of Mr Obama's emails, citing the "presidential communications privilege" — a kind of executive privilege designed to foil FOIA requests.
You see how large and juggernaut-like the snowball became, and why both Hillary and Obama continued to perpetuate lies and cover-ups, insisting their lackeys do the same? Things didn't get better on the email front, they got worse, thanks to Republicans like Trey Gowdy, Jason Chaffetz and Darrell Issa, who were tenacious and refused to give up — despite the constant clangor of the American Media Maggots that "there is nothing to see here, this is not the corruption you are looking for, move on, move on."
Said lackeys would include Attorney General Loretta Lynch and FBI Director James Comey, of the so-called Department of Justice.
Now you understand why Comey, in his fundamentally-flawed reasoning — yet still setting out some meaty hooks from which to hang Hillary Clinton — determined he would not recommend an indictment for Clinton and why, in her own way, Loretta Lynch threw Comey under the bus when saying she would abide by his conclusions. She knew the deed was done and the fix was in. She had received "the phone call" as well as Director Comey. They both understood what was at stake, overall. Now their own political asses were on the line. Bill Clinton's "coincidental" meeting at the airport with Lynch was nothing more than a confirmation of same. The fix, in fact, was most definitely "in."
Let us not forget the recent approval for destruction by the FBI of laptops belonging to former Clinton chief of staff Cheryl Mills and ex-campaign staffer Heather Samuelson, in an exchange for immunity which also limits the FBI's search to no later than Jan. 31, 2015. "This meant investigators could not review documents for the period after the email server became public — in turn preventing the bureau from discovering if there was any evidence of obstruction of justice."
Immunity is provided for testimony. Do you see testimony here? You cannot "take the 5th" because, due to the immunity itself, it is not self-incrimination. Where is the testimony of Mills and Samuelson? And why destroy evidence? The very concept of immunity is to collect and keep evidence, not to destroy it. The only possible purpose would be to permanently dispose of prejudicial evidence against Obama, Clinton, Lynch, Comey, Turi, et al.
All because of "hdr22@clintonemail.com." That was Hillary Rodham Clinton's private email address. The one Gawker discovered by way of Sidney Blumenthal's hacked emails via "Guccifer."
Ruh roh.
The lies, the corruption, the deceit, the foul and noxious, malodorous stench of continued cover-ups conducted in plain sight, aided and abetted by the American Media Maggots is obvious, staggering, of much greater proportions than anything imagined by Richard Nixon as — for one — no one died behind Watergate.
Which leads us to the news that our blessed DOJ had decided not to prosecute Marc Turi because the oval office knows he would spill beans, and why Obama must continue to support Hillary Rodham Clinton as she, too, would spill beans.
YOU CANNOT INDICT OR CONVICT HILLARY RODHAM CLINTON UNLESS YOU ALSO INDICT OR CONVICT BARACK HUSSEIN OBAMA.
If I can tie this all up in one post, why can't the media?
Oh yes. Barack Hussein Obama has fundamentally changed America.
BZ