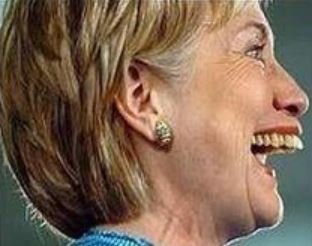 And somehow that's not massive news?
And somehow that's not plastered across every newspaper above the fold for days and days all across the nation?
Can you say: the American Media Maggots "in the tank" for the Clintons and a Demorat presidential candidate?
From the DailyCaller.com:
EXCLUSIVE: Persian Gulf Sheikhs Gave Bill & Hillary $100 Million

by Richard Pollock

A Daily Caller News Foundation investigation reveals that Bill and Hillary Clinton received at least $100 million from autocratic Persian Gulf states and their leaders, potentially undermining Democratic presidential candidate Hillary's claim she can carry out independent Middle East policies.

As a presidential candidate, the amount of foreign cash the Clintons have amassed from the Persian Gulf states is "simply unprecedented," says national security analyst Patrick Poole.
To wit: over $100 million dollars.
The Middle East states are buying the Clintons.  And the Clintons don't mind being bought.
"These regimes are buying access. You've got the Saudis. You've got the Kuwaitis, Oman, Qatar and the UAE. There are massive conflicts of interest. It's beyond comprehension," Poole told TheDCNF in an interview.
$100 million dollars paid to the Clinton Foundation from Muslim states in the Middle East — they aren't doing this because of altruism.  Mother Teresa was altruistic.  And Catholic.  These gulf states are not.  They expect favors for cash.  Quid pro quo.
But wait; there's more:
The FBI has reportedly launched a second investigation of the former secretary in addition to its probe of her private email server.  This investigation is looking into "political corruption" and is seeking evidence where former Secretary Clinton may have offered official government favors to foundation donors.

Most troubling for Hillary, however, could be Bill's personal, five-year business partnership with Dubai's authoritarian ruler, Sheikh Mohammed bin-Rashid al-Maktoum and his overall friendship with the rulers of the United Arab Emirates — a confederation of states that includes Dubai.
Again I ask: these headlines splashed across the top of newspapers across the country?
You know the answer to that.  The American Media Maggots, complicit in corruption — participating in it instead of investigating and revealing it.
The only hope for any amount of truthnfulness lies with the FBI and Director James Comey.
BZ