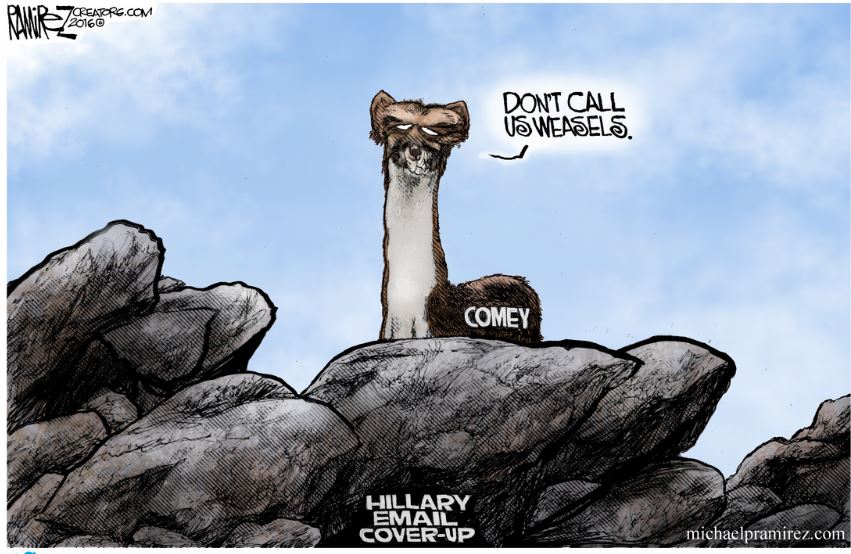 Tit for tat, pay to play, time to make sure we do in fact cover the arses of DC politicians who just "happen" to be of the Demorat stripe.
Right on the heels of FBI Director James Comey providing a line-item list of reasons to recommend a criminal indictment for Hillary Clinton then — declines to recommend same.
From FoxNews.com:
FBI agreed to destroy laptops of Clinton aides with immunity deal, lawmaker says

by Catherine Herridge and Adam Shaw

Immunity deals for two top Hillary Clinton aides included a side arrangement obliging the FBI to destroy their laptops after reviewing the devices, House Judiciary Committee sources told Fox News on Monday.

Sources said the arrangement with former Clinton chief of staff Cheryl Mills and ex-campaign staffer Heather Samuelson also limited the search to no later than Jan. 31, 2015. This meant investigators could not review documents for the period after the email server became public — in turn preventing the bureau from discovering if there was any evidence of obstruction of justice, sources said.

The Republican chairman of the House Judiciary Committee fired off a letter Monday to Attorney General Loretta Lynch asking why the DOJ and FBI agreed to the restrictive terms, including that the FBI would destroy the laptops after finishing the search.

"Like many things about this case, these new materials raise more questions than answers," Committee Chairman Bob Goodlatte, R-Va., wrote in the letter obtained by Fox News.
Precisely correct. Because if you "do deals," then you are — unless you're a complete dunsel — expecting something in return.
"Doesn't the willingness of Ms. Mills and Ms. Samuelson to have their laptops destroyed by the FBI contradict their claim that the laptops could have been withheld because they contained non-relevant, privileged information? If so, doesn't that undermine the claim that the side agreements were necessary?" Goodlatte asks.
Why yes, it does. Read that paragraph over very carefully, because of the reveal. IF the laptops were not important to the case, then why would they require destruction?
Surely, destruction of the laptops was not an issue brought to the table by the FBI. It would have been an issue brought to the table specifically by Mills and Samuelson.
Wait. Isn't that called a clue?
Immunity was provided and EVIDENCE DESTROYED because of said immunity deal.
When the government provides immunity — and only government entities can do so — it is invariably because prosecution is focusing not on the level of those provided immunity but on levels above. In other words, immunity is provided in order to catch the so-called "bigger fish."
So I ask: what "bigger fish" were caught by providing immunity to Mills and Samuelson and, further, why did this immunity include destruction of the hard drives from their laptops?
Please read the entire article.
What did the citizens of the United States receive for this stated immunity?
Nothing that I can see.
Hillary is still wearing $12,000 jackets.
BZ