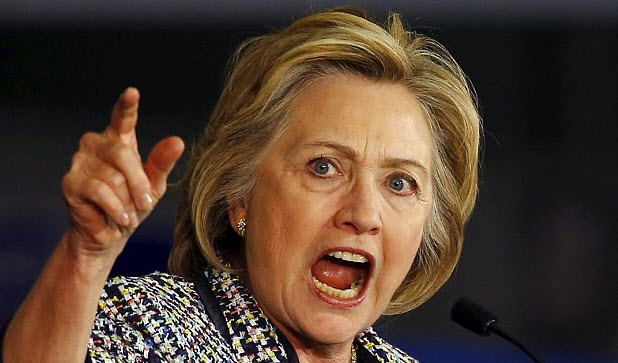 And it couldn't happen to a nicer, kinder, more humble and self-effacing couple.
First, from the UKDailyMail.com:
EXCLUSIVE: Blow up! Days before losing the election Hillary and Bill had a screaming match over who to blame for her flagging campaign – the ex-president so angry he threw his phone off the roof of his Arkansas penthouse

by Ed Klein

Bill and Hillary had a vicious fight over the phone over who to blame for her sagging poll numbers, reveals a source close to the ex-president
Hillary blamed FBI Director Comey for reopening investigation based on Anthony Weiner's shared computer with Huma Abedin for her slump 
Bill faulted  Robby Mook, John Podesta and Hillary HERSELF
He claimed the three were  tone-deaf about the feeble economy and its impact on millions and millions of working-class voters
'A big part of Bill's anger toward Hillary was that he was sidelined during the entire campaign by her advisers,' said the source

In the waning days of the presidential campaign, Bill and Hillary Clinton had a knock-down, drag-out fight about her effort to blame FBI Director James Comey for her slump in the polls and looming danger of defeat.

'I was with Bill in Little Rock when he had this shouting match with Hillary on the phone and she accused Comey for reviving the investigation into her use of a private email server and reversing her campaign's momentum,' said one of Bill Clinton's closest advisers.

'Bill didn't buy the excuse that Comey would cost Hillary the election,' said the source. 'As far as he was concerned, all the blame belonged to [campaign manager Robby] Mook, [campaign chairman John] Podesta and Hillary because they displayed a tone-deaf attitude about the feeble economy and its impact on millions and millions of working-class voters.
Once again, Bill displays that his political acumen far surpasses that of Hillary — with some limitations, of course.
'Bill was so red in the face during his conversation with Hillary that I worried he was going to have a heart attack. He got so angry that he threw his phone off the roof of his penthouse apartment and toward the Arkansas River.'
Here is another truthful tidbit because, well, do you remember this woman, Peggy Joseph? Were the expectations too high, or was Obama just another politician shilling for votes?
'Bill also said that many African Americans were deeply disappointed with the results of eight years of Obama,' the source continued.
I'd say those were facts in evidence, were you to ask me.
'Hillary wouldn't listen. She told Bill that his ideas were old and that he was out of touch. In the end, there was nothing he could do about it because Hillary and her people weren't listening to anything he said.'
There was more. From NorthCrane.com:
CONFIRMED: Video confirms Hillary Clinton drunkenly attacks Podesta and Mook on Election Night

My friend is a trustworthy reporter (Oxymoron? -BZ) who often sees anti-Clinton stories spiked. Not everybody at CNN is bad. The leadership is, though.This is a respected neutral who is being silenced – A good friend of mine, sick of CNN suppressing inconvenient stories that hurt the left.
Oh, it gets better, friends.
The few honest MSM reporters have been reduced to leaking info to new media people because their corporate bosses won't let them report it.
Read that again: MSM reporters have been reduced to leaking info to new media people because their corporate bosses won't let them report it.
A friend at CNN says Clintonland reports Hillary was in a "psychotic, drunken rage" election night; needed hardcore meds to speak Wednesday.

CNN reporter tells me Hillary became physically violent towards Robby Mook and John Podesta around midnight; had to be briefly restrained. Hillary on election night was straight-up Hitler-in-the-bunker shit.  It even included psychotic screaming about "the Russians."

The doctor helped restrain Hillary when she violently attacked Mook and Podesta at midnight. Gave sedatives, then amphetamines next morning.
You'll enjoy this.
CNN reporter says Hillary needed so many amphetamines Wed morning she had unexpected nosebleeds all day.  Fear was she'd bleed at concession.
Hmmm. Does that perhaps explain why no one saw Hillary Clinton in public for any form of appearance, much less a concession speech, on election night?
Further, from Breitbart.com:
Hillary Clinton Screaming Obscenities and Throwing Objects in Election Night Meltdown

by Daniel J. Flynn

The mystery of Hillary Clinton, milk-carton missing on election night, appears solved.

A Tuesday of catharsis for Donald Trump voters turned into an evening of rage for Hillary Clinton. The Democratic presidential nominee, anticipating the postelection reaction of many of her supporters, began shouting profanities, banging tables, and turning objects not nailed down into projectiles.

"Sources have told The American Spectator that on Tuesday night, after Hillary realized she had lost, she went into a rage," R. Emmett Tyrrell reports. "Secret Service officers told at least one source that she began yelling, screaming obscenities, and pounding furniture. She picked up objects and threw them at attendants and staff. She was in an uncontrollable rage."
"Head home, get some sleep, we'll have more to say tomorrow," said John Podesta. That's called an intensive and obvious clue. There's more.
Tyrrell's reporting indicates that Mrs. Clinton's mental state made it impossible for her to address her supporters on election night as custom requests.
Not just mental; remember the story above.
"Her aides could not allow her to come out in public," he writes. "It would take her hours to calm down. So Podesta went out and gave his aimless speech. I wish we could report on Bill's whereabouts but we cannot."

"People say they're amazed Bill's marriage survived," Tyrrell noted to Breitbart. "I'm amazed Bill survived his marriage."
It rankled Hillary Clinton that she lost to a black neophyte in 2008. She knew she had no chance against incumbent Obama in 2012. 2016 was to be her year because she was "due" to be president. It was "owed" to her.
Imagine the vast amounts of gin and crank that had to be knocked down when she realized she supported Bill Clinton's continuing sexual escapades and rape allegations for years and years, only to have the ultimate prize knocked away from her clutching fingers by the unwashed commoners, the proles, the groundlings, the serfs.
As I said, this couldn't happen to a nice, more humble couple.
As I say now: let the indictments and prosecutions commence.
BZ