And frankly, it's funny as hell to watch.
Hillary Clinton has still not gotten over the fact that she lost the 2008 presidential election to a black man who had not paid the dues that she perceived she has.
She may lose the first debate tomorrow, Monday.
By all accounts, Hillary believes she is simply "due" the office because of her water-carrying for the Demorats over the years and her seemingly-unflagging support of her serial-philandering husband, William Jefferson Clinton. You know, the man who has his "blond bimbo" over to the Clinton family Chappaqua compound when Hillary is gone with such frequency that the Secret Service calls her the "Energizer."
It is Hillary Rodham Clinton's "basket of deplorables." It is her sense of entitlement to the White House. It is beneath HRC to have to remotely attempt to justify her bid for the White House. The air of entitlement is both thick and rich on many levels. Her victory is due her. "You don't like me, therefore you are wrong and bad and worth destroying."
Hillary Clinton cannot connect with independent voters, she fails to connect with younger voters for obvious reasons, she attempts to "re-introduce" herself on damned near a weekly basis. North Carolina, Ohio and Nevada have become "swing states."
However, you can visibly perceive the unwellness in not only the body but the soul of Hillary Rodham Clinton. And just as she makes the speech above, two new articles emerge about her health — following her odd exhibition of strabismus during a recent speech in Philadelphia.
Though the immediate video below is amusing to a degree, its source material is not doctored and reveals an incredibly-serious and continuing health issue.
Following her fall as I documented here, a number of sources have weighed in with regard to health. Again. From TheHill.com:
Clinton's eyes — a window into her health issues

by John R. Coppedge

In 2014 Conan O'Brien did a spoof of Hillary Clinton's interview with Diane Sawyer about her lack of lingering health issues following her 2012 concussion. In an obviously photoshopped version Clinton's eyes are made to oscillate crazily.

It was a very funny piece. Now, it may not seem so funny.

Hillary Clinton exhibited abnormal eye movements during her recent speech in Philadelphia and they were not photoshopped.

Her eyes did not always move in the same direction at the same time. It appears that she has a problem with her left sixth cranial nerve. That nerve serves only one function and that is to make the lateral rectus muscle contract. That muscle turns the eye in the direction away from the midline. 
Please allow me to step in at this point and allow that the author is John R. Coppedge, MD, FACS, a general surgeon from Texas. Not a pundit, not a political hack.
First: this is the Conan O'Brien video to which Coppedge refers:
Like all things medical, there is a long list of potential causes but in my opinion the most likely one, based on Clinton's known medical history is an intermittent lateral rectus palsy caused by damage to or pressure on her sixth cranial nerve.

It is known that she suffered a traumatic brain injury in late 2012 when she fell and struck her head. What is also known is that she was diagnosed with a transverse sinus thrombosis — blood clot in the major vein at the base of the brain. Almost all patients with a transverse sinus thrombosis suffer swelling of the brain and increased intracranial pressure. Most have headaches, balance issues and visual disturbances — all of which Clinton was reported to have following that event.

Clinton's physician reported that she was placed on Coumadin (a blood thinner) to dissolve the blood clot. Actually, that is incorrect, because Coumadin has no effect on an existing clot. It serves only to decrease the chance of further clotting occurring Clinton's physician has also reported that on follow up exam, the clot had resolved. That is surprising since the majority of such clots do not dissolve. The way it was documented that the clot had resolved has not been reported.
Does Hillary Clinton play a part in her situation? Continue reading.
Critics will rightly point out that I have not examined Clinton. They will point out that I am not ophthalmologist or a neurologist. But I am a physician and the concepts discussed above are taught to every medical student early in their education. Her traumatic brain injury, transverse sinus thrombosis, subsequent symptoms, falling, passing out and now the obvious problem with eye movement are all fact, not speculation.

It would be very helpful if Clinton agreed to an independent exam and to have the questions raised here answered. It is too important not to get this right.
Has Hillary Clinton been controlling her own medical treatment, avoiding the obvious?
From the NYPost.com:
by Daniel Halper

Hillary Clinton won't be taking a neurocognitive test, and releasing the results to the public — telling a reporter "there's no need for that," even after collapsing as she was leaving a 9/11 memorial event last week in Manhattan.

Clinton made the comment, suggesting she will not be releasing any further medical information this presidential campaign, in an interview Wednesday with Florida's WFTS ABC Action News.
Why am I focusing so closely on the "medical issues" of Hillary Rodham Clinton? Because the American Media Maggots would do precisely the same thing had the roles been reversed with regard to Donald Trump. Like a pit bull, they would have worn the issue down to the bone with Donald Trump. If it took weeks, if it took months, they would not have cared.
Desperate times for Hillary, requiring desperate measures — to include wearing an earpiece through which she could receive verbal prompts when placed in, say, "challenging situations" such as — wait for it — the debates with Donald Trump, the first of which occurs tomorrow, Monday the 26th.
The thought first emerged from a series of photographs taken on September 8th at the Commander In Chief Military Forum with she and Donald Trump, as they were interviewed separately.
But this is not simply my speculation. There is an email released by WikiLeaks in which Huma Abedin makes reference to Hillary's "earpiece" in 2009.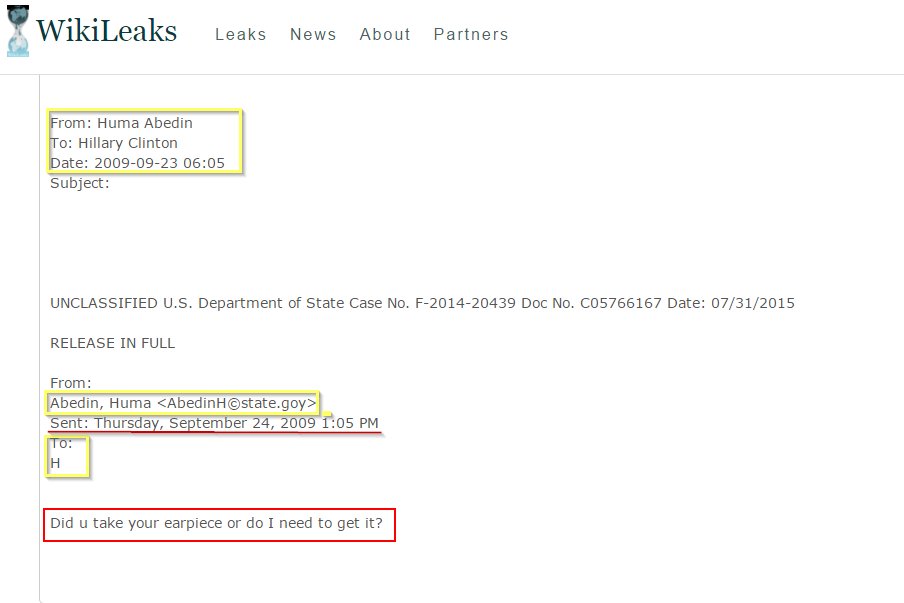 Please note: one does not customarily refer to, say, hearing aids as an "earpiece," should the Hillary defenders weigh in.
Further, once the issue came to light, a source whose work includes intelligence stated he saw her wearing a similar flesh-colored piece in her ear a number of years ago. Certainly nothing like the USSS wears for dignitary protection.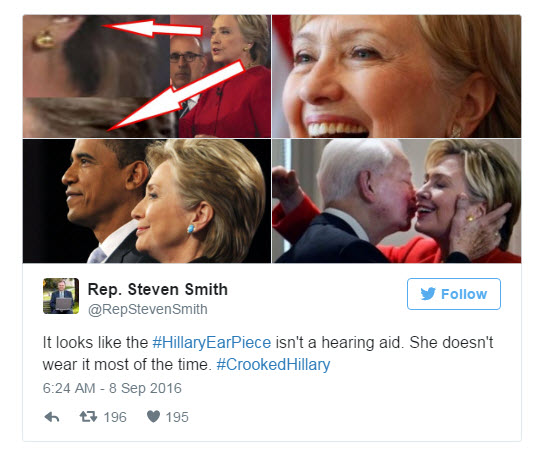 Was and is Hillary Clinton being fed information from an outside source, either by way of RF or Bluetooth technology and, moreover, will she be wearing a similar unit during the debates?
Hillary Rodham Clinton, I think you have a problem. Quite a number of them, in fact.
Donald Trump is a risk.
But Hillary Clinton is a certain disaster.
BZ
P.S.
Sorry, can't pass this up.
Nor can I pass up Pepe the Frog:
Pepe is the only one that #SaveTheDay #MAGA pic.twitter.com/YHDgNYnJPe

— Evil Hillary (@EvilHillaryPics) September 23, 2016