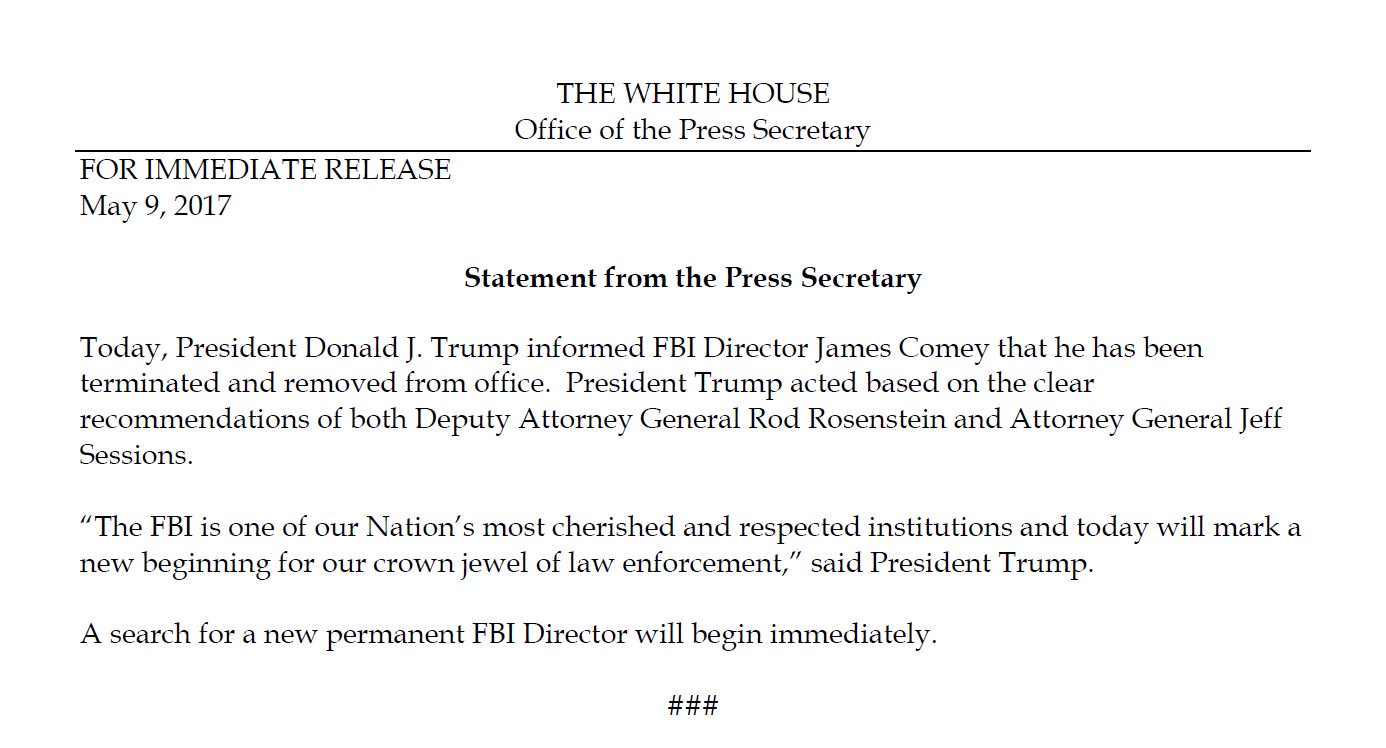 From the AssociatedPress.com:
TRUMP FIRES FBI DIRECTOR JAMES COMEY

WASHINGTON (AP) — President Donald Trump has fired FBI Director James Comey.

In a statement, Trump says Comey's firing "will mark a new beginning" for the FBI. The White House says the search for a new FBI director will begin immediately.

Comey's firing comes days after he testified on Capitol Hill about the FBI's investigation into Russia's election meddling and possible connections between Russia and Trump's campaign.

Why were the lines included about the "three separate occasions"? In my opinion, it's because Comey, instead, went out of his way to inform America that he was in fact investigating President Trump yet, that same day in March of this year, refused to indicate he was investigating the leakers of important classified information. Trump once again proves he broadcasts little about his future moves.
Kimberly Guilfoyle weighs in.
Comey fired! @kimguilfoyle applauds "bold, decisive choice" from @POTUS: Comey "overstepped his bounds from the beginning." #MAGA #Dobbs pic.twitter.com/Y0m5VDJrmD

— Lou Dobbs (@LouDobbs) May 9, 2017
Demorats are, of course, calling this action "Nixonian." Chuck Schumer, for one. What of these previous quotes from Mr Schumer regarding Comey?
I should remind all those applicable Demorats of this, from the PortlandPressHerald.com:
Democrats call for FBI director to step down

by Karoun Demirjian

They say James Comey stonewalled them when asked if the agency is probing a Russian link to Trump.

WASHINGTON — More Democrats are calling for FBI Director James Comey's resignation after a closed-door briefing on the intelligence community's Russian hacking report Friday, during which members say Comey stonewalled them about whether the FBI is investigating alleged links between President-elect Donald Trump and the Russian government.

Democrats accused Comey of being "inconsistent" for refusing to confirm or deny whether the FBI was investigating alleged links between Trump and the Kremlin, despite his willingness to frequently update Congress on the status of the FBI's investigation into Hillary Clinton's private email server.

They described the exchange with Comey as "contentious" and even "combative," while leaders accused him of using a double standard.
My guess? Advisers to President Trump took him aside and, with Comey's most recent waffling about the number of Clinton emails, it became the straw that broke a political back. President Trump had finally lost confidence in Comey.
Certainly, Comey was deeply polarizing in the FBI building itself. Deputy Director Andrew McCabe was a polarizing figure as well. In 2015, Dr Jill McCabe, wife of the Deputy Director, ran for state senate in Virginia and in the process took in excess of $700,000 from state Demorats, including a PAC run by long-time Clinton ally, Virginia Governor Terry McAuliffe. The FBI concluded that there was no conflict of interest for Deputy Director McCabe to stay involved in the Hillary Clinton email investigation. That decision was made by James Comey. Many agents finally concluded that the FBI was completely broken.
This announcement on July 5th of last year regarding Comey's decision not to forward a case against Hillary Clinton to the DOJ was flawed in the extreme and the beginning of the end for Director Comey.
Judge Andrew Napolitano said this about James Comey back in November of last year.
Judge Napolitano compared James Comey to J. Edgar Hoover — but with much more power than Hoover because of today's technology. Comey was eccentric and concentrated too much power into an entirely unelected individual.
Just last week, former US Attorney Joe Digenova made the case for the outright firing of FBI Director James Comey to Tucker Carlson.
This is only the second FBI Director to be fired in my recent memory. Then-President Bill Clinton fired William Sessions in 1993.
Trust me, within the FBI building, line-level agents are breathing a collective sigh.
Comey continued to inject himself into politics time and again. His face was in front of TV cameras time and again. He was self-serving time and again. And his firing should have occurred some time ago. He made the FBI everything but apolitical. He was self-indulgent, self-righteous, and became at different points both the Attorney General and the President.
His firing was long overdue.
BZ