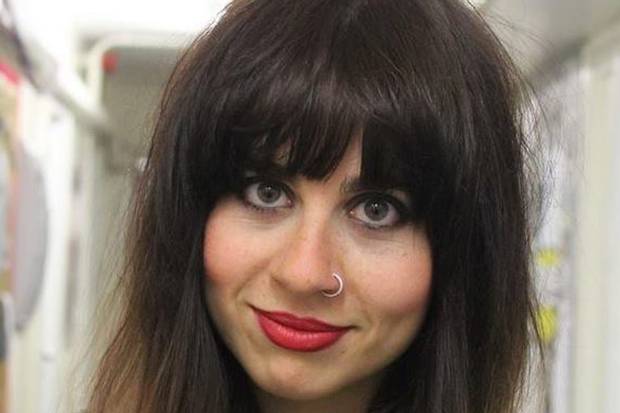 Mustafa looks very white to me; pale, even.  Perhaps we should take up a collection for some tanning bed sessions on GoFundMe?
First, the headline from Breitbart.com:
Student Who Banned White Men From Diversity Event Insists: "I Can't Be Racist Because I'm Not White"

by Donna Rachel Edmunds

A student who banned white people and men from a students' union equality event has insisted that she can't be racist because she is an "ethnic minority woman".

Publicity for event claimed that it aimed to be all about "challenge the white-centric culture of occupations", "diversifying our curriculum" and building a "cross-campus campaign that puts liberation at the heart of the movement".

But when Bahar Mustafa, Goldsmith University's Students Union Welfare and Diversity officer, took to Facebook to invite people to the event, she insisted that it was for "BME Women and non-binary people" only, adding "if you've been invited and you're a man and/or white PLEASE DON'T COME".
There you go.  See?  Isn't it heartening to know that racism can come in so many different ethnicities?
However, some people called her silly.
But Ms Mustafa has hit back, insisting that she can't be racist because she's not white. Speaking during the final student assembly at Goldsmiths last week, she told the audience "There have been charges laid against me that I am racist and sexist towards white men.

"I, an ethnic minority woman, cannot be racist or sexist towards white men, because racism and sexism describe structures of privilege based on race and gender.

"Therefore, woman of colour and minority genders cannot be racist or sexist, since we do not stand to benefit from such a system."
Seems to me she's already benefiting.  She's enrolled in an upper class London University, she's a "Student Diversity Officer," and she is benefiting from a student loan.  Doesn't quite sound so onerous to me.  Let's just listen:
Here's the kicker.  You're gonna love this:
"Reverse racism and reverse sexism are not real," she said. "We will not be silenced; we are militant. The world is not ready for minorities to challenge the status quo, but resistance to our resistance is futile."
Aha!  Reverse racism and reverse sexism are not real.  Good to know.
Mustafa, you sure as hell look white to me.  Frankly, you look like one of my girlfriends when I was in college myself, minus the nose ring.  But that really isn't the issue, because racism doesn't just come by melanin count, it also comes by ethnicity.  This time, it's Middle Eastern of some variety.  She just "looks" white, eh wot?  Right.  She's a "woman of color" like I'm a nuclear engineer.
But, wait.
I'm not a nuclear engineer.
Who's to say her hair and eyebrows aren't dyed in unity with "ethnics."  Who's to say she didn't change her name a year or so ago prior to enrolling in Goldsmiths University?  I certainly can't say.  Wouldn't be prudent.
But, wait.
In the video, her hair is dyed lighter than in the photo above.  She is trying to look more "white."  I'd say it's working.
But, wait.
Doesn't that make her just another white racist?
BZ