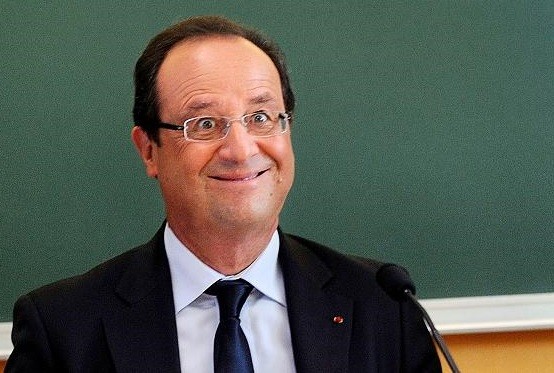 It makes you vote with your feet.
From the UKIndependent.com:
French say au revoir to France: Over two million French people now live abroad, and most are crossing the channel and heading to London
by Ann Penketh
The land of 400 cheeses, the birthplace of Molière and Coco Chanel, is facing an unprecedented exodus. Up to 2.5 million French people now live abroad, and more are bidding "au revoir" each year.
A French parliamentary commission of inquiry is due to publish its report on emigration on Tuesday, but Le Figaro reported yesterday that because of a political dispute among its members over the reasons for the exodus, a "counter-report" by the opposition right-wing is to be released as an annex.
Centre-right deputies are convinced that the people who are the "lifeblood" of France are leaving because of "the impression that it's impossible to succeed", said Luc Chatel, secretary general of the UMP, who chaired the commission.
"Impossible to succeed"?  How odd; I thought that Francois Hollande, as an avowed Socialist and a longtime leader of the Socialist Party, was going to solve everything through Socialism?
There is "an anti-work mentality, absurd fiscal pressure, a lack of promotion prospects, and the burden of debt hanging over future generations," he told Le Figaro. However, the report's author Yann Galut, a Socialist deputy, said the UMP was unhappy because it had been unable to prove that a "massive exile" had taken place since the election of President François Hollande in 2012.
Let's see; what's the French "work week" again?  Oh, that's right: 35 hours.  And what is the vacation policy?  That's right:
5 weeks (30 days with Saturdays, but not Sundays counted as holidays) plus up to 22 days of RTT (Réduction du Temps de Travail, English: Reduction of Working Time) for the employees that choose to work more than 35 hours per week – the "limit" is 39 per week, further additional hours are compensated in almost all the cases by money and not by additional leave hours. Bonus days off are given to people who take a part of their annual leave outside summer (3 days grant 1 bonus day off, 6 days grant 2 bonus days off). Combining all these rules, in a few public offices and in a few companies like Orange, the resulting total, for certain employees, might be of 9.5 paid vacation weeks (5 weeks of vacation + 4 weeks of RTT + 0.5 week of bonus days off). Furthermore, there are 11 public holidays (that, though, in many companies are not paid days off, with the exception of the 1st of May, for which a remuneration is compulsory).[8][12][14]
Even with that, Hollande thought it too constrictive.
What is certain is the steady rise in the number of emigrants across all sections of society, from young people looking for jobs to entrepreneurs to pensioners.
According to a French Foreign Ministry report published at the end of last month, the top five destinations are the UK, Switzerland, the US, Belgium and Germany. The French consulate in London has estimated that up to 400,000 French nationals live in the capital, a number equal to the population of France's sixth largest city.
You mean that persons in France don't care for nightly hot-and-cold running carbeques?
The Crux of the Biscuit:
"Young people feel stuck, and they want interesting jobs. Businessmen say the labour code is complex and they're taxed even before they start working. Pensioners can also pay less tax abroad," she says.
It is also almost impossible to fire an employee in France.  But why work when Hollande's State will take care of you? — at great taxpayer expense, I should care to add.
Further: There are around 1.4 million companies in France without employees. Why is that?
But again, the French government is throwing the word "patriotic" around like the current Obola government, as in: it's "patriotic" to pay more taxes and abide by more regulations.
Frankly, Hollande and Obola don't know the meaning of the word "patriotic."
BZ