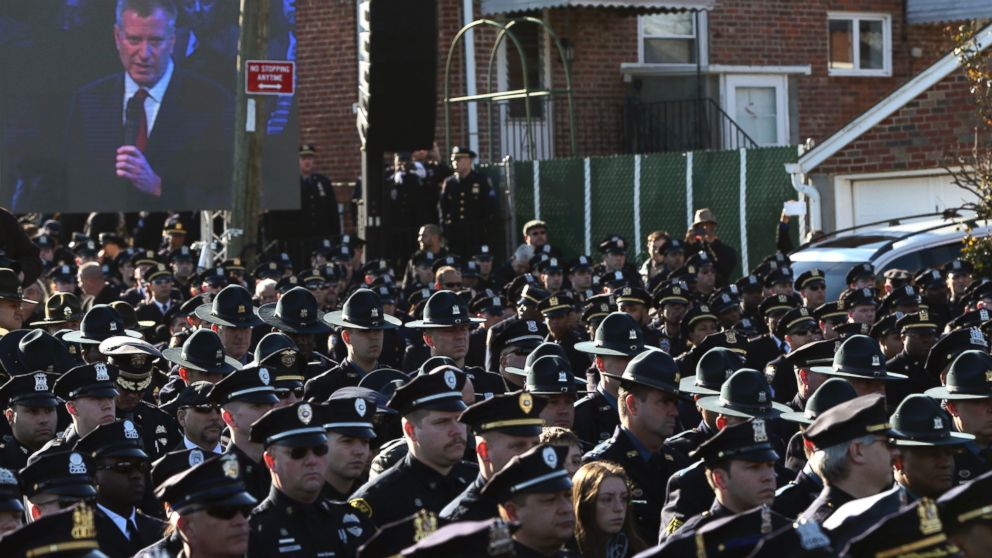 NYPD and others in law enforcement turn their backs to NY Mayor de Blasio as he speaks at NYPD Officer Wenjian Liu's funeral after he and his partner Rafael Ramos were assassinated in their car on December 20th, 2014. De Blasio has consistently sided against his officers now and during his political campaigns.
And all other law enforcement officers in the United States.
Not so in Europe, however.
From FoxNews.com:
De Blasio skips slain NYPD cop's vigil to praise police in Germany

By Gabrielle Fonrouge and Laura Italiano

Mayor de Blasio flew all the way to Hamburg, Germany, to praise that city's police in a speech — while cops back home continued to mourn, without him, the assassination of one of their own in The Bronx.

"Our right to protest is directly related to the fact that our police protect us," Hizzoner told a crowd of thousands at the outdoor Hamburg Shows Attitude rally protesting the G-20 summit Saturday. "So help me by joining in applause and thanks for the police," he said as the crowd cheered.

"There have also been great acts of bravery and restraint," he said. "Remember, our police are working men and women, too."
De Blasio's insult is not the newest of stories but it has taken me this long to process the act and acquire the patience to write a post which, by the way, I've started and deleted twice prior, without it containing nothing but expletives and venom.
And back home, the mayor missed an evening vigil honoring slain NYPD Officer Miosotis ­Familia at the 46th Precinct station house where she worked in The Bronx.

Familia, 48, a mother of three, was shot in the head early Wednesday by a cop-loathing ­parolee as she sat in a police command vehicle.

"It's disgraceful that the mayor is anywhere but at this ceremony right now," vigil attendee Maria Rinaldi, 53, of University Heights, told The Post.

"I get where he's at right now," said precinct neighbor Caesar Montez, 61. "But this is your city. You need to be here when a tragedy like this happens."

De Blasio gave two speeches Saturday during his all-expenses-paid junket to Hamburg.
I also believe Greg Gutfeld should weigh in, a bit more pointedly.
The New York Police Department's Sergeant's union head Ed Mullins said:
"New York City is right now mourning the loss of a police officer who was dedicated to the City of New York, and we have our mayor who has just gone to Germany to join protesters. Is this the type of city we want to live in?"

"We have a very anti-police atmosphere. We are not seeing any kind of leadership that comes out and explains the facts that are out there are not true—the police are not your enemy."
This is, of course, all in reference to NYPD Detective Miosotis Familia, a 48-year-old mother of three (to include a 20-year old daughter and 12-year-old twins, a boy and a girl), having been literally assassinated, last Wednesday, July 5th, when she was shot in the head by a black male parolee whose social media was riddled with violent anti-police writings, and who was convicted in 2001 for assaulting and injuring an officer with brass knuckles. I'm sure the suspect, Bonds, gave that officer the same chance he provided to Familia; that is to say, none at all. The terrible irony is that Bonds, who is black, killed a black female. But that didn't matter to him; all he knew or cared about is that she represented the blue.
Familia was shot — I'm sorry, assassinated — in an unprovoked fashion just as NYPD Officers Wenjian Liu and Rafael Ramos were likewise assassinated in cold blood in 2014 as they sat in their vehicle.
Discontent between the NYPD and de Blasio isn't new, as the NYPD believes — rightly so — that it has been totally betrayed by de Blasio and his Leftist cadre in city hall. He felt just a fraction of that scorn in 2014 following the Liu and Ramos murders.
The only good news in the entire tragedy is that the suspect in Familia's execution was chased down and himself shot and killed by responding officers.
That said, here is what the quite brave New York City Mayor Bill de Blasio needs to hear in the environment under which his officers must operate.
The same day that de Blasio reveled in the Leftist love heaped upon him in Europe, as NYPD Detective Familia's vigil was being held in New York, Mexican "comedian" George Lopez thought this graphic would be a grand statement on Twitter.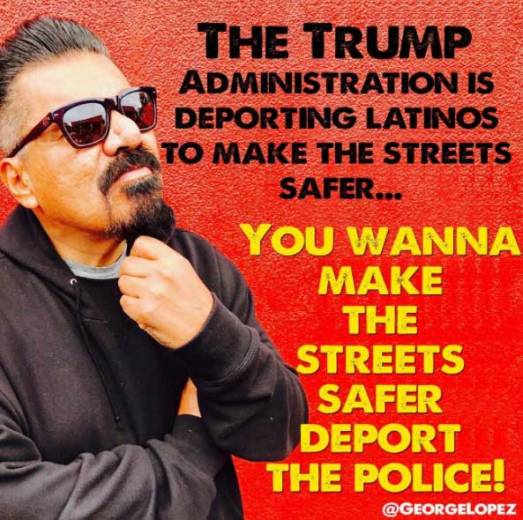 Right. Perfect. Let's deport cops.
This is as amusing and humorous as watching an ISIS video in which throats are cut and heads are placed on bleeding bodies in the surf. Ha ha. Damn. That's so funny George. You must have attended the Kathy Griffin School of Comedy.
But wait. Isn't it Mayor Bill de Blasio who benefits from his own well-armed City of New York Police Department taxpayer-paid personal security contingent (ten of them, none of whom are Caucasoid) and driver (in a convoy of three very large gas-guzzling black SUVs) every hour of every day whilst at work (and whose security detail Sergeant must be black)? Why yes, he does. De Blasio benefits from firearms and from NYPD officers. But that's okay. He's better than you are and, obviously, more deserving of protection and security. You commoner, you prole, you serf, you groundling, you unwashed rabble.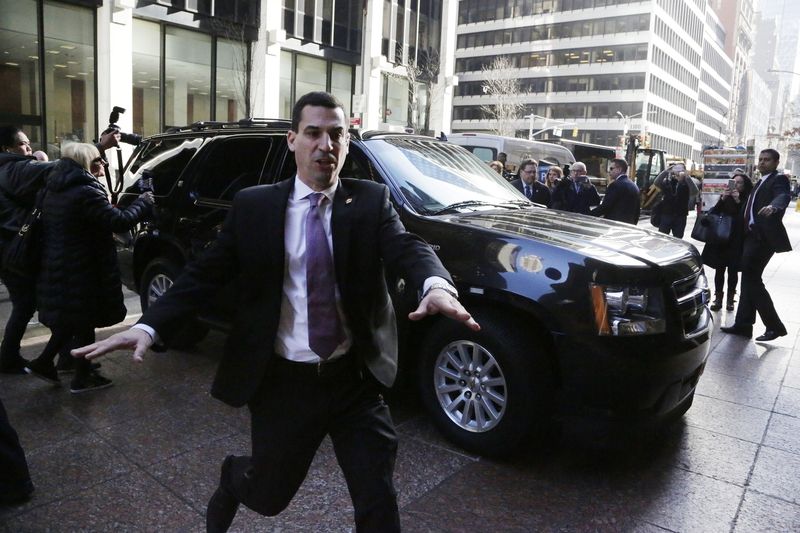 Here, Mayor de Blasio speaks to Mexican Leftist racist "journalist" Jorge Ramos of Univision; of course, to whom one bestows interviews bespeaks volumes about the message one wishes to convey. Here are two Leftists embracing shared memes in their bromance.
Note to de Blasio and Leftists and NYPD haters. Garner failed to cooperate. Therefore, when anyone fails to cooperate you would rather NYPD officers back off and go away? Good to know. When you, a Leftist, are being beaten by an individual and they fail to cooperate with the police it is clear the police should transition immediately into Spectator Mode. Again, good to know.
If Mayor de Blasio hates his officers, and I believe he does, I suspect the feeling is mutual.
The bottom line is this: we all have choices to make in life and, in politics, those choices are frequently even more carefully crafted to align with personal agendas whilst simultaneously sending messages sometimes clear, sometimes not so clear.
To whom do cops go for support or help?
Police Officer tells it how it is ->We got a dead cop and mother of 3 in NYC, where is Hollywood? Football players?
pic.twitter.com/tflx1hPfZC

— Drew Liquerman (@DrewLiquerman) July 10, 2017
Mayor de Blasio intended to send a message with his decision in terms of action and timing. His message was as subtle as a white-hot piece of rebar rammed up the ass of an enemy: his NYPD and all other law enforcement officers and Sheepdogs throughout the United States. The utter disdain and contempt with which he holds his own officers cannot be contained no matter how hard he tries.
But it wasn't just Detective Familia's vigil at the 46th Precinct station house that de Blasio chose to avoid. He also missed the swearing-in ceremony for 524 NYPD academy recruits, officers ready and willing to throw down their lives for the citizens of New York City — and to "Hizzoner" as well.
To Mayor Bill de Blasio cops are essentially immaterial unless they can be useful as tools in terms of various forms of political fodder when necessary.
This is a defeatist and corruptive path which guarantees no security or efficacy for the citizens of New York City.
The funeral for NYPD Detective Miosotis Familia occurred this afternoon. It was attended by Mayor de Blasio. Again, hundreds of officers turned their backs to him as he spoke.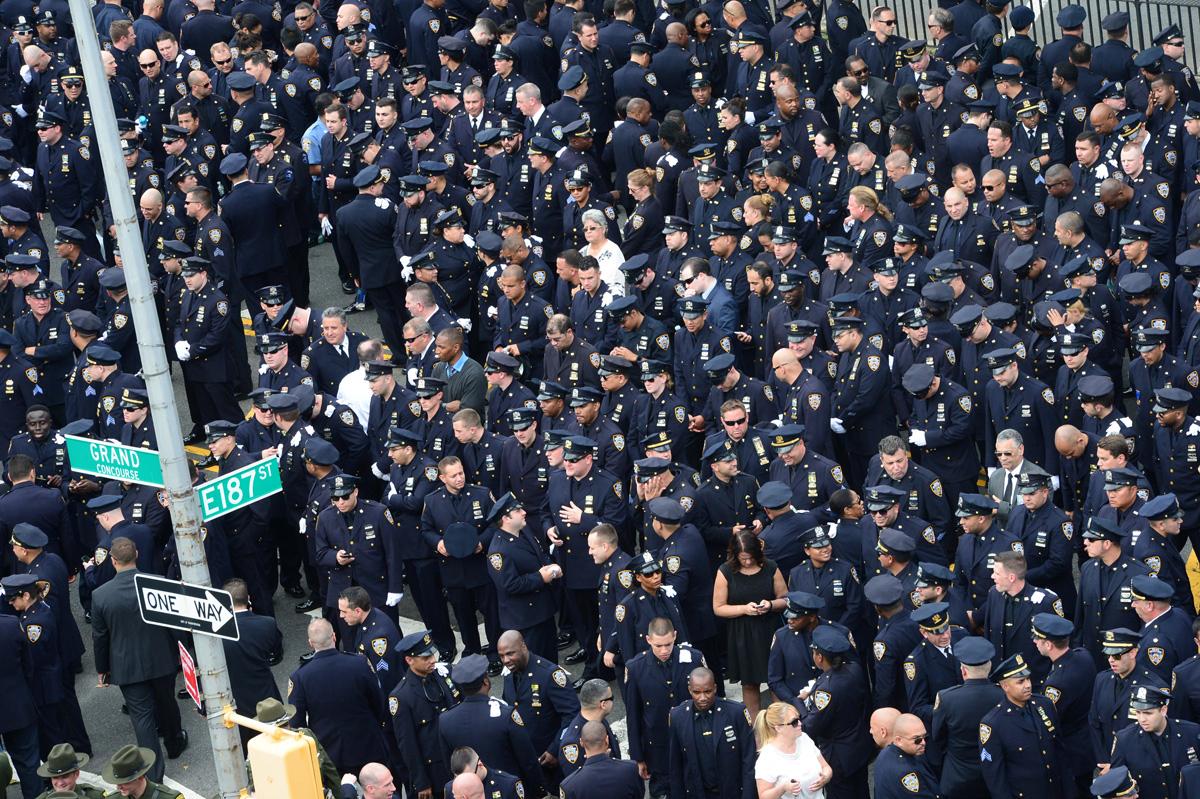 I said it 35 years ago and I say it now.
You get the kind of law enforcement you deserve.
BZ
P.S.
By the way, this is how you back your troops, as NY Police Commissioner James O'Neill illustrates at the funeral for Detective Miosotis Familia.
NYPD Police Commissioner is applauded at slain cop's funeral: "Where are the demonstrations for this single mom…why is there no outrage?" pic.twitter.com/11fTjy38Du

— ABC News (@ABC) July 11, 2017