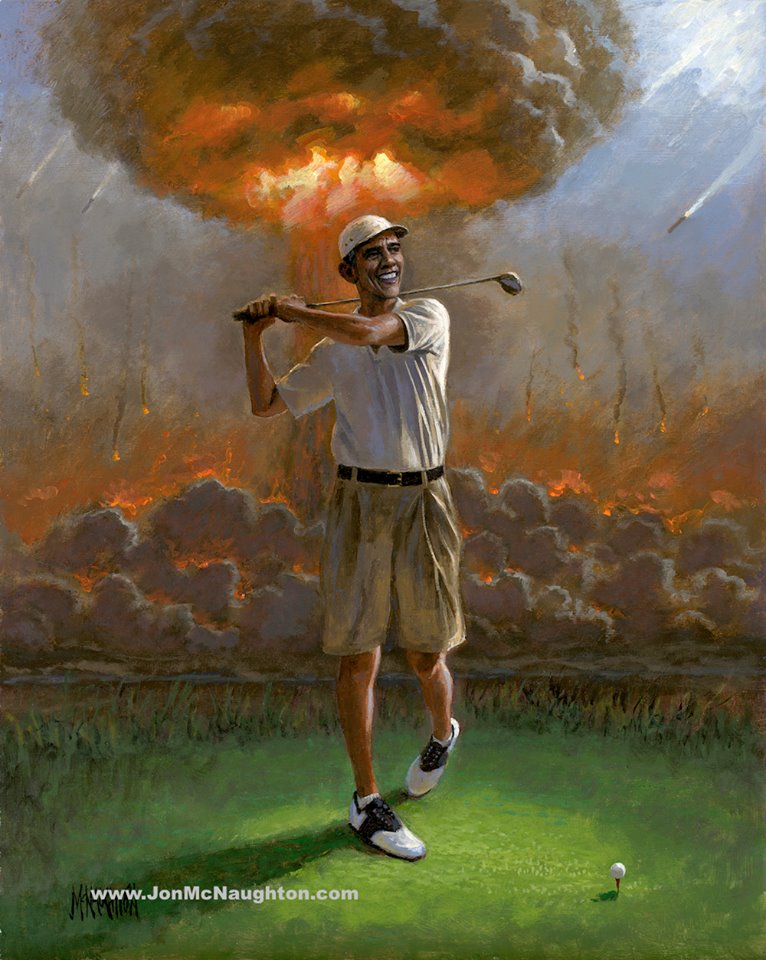 Just last month, Barack Hussein Obama was made aware that an American and an Australian were taken hostage from Afghanistan. For reference, please click on and read this post first by journalist Susan Katz Keating.
Whilst there was a window in which to rescue both, and SpecOp forces were ready, executive permission could not be acquired because Mr Obama was on vacation and golfing. The operators were told "the president can't make time on his schedule to give the go-ahead," a security source stated.
Because of the 24-hour delay — and there was a violent firefight on site — the forces were told they missed the hostages by four hours.
Susan Katz Keating provides this important update to her original story.
White House, Pentagon trade accusations about rescue failure

by Susan Katz Keating

White House and Pentagon officials are trading accusations and shifting blame following two failed attempts to rescue Western hostages seized in Afghanistan last month. Amid the finger pointing, new details are leading Capitol Hill lawmakers to question what they call "White House micromanaging" of war operations.

The disagreements concern what happened in Washington and on Martha's Vineyard, an isle off the coast of Massachusetts, where Obama continued the vacation he began on Aug. 6.
Don't go away. The crux of the biscuit is next:
What is in dispute is what happened next. The Pentagon insists that it sent mission plans with plenty of time for the National Security Council to seek presidential approval.

But a National Security Council spokesman says there wasn't enough time to prepare "the decision documents" for the President. The spokesman is referring to a one-page document, with numerous attachments, that the President reviews and signs.

"On the first night in question, the decision never reached the President to make a decision," a senior Pentagon official wrote in an email. "The fact of the matter is the President was never presented with a decision document that day."

However, U.S. sources with knowledge of the mission said they heard a radio message that contained words to this effect: "The President can't make time on his schedule to give the go-ahead."
Am I detecting the dank odor of Bureaucratic Mouth Pablum, subtitled "Let the Finger-Pointing Commence"?
"We had the teachers (hostages) the first time," the security source said. "We knew where they were. We were closing in. The White House screwed it up bad."
Why yes, that would be perfectly in keeping with their past behavior. Because Susan Katz Keating makes her ultimate point here.
Hostage rescues long have been a delicate balance of intelligence and timing. During the Vietnam War, American commandos raided a POW camp in order to rescue dozens of prisoners held captive by communist soldiers near Son Tay in North Vietnam. The rescuers arrived on Nov. 21, 1970, only to find that the prisoners had been moved from the camp just days before.
Meaning: forty-six years later and we still don't have a cogent, logical and rapid way to get ops like this approved — or we don't give our military forces the authority to act when windows of hostage retrieval are tight?
My guess is: Obama couldn't be bothered. He's in Lame Duck Mode.
In the meantime, an American hostage is lost and his whereabouts are unknown.
BZ
P.S.
My thanks to Susan Katz Keating for having the tenacity, guts and contacts to bring the issue to light. I have seen the incident discussed nowhere else.