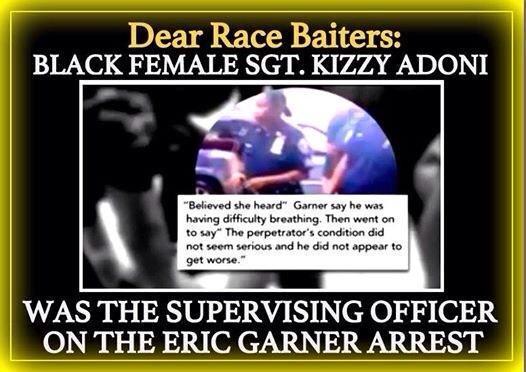 And that is this:
Whilst the event went down, there in fact was an NYPD supervisor present.  Who was, by dint of rank, in charge of the event itself.
Have you heard of this supervisor or had it made known to you that a supervisor was even present during the Garner Event?
Likely not.  And purposefully so, by way of the American Media Maggots.  Because it is not Politically Correct to reveal the race or the rank or the gender of the supervisor in this event.
A black female Sergeant.
From the AmericanThinker.com:
Sgt. Kizzy Adoni, Meet Sgt. Stacey Koon
by Jack Cashill
Although the major media remain mum on the subject, it appears that a black female sergeant by the name of Kizzy Adoni supervised the arrest of the 6'4," 400 lb. Eric Garner in New York City on July 17, 2014. As NYPD Officer Daniel Pantaleo and former LAPD Sergeant Stacey Koon can attest, there seems to a serious double standard at play here.
Among the few media outlets to address the role of Sgt. Adoni was the aptly named LA Progressive. Cheryl Dorsey, a black former LAPD sergeant, took Adoni to task. "I am appalled by the seeming lack of leadership displayed by the sergeant on the scene during the #ICantBreathe incident," Dorsey wrote.  Adoni, Dorsey explained, was expected to manage and control the subordinate officers under her command. "So then for a sergeant, and a black woman at that, to stand idly by and do nothing is egregious," she concluded.
One very important differentiation between Sgt Koon and Sgt Adoni:
Only Pantaleo, however, faced indictment. Adoni, by contrast, was offered immunity to testify against him. Sgt. Stacey Koon, who managed the arrest of Rodney King after a high-speed chase in 1991, had no such luck.  Like Adoni, he merely supervised the scene and did not touch King during the arrest. Unlike Garner, King survived the arrest. Nevetheless, Koon was tried in a criminal court for an excess use of force.
Black vs Caucasoid?  Conclusions anyone?  Bueller?
But wait; it gets better yet:
Adoni could have called the officers off, much as Koon could have called the officers off King, but she did not. The initial police report quotes Adoni as saying, "The perpetrator's condition did not seem serious and he did not appear to get worse."
That Adoni was offered immunity, and Koon or Pantaleo not, gives the appearance at least of a race-based application of justice.
Race-based?  Under the Obaka Administration?  Perish the thought!
You've heard of The One Who Should Not Be Named.  Get ready for the Paragraph That  Should Not Be Written.
Pantaleo has one other major gripe. As a result of affirmative action, collective bargaining, and the Americans with Disabilities Act, the NYPD ranks are loaded with physically useless cops. Many of them were on the scene that day. At least two male officers were less than 5' 6" and slight. Three other male officers were obese, one shockingly so, and the two female sergeants appeared to be both short and overweight. If Pantaleo had not been there, it is hard to imagine how his colleagues would have effected an arrest.
Fact or fiction?
You decide.
BZ