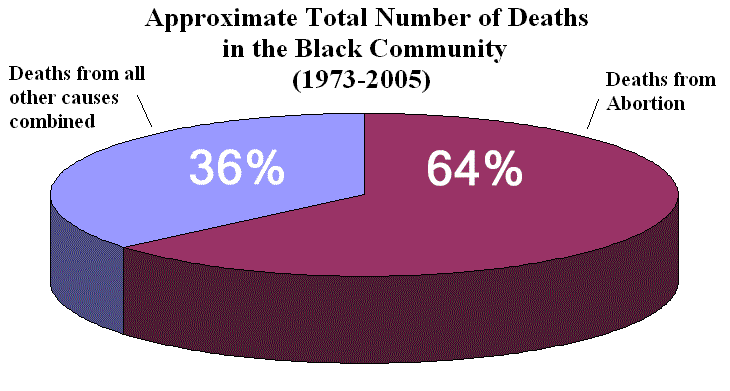 So, I have to ask:
If you love abortion, doesn't that make you a racist?  Moreover, doesn't that make you an advocate of, literally, genocide?
From CNSNews.com:
In Mississippi, 72% of the Babies Aborted Are Black
by Michael W. Chapman
(CNSNews.com) – Although whites outnumber blacks in Mississippi by nearly 2-to-1, 71.67% of the babies aborted in Mississippi are black, while 26.6% are white.
Based on data published by the Centers for Disease Control and Prevention (CDC), 39,052 black babies were killed by abortions in Mississippi between 1995 and 2010.  During that same time period, 14,529 white babies were aborted in the Magnolia State.
The total number of abortions between 1995 and 2010 in Mississippi was 54,484. In addition to blacks and whites, that number also includes abortions among Hispanics, "Other" (meaning Asian and Native American), and "Unknown," as published by the CDC.
Way to go, Leftists, you should be proud!  Purposely eliminating one of your major voting blocs in the name of your philosophy!  Bravo!  Excelsior!
BZ