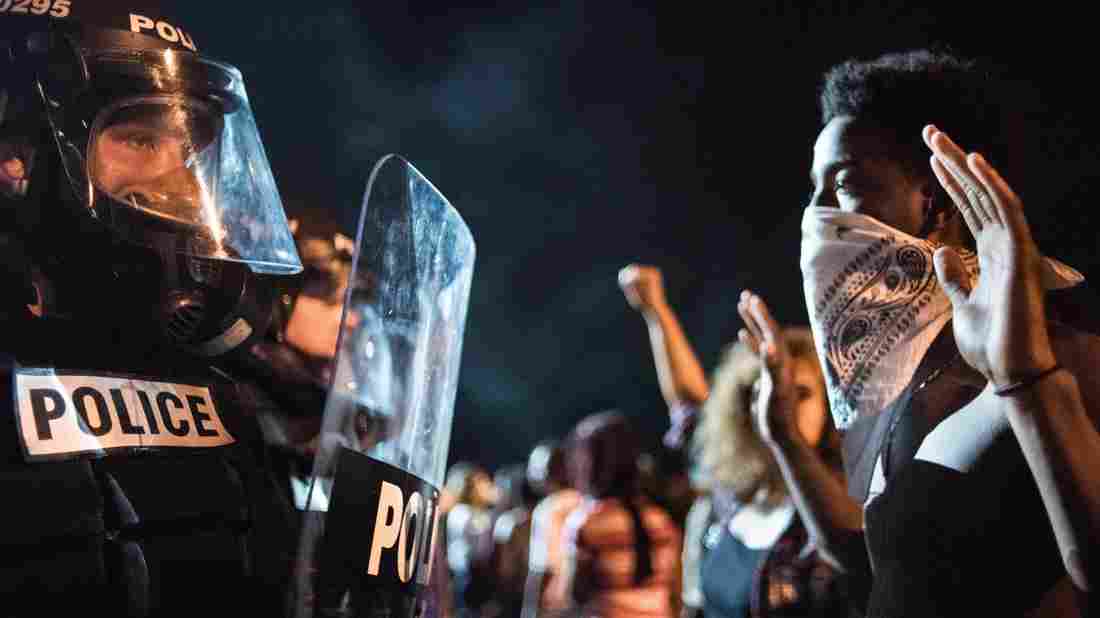 Let the Charlotte false meme commence. I can hear and see it coming already as the protesters above have clearly bought off on the Ferguson "hands up don't shoot" lie. Stand by for the next false meme, this time stemming from a sign. Facts be damned.
Fact: police shot and killed a black male suspect.
Fact: the police officer who fired the shot was black. The Chief of Police is black.
Fact: the suspect was in physical possession of a handgun.
Before these few scant facts were in, people in Charlotte, North Carolina decided it would be in their best interest to riot, burn property, smash and loot stores. Generic "people"? Well, blacks mostly. Let's be specific.
The state police and national guard were called in. One civilian was shot by another civilian.
Keith Lamont Scott, 43, was fatally shot. The officer who shot him, Brentley Vinson, 26, is also black. Sixteen Charlotte-Mecklenburg police officers suffered minor injuries during the chaotic night.
Additionally, it was revealed on Wednesday that the suspect was in fact moving towards the police, in possession of a handgun, according to dashcam video. From KWCH.com:
NC TV station Source: Dash cam video shows man shot by police coming at them with handgun

CHARLOTTE, N.C. (KWCH) A Charlotte, North Carolina news station says it has confirmed with sources that there is dash camera video that shows Keith Scott getting out of a car and coming at police officers with a gun in his hand.

A police officer shot and killed Scott on Tuesday.

Chief Kerr Putney said Scott posed a threat because officers saw him exit a vehicle twice with a the gun and didn't drop it when police ordered him to do so.
A number of witnesses at the scene were already saying the police told the suspect to drop the gun several times.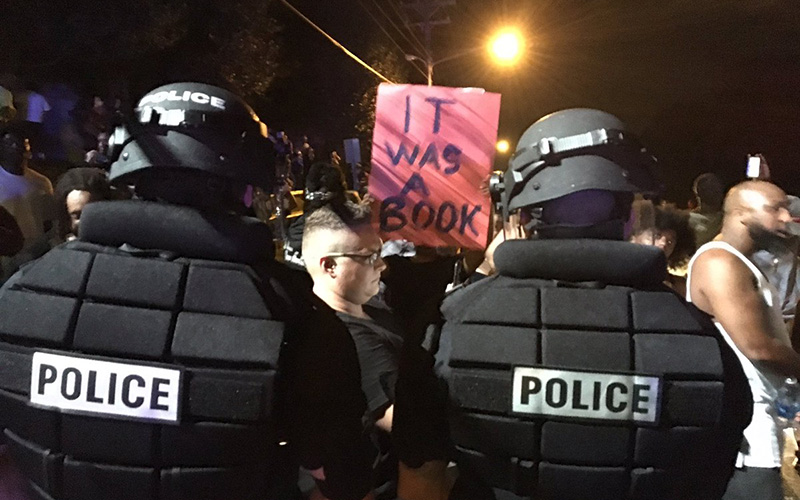 BLM lunkheads are about to blast out the newest falsehood throughout social media. I thought I'd let you see it in advance. Note the sign. Ferguson promoted "hands up don't shoot."
Charlotte will propagate "it was a book."
BZ