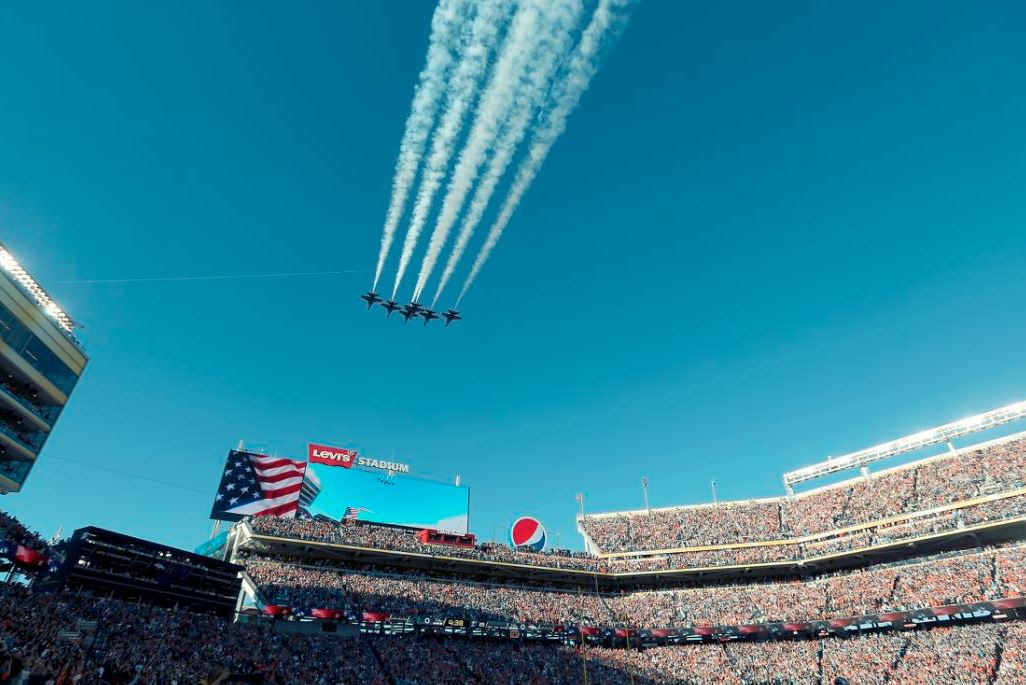 Why Super Bowl 50 instead of Super Bowl L?  Because most persons have no idea that L is the designator of the number 50 — in Roman numerals.
As Peyton Manning said before the game, "I'm still a member of the band.  I'm not the lead singer all the time, but I can still sing a few solos."
Held this year at Levi Stadium in Santa Clara, a town on the very southern tip of the San Francisco Bay and not far from the amusement park Great America, the score at the half is Broncos 13, Panthers 7.
And no, it hasn't been the wipeout by Carolina that everyone surmised.  In fact, it's been rather a challenging afternoon for Panthers QB Cam Newton, sacked and tired as he's been and is.
Second Half:
Uh oh.  Panthers kicker missed a field goal.  Inauspicious way to begin the second half.  Cam Newton continues to be sacked by the Broncs.
You have any favorite commercials?  So far, mine is the one involving the Honda Ridgeline singing sheep.  Or "punch it Richard.  Come on, punch it."
In case you're curious, BZ is rooting for the Broncos.  I'd like to see 39-year-old Peyton Manning make his last game a great game.
It was the late 4th quarter touchdown by 5'8″ Broncos running back C.J. Anderson that put the game in the bag for the Broncos.  Then the Broncos held the Panthers at about the goal line.
That's it.  The party was over.  Broncos 24 and Panthers.10.  Gary Kubiak is the first-ever NFL coach to win a Super Bowl having played for the same team.
And Peyton Manning?  Let's not forget that he was a league record holder as a five-time NFL MVP, a two-time Super Bowl winner with the Indianapolis Colts and now the Denver Broncos, drafted by the Colts in 1998, named to 14 Pro Bowls.
Because of a neck injury he was released by the Colts in 2012.  Some people thought his career was over, but Manning proved them wrong, signing with the Broncos just five days after his release.
During a 2009 Monday Night Football game, Manning received the nickname "The Sheriff" from color commentator Jon Gruden due to his tendency to make audibles prior to the snap.
Peyton Manning is, along with my great Packer QB Brett Favre, one of only two starting quarterbacks in NFL history who have beaten all 32 teams.  He also beat Favre's then-standing record of 509 career touchdown passes.  Peyton Manning has 200 total wins under his belt in the regular and post-seasons, the most of any player.
This season had its ups and downs for Manning.  Osweiler started, then Peyton came back from his foot injury as a backup to Osweiler, then re-entered the prime QB slot.
Finally: goodbye to Peyton Manning, and "Omaha."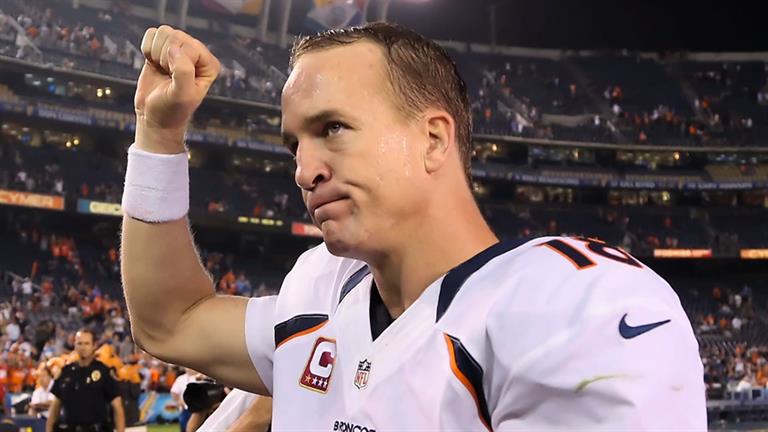 At 39 you've had a spectacular career and you've been one of the NFL's best quarterbacks.  I must admit that I am SO happy for Peyton Manning.  What a GREAT way to end a career for a football player. It simply could not get better than that, the proverbial "fairy tale" ending.  Peyton Manning was the classiest of acts.

I shall miss you sir.
Us old dudes have to represent.
BZ
P.S.
Caroline Panthers coach Ron Rivera in the post-game interview proved that, he too, is a class act and a very gracious and professional man.  Two years ago Rivera was fired from the Houston Texans  Now he and his young team made it to the Super Bowl.  Not too damned bad, sir.