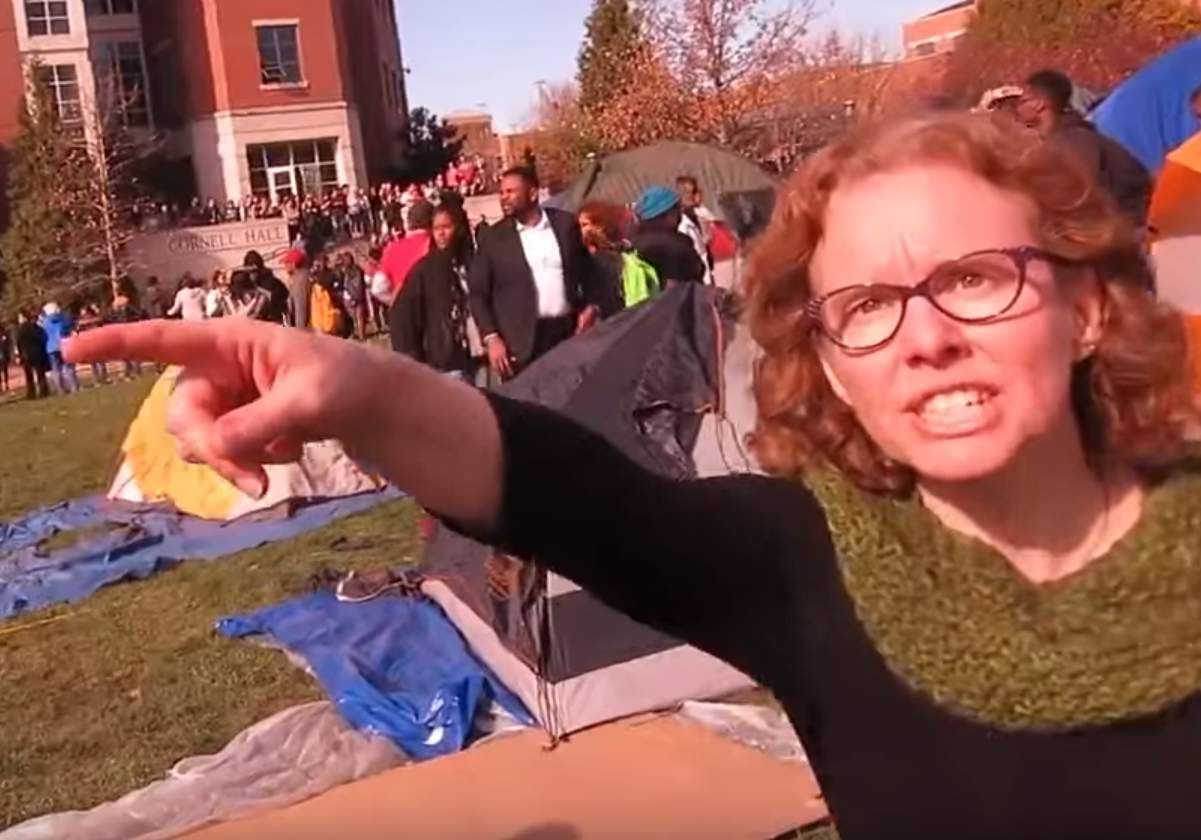 This Leftist loon "throwing out" a college journalist isn't a fellow student.  This is college professor Melissa Click who teaches journalism.  Yep.  Figure that one out.
Ladies and gentlemen, here is your "freedom of speech" on US college campuses these days.  Translated: there is no freedom of speech on US college campuses these days.
That face, ladies and gentlemen, is the face of evil, the face of oppression, the raging and insane face of today's Leftist on your taxpayer-funded college campuses.
It is the face of Melissa Click, assistant professor of mass media at University of Missouri.
She says:
"Who wants to help me get this reporter out of here? I need some muscle over here."
From the NYTimes.com:
'I Need Some Muscle': Missouri Activists Block Journalists

By AUSTIN HUGUELET and DANIEL VICTOR

COLUMBIA, Mo. — A video that showed University of Missouri protesters restricting a student photographer's access to a public area of campus on Monday has ignited discussions about press freedom.

Tim Tai, a student photographer on freelance assignment for ESPN, was trying to take photos of a small tent city that protesters had created on a campus quad. Concerned Student 1950, an activist group that formed to push for increased awareness and action around racial issues on campus, did not want reporters near the encampment.
"You need to get out," Click says.  "No I don't," says the male journalist, Mark Schierbecker, lawfully.
He is a student attending that college, on the college campus, on college property.  Just why is it, Leftists, that he needs to leave property that he can lawfully occupy by dint of his position as a student of same?
So here is your "freedom of speech," Americans, on today's college campuses.  Campuses that your tax dollars fund.  You pay for Leftists to impede actual freedom of speech.  You do.
He (David Kurpius, Dean of Journalism) also noted that Ms. Click is a faculty member of the communications department, which is separate from the journalism school. He said she holds a "courtesy appointment" with the journalism school that faculty members would take "immediate action" to review.
Even CNN wrote:
Media prof. asks for 'muscle' to block student journalist

A Missouri mass media professor is under scrutiny after calling for "muscle" to block out journalists on a public space.
Check their video.
The NY Post says the University of Missouri hosts the world's worst journalism professor.
The dean of the Missouri School of Journalism on Tuesday lambasted an assistant communications professor and lauded a photojournalism student for their roles in Monday's viral video showing a confrontation between that student journalist and protesters attempting to block him from shooting photos on a public quad.

The filmed confrontation appeared to show the University of Missouri protesters, including Assistant Professor Melissa Click, engaging in a clear violation of the First Amendment, since the incident occurred in a public space on the campus of a public university.
The truth will out, every once in a while however.
Video can be good or bad.  In this case, video is good.
Oh, one final point.
From the UKDailyMail.com:
Media professor who bullied journalists away from University of Missouri protests resigns from her 'courtesy' position at the prestigious journalism school

by Ashley Collman and Kiri Blakeley
Melissa Click, an assistant media professor at the University of Missouri, was caught trying to force journalists out of a public protest on Monday

On Tuesday, Click apologized for her actions and resigned from her 'courtesy appointment' with the School of Journalism

While she was previously affiliated with the journalism school, Click was on the faculty of the separate College of Arts and Sciences   

The video in question shows Click walking up to a cameraman and yelling that he get off the quad where a group of protesters had camped out

She tries to knock down his camera and then says: 'Who wants to help me get this reporter out of here? I need some muscle over here' 

Click has issued an apology for her behavior saying: 'I regret the language and strategies I used' 
Obviously, I am chagrined and disappointed.  I expected better from Leftists.
Uh, no.  I larfed my arse off when Click the Chick got kicked to the curb.
BZ