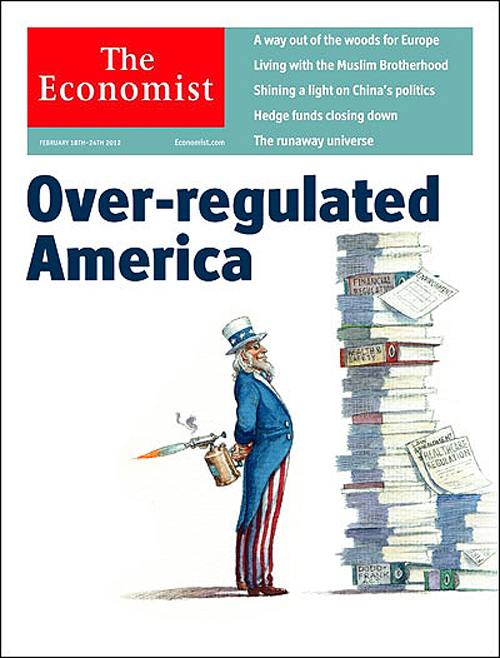 From CNSNews.com:
(CNSNews.com) – It's Friday morning, and so far today, the Obama administration has posted 165 new regulations and notifications on its reguations.gov website.
In the past 90 days, it has posted 6,125 regulations and notices – an average of 68 a day.
Some of the proposed regulations revise regulations already on the books.
The website also links to a video of a speech President Barack Obama gave at the U.S. Chamber of Commerce in Washington, D.C. on Feb. 7, 2011, in which the president promised to remove "outdated and unnecessary regulations."
A number of groups, including the Competitive Enterprise Institute, expect a rush of new regulations now that President Obama has won a second term.
Yes indeed, welcome, America, to the second terms of the president who believes you are simultaneously under-taxed and under-regulated.
And he's going to do something about that.
Right now.
BZ
P.S.
When UK's The Economist thinks you're over-regulated, you have a problem, considering the magazine's source.