Is the United States going to war?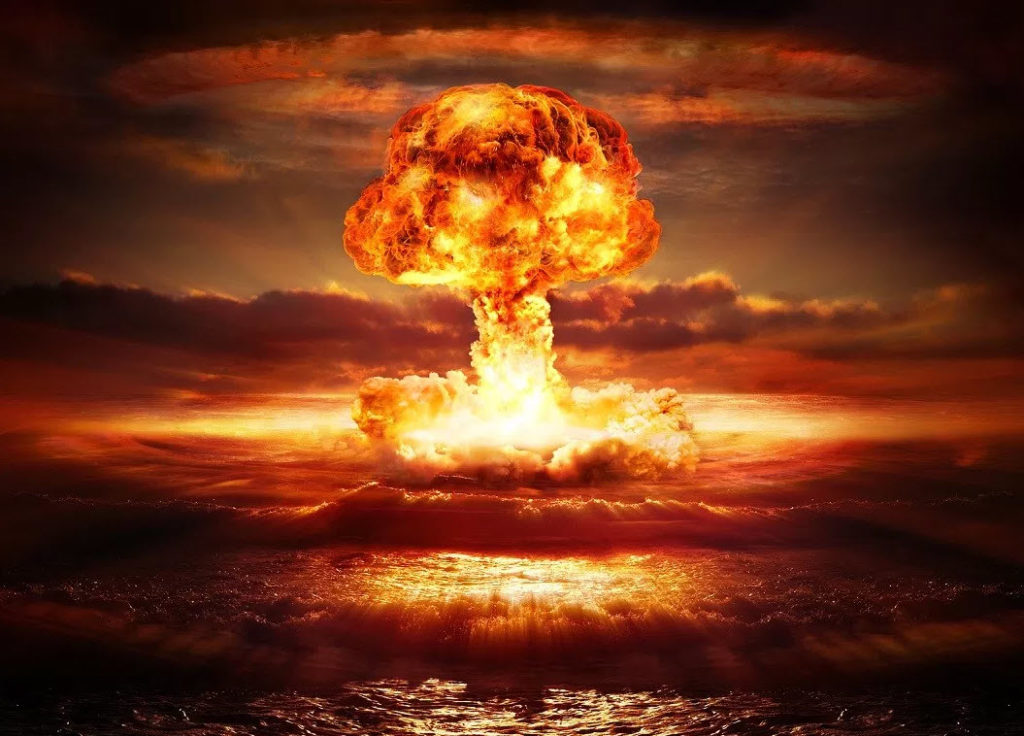 Probably not.
On the other hand, I cannot afford to be so readily dismissive or assumptive because, having been on the planet and a legal citizen of this nation in his seventh decade, I've not seen my country placed in such a dire and perilous predicament before from a prior president, Mr Obama, save that of James Earl Carter. Twin sons of different mothers.
Except that one at least possessed a modicum of service, obligation, sacrifice and discipline having served in the military. The one who gave away the Panama Canal and asked for criminal Marielitos to swamp Florida. Luckily we got over that. The Marielito part. Not at all the Panama Canal part. Which China is now attempting to completely control.
Let me reveal a very serious portion of the problem by way of video.
North Korea Will NEVER Give Up Nuclear Weapons

After 8 Years Of Obama Doing NOTHING

Capabilities Have Expanded pic.twitter.com/gp2OrlyGev

— Dr. Marty Fox (@DrMartyFox) April 17, 2017

The most recent news. From alJazeera.com:
Kim Jong-un oversees display of N Korea military force

New long-range ballistic missiles on show during massive parade celebrating country's founder as US armada approaches.

North Korea on Saturday displayed what appeared to be new long-range and submarine-based missiles at a massive military parade celebrating the 105th birth anniversary of the nation's founding president, Kim Il-sung.

The parade, attended by leader Kim Jong-un, saw thousands of soldiers marching through the capital, Pyongyang.
Ah, the glorious and buttery goodness of a little, pudgy, four-eyed, psychotic, ass-slapped, cornholing, murdering dictator whose country can't produce even one pane of glass without bubbles or ripples, much less adequately feed its people.
Weapons analysts said they believed some of the missiles on display were new types of intercontinental ballistic missiles (ICBM), enclosed in canister launchers mounted on the back of trucks.

Choe Ryong Hae – widely seen by analysts as North Korea's second most important official – said US President Donald Trump was guilty of "creating a war situation" by dispatching US forces to the region.

"We will respond to an all-out war with an all-out war and a nuclear war with our style of a nuclear attack," said Choe.
Then there was the global ridicule of Kim Jong Un by his own people when, on his most proud day, the missile he attempted to launch simply blew up. Bummer, dude. Some believe that, like Russia in the 60s, some of the Pudge's missiles may have been nothing more than but mock-ups.
From the SouthChinaMorningPost.com:
North Korean missile explodes in test launch day after Kim Jong-un showcases new ballistic arsenal

Hostilities in the region surge US President Donald Trump sends aircraft carrier-led strike group to the Korean peninsula

A fresh North Korean missile test failed when it exploded after launch Sunday, the US military said, a day after Pyongyang publicly showcased its ballistic arsenal at a giant military parade.

The failure, which is likely to be seen as something of an embarrassment for the regime, came amid soaring tensions in the region over the North's nuclear weapons ambitions.
Stop. This is too good to pass up. How many — literally —  heads of North Korean military officials and scientists were conveniently lopped off because the Pudgy One was exposed to global embarrassment? Anyone? Bueller?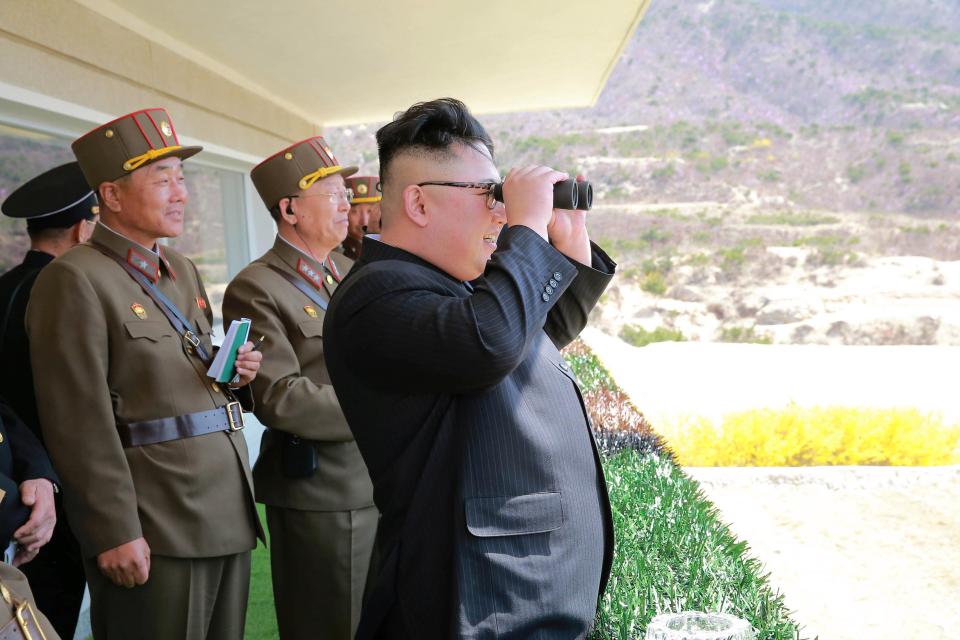 "Hey, at least I know how to take the binocular caps off."
Unlike some personnel.
"The missile blew up almost immediately," the US Defence Department said of the early morning launch which was also monitored by the South Korean military.

Neither was able to determine immediately what kind of missile was being tested.

It came a day after North Korea displayed nearly 60 missiles – including what is suspected to be a new intercontinental ballistic missile – at a parade to mark the 105th birthday of its founder Kim Il-sung.

The parade was held in front of the cameras of invited world media, who were still in Pyongyang when Sunday's test failure was detected.
Oddly enough, following that, Kim Jong Un was primarily absent and primarily quiet. But was there more? Perhaps so. From the Sun.UK.com:
MISSION KIMPOSSIBLE

North Korea's embarrassing missile launch failure may have been caused by US cyber attack as Donald Trump warns his military may 'have no choice' to strike the rogue nation

by Nick Parker

US agents may have infected the hi-tech electronics in Kim Jong-un's rocket as Korean scientists fear tyrant's wrath

NORTH Korea's latest nuclear test missile exploded five seconds after launch yesterday because of an American cyber attack, experts believe.

They say US agents may have infected the hi-tech electronics in tyrant Kim Jong-un's rocket with an undetectable virus that caused a massive malfunction.
Kim Jong Un has not yet acknowledged the missile's explosion following his glorious parade. Instead he has doubled down on psychotic. From the BBC.com:
North Korea 'will test missiles weekly', senior official tells BBC

North Korea will continue to test missiles, a senior official has told the BBC in Pyongyang, despite international condemnation and growing military tensions with the US.

"We'll be conducting more missile tests on a weekly, monthly and yearly basis," Vice-Foreign Minister Han Song-ryol told the BBC's John Sudworth.

He said that an "all-out war" would result if the US took military action.

Earlier, US Vice-President Mike Pence warned North Korea not to test the US.

He said his country's "era of strategic patience" with North Korea was over. Mr Pence arrived in Seoul on Sunday hours after Pyongyang carried out a failed missile launch.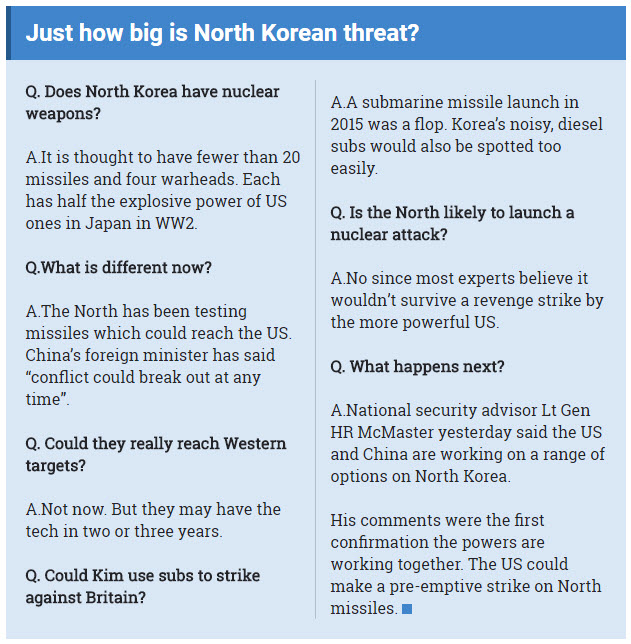 The USS Carl Vinson carrier group is already in the area; by April 25th the USS Ronald Reagan and the USS Nimitz carrier groups will likewise be in place in the Sea of Japan.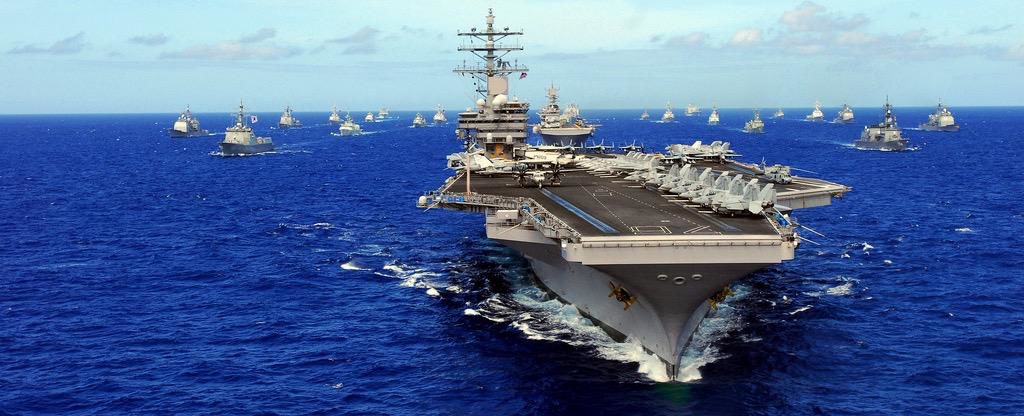 Tensions are high.
How did we get here?
We got here because of William Jefferson Clinton who, in 1994, made a "deal" with North Korea under then-dictator Kim Jong Il that, in exchange for $4 billion dollars, they would begin to dismantle their nuclear weapons development program. Here's a shocker: they kept the cash and reneged on the deal. Didn't see that one coming.
Sounds like Bill Clinton should have read Trumps book "The Art of the Deal"‼️👊🏻 pic.twitter.com/pEjHa5jrfi

— John T Dolan (@JohnTDolan) April 18, 2017
We got here because George W. Bush took North Korea off the "state sponsors of terrorism" list. Daft. Incomprehensible.
We got here because of Barack Hussein Obama and his "strategic patience."
We got here because the planet observed how Obama decided to "deal" with Iran.
Russia, China, North Korea, they were all watching quite raptly.
Via the Federalist.com:
Ben Rhodes Reveals How Obama Duped America Into The Dangerous Iran Deal

by David Reaboi

President Obama—with the help of an equally arrogant 38-year-old national security fabulist, Ben Rhodes—remade the Middle East to empower America's most hated enemy.

There are few things in the world less popular in the United States than the Islamic Republic of Iran.

Under these conditions, Obama—with the help of an equally arrogant 38-year-old national security fabulist, Ben Rhodes (with whom he's said to "mind-meld")—succeeded in remaking the Middle East to empower America's most hated enemy, the only United Nations member state committed to the annihilation of another state: the theocratic Islamic Republic of Iran.
But wait; it gets better.
As Rhodes explained to his bemused interviewer, David Samuels, in a New York Times Magazine profile this weekend, it was first necessary to lie to a corrupted and inexperienced American media about all sorts of things, beginning with the nature and intentions of the enemy Iranian regime. Subsequent lies were caked on, as the White House took advantage of a dangerous mix of journalists' ignorance, their ideological and partisan commitment to the administration, and, finally, their career aspirations.
And better still.
Rhodes said, "The average reporter we talk to is 27 years old, and their only reporting experience consists of being around political campaigns… They literally know nothing." Thus they will believe what he tells them. He also tells friendly non-governmental organizations and think tanks what he is telling the journalists. Those outlets produce "experts" whose expert opinion is just what Rhodes wants it to be. These ignorant young journalists thus have quotes that look like independent confirmation of the White House's lies.
Remember, after all, new journalistas are educated at the feet of some of our proudest university intolerant Leftists under closed-circuit systems refusing to acknowledge the real world. Any given college campus today has absolutely nothing to do with the real world. The closer you get to any university campus, the greater the noise of the vacuum of brains from students. A mighty sucking sound.
Vice President Mike Pence, on tour this weekend in South Korea, straightened the Ship of State with regard to North Korea. The Obama Doctrine of "strategic patience" is now officially over.
Why won't we go to war?
It would appear from many accounts that President Trump's meeting with China's President Xi Jinping on April 6th went quite well, despite the fact that Trump excused himself during dinner in order to approve a veritable metal hail of Tomahawk cruise missiles be rained down upon a base in Syria. President Trump sat back down with Jinping and had a fine dessert.
Originally scheduled for a series of three 15-minute private meetings between the two, these meetings extended to 2 to 3 hours. President Trump, with that action during a state dinner, sent three messages simultaneously to three serious nations: China, Russia and North Korea. Perhaps Iran and the Middle East as well.
I am not unlike Michael Corleone as I dine with you;
I have no problem with making geopolitical statements;
I am not Barack Hussein Obama.
Out of this meeting, for the first time in roughly 20 years, China has responded with regard to North Korea.
China has sent coal shipments back to North Korea. Instead, China decided to acquire coal shipments from the United States of America.
China has sent a flotilla of North Korean freighters loaded with coking coal back to their home ports, according to an exclusive Reuters report. Meanwhile, China has placed massive orders for the steel-making commodity from U.S. producers.
Hear any of that from the American Media Maggots? Of course you haven't.
All you've heard is that President Trump can't fix a thing.
Multiply geometrically. Mix to taste. Serve chilled. Rinse. Repeat.
BZ