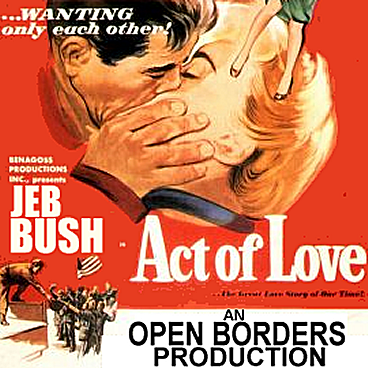 Some Republicans won't like this but I couldn't less: we don't need another Bush as president.  And we certainly don't need someone as blatantly stupid as Jeb Bush.
From the WashingtonPost.com:
Jeb Bush: Many illegal immigrants come out of an 'act of love'
Former Florida governor Jeb Bush said Sunday that many who illegally come to the United States do so out of an "act of love" for their families and should be treated differently than people who illegally cross U.S. borders or overstay visas.
Right.  An "act of love."  But wait; it gets better.  Or should I say: more idiotic.
Asked about immigration, Bush started by saying that a bipartisan bill passed by the Senate last year made "a good effort" at proposing ways to ensure that people overstaying visas leave the country.
"A great country ought to know where those folks are and politely ask them to leave," he said, adding later that properly targeting people who overstay visas "would restore people's confidence" in the nation's immigration system.
So: wait.  Am I the only one seeing this?  Jeb Bush wants to kick people out who have "overstayed their visas," but wants to continue to allow those who entered completely illegally to remain?
How starkly insane is this?  Is Jeb Bush completely ignorant of the statistics across the nation and, specifically, in highly-populated Fornicalia?
People who have visas are generally here for education.  To try to contribute something.  People who are illegal have little to contribute except low skills and potential disease.
Is Jeb Bush completely ignorant of the fact that, on any given day, the Los Angeles County Jail's population consists of roughly 40% to 50% illegal Mexican immigrants arrested for physical crimes against the lawful citizens of the state of Fornicalia and residents of the United States?
Is he aware that, prior to the current rough economic times, LA County and Orange County and other SoCal jails were populated by up to 70% illegal Mexicans?
Is he ignorant of the fact that Fornicalia Mexican gangs have striated themselves into, at base, Nortenos and Surenos (north and south) and a myriad of gangs in between?  And that they rule local jails and state prisons?  Because they are illegals from Mexico?
Surenos believe in the Mexican Mafia or La Eme.  They hold to the color blue.  They outnumber Nortenos demographically in the state.
Nortenos hold the color red and align with the NF, or the Nuestra Familia.  Their "territory" is north of Bakersfield but even that isn't enough to hold "their line."  MS-13 generally aligns with Surenos because of their geographic origin.  MS-13 has, at minimum, 60,000 members.
Is the phrase "demography is prophecy" yet ringing true with anyone?  Bueller?
Is Bush ignorant of the fact that, in Fornicalia, because of AB 109, Mexican gangs consisting of illegal immigrants are now major players in gang politics and power and deaths and are now aligning with the ultra-violet MS-13 and — because my county has sucked at the national DC tit — federal "detainees" now have more rights and perks and benefits than American citizens in our county jails?  How many have EBT cards?  How many are on SSI?  How many are on Worker's Comp?  How many are pumping the "system" for all they can?
Yes.  Most of them.
The days of Juan Valdez picking coffee beans are done.  Juan now drives a 2001 Lexus and has more discretionary spending money than you do.  He shops at your local store and buys steaks and beer.  On the EBT card that you purchased for him.
Charles Krauthammer weighed in on Jeb Bush.  He thought the comment was bizarre, indicating he believed Bush was sincere but leading with his chin.  There are other people in the world waiting patiently in line and are not violating laws.  Realistically, the situation involves not just one family but 11 million.  Sovereignty means something.  We should control who actually comes into the country.  But apparently Jeb Bush believes this is inconsequential.
And that was one of my quite precise points.  Thank you, Charles.
Further: just when did we conclude as a nation that a certain segment of society can decide, at will, to ignore our laws?  And when did we, as a nation, decide that this ignorance of our laws was to be tacitly condoned and then, further, promoted in public?
My final two sentences for this post: Jeb Bush, you are a moron.  An uninformed and unrealistic moron.  Sir.
Was "sir" the third sentence?
BZ
P.S.
Thanks to Michael Patrick Tracy for the graphic at the top of this post.