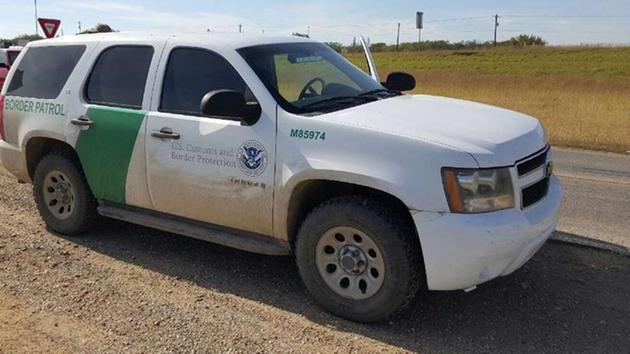 From BreitbartNews.com:
Illegal Aliens Busted in Cloned Border Patrol Vehicle

by Bob Price

Human smugglers carrying 12 illegal aliens were captured north of Laredo in a cloned U.S. Border Patrol vehicle.

The incident happened on Interstate 35 at mile marker 65 near the town of Cotulla. That would be located nearly seventy miles into Texas. A border patrol agent became suspicious of the cloned vehicle while he was following it, Border Patrol Agent Hector Garza told Breitbart Texas while acting in his capacity as president of the National Border Patrol Council, Local 2455. After stopping the suspicious vehicle the driver was arrested and the agent found 12 illegal aliens stuffed inside the Chevy Tahoe that had been painted with Border Patrol vehicle markings.

The vehicle was painted to look like a Tahoe regularly used by the U.S. Border Patrol. It did not have any overhead lights normally found on the vehicles. It did; however, have a light bar mounted on the dashboard and the rear view mirror had been removed. It appears the rear seats may have been removed in order to stuff more people into the vehicle.
Here's an interesting point: Leftists say that more Mexicans are self-deporting themselves than ever before and that, overall, fewer persons are coming over the southern border illegally.  That's their meme and they're sticking to it.
The truth, however, is the precise reverse.  What's actually occurring is that the Obama Administration is deporting fewer illegals than the US has in a decade.
Moreover, the numbers are actually increasing.
Many of these illegals are kids and young people buttressed by the belief — a true belief — that the US is overlooking illegal crossings.
And what of this stat?  Mexico deports more people than we do?
From WesternJournalism.com:
Shocking Statistic: Mexico Deports More Illegals Than The US Does

by Elizabeth Dickerson

As the United States' borders have become weaker in recent years, the southernmost Mexican border has become more fortified than our border along Mexico. In fact, the border along the southern portion of Mexico is so much stronger than ours that Mexico is now beating the U.S. at deporting people from the borders.
Is anyone here shocked?
Bueller?
BZ