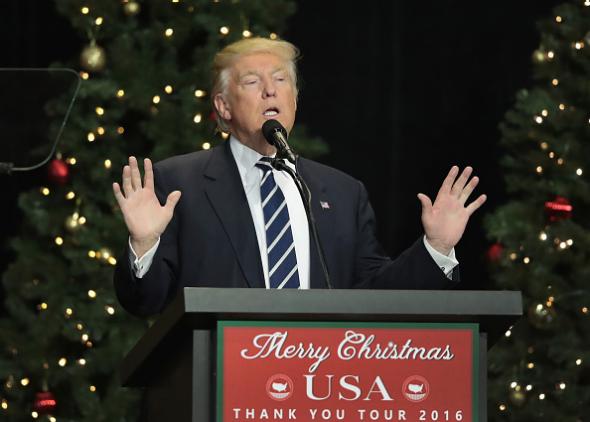 Now it's time to simply laugh our collective arses off at Leftists. With each passing day they prove more ludicrous and dispensable.
We know that Christmas is under assault. Christian values are under assault. We know that "being a good person" is under assault. Consideration is under assault. Rudeness is becoming the norm predominantly because so many people are self-centered and narcissistic — as exemplified by none other than Barack Hussein Obama.
Now, Leftists are simply being risible.
From Slate.com (you know, that fine, credible source of Leftist news):
Donald Trump Is Trying to Take Ownership of the Phrase Merry Christmas

by Ben Mathis-Lilley

So now the phrase Merry Christmas, thanks to the long-running far-right "War on Christmas" conspiracy theory—which was invented by the white-nationalist John Birch Society in 1959—has been officially weaponized into the partisan slogan of a president elected on a wave of hateful rhetoric about, among others, refugees.
Truly, it's what a Middle Eastern Jew who was born in a barn because no one else would take his parents in would have wanted.
Right. The intimation here is that Donald Trump is too Christian, too religious (as he, in one photo, is surrounded by six Christmas trees) and, simultaneously a racist — as goes the reference to John Birch. It's all, you see, a Christmas "conspiracy theory."
The sad thing for Leftists is that I have a memory, I have experienced the US for 60+ years, I have internet access and I know Christmas has been denigrated to the point where it's nothing like it was in the 50s, 60s or even the 70s. Every seasonal commercial at Christmas had specific references to Christmas. Now? It's just the "holidays." The increasingly-Leftist culture has systematically pushed the word Christmas to the point where to hear it is to be the exception and not the rule.
Slate.com says there is no evidence whatsoever of any sort of "attack on Christmas," that it's simply some convenient "conspiracy theory" by conservatives. Here, then, are just a smattering of specific references with attributions:
Those citations are just from my blog.
As a refresher, because this is where the Left gets their foundational declaration that Donald Trump is racist, let's review what he originally said about Mexico and the border. Here is the precise quote.
When do we beat Mexico at the border? They're laughing at us, at our stupidity. And now they are beating us economically. They are not our friend, believe me. But they're killing us economically.

The U.S. has become a dumping ground for everybody else's problems.

Thank you. It's true, and these are the best and the finest. When Mexico sends its people, they're not sending their best. They're not sending you. They're not sending you. They're sending people that have lots of problems, and they're bringing those problems with us. They're bringing drugs. They're bringing crime. They're rapists. And some, I assume, are good people.

But I speak to border guards and they tell us what we're getting. And it only makes common sense. It only makes common sense. They're sending us not the right people.

It's coming from more than Mexico. It's coming from all over South and Latin America, and it's coming probably— probably— from the Middle East. But we don't know. Because we have no protection and we have no competence, we don't know what's happening. And it's got to stop and it's got to stop fast.
Donald Trump did not say that all Mexicans are rapists and criminals as has been stated again and again by the American Media Maggots. Yet massive evidence does exist of illegal Mexicans and others as criminals and rapists, not to mention the fiscal drain that illegals are on state and federal budgets.
The latest statistics provided by the Fake News Outlet CNN in 2015 — and I will go with these to be gracious — indicate there are 11.2 million illegals in the US. 177,960 of those were deported. 121 illegals were released from immigration custody who were charged with murder between 2010 and 2014. 73,665 illegals are in state and federal prisons.
CNN and Leftists would have you believe — using their own statistics — that 121 lawful American citizens killed by illegals is inconsequential.
I submit: it's the very number of persons we could have done much more to stop. I'd wager the family of Katie Steinle would agree, as their daughter's killer had been deported on five prior occasions. Further, the US spent $1.87 BILLION dollars in 2014 to incarcerate illegal immigrant criminals. Illegal immigrant incarceration rates are greatly under-represented.
The discrepancy seems to be this: Donald Trump appears to support America. He also seems to support the application of border law.
So: Donald Trump "weaponizing" Christmas?
Leftists continuing to prove: M O R O N S.
BZ