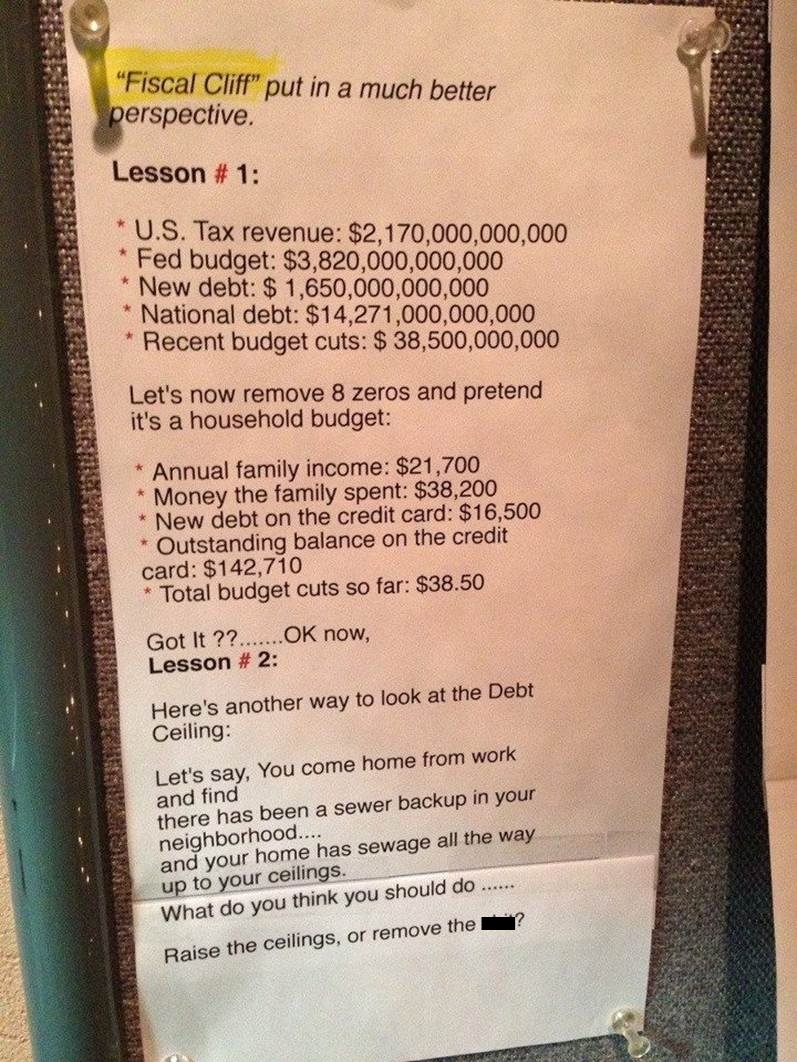 Courtesy of both the Demorats — for the demand — and the Republicans, for lack of a spine.
Mitch McConnell, the blithering idiot, said "the tax issue is finished."  (Full transcript here.)
Uh, no — you moron — no, it's not.
It's barely started.
My first paycheck of the year just got lowered by $200 via additional taxes.  I get paid bi-weekly, so at this point I'm initially losing a minimum of $400 a month.  So far.  The month is young.
That translates to: I've just initially lost the equivalent of one car payment a month.  So my chance of purchasing another car?  ZERO.
From "Face The Nation" this past Sunday, The NanceMeister weighs in:
Did you listen closely?  McConnell thinks he's won.  And Pelosi baldly states that the Demorats are out for "tax reform" and "increased revenue."
SCHIEFFER: Do you then agree with the Republican leader in the Senate, Mr. McConnell, who says we're done now with the taxing side of it; now we have to concentrate on spending? Is that done now?
PELOSI: No.
SCHIEFFER: Is the revenue side of it taken care of yet?
PELOSI: No, no, it is not. I mean, the president had said originally he wanted $1.6 trillion in revenue. He took it down to $1.2 as a compromise. In this legislation we had $620 billion, very significant, high-end tax — changing the high-end tax rate to 39.6 percent. But that is not enough on the revenue side. We've already agreed to $1 trillion in spending cuts, over $1 trillion in spending cuts.
SCHIEFFER: So what are you talking about there? Are you talking about more taxes?
PELOSI: We're talking about looking at the tax code, putting everything on the table from the standpoint of closing loopholes — and we know that we can do that — special subsidies for big oil, for example, $38 billion right there. But again, not to take things in isolation, just to say, OK, well, how much more revenue can we get as we go forward?
SCHIEFFER: Are you then saying to the upper classes, get ready; you're going to have to pay some more; this is not the end of it?
PELOSI: Well, I'm saying that's not off the table.
SCHIEFFER: That's not off the table?
PELOSI: That's not off the table. But not in terms of tax rates but in terms of other considerations.
SCHIEFFER: You're talking about deductions and other things.
PELOSI: And the rest.
$800 billion dollars already acquired in taxes.  The Demorats want another TRILLION dollars in taxes this year.  Where?  From YOUR pocket.  Americans, to the thoughts of the Demorats, are still insufficiently taxed.
Am I a mega-millionaire?  Hardly.  I'm "middle class."  And — thanks to Mr Obama and Demorats — my ass is already on fire with the initial additional taxes.  The precise strata, Mr Obama, that you swore wouldn't be affected.  You damned LIAR.
Even CNBC says the tax code may be the "most progressive since 1979."  Hello?  Jimmy Carter?  Anyone?  Bueller?
Even Obama supporters find themselves "shocked" and "angry" at the new tax increases.
Yes indeed.  That's how stupid are Obama supporters.
You mean he actually wants Cloward-Piven?  He actually wants taxes to skyrocket?
______________________
So: how much did YOU lose on your first paycheck of the year?
BZ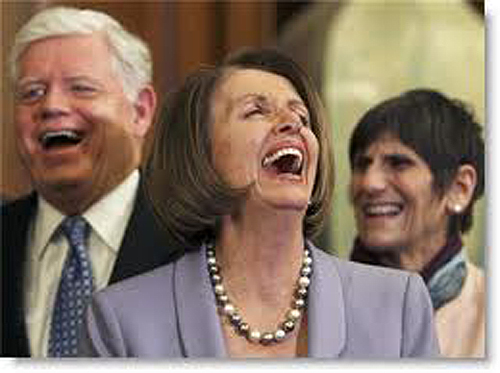 Ugly Demorats laugh profoundly at the stupidity of the American Electorate.