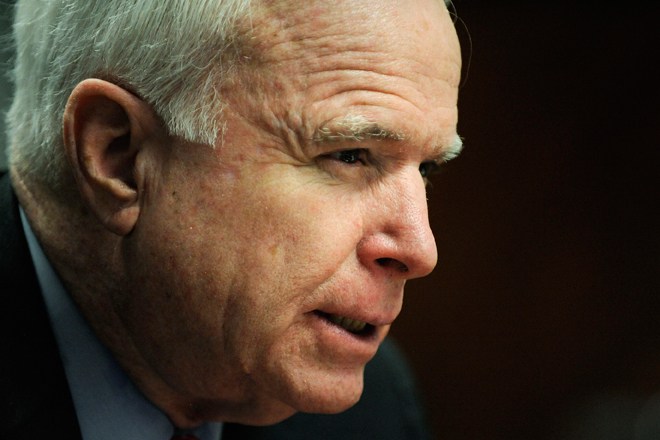 Let's reveal the story up front, from the WashingtonTimes.com:
John McCain predicts 'there's a lot more shoes to drop' on Trump-Russia connection

by Ben Wolfgang

Sen. John McCain predicted Sunday that "there's a lot more shoes to drop" regarding President Trump's connections to Russia, and said he believes top Trump associates should be called before Congress to testify.

Appearing on CNN's "State of the Union," the Arizona Republican said the American people need more information and need it quickly.
It was the latest in a string of revelations involving figures close to Mr. Trump meeting or speaking with individuals or groups connected to Russia. Attorney General Jeff Sessions, for example, recently was forced to admit he met several times with the Russian ambassador last year at the same time he was acting as a top surrogate for the Trump campaign.

"Obviously I think [Mr. Stone] and others need to be questioned," Mr. McCain said.
Good old John McCain, doing the heavy lifting for the Demorat Party as much as he possibly can, slicing and dicing on innuendo and repetition because that's all he and his fellow Demorats, American Media Maggots, anarchists and Leftists possess.
This is McCain at his obstructionist, feckless best, throwing all the smegma he can at President Trump for any number of reasons, most of them highly personal. First and foremost: McCain lost the presidential bid against George Bush in 2000 and lost against Obama in 2008. He has been cheated twice. Second, it's always about John McCain and no one else. He vacillates for the same of convenience.
People seem to have forgotten McCain's 2001 considerations of leaving the Republican Party in general, as well as his 2004 talks with presidential candidate John Kerry about becoming his running mate as Vice President.
This has created the phrase: "Bitter, table for one, please."
Bitter with George Bush from 2000. Bitter to the point where the NYTimes.com wrote in 2008:
Still, Democrats were stunned one Saturday in late March when, by their account, John Weaver, Mr. McCain's longtime political strategist, reached out to Thomas J. Downey, a former Democratic congressman from Long Island who had become a lobbyist with powerful connections on Capitol Hill. In Mr. Downey's telling, Mr. Weaver posed a question to him over lunch that left him stunned.

"He says, 'John McCain is wondering why nobody's ever approached him about switching parties, or becoming an independent and allying himself with the Democrats,' " Mr. Downey said in a recent interview. "My reaction was, 'When I leave this lunch, your boss will be called by anybody you want him to be called by in the United States Senate.' "
As I wrote and reviewed in detail on my radio show, BZ's Berserk Bobcat Saloon, John McCain clearly aided Buzzfeed and others in a naked attempt to take down Donald Trump with, well, unmitigated and specious bullshit regarding "Trump's ties with Russia" and a "dossier." From my January 16th post:
A still-unidentified wealthy GOP donor — clearly not a good pal of Donald Trump — hired a firm in 2015 called Fusion GPS to assemble opposition research on Donald Trump. Fusion ended up hiring a former British MI-6 operative named Christopher Steele, in the spring of 2016, who wrote the 35-page report on Trump. Please let me point out that the DC firm Fusion GPS is the same one hired by Planned Parenthood to put a positive spin on videos showing the sale of baby parts. This is "good to know" information.

Because the meme was "in the air," Steele was to dig up smegma on Trump's "obvious" ties to Russia. Steele talked to some Russians and the gossip was included in the report later compiled.

The information somehow "found its way" to the FBI. That was not magic, of course. It was purposeful, by way of Arizona Senator John McCain.

Yes, John McCain — clearly not a good pal of Donald Trump — got this hot mess started. He sent one of his own operatives across the Atlantic in order to acquire Trump's dossier from Steele. McCain discovered the dossier's existence when he was at a Canadian meeting with Sir Andrew Wood, a former associate of UK's Tony Blair who is, also, not a good pal of Donald Trump, and subsequently sent an aide to acquire the report, in August of 2016.

An interesting aside. Very few persons have dared to mention the direct involvement of Senator John McCain, even that stalwart "the spin stops here" Fox News guy, Bill O'Reilly, who purposely avoided mentioning the involvement of McCain in his Thursday, January 12th Talking Points Commentary broadcast.

John McCain turned the dossier over to the FBI, saying he did "what any citizen would do."
Retired US Army Lt Col Tony Shaffer said, on USA Radio Network's Rusty Humphries' show:
Listen to "Obama's Tapping Of Trump's Phones Is "Soviet-Dictator Level Wrongdoing"" on Spreaker.
"This could be the first time a former president could be indicted for a felony," Shaffer answered. "Because I think it is very possible that he acted outside of the scope of his duties, responsibilities and authorities to turn the resources of a nation-state on a candidate."
"This is, as I've said before, soviet-dictator level wrongdoing," he added.
Sean Hannity had some insight regarding John McCain and Lindsey Graham and their incessant attacks on President Trump. Got that? President Trump. Not President McCain or President Graham. President Trump.
Further, John McCain goes, well, just a bit unhinged over Kentucky Senator Rand Paul. From the DailyBeast.com:
John McCain: Rand Paul 'Is Now Working for Vladimir Putin'

by Andrew Kirell

After the Kentucky senator objected to a bill advancing Montenegro's push for NATO membership, McCain lost his cool and accused his colleague of being a Putin operative.

The long-simmering war between Sens. John McCain and Rand Paul boiled over on Wednesday when the Arizona lawmaker directly accused his colleague of working for Russian President Vladimir Putin.

While speaking from the Senate floor in support of a bill advancing Montenegro's bid to join the North Atlantic Treaty Organization (NATO), McCain noted objection from his Kentucky colleague, saying that if you oppose the measure, "You are achieving the objectives of Vladimir Putin… trying to dismember this small country which has already been the subject an attempted coup."
McCain continued: "If they object, they are now carrying out the desires and ambitions of Vladimir Putin and I do not say that lightly."
Rand Paul had a measured and rational response in the face of McCain's overblown rhetoric.
"Currently, the United States has troops in dozens of countries and is actively fighting in Iraq, Syria, Libya, and Yemen (with the occasional drone strike in Pakistan)," he told The Daily Beast.
"In addition, the United States is pledged to defend 28 countries in NATO. It is unwise to expand the monetary and military obligations of the United States given the burden of our $20 trillion debt."
I cannot pass up Rand Paul's summary of John McCain two weeks ago when he states "we're very lucky John McCain is not in charge."
I also cannot pass up Keith Ellison, rampant and unadulterated Leftist Supreme, concluding that "there is no there there" with regard to Trump and the Russians.
Keith Ellison seems convinced. John McCain — who loves the spotlight he acquires at CNN and MSNBC — not so much.
I have said numerous times before and continue to say now: John McCain should simply be truthful. I admire honesty and clarity.
John McCain should simply change his (R) to a (D) and be done with it.
BZ