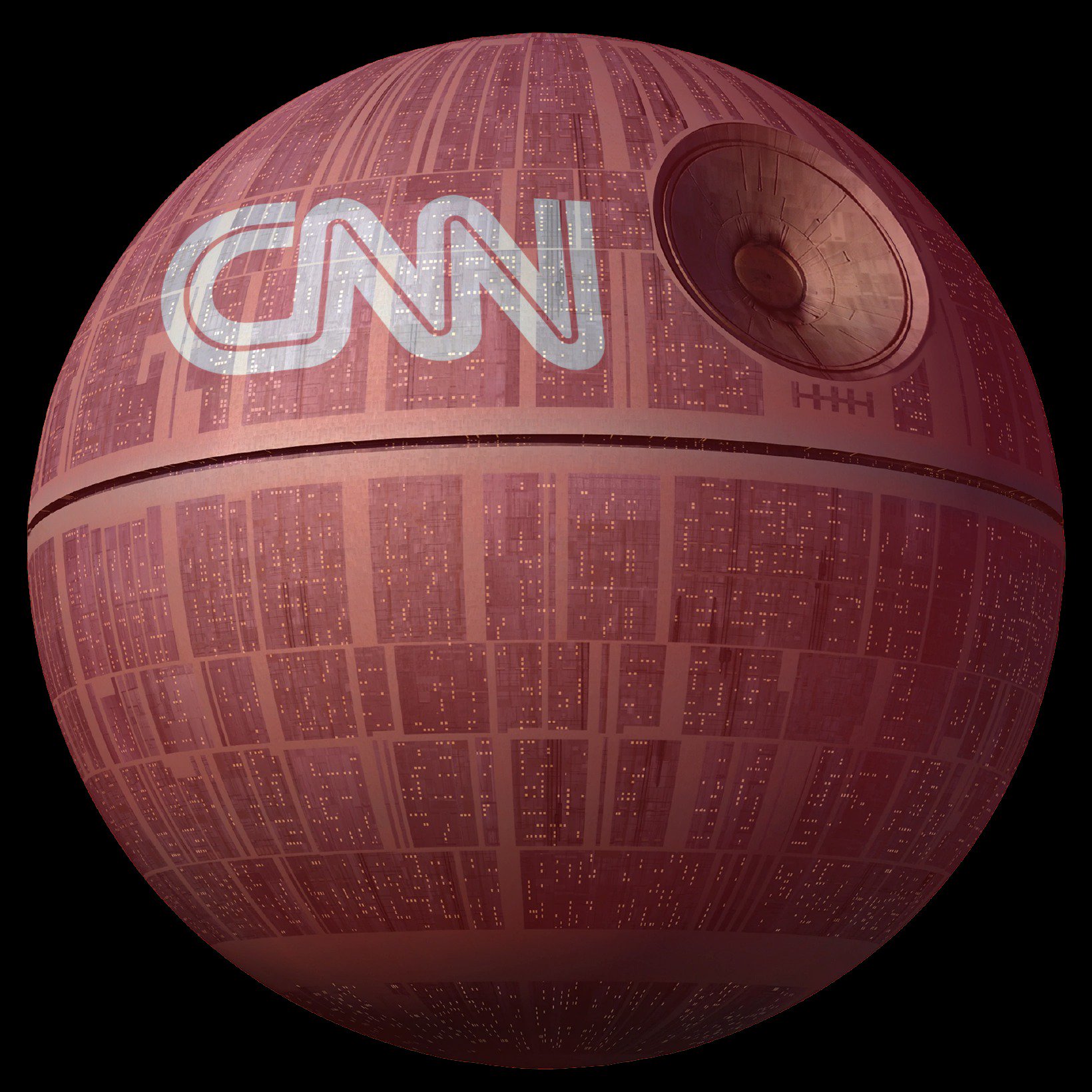 President Trump might Tweet many things that may involve hyperbole, but one thing he's written that's absolutely true is this: CNN is most certainly fake news.
Biased news. Lazy news. Incurious news. Unprofessional news. Languid news. Impotent news. Selectively-outraged news. Haughty news. Elitist news. Ambiguous news. Entitled news. Agendized news. Self-absorbed news. Narcissistic news.
And these days: frightened news. Cowardly news. Bleeding dollars, laying off staffers, hemorrhaging readers. They are losing power, control and money. They are in Desperation Mode and, as with anyone who is desperate, they are not thinking straight. But could they ever?
Just as we learned despicable things about Planned Parenthood, James O'Keefe's Project Veritas is uncovering despicable things about, finally, the American Media Maggots in the guise of CNN.
You need to see these videos and hear these videos because, naturally, CNN will not even address them on-air. Likewise other media groups will eschew them. But James O'Keefe has done nothing but prove over and again in how much disdain and contempt CNN holds you, the viewer and news consumer.
Jeff Zucker and CNN believe you to be — and in many cases you are, save the bulk of my readers — completely ignorant dupes. They expect you to buy their bullshit because of the long and careful crafting of their brand which, now, is beginning to unwind and literally fall apart despite their so-called "best efforts."
Their first video features a CNN Supervising Producer named John Bonifield who readily admits that the Russia theme regarding President Trump is, first, unmitigated bullshit and, second, a theme pushed by CNN CEO Jeff Zucker over and above most everything else.
Then, this second video from Project Veritas.
The third American Pravda, CNN video.
And the fourth American Pravda CNN video.
Why are these videos named "Pravda" you ask? After the Russian newspaper whose sole job during the Cold War was to act as nothing more than an arm and organ for the Soviet government and Communist party. Nothing more. It literally trotted out the Party Line. Just as CNN does for the Demorats and Leftists.
Remember, if you will, that it was CNN who told us it was illegal for us proles, us commoners, us groundlings, us serfs, us rabble to actually look at Wikileaks when, on the other hand, it remarkably was not so for CNN.
Right. Because only they have the lock on real news. Only they can determine what is appropriate for us to see and hear. Only they possess the wisdom and authority to truly vet what can be considered as actual news for the masses, thoroughly prepped, sifted, edited and   as it were, for consumption by CNN's lessers — namely, us.
Let's watch and listen — from CNN's own video footage — how the network somehow managed to "lose" or cut off reporters when the information got too close to actual facts or negative impressions involving Hillary Clinton.
Having been exposed as fake news by a president who is a bare-knuckled brawler, and having taken some very serious hits himself from CNN and all makes and models of other news outlets since his first hour in office, the video below was Tweeted by Trump this past Sunday, July 2nd.
Creative, yes, but horribly offensive? Worse than bear scat? Not hardly. In fact, it was creative and amusing. Did I larf out loud? No, but I rarely do that these days.
However, instead of taking a large cup of shut-the-fuck-up, CNN did the one thing they really ought not to have done. It made a huge deal of the video and said, in essence, that CNN and reporter's lives would be lost and the earth would stop rotating on its axis due to this video, not unlike the one which clearly predicated the Benghazi attack in 2012. Howard Kurtz explains by way of Bret Baier.
Even CNBC wrote this about the video and CNN's reaction.
CNN faces backlash over handling of doctored Trump video

The network said late Tuesday it had identified the Reddit user who originally posted an old WWE video of Trump "roughing up" pro wrestling maven Vince McMahon

CNN said online that it had decided not to publish the user's name because he is a private citizen who apologized

CNN says safety concerns led to its decision not to reveal the identity of the man behind a doctored anti-CNN video. Yet the way the decision was explained and deep distrust of the network among President Donald Trump's supporters provoked a backlash Wednesday.

The network said late Tuesday it had identified the Reddit user who originally posted an old WWE video of Trump "roughing up" pro wrestling maven Vince McMahon, superimposing the CNN logo over McMahon's face. Trump tweeted a link to the video, with some modifications, and it has become the president's most-shared social media post yet, according to Twitter.
Blackmail indeed by a corporation worth billions of dollars and having a massive cadre of attorneys on tap against one citizen whose privacy was violated so that CNN could save a modicum of face. I ask one thing: look at 18 USC 241 below. Then ask yourself if the section could be applied to CNN.
18 U.S. Code § 241 – Conspiracy against rights
If two or more persons conspire to injure, oppress, threaten, or intimidate any person in any State, Territory, Commonwealth, Possession, or District in the free exercise or enjoyment of any right or privilege secured to him by the Constitution or laws of the United States, or because of his having so exercised the same.
Is CNN also exposed for prosecution under a New York law, PEN § 135.60, regarding "coercion in the second degree"?
One of my favorite hosts, Tucker Carlson, weighs in on the CNN blackmail issue.
Even the Associated Press can sack up and admit it made mistakes. From Breitbart.com:
Associated Press Admits It Published Fake News About President Trump and Russian Ties

by Penny Starr

The Associated Press issued a "clarification" on Friday regarding articles it published on multiple days, from April through the end of June. Those articles claimed 17 U.S. intelligence agencies agreed that Russia not only tried to influence the 2016 presidential election but did so to benefit Donald Trump over Democratic candidate Hillary Clinton.

The clarification read:

WASHINGTON (AP) — In stories published April 6, June 2, June 26 and June 29, The Associated Press reported that all 17 U.S. intelligence agencies have agreed that Russia tried to influence the 2016 election to benefit Donald Trump. That assessment was based on information collected by three agencies – the FBI, CIA and National Security Agency – and published by the Office of the Director of National Intelligence, which represents all U.S. intelligence agencies. Not all 17 intelligence agencies were involved in reaching the assessment.
Do you see? Do you understand? This information became accepted as patently true, beginning and continuing the meme recognized today by Leftists and certainly many on the right, to include Michael Medved, that all 17 alphabet agencies signed off on the Russian idea. When in fact they had not.
An article the Associated Press (AP) published on June 22 not only gave false information about the number of intelligence agencies cited in it but criticized Trump for questioning the reporting. Trump also pointed out that if any Russian hacking into the election took place, it took place when former President Barack Obama was in office.
But what is CNN instead doing? It is doubling down on "we've done nothing wrong."
Dr James Mitchell responds.
"Our freedoms are under siege, but not because of the President, but because of the mainstream media" ~ Dr. James Mitchell pic.twitter.com/XNo9YmRQUa

— BRIAN FRASER (@bfraser747) July 3, 2017
Of course, once CNN opened the door many people walked through it. Ahem. They crowded through it.
Donald's happy day #CNNBlackMail
Keep the tweets coming 😂🤣😅 pic.twitter.com/CJmkEFQsHO

— Kim Dotcom (@KimDotcom) July 5, 2017
I suppose CNN is going to "out" these people as well?
Attacked & threatened the #NationOfMeme

👉 BIG MISTAKEpic.twitter.com/ln9e1Jvdf1#MAGA #CNNBlackmail #CNNisISIS #FraudNewsCNN #Hannity

— Boca Vista (@bocavista2016) July 5, 2017
Perhaps CNN will target this man?
Somebody get @CNN ON THE PHONE! Let's talk about this Blackmail! Y'all Frauds and Thugs now ? #CNNIsBlackmail pic.twitter.com/MecrmHwMsl

— Terrence Williams (@w_terrence) July 5, 2017
Maybe CNN will go after Canadians?
When You Shut Down The Speech Of A Private Citizen Who Posted A Gif

Expect An Explosion Of
Gifspic.twitter.com/zYSxX1GvxE

— Dr. Marty Fox (@DrMartyFox) July 5, 2017
Would CNN dare to enter the Matrix in search of a lawsuit?
The Matrix

featuring @POTUS @realDonaldTrump as…

The Won👈😂🇺🇸😂🇺🇸😂🇺🇸😂🇺🇸😂
pic.twitter.com/B1mWrvqML4

— A.D. WHITMAN (@AD_WHITMAN) July 6, 2017
And what of John Nada?
#CNNBlackmail #TheyLive #FakeNews #Meme #Trump pic.twitter.com/6jp3xYsoQl

— CHARLIE DONT SURF (@illwill_ATX) July 6, 2017
Or the swamp itself? Will CNN attempt to "out" the swamp? I think not.
Back in the swamp you go 👉🏻 @CNN 👏🏼👏🏼🖕🏻

#CNNBlackmail pic.twitter.com/woGLahN0Wk

— ✩chiℓℓ✩ (@chiIIum) July 5, 2017
It was Russia Russia Russia. But here's what the American Media Maggots, to include CNN, are not covering with regard to Russia: John Podesta's involvement.
Reminder of the real Russian collusion John podesta got $35M from Russia while advising Clinton on her campaign pic.twitter.com/Sm6R4xciQ1

— "Gitmo" Bama (@President1Trump) June 28, 2017
Then this from Breitbart.com:
CNN Losing to FX, Nick-At-Nite, TLC as Scandals, Controversies Take Toll

by Adam Shaw

CNN, rocked by a fake news scandal and accusations of blackmail, is taking a significant hit in its primetime ratings, losing not only to Fox News and MSNBC, but also to FX, TLC, The Discovery Channel — and even children's TV network Nick-at-Nite.

It appears the network is suffering in the ratings as a result. As first reported by The Federalist, cable ratings for June 26 — July 2 show that while Fox and MSNBC occupy the first and second slots for ratings 8 p.m. – 11 p.m., CNN is in 13th place.

This means that the "most trusted name in news is being beaten by Fox News, MSNBC, HGTV, USA Network, TBS Network, the History Channel, ESPN, the Discovery Channel, FX, TLC, Nick-at-Nite, and Investigation Discovery.
CNN is nothing like an impartial, objective network. They are everything but. They have done their level best to get balcony seats in the theater of their own demise. It wasn't easy. It was long, hard, difficult work. But they've finally broken through to the point where more and more people are truly beginning to realize that CNN is in fact fake news.
Sights are now being set on other networks and media organs. Trust me on this.
Oh hell, wait. I can't publish this post without including a final CNN parody.
Live Look at #CNN #CNNBlackmail #CNNMemeWar pic.twitter.com/rc0Ng3KjVy

— CHARLIE DONT SURF (@illwill_ATX) July 6, 2017
Now that one made me larf out loud. Ahem. I continue.
Yes, CNN allowed three reporters to "resign" over fake news, the result of a retracted Russia story. But they have obviously not seeing the light. I don't believe they can.
Let's be honest. CNN is acting just like Hillary Rodham Clinton for the exact same reasons. They both can't admit that November 9th ushered in a new president. Neither of them can admit they may be even the slightest percentile responsible for their current plights. They are the victims. It's always someone else's fault. Never theirs.
They complete lack the ability to conduct introspection. To possess insight. To focus their own incredibly-critical and judgmental eyes inwards.
There is a new paradigm shift coming for the American Media Maggots.
Oh wait; I don't mean for the better.
BZ
P.S.
Okay, okay, I couldn't pass this one up either. Again I actually had to larf out loud.
.Every single time .@POTUS tweets #FridayFeeling #MAGA pic.twitter.com/XVqIDmJpYm

— 🇺🇸Jojoh888🇺🇸🌹 (@jojoh888) June 23, 2017